Whether it's promoting job openings, qualifying candidates, onboarding new hires, training staff or checking in with them over time, bots and digital assistants can be a huge help to businesses of all sizes.
Now that summer is over and we're entering the run up to the end of the year, recruiters go into overdrive looking to fill their remaining job vacancies. As people have returned from holidays and children returned to school, HR Managers face less downtime and more availability for candidate interviews and applicant screenings.
It would appear that HR Managers and Recruiters have an even bigger task on their hands now than usual. Recent news reports in the UK suggest that job vacancies have hit a record high and with the UK furlough scheme concluding at the end of September, the next few months look set to be very busy for recruiters and HR personnel as more job seekers look to fill the record number of vacancies.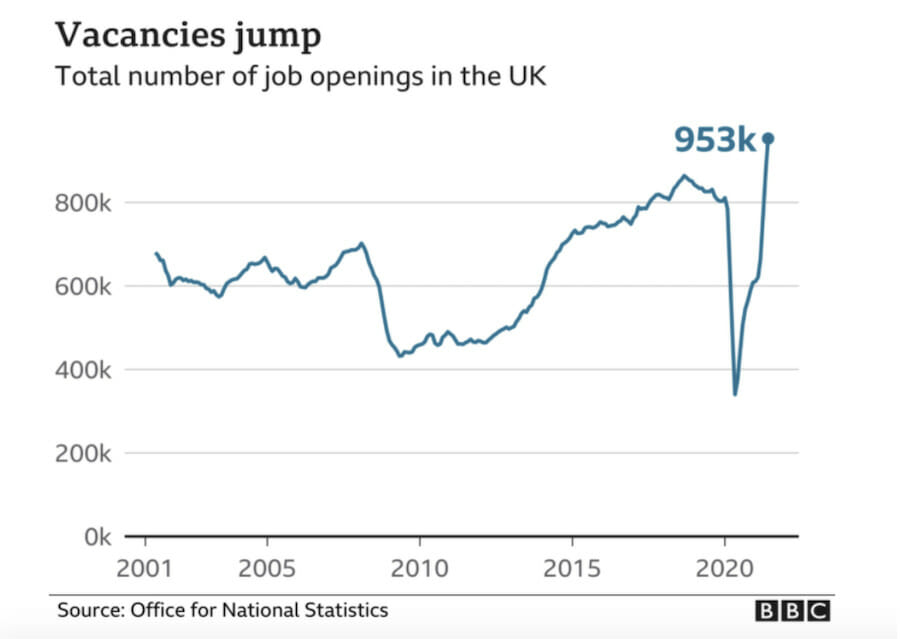 How can recruiting teams work in smart and effective ways while saving time and money in this busy period? Bots and digital assistants can be a gamechanger in both the recruitment and onboarding process and free up recruiters' time so that they can spend more of it on building relationships and less on repetitive admin.
How Bots Improve The Hiring Process, Internally and Externally
Let's look at the process we use at The Bot Platform when hiring new candidates, starting off with the pre-hire stage.
When candidates apply for a job at The Bot Platform they'll need to be comfortable with using bots and digital assistants. That sounds pretty obvious, and we have a pretty easy way of introducing applicants to the benefits of our technology – you guessed it, it involves them using a bot.
When a candidate has applied for a job through a recruiting website or directly through our own website, the first stage of our application process involves them using a bot themselves. The bot lives on Messenger and takes applicants on an automated sequence of questions related to their experience and cultural fit.
For example, we ask them what "People first" means to them, which is one of our 5 company values. We ask them what they do for fun or to relax so we can get an idea of who they are and give them an opportunity to tell us about something they enjoy doing in their own time. We ask them what they find interesting about bots, an example of when they've acted with integrity and something they've learnt from the last year (both of which are also related to our company values), why we should hire them and what's been their greatest achievement.
The applicant has the opportunity to review their answers before submitting, at which point these answers are automatically posted to a private internal group on Workplace for our HR and relevant department leaders to review.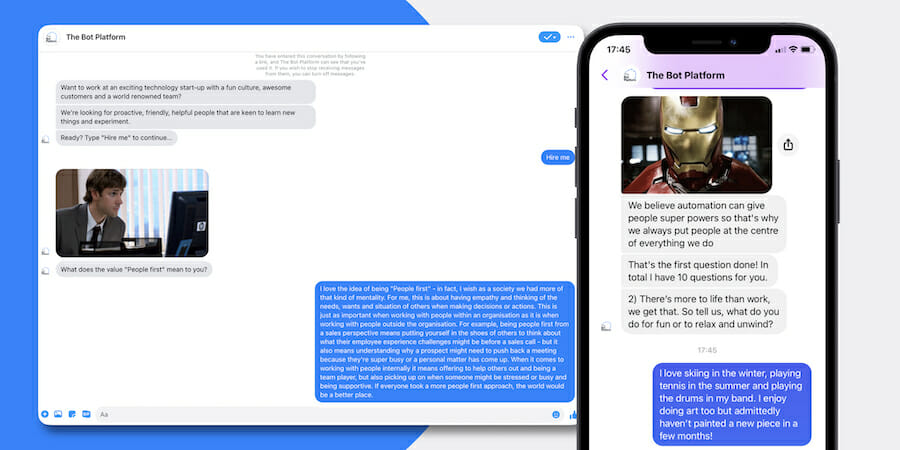 These are the kind of questions that HR personnel would normally ask at in-person interviews or phone screening in the past. This kind of information cannot necessarily be gleaned from looking at an applicant's cover letter or CV but is an important part of the hiring process and ascertaining whether the candidate will be a good long term fit for the company.
While some people could of course criticise this approach, we believe it also removes the chances of any bias in our hiring processes – decisions are made on how applicants write and the answers they give. Not how they come across on a video or phone call.
As well as giving people an introduction into how bots work, how intuitive and easy to use they are, we also regularly hear great feedback from applicants themselves. Plus, using a bot in this way removes a huge chunk of the admin heavy lifting that is required in the earlier stages of the hiring process and allows us to show off a bit of our TBP personality in the text, tone of voice and GIFs that make up the bot itself.

How Bots Improve The Onboarding Process
Now that most companies are offering a hybrid working arrangement with more employees working remotely from home, onboarding has taken on an even greater significance for businesses.
Onboarding is your employee's first point of contact with your company, and as the saying goes, you don't get a second chance to make a first impression. According to Glassdoor, great employee onboarding can improve employee retention by 82% and productivity and engagement by over 70%.
However, research from The Human Capital Institute suggests that the majority of businesses still have a lot to improve upon when it comes to their onboarding processes. In their research they found that only 12% of employees thought their organisation did a good job of onboarding. One third of the organisations they surveyed admitted that their onboarding programme was 'inconsistent, informal or reactive' and over half stated that their onboarding programme focused solely on processes and paperwork.
The best employee onboarding programmes should focus on people, not paperwork.
Removing the reliance on paper processes and automating some of the more repetitive admin tasks could free up vast swathes of time that could allow organisations and employees to really connect on a human level and increase engagement and staff retention for the future.
A number of our clients have built onboarding assistants to help with getting their new starters introduced to the company and set up for success. For example, Leading Agile built an onboarding bot that welcomes new starters with video messages from the leadership team and sends new hire training videos to watch. Over their first 20 days they are then sent daily messages from Leading Agile's Chief Cultural Officer that talk about aspects of working life and company culture. This adds a personal touch and makes employees feel appreciated and cared about, which hopefully helps them feel more excited about joining the company and, ultimately, be more engaged.
The onboarding bot then checks in on new starters over time by sending out surveys to measure how they're feeling and gather feedback on what they enjoyed or which parts of their onboarding program could have been improved. These insights are then used to continually iterate and evolve how they onboard and train new hires.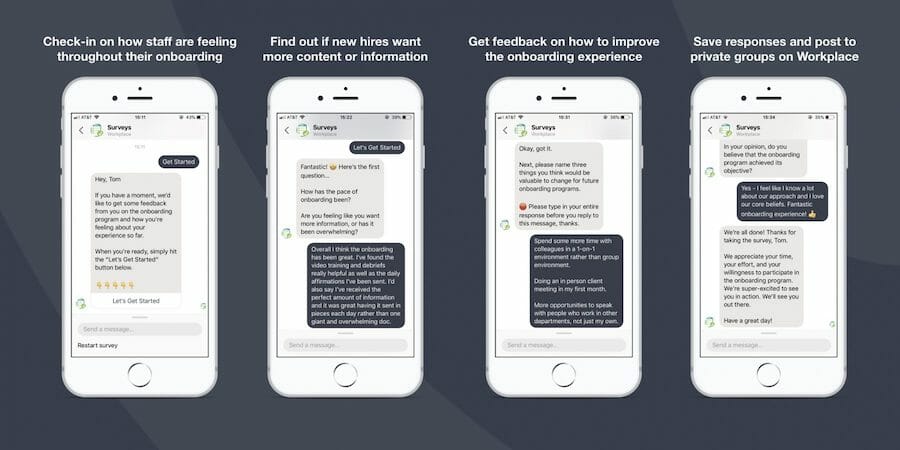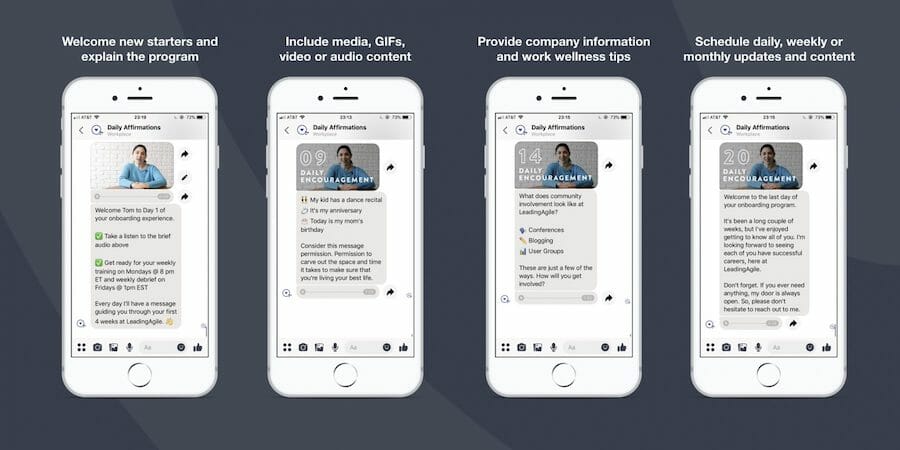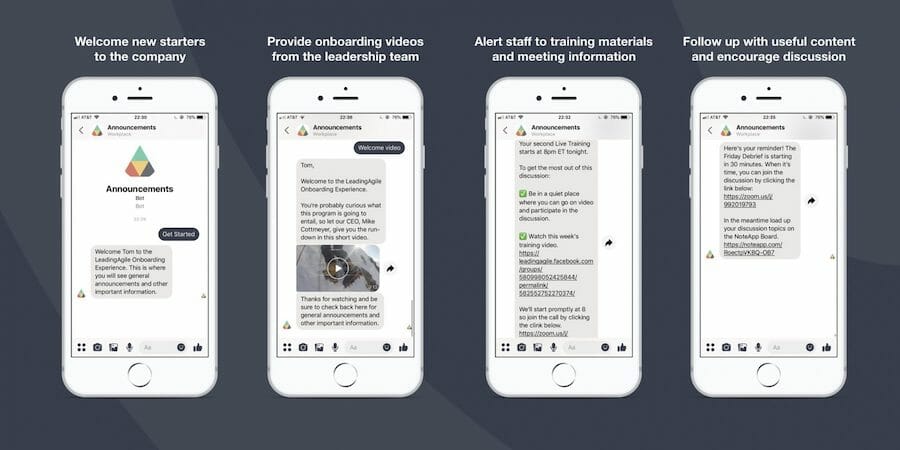 Before using bots, Leading Agile team members used to handle the entire onboarding process manually.
Employees would literally copy and paste content from a word document every morning into Workplace Chat, turning this into a repetitive and repeatable task. The number of messages and information employees were receiving would be cut down due to the amount of time this took, meaning the information presented to staff members in each training cycle was different and sometimes fragmented.

This entire process halted the productivity of the employees managing the programme, and ultimately slowed down the onboarding process and reduced the impact for those receiving the content.

Now, using bots and automation on Workplace, what used to take half a work day, every day, to complete, now only takes half a day once a month. Plus, they have a far more consistent approach to onboarding, regardless of who is doing the onboarding or who is being onboarded.
How Bots Improve The Training Process
Onboarding also heavily relies on getting new starters up to speed with the technology tools, systems and ways of working at a company too. And this can also take up a huge amount of time while causing a great deal of anxiety for new starters who are thrown in the deep end when being asked to use tools they may be unfamiliar with.
Bots and Digital Assistants can help with this too – for example, a Training Assistant, such as the one we created for Microsoft Teams, can automatically train new starters on how to use the breadth of features and functionality available on Microsoft Teams.
The bot takes users on an automated training course that runs through how to connect, communicate and collaborate with their new colleagues using teams and channels, write posts, send messages, upload and find files, join video calls, manage meetings, customize their activity feed, use bots or apps, and much more.
The Training Assistant can track completions and, for any that have been tailored to an individual company, nudge staff to finish the course before rewarding them with their own certificate of completion. Managers, HR and IT teams can also be alerted to when staff have completed the training, as well as any feedback they have on using the tool.
Check out the Training Assistant for Microsoft Teams by watching the video below, or use it yourself by clicking here. If you'd like to build a similar experience for your staff about a different tool, system or technology than Teams then give us a shout and we can get you set up with a trial account for The Bot Platform.
Integrating bots and automated digital assistants to your onboarding and hiring processes can have a huge business and human impact, saving vast amounts of time for recruiters and creating a more personal connection with employees that can lead to greater retention, engagement, levels of understanding and productivity within the organisation.
The fact is that most organisations have been relying on time-sapping, labour intensive paper processes for far too long. Speak to us today to find out how you can easily build your own hiring and onboarding assistants using The Bot Platform that improves the experience for new starters, saves your HR team and line managers time.
Contact one of our team at hello@thebotplatform.com to find out more.
Interested in learning more? Drop us a line below.