Now Spring is officially in the air, we're making the most of longer daylight hours by spring-cleaning our homes and tidying our gardens in readiness for all the new growth – one area often left neglected in this flurry of rejuvenating activity is our work spaces!
Many of us are spending 40 hours (or more!) a week in our workspaces, so we should be making these environments as pleasant as possible. And we're not just talking about your physical spaces! 
What are the benefits of a clean and pleasant workspace?
A cluttered workplace is often disorganised and can cause distractions. A clean and tidy working space is more conducive to a productive working environment and research by Harvard Business Review shows that employees who are satisfied with their work environments are 16% more productive.
The Bot Platform's Top Tip: Take some time to organise and declutter; this includes your online systems! Use our Bots to help streamline disjointed processes, unorganised knowledge banks and manual repetitive tasks, so employees have access to everything they need at the touch of a button. Saving time and maximising productivity!
See this in action with Clarins' Automated Knowledge Assistants.
Workers are happier when they have a nice working environment. How your workspace is configured plays an important role in employee mood. For example large, open spaces, with a lot of natural light can help to facilitate employee happiness.
A nice working environment extends to your employees' online experience as well; are workers being overwhelmed switching between endless notifications and platforms? According to a study published by HBR, workers toggle between Apps about 1200 times a day, which takes its toll and can be a significant drain on focus. You can't possibly have a good experience if you're feeling overwhelmed and stressed. Did you know that our automated work systems can help clean up and streamline these processes? Find out more here.
The Bot Platform's Top Tip: Freshen up your work spaces and make them places your employees want to spend time in! Our Employee Experience Survey found that 37% of employees want to work on-site and has some great examples of incredible work spaces to inspire you.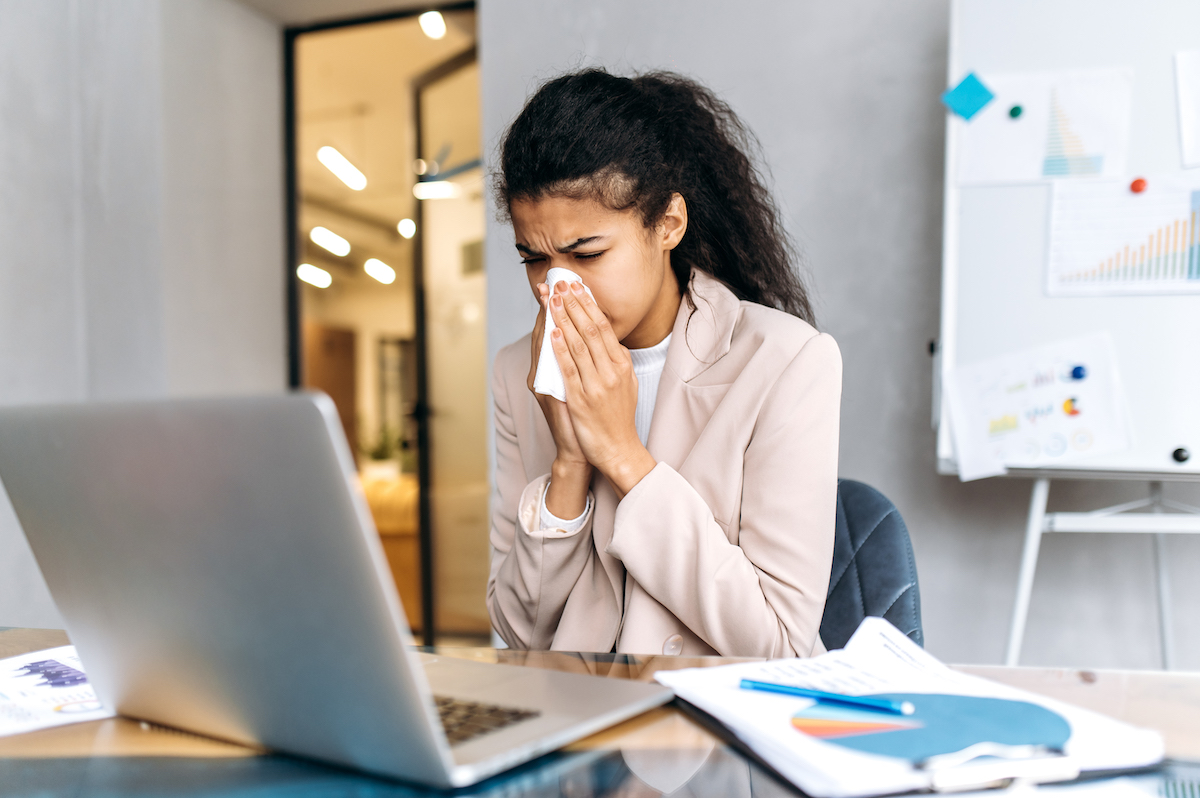 It goes without saying that a clean environment equals a healthy environment, but often our workspaces can go neglected, especially in communal working spaces. This offers the perfect breeding ground for viruses and allergens, which inevitably affects employee performance.
A recent study at Earlham University by the Centre for Facilities Research found that a dirty working environment can contribute to staff falling ill, which leads to increased sick leave. A clean and organised space can cut down absenteeism of which 9 working days are typically lost due to sickness each year.
In fact, a study by Fellowes found that performance itself also improved with cleaner working conditions; employees in the clean air environment performed 61% better on cognitive tasks than in the standard office conditions. Further, by doubling the ventilation in the clean air office, cognitive performance increased by more than 100%!
The Bot Platform's Top Tip: Ensure that correct procedures are in place to maintain workplace cleanliness and ensure employees are working in properly ventilated spaces. Why not set up staff surveys to monitor workplace cleanliness and give employees a channel to share any health and safety concerns?
Workplaces have a direct influence over our health, wellbeing, satisfaction and performance. A 'Spring Clean' may be just the thing to refresh and rejuvenate your working environment. By taking the time to focus on your employees' workspace; whether that be a deep office clean and installation of air purifying units, or the streamlining and automation of repetitive, disorganised and frustrating processes, businesses can make a huge impact on employee wellbeing and productivity.
Our final Spring cleaning tip? Employees want a workplace they enjoy going to every day and if in doubt you can't go wrong with adding some natural touches! Studies show that being exposed to depictions of nature provides similar benefits to having direct contact with it. Plus a workplace poll of 7,600 employees across 16 countries found that people who work in spaces with natural features reported 15% higher levels of overall wellbeing, 6% more productive and 15% felt more creative at work.
This Spring we're focussing on clean, refreshed and natural working environments!
Want to see how The Bot Platform can help you do a spring clean for all things employee experience related? Get in touch and let's chat!