100% of staff able to access documents and bots
130+ documents searched within seconds
With a distributed UK workforce of around 2,000 employees, Clarins UK were looking to build their own automated tools on Workplace to better their information exchange, improve processes and develop better access to documents, whilst at the same time, increase the visibility of important company news and announcements.
Due to a successful launch of Workplace from Meta and high adoption rate amongst employees from early on, James Deren, Internal Communications & Engagement Business Partner at Clarins UK Group, was looking for ways to leverage new tools and features to make their Workplace instance work smarter for everyone, regardless of job function or geographical location.
Using The Bot Platform Clarins UK Group are building bespoke bots and digital assistants to allow their staff to work in smarter ways.
Click below to explore some of the solutions Clarins have built using The Bot Platform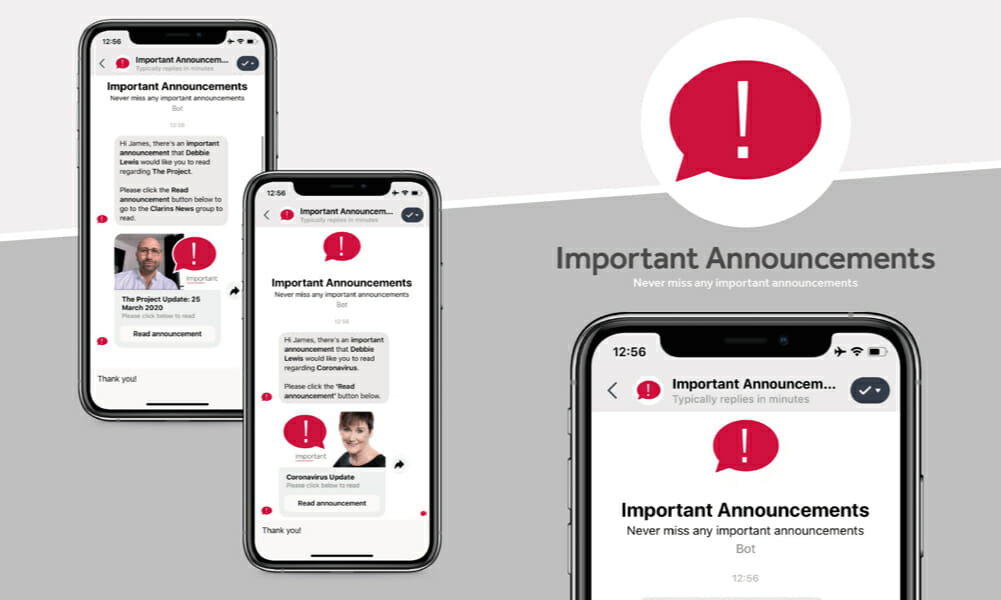 Clarins 'Important Announcements' bot is used to broadcast company announcements from the Leadership Team and their Paris Headquarters. This bot is primarily used to raise visibility and awareness of important company updates and provide employees with easier access to information.
Employees are sent a broadcast message directly to their Work Chat inbox, which contains a call to action from the Managing Director and a link to view in full on Workplace.
The key objective of the Important Announcement bot was to ensure employees received this important information in a more agile and direct way. For frontline employees busy working on the shop floor, having a bot send these announcements directly within Workplace Chat helps bring content to their attention while also offering an easy to use experience on mobile and tablet devices. While a relatively simple use case, the program has proven successful with links to news posts generating a 76% CTR.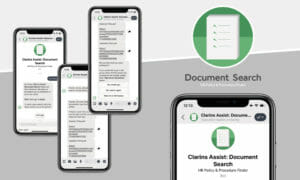 Clarins UK had already identified easier access to documents as an issue they wanted to solve for their employees and had paid a 3rd party vendor to create a custom bot that linked to all of their HR policies and procedures by pulling the files directly from Sharepoint into the bot. The issue, however, was that the bot could not be updated by James, or anyone else internally and because frontline employees didn't have a business email address, they were therefore unable to access the original documents directly from the Sharepoint library.
Using The Bot Platform, James was easily able to build his own version of the bot without writing a single line of code or needing to leverage a developer. The flexibility and functionality of the platform enabled James to build and customize the Clarins Assist: Document Search bot in such a way that it seamlessly replaced the previous bot without James having to communicate a new set of user instructions.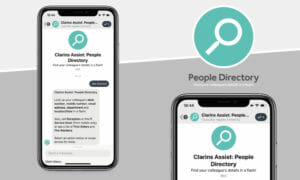 With an increased number of people working from home, coupled with an already large number working in the field, Clarins UK Group launched a digital productivity tool for their field and office teams; called Clarins Assist: People Directory.
Employees can simply open the bot using Workplace Chat and search for the key details of any Clarins UK individual working in an office or field role simply by searching by first name, surname…or both. The bot then retrieves their job title, desk phone, mobile phone, email address, department and location/floor. If an incorrect search is performed or the person doesn't exist then a no results message is sent back prompting the user to search again.
From the main menu of the bot, with just two taps of a button, employees can also make direct calls to the Head Office Reception Desk and IT Service Desk as well as look up the names of the First Aiders and Fire Wardens.
Using The Bot Platform has enabled Clarins UK Group to take control of building their own automation tools, without needing to rely on 3rd party providers or internal/external developers.
The result is that Clarins UK Group are able to be considerably more agile with their communication. Bots can and have been created quickly and easily to solve key strategic (and ad hoc) communication and productivity challenges being faced by their employees.
Here's what James had to say
James Deren
Using The Bot Platform has significantly improved our ability to exchange information and communicate with our employees – regardless of job function, or geographical location. Employees are more easily able to find and access the documents and resources they need on a day to day basis to help them do their job and be more productive.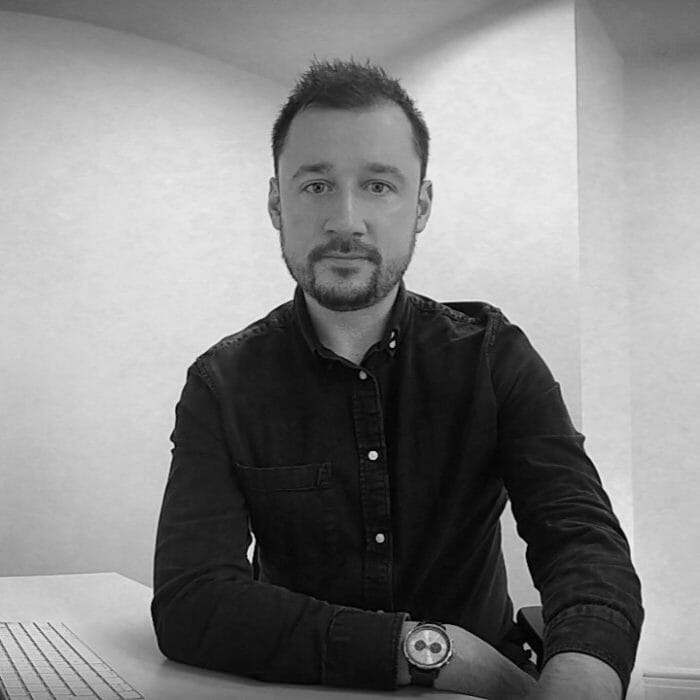 James Deren
Bots have been a game-changer for us, especially as we're all so dispersed working across multiple regions and multiple offices. Being able to create and provide automated tools that inform, educate, and direct our employees to important and relevant information on Workplace in such an agile way is so powerful.