Every day at WW, all their staff contribute to the company's goal and vision: To inspire healthy habits for real life and real people everywhere. To extend this positive inspiration to their staff, WW started exploring bots on Workplace to help increase peer-to-peer recognition, grow their global community, and help their employees feel more connected.
For Taryn Davino, Director of Global Organizational Development at WW, it was important to provide the best employee experience possible regardless of location or office size. Their pre-bot employee recognition program was splintered and singular to each office or department
Most of the programs ran as a nomination process with a committee determining who should be awarded. But in order to build a true sense of team, recognition needed to be peer-to-peer, not determined by a small panel of leadership personnel.
To achieve this, WW started looking into bots on Workplace as a way to communicate with their staff effectively, facilitate peer-to-peer recognition and highlight examples of behaviors that brought their new company values to life.
Using The Bot Platform and Workplace from Meta, WW have transformed their employee appreciation efforts.
Click below to explore some of the solutions WW have built using The Bot Platform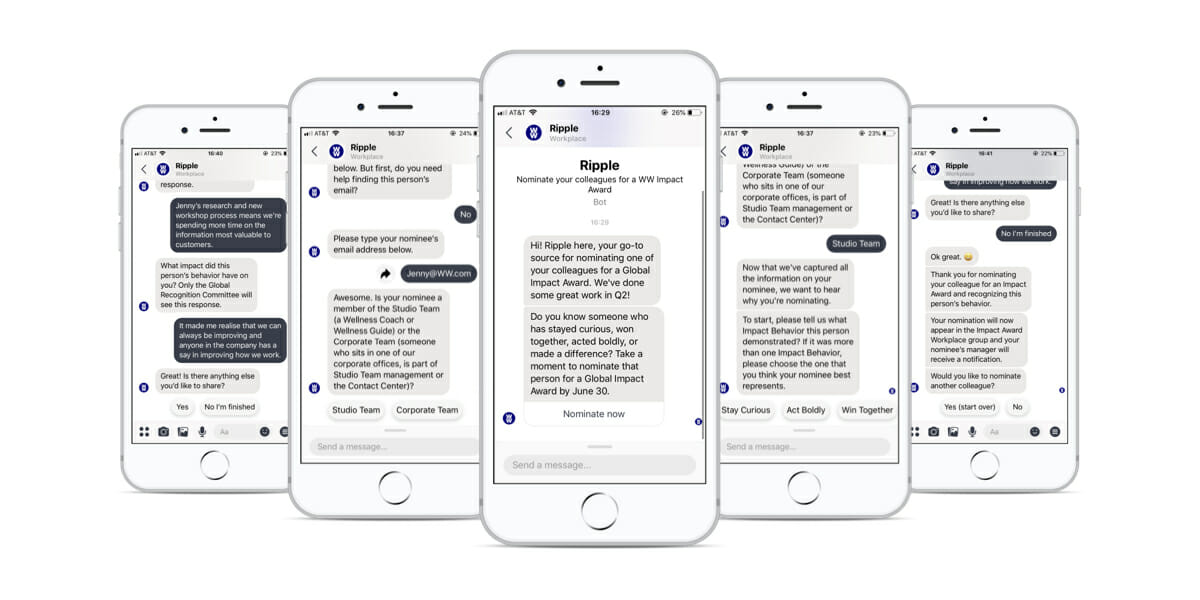 Ripple, named after its ability to create a "ripple effect" across the large organization, was built as an employee recognition program aimed to encourage peer-to-peer nominations, promote corporate values/behaviors, and automate their current process.
When a staff member is ready to submit a recognition, they simply open Ripple in their chat window and answer the prompts provided by the bot. The bot takes them on a guided experience where they provide information on the staff member they are nominating, focusing on the staffer's actions. They describe how these actions represent company values, help the business, and inspire others. The bot then posts this recognition into a Workplace group for other staff members to engage with.
Nominees can see the full written and detailed submission and the nominators can feel good knowing their message has been shared. This Workplace Group has become a constantly updated pool of positivity and staff will regularly go to look at new nominations posted and share the good vibes from colleagues' activities.
In addition to posting submissions to a group on Workplace, the bot also adds the votes to a spreadsheet which is updated in real time. At the end of each quarter, an "Impact Awards" panel, comprised of staff from each global region and representing every seniority level within the organization, reviews all the votes and selects those they deem worthy of an Impact Award.
With Ripple, WW staff are able to not only recognize their colleagues and peers, but also create a sense of a connected global community living the company's values in real life and going above and beyond to help their coworkers and customers.
Ripple allowed WW to create a unified employee recognition program that used the same methodology for awarding staff members across the whole organization. Instead of 16 teams building, operating and managing different recognition programs, WW now has one cohesive program across the board.
With bots, the WW team is able to effectively communicate their corporate values and provide their entire workforce with an easy-to-use and intuitive way of calling out the hard work and dedication of their peers, all directly within Workplace by Meta.
Here's what Taryn had to say
Taryn Davino
When we tell stories of what our people have done, it makes your heart swell. Every quarter when we go through and celebrate the people who have been identified as the quarterly winners I think, 'This is the greatest thing ever.' It really elevates examples of people doing amazing things who otherwise probably wouldn't get recognized on a global scale.