86% adoption and usage within 24 hours
Bots conceptualised, built and launched in less than 5 days
72% increase in usage of their Internal Comms systems
Virgin Media O2 wanted to implement bots and digital assistants that would improve all aspects of their employee experience. Their goal was to automate, streamline and improve their internal communication processes for their staff on Workplace from Meta and Microsoft Teams while also deploying solutions that would drive employee engagement, recognition and participation in key company programs and initiatives.
Using The Bot Platform, Virgin Media O2 were able to create a breadth of work applications that have had an impressive impact on all levels of their workforce, whilst also streamlining and improving processes.
Click below to explore some of the solutions Virgin Media O2 have built using The Bot Platform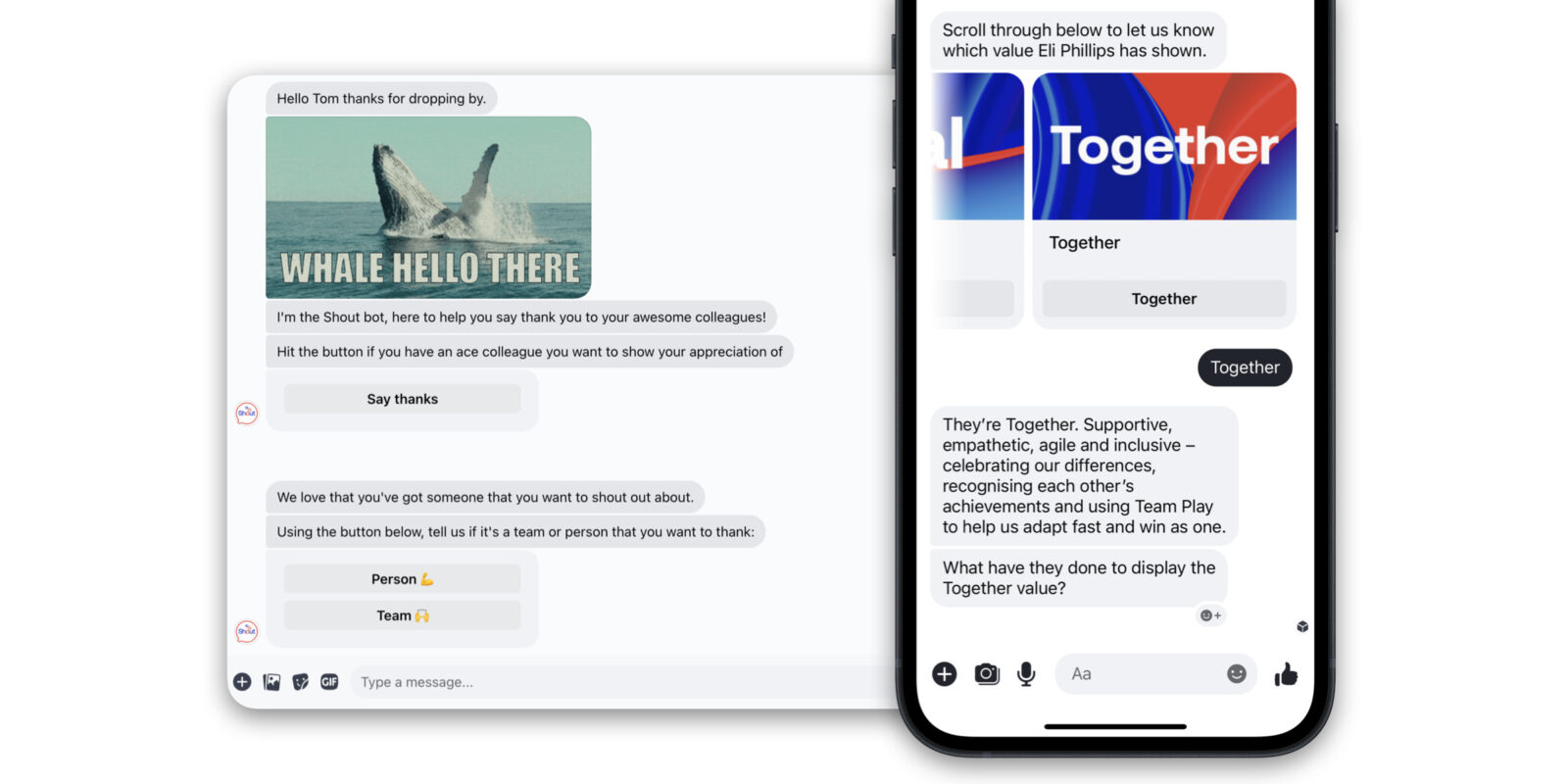 Shout bot provided Virgin Media O2 employees with a spotlight way to say thank you and share appreciation with teams and individuals across the entire company.
The bot works by allowing an employee to select a person or team to recognise for their great work. Once this option has been selected, the employee can input a summary about why they are shouting about this particular team or person, and when it has been submitted, it's automatically uploaded to their Shout recognition Workplace Group, which is shared with the entire organisation. The post tags the person or team that has been 'shouted' about, so they can be notified that someone is loving their work and showing their appreciation.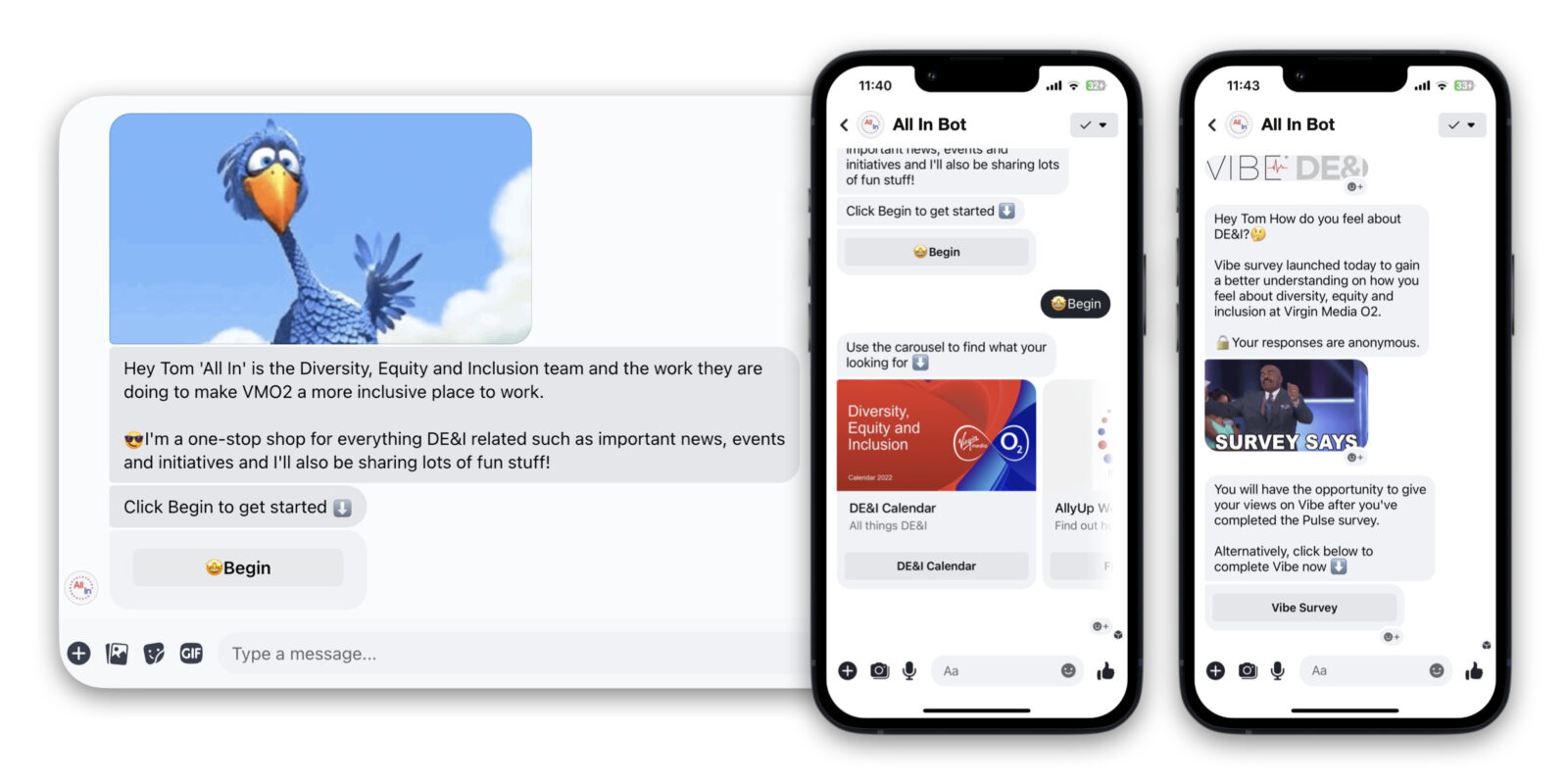 Using The Bot Platform, Virgin Media O2 were able to create a bot that was designed to support their Diversity, Equity, and Inclusion initiatives.
Once an employee joins their Diversity, Equity, and Inclusion Workplace group, the bot automatically pings them a welcome message. Here they can interact with tools, resources and external links on all things DE&I. They have the option to sign up to monthly broadcasts letting them know how to get involved with upcoming events, sign up to workshops and even access further support information.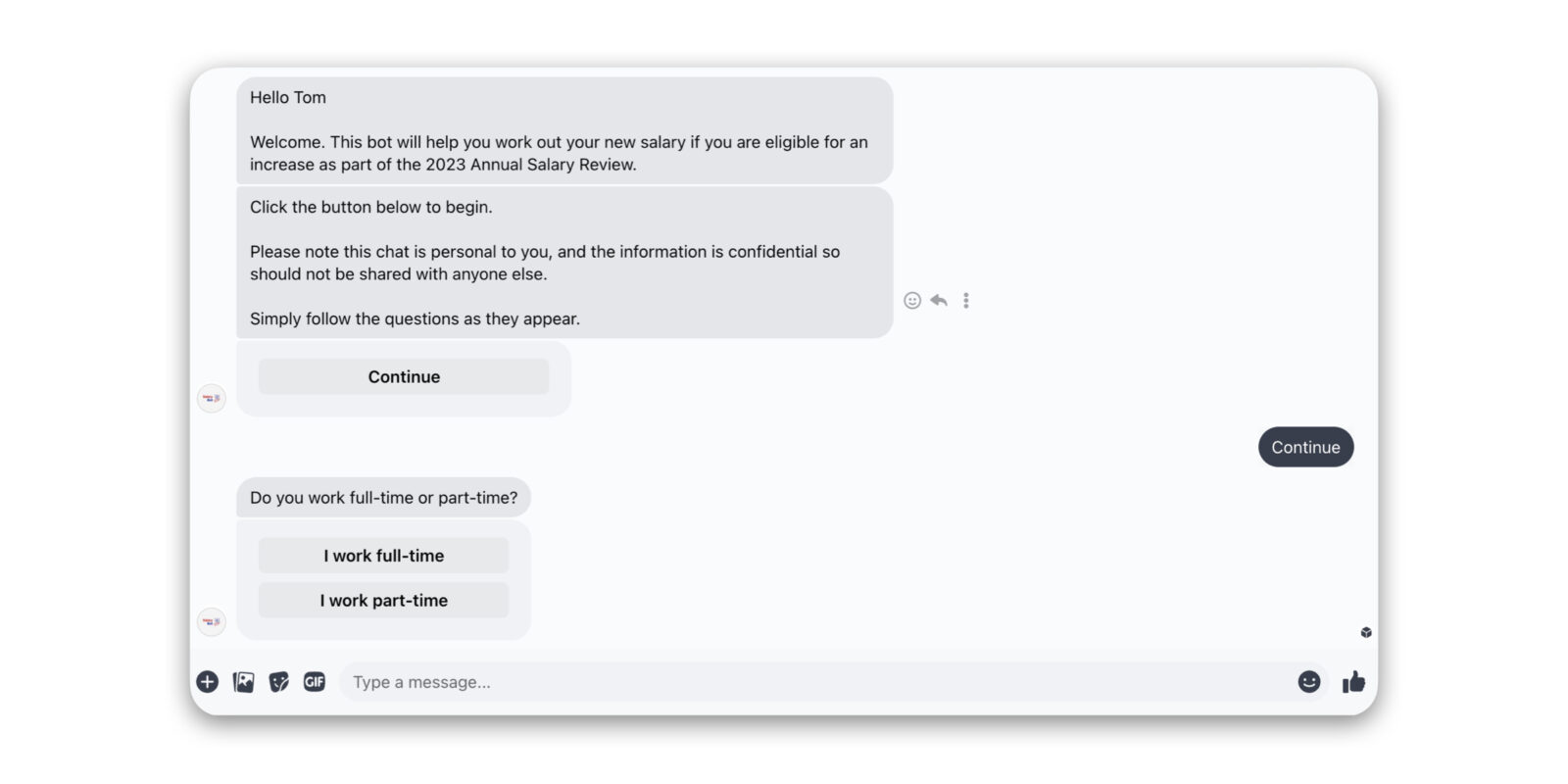 During a time when the cost of living is on everyone's mind, Virgin Media O2 decided to create Salary Bot, which was designed to provide employees with an understanding of their Annual Salary Review outcome and what their percentage increase in pay will be. 
After employees share a few quick facts about their working situation, The Salary Bot then calculates different salary tiers, providing the employee with their new salary as well as their respective percentage increase, so it's easy for employees to understand how this relates to their own personal situation.
Utilising The Bot Platform, Virgin Media O2 have been able to easily build and launch work applications that have improved employee engagement, streamlined processes and saved staff time and money. The bots and digital assistants have been exceptionally well received across all levels of the company, from frontline staff through to upper management and C-Suite teams.
Shout 
Since launching there have been over 8700 Shouts submitted by employees at Virgin Media O2 and 36% of all staff have given a colleague a Shout. Each Shout submission is posted to a recognition group on Workplace which has generated over 14,000 reactions and 4200 comments so far.    
Virgin Media O2 also utilised Shout to embed their new all company purpose, 'See What You Can Do', which launched in February 2023. Each month during their all-company event, their CEO and the broader Executive team share top shouts with the wider business, recognising employees' contributions as well as encouraging others to Shout.
Feedback from staff has been overwhelmingly positive, with staff saying the Recognition Program is "simple, straightforward and easy to use", "great for instant peer-to-peer recognition" and "good for highlighting company-wide recognition and achievements".   
All In Bot 
Since Dec 2022, the All In Bot bot has sent over 60,000 messages, which reach around 4,000 people every month with their monthly broadcasts. The bot is also used for DE&I workshop bookings, with over 2,000 people booking successfully through the bot. Virgin Media O2 have also seen huge numbers for other campaigns, such as their DE&I Survey (VIBE) which generated over 3000 visits to their Oracle Cloud systems. The streamlining of these services via the bot has saved the DE&I team 40 hours of time per month.
Salary Bot
Salary Bot received an overwhelming usage from the second it was launched. Over 7,750 employees interacted with the bot in the first 24 hours, with over 85,000 messages exchanged, making it by far the most engaged Virgin Media O2 bot since inception. The company's CEO Lutz Schüler, and Chief People Officer, Philipp Wohland, praised the Salary Bot integration and highlighted it to the top 700 leaders of the organisation. 
The Salary Bot also contributed to a spectacular 72% increase in Virgin Media O2's daily active Workplace users, directly improving the momentum and driving engagement of their core internal channel.
These results show that Virgin Media O2's bots have made a substantial impact on their company culture overall whilst also improving their processes and having a positive effect on the employee experience.
By using The Bot Platform Virgin Media O2 have been able to easily and quickly deploy custom-built solutions that have had a substantial impact on multiple areas of their employee experience, increased staff engagement and participation in key company initiatives and saved their HR, Internal Comms and People teams large amounts of time and money. 
But even better, the bots and digital assistants they have built have been received incredibly well by staff of all seniority levels, including front-line workers and office-based employees, across the entire company.
Want a free trial account so you can see how easy our platform is to use for yourself?
Enter your details and we'll get you set up in no time!