A Digital Assistant built and launched in less than 2 months
177K messages sent with a 100% delivery rate
Automatically answering FAQs for different topics from employees
Operating in the country for 110 years, the Philippines was Coca-Cola's first market in Asia. With its vast local footprint, operating 19 manufacturing plants, over 70 distribution centers, 10,000+ associates, supporting 1M sari-sari stores and over 6,000 key accounts– CCBPI continues to invest in systems for long term growth. With this, communication and connectivity play a big part in ensuring that its people are connected, engaged, and properly informed through advanced tech infrastructure.
The company's digital transformation places emphasis on technology as a strategic differentiator—rapidly boosting its tech infrastructure by accelerating its 2-year roadmap to just 2 months and ensuring that all associates are able to receive and access the information that they need to efficiently accomplish their tasks. 
Currently, around more than half of CCBPI's associates are connected via Microsoft Teams. The company's Technology and Communications team wanted a more flexible mechanism to share information that would be accessible both through desktop and mobile devices. They were also hoping to generate better delivery and read rates than existing methods, which initially relied on traditional email blasts.
Using The Bot Platform, CCBPI's Technology and Communications team were able to build EVA, their Employee Virtual Assistant, in just 2 months.
Click below to explore the solution Coca-Cola built using The Bot Platform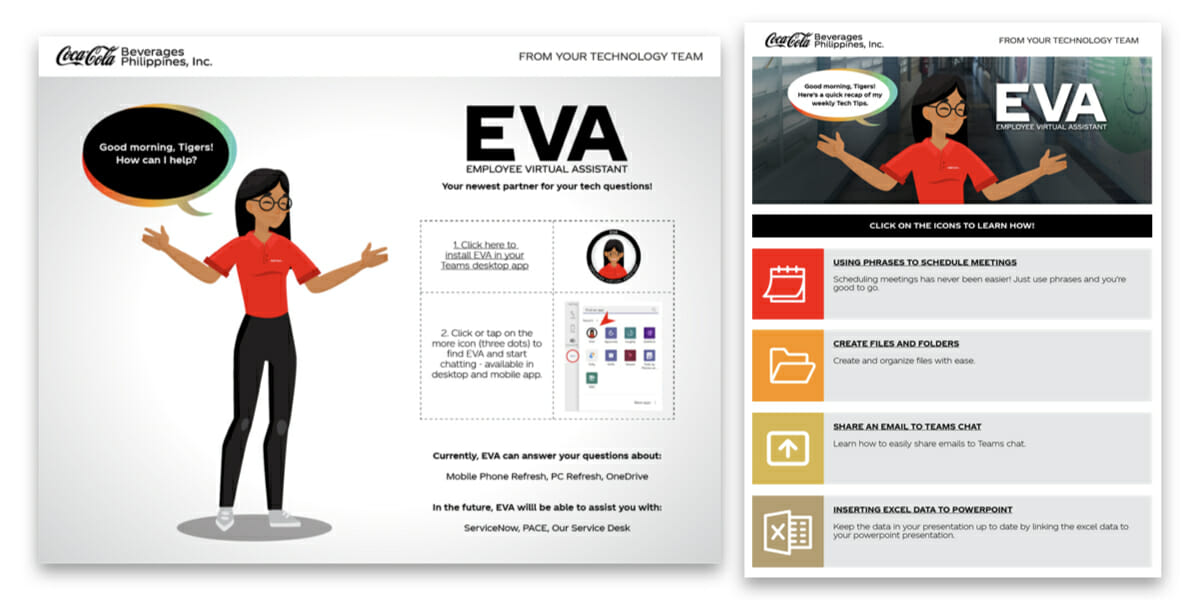 EVA is a company information and knowledge management assistant that is capable of automatically answering FAQs for different topics that employees may have queries about, and sending out notifications to end-users through Microsoft Teams.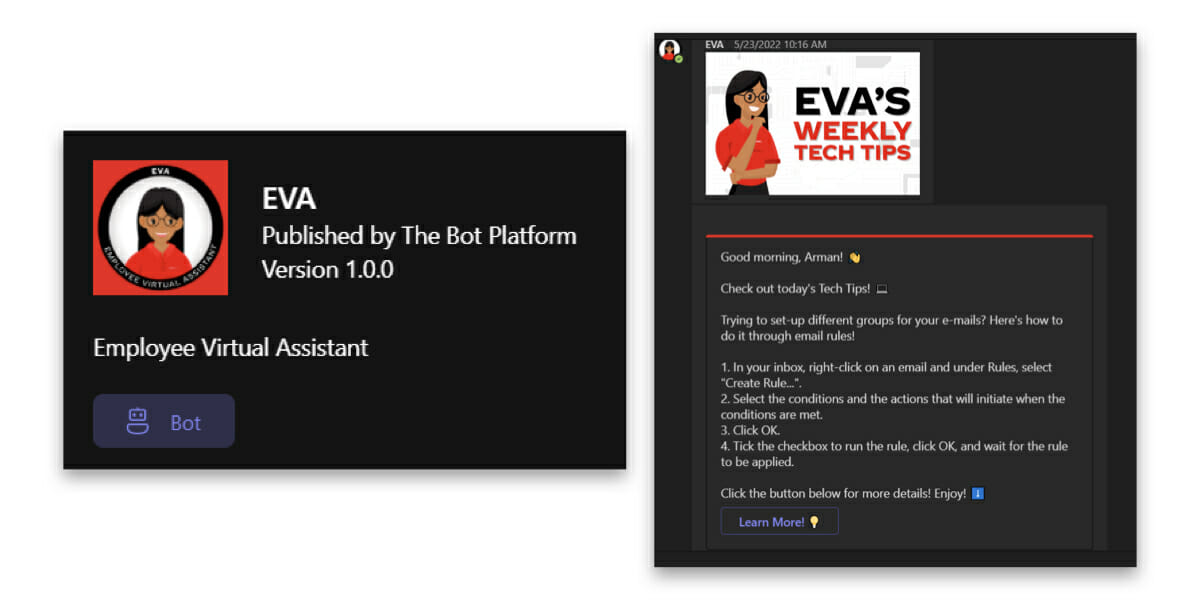 Aside from CCBPI's Tech team, it is also being utilized by CCBPI's People and Legal team to assist associates with a variety of concerns. The platform also enables the company's Internal Communications team to send out broadcasts, important announcements, event information for both virtual or in-person company conferences and leadership summits, as well as seasonal greetings.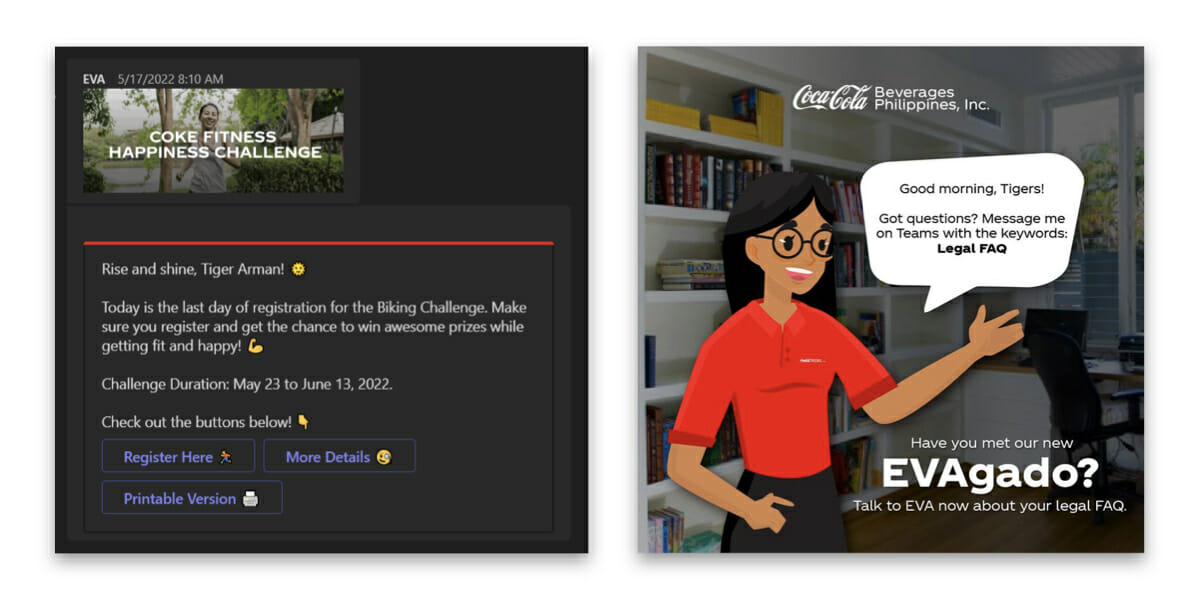 Raising awareness on the use and functionalities of EVA, it was launched and regularly promoted through company-wide email announcements and through The Bot Platform's broadcast feature that made EVA even more visible and accessible through Microsoft Teams. EVA also had the support of upper management who helped campaign and promote the bot to their teams and direct reports.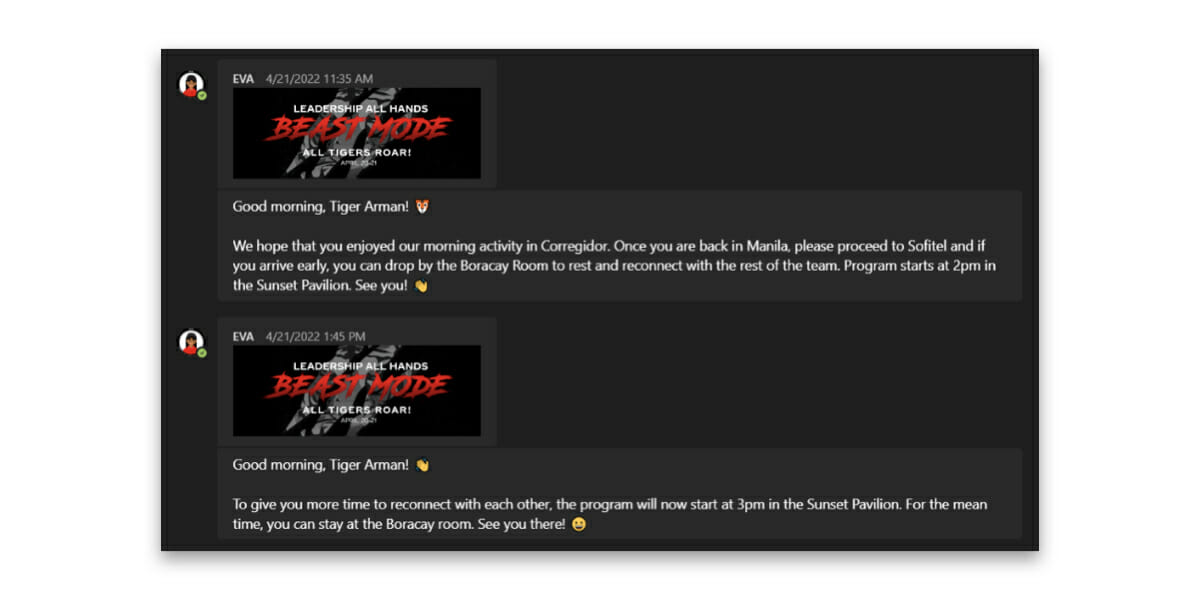 With CCBPI's growth ambition embedded in its operations and tech infrastructure, the company uses multiple bots to digitize processes. 
EVA was created and launched in just 2 months and was well-received by its people with many of them interacting with EVA for their queries.
Over 177,000 messages have been sent via EVA with 100% delivery rate on broadcasts. The bot has significantly increased the visibility of important company announcements, streamlined common questions, and resolved staff issues in a more efficient and timely manner. Through this process improvement, its Tech, People, and Legal teams can minimize the time spent manually answering inquiries and focus on other business and operational goals.
Communications and connectivity play a vital role in all the work that we do. EVA helped us a lot when it comes to emphasizing and streamlining our message within the organization, helping us think of better ways to communicate to our associates and resulting to lesser email clutter at the same time.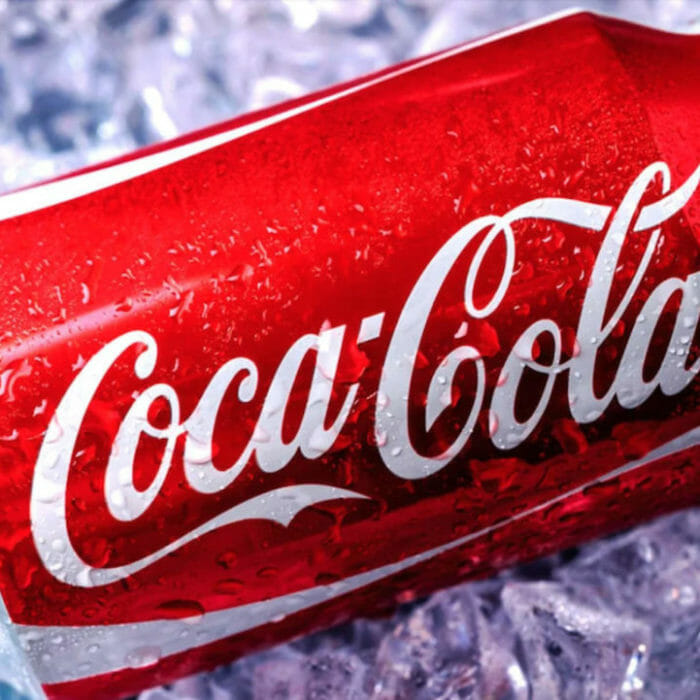 We at CCBPI value operational efficiency and are committed to developing more ways to accelerate our tech infrastructure to help our associates with their productivity. The support from The Bot Platform has been amazing and the overall user interface of the product made it easy for associates to understand and use.