75% survey response rate within 24 hours
98% staff participation in charitable initiatives
80% more time efficient than previous methods
Moneypenny was founded with one goal in mind – to leave their clients and customers smiling after every phone call and to have happy employees who enjoy coming to work each day . They're renowned for delivering engaged and inspired personal assistants, which comes from their modern approach to human resources.
The company has experienced great growth, which sees them managing over 20 million calls and live chats for thousands of clients per year. It was imperative for them to ensure that they had efficient, digital systems in place to keep their employees highly engaged, build company culture and support their corporate, social responsibility initiatives.
Moneypenny has been able to rapidly build and launch digital assistants that allow them to connect with staff in a meaningful, fulfilling and efficient way. 
Click below to explore some of the solutions Moneypenny have built using The Bot Platform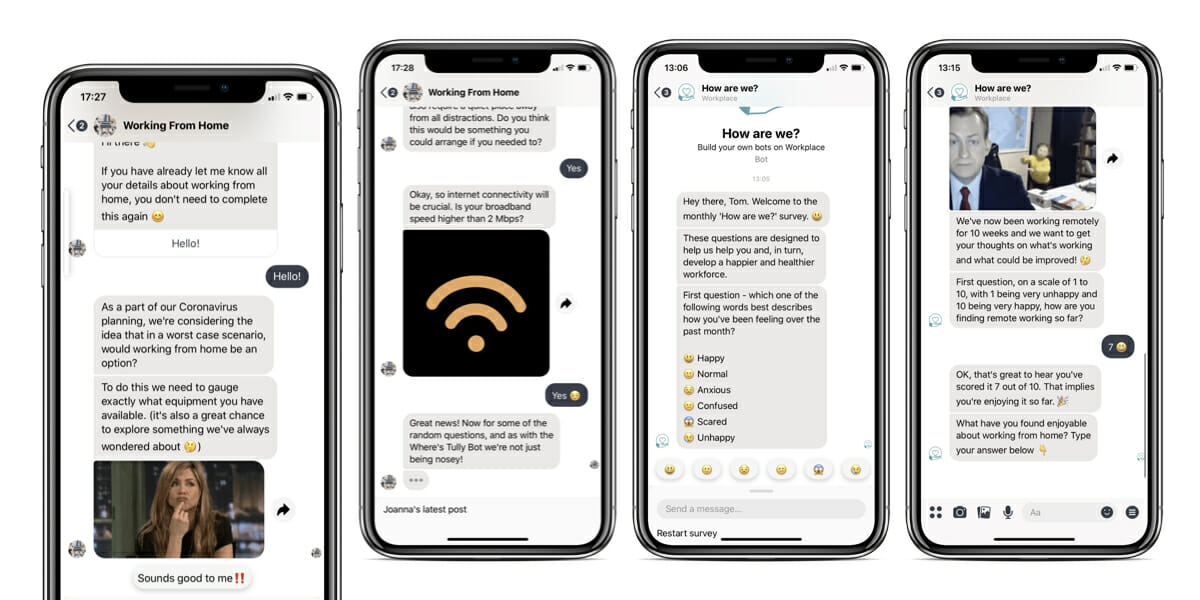 In the wake of the Covid-19 pandemic, businesses were confronted with the urgent need to adapt to a new way of working – a rapid shift that required a comprehensive response. At the heart of Moneypenny's crisis response was a digital assistant that was designed not merely for remote working support, but also getting the whole team ready for this new way of working as fast as possible.
Key Features: 
Tailored Onboarding: The digital assistant evaluated each employee's role and provided a personalized checklist with role-specific requirements. 

Efficient Data Management: Serving as a secure repository, the digital assistant ensured quick access to data and allowed for easy updates and data collection.

Equipment Distribution: To facilitate remote work, the assistant efficiently managed the distribution of equipment such as laptops and monitors. 
Moneypenny's digital assistant played a pivotal role in their rapid transition to a new way of working, despite unprecedented circumstances. It ensured that each employee had the necessary resources to perform their role effectively, regardless of their location, by customizing onboarding, managing data efficiently, and coordinating equipment distribution.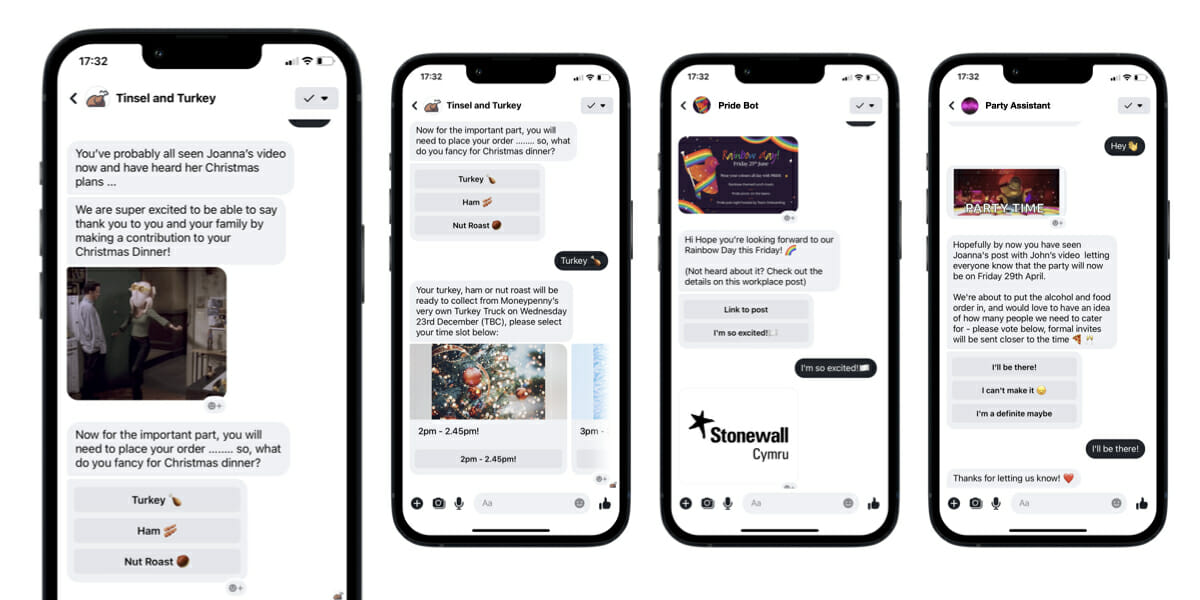 Moneypenny has built and launched bots to specifically to help with employee engagement on Workplace. These have included employee quizzes, games and staff surveys to get feedback on how life at Moneypenny could be made even better. They have also built bots to help promote and support company events and parties. 
Key Features:
Automated employee quizzes and games

Data collection from all employees

Accessible to all staff at any time, on all devices using Workplace
Two of the most popular bots have been:
Tinsel & Turkey
One of the flagship moments for company culture at Moneypenny is their annual Christmas dinner when the whole company gets together for a big and delicious meal. When this was not possible during the pandemic, Moneypenny created Tinsel & Turkey bot to ensure staff were still able to enjoy their Christmas dinners, albeit from afar. Using the bot, staff selected what type of Christmas dinner they would like to have, with different options available based on dietary needs and preferences that could be ordered and picked up ready for them to take home and cook and enjoy with their families . All these responses were saved by the bot and a pick up slot was then booked in and sent to each staff member.
Grab n Go Bot
During the covid pandemic the bot made ordering lunches simple and efficient for both employees and the canteen team, who work behind the scenes to feed an office staff of 850 safely whilst people were having to keep their distances.
The bot gave staff a quick and easy way to order lunch, which they can collect at a chosen time slot and reduces queues for the tills or people waiting around for food. The bot has continued to be developed since the pandemic and now also includes an opt out for those working remotely, help settings etc, which makes the whole process even smoother than it already was.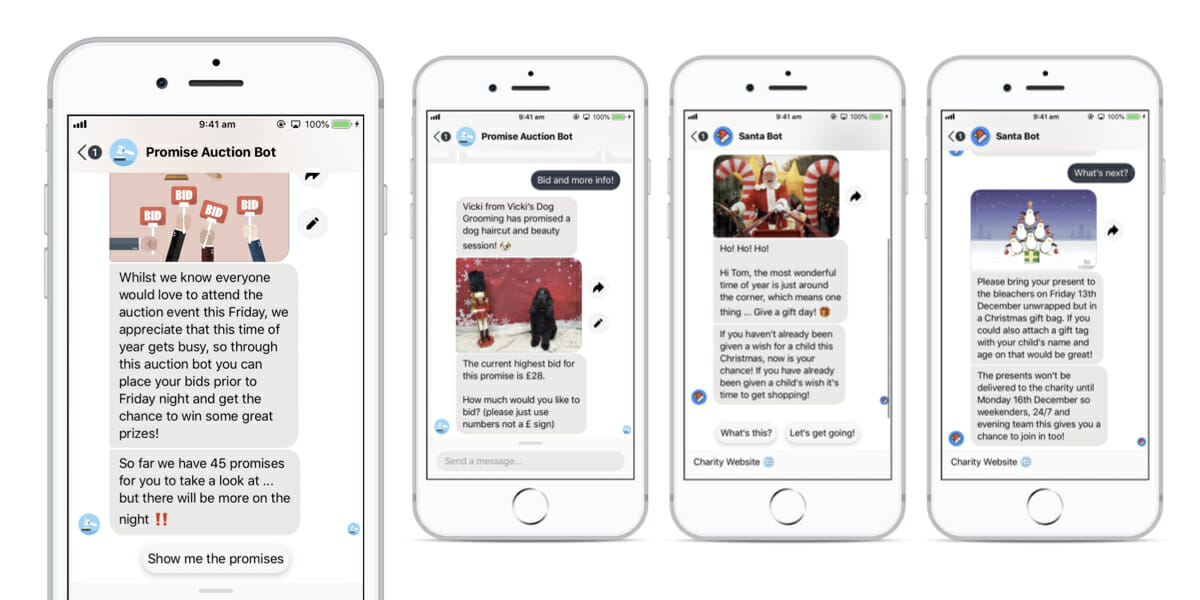 Moneypenny cares deeply about their local communities and runs several initiatives throughout the year to raise money for local charities. The Bot Platform has provided digital, automated solutions to maximise the involvement and commitment of the entire company.
Key Features:
Direct messages to all staff to maximise participation

Collation and automated analysis of responses

Tracking and reminders to non-responses
Some of their charitable activities, powered by bots:
Promise Auctions Bot
The Auction bot helped to minimise the time taken to organise and run the auction, whilst maximising the engagement and donations it could generate from staff. 
The bot sent broadcasts to make staff aware of the different items on offer, allowed them to view and make bids – with the highest bids automatically updated in the bot and cross posted to a group on Workplace to drive visibility and inter-company banter.
Charity Toy Drive Bot
Moneypenny's annual charity Toy Drive involves employees buying toys for local underprivileged children at Christmas. Bots allowed them to automate the process, saving their team huge amounts of admin time and manual work, while increasing staff participation in the activation. The bot handled announcement broadcasts, follow up reminders, gift budget, wrapping instructions, collection dates and drop off locations.
Momentous May
To celebrate the Coronation of King Charles III and to raise funds for their chosen charities, Moneypenny hosted a Big Lunch and raffled off two tickets to see Kings of Leon. They created a bot for the occasion and sent a broadcast message to all employees where they could opt in to attend the Big Lunch and also enter the raffle and make their donation directly, saving hours of admin and manual chasing and processing of donations.
Moneypenny Testimonal Video
We talk to Hannah Skinner and Sarah Morris from Moneypenny's People and C-Suite Executive Assistant team about their experience of using The Bot Platform to build a better employee experience.
Using The Bot Platform, Moneypenny have built over 70 bots that help with a wide range of tasks. Each bot has had a positive impact on staff engagement, program participation and awareness – while also saving their central teams time and money in development costs.
The ease of use of The Bot Platform has allowed Moneypenny's HR team to quickly and easily build and launch their own technology solutions and integrate them with Workplace from Meta.
58% response rate within the first hour of a staff survey being sent, increasing to 75% of all staff within 24 hours.

98.5% participation rate from staff and over 600 Christmas gifts bought for local underprivileged children using the Charity Toy Drive Bot.

64% of staff used the charity auction bot to place a bid and help raise thousands of pounds for charity – all while taking up 80% less time to organise than previous methods.

75% of all Moneypenny staff had submitted their orders and booked a pick up slot using the Tinsel & Turkey Bot.

Momentous May saw 52% of staff engage with the initiative and raised £1,645 for their chosen charities.
Here's what Moneypenny has to say
Emma Davies
"The Bot Platform is simple, easy to understand, really easy to pick up if it's something you've not used before. There are also tonnes of online resources and guides and a chatbot that you can use to get in touch with if you'd like some additional user-support".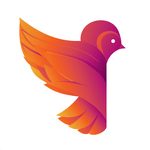 "From a user perspective, it's also really easy and straightforward for our teams. We've had really great feedback from people from our first initial bots to our more complex bots that we're using now. We even have people asking if they can create their own, so it's great for us and a good gamechanger!"