75% survey response rate within 24 hours
98% staff participation in charitable initiatives
80% more time efficient than previous methods
Moneypenny was founded with one goal in mind – to leave their clients and customers smiling after every phone call. They manage over 15 million calls and live chats for over 13,000 clients, ranging from sole traders to multinationals, in the UK and US. Their well-known reputation for delivering engaged and inspired personal assistants comes from their modern approach to human resources, culture building, and corporate social responsibility initiatives.
Moneypenny's HR team is all about putting their people first. They want to create a great culture that drives engagement and makes staff proud to work at Moneypenny. They use Workplace to connect their staff around the world and want to use The Bot Platform to build bespoke automation tools and digital assistants that increase employee engagement, improve company morale, support their CSR initiatives and gather feedback on how to make their employee's lives even better.
During the pandemic, Moneypenny also used The Bot Platform to rapidly deploy bots that allowed their staff to quickly and seamlessly transition into remote working and helped Moneypenny's central HR team check in with staff to ensure they were doing ok during the pandemic, both physically and mentally.
Moneypenny has been able to rapidly build and launch digital assistants that allow them to connect with staff in a meaningful, fulfilling and efficient way. Browse some of the solutions they've built using The Bot Platform below.
Click below to explore some of the solutions Moneypenny have built using The Bot Platform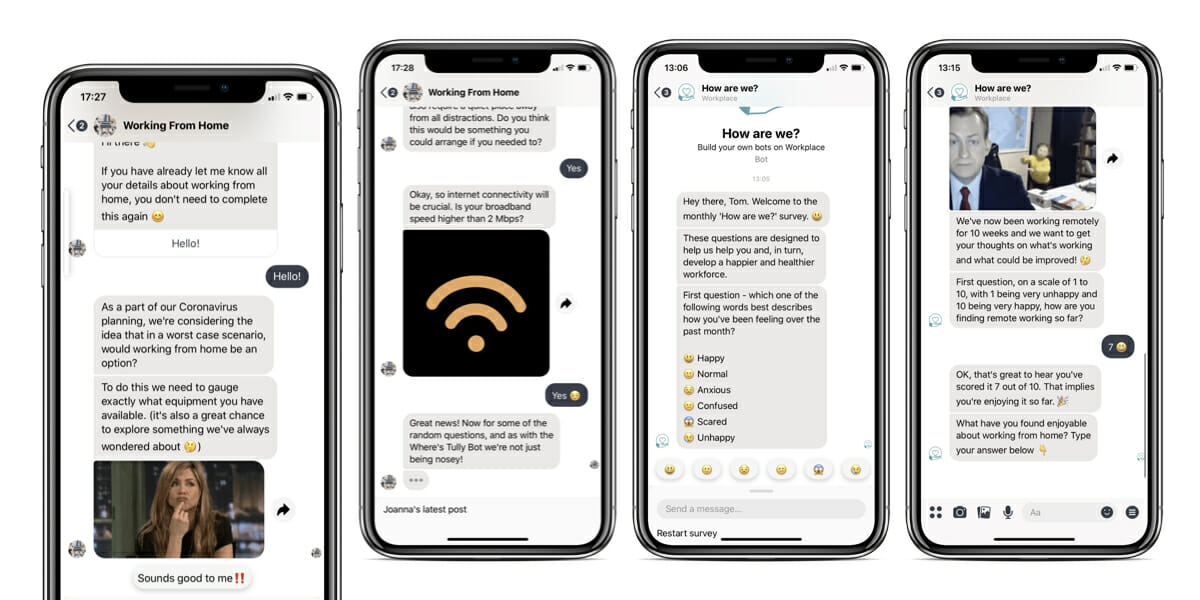 Moneypenny created a breadth of solutions that helped the company continue to operate during the pandemic and send out important news related to the business, health and safety information and local lockdown or social distancing guidelines to help protect staff.
When the government first instructed non-essential businesses to temporarily close down or switch to remote working, Moneypenny created a digital assistant to help staff rapidly switch to working from home. The bot acted as a remote working checklist that asked staff questions about their hardware, internet speeds and home working environment so they could continue to work from home effectively. For any staff that didn't have the necessary hardware, Moneypenny then sent out packages with items like laptops, keyboards and headsets.
Following their remote working checklist, Moneypenny also launched a 'How are you doing' bot to check in on everyone's well being and gauge their work-life balance. Within 24 hours 75% of staff had answered the survey. These staff surveys have continued throughout the pandemic, allowing Moneypenny to easily get a regular pulse on how their staff are doing, and gather feedback on things that can be done to help them.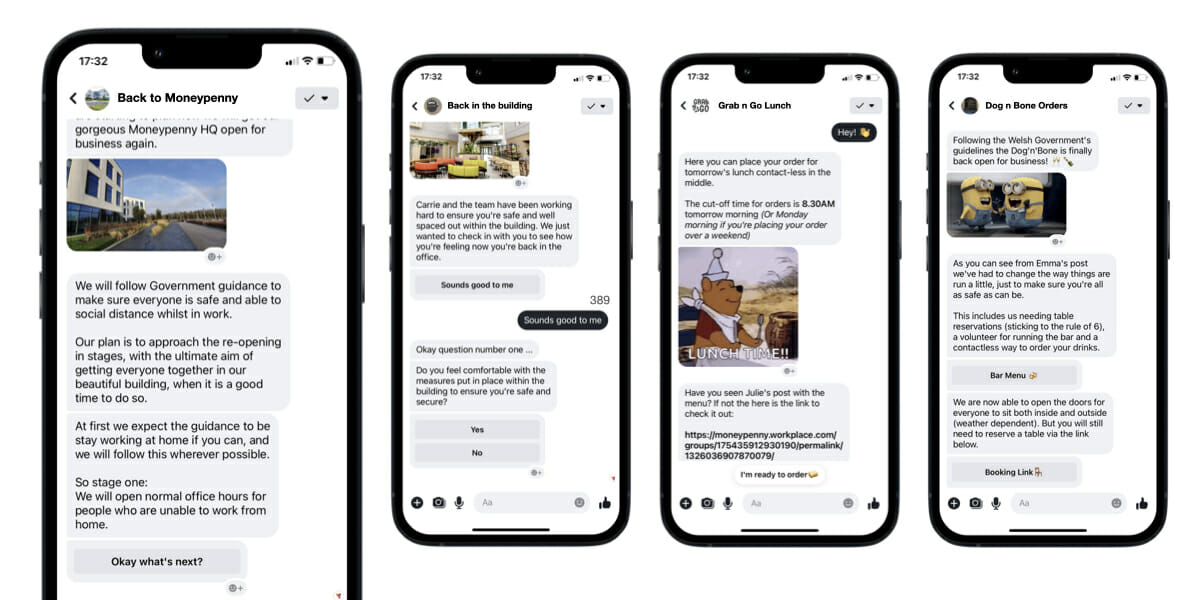 As the world began to reopen, Moneypenny once again used bots and digital assistants to help them navigate this operational headache – how to easily, quickly and seamlessly get staff back into the office.
They created a 'Back to Moneypenny' bot that let staff know what the reopening process and timeline was, answered questions and provided information on new rules and procedures that had been implemented to protect staff as they returned to the office.
As part of their efforts to create a safe office environment for staff, they also launched tools that helped employees order and pick up their lunch in a contactless way, and even order drinks from the office pub in a safe and contactless way too.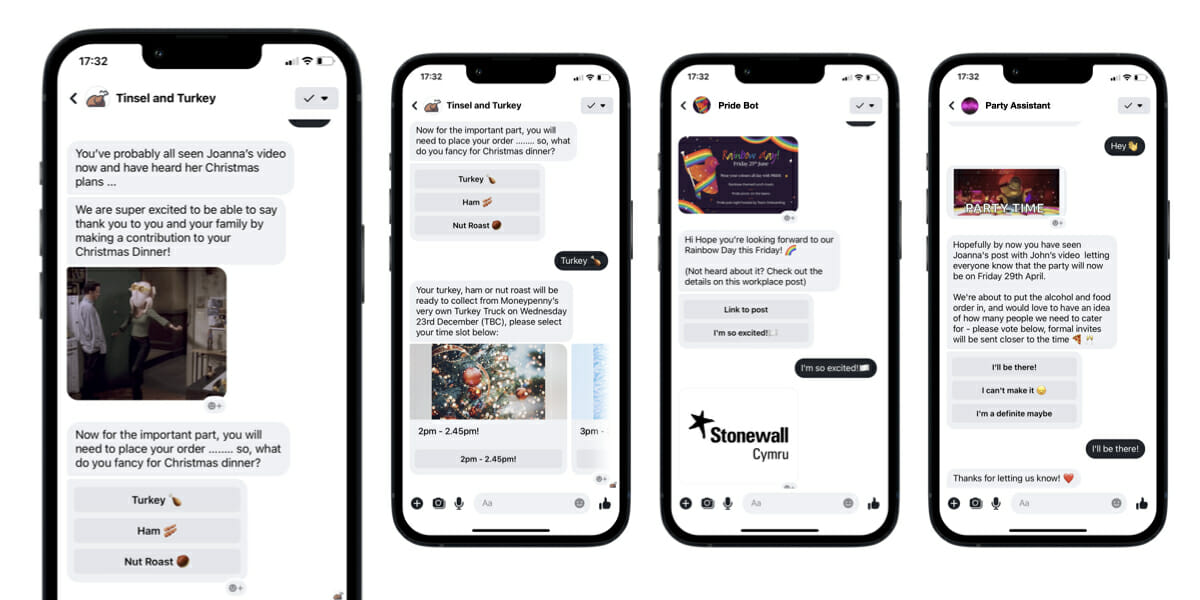 Moneypenny have also built and launched bots specifically aimed to improve company culture and employee engagement on Workplace. These include employee quizzes and games tied to cultural moments throughout the year and ongoing staff surveys to get feedback on how life at Moneypenny could be made even better. They have also built bots to help promote and support company events and parties. 
One of the flagship moments for company culture at Moneypenny is their annual Christmas dinner when the whole company gets together for a big and delicious meal. Due to the pandemic, these plans had to be changed because of social distancing guidelines, but Moneypenny were able to use bots to ensure staff were still able to enjoy their Christmas dinners, albeit from afar. They created a Tinsel and Turkey bot that allowed staff to select what type of Christmas dinner they would like to have, with different options available based on dietary needs and preferences. All these responses were saved by the bot and a pick up slot was then booked in and set to each staff member.
When the day came, staff were able to drive to Moneypenny's offices and, safely, pick up all the ingredients for a delicious Christmas dinner for themselves and their families. Within 24 hours, 75% of all Moneypenny staff had submitted their orders and booked a pick up slot.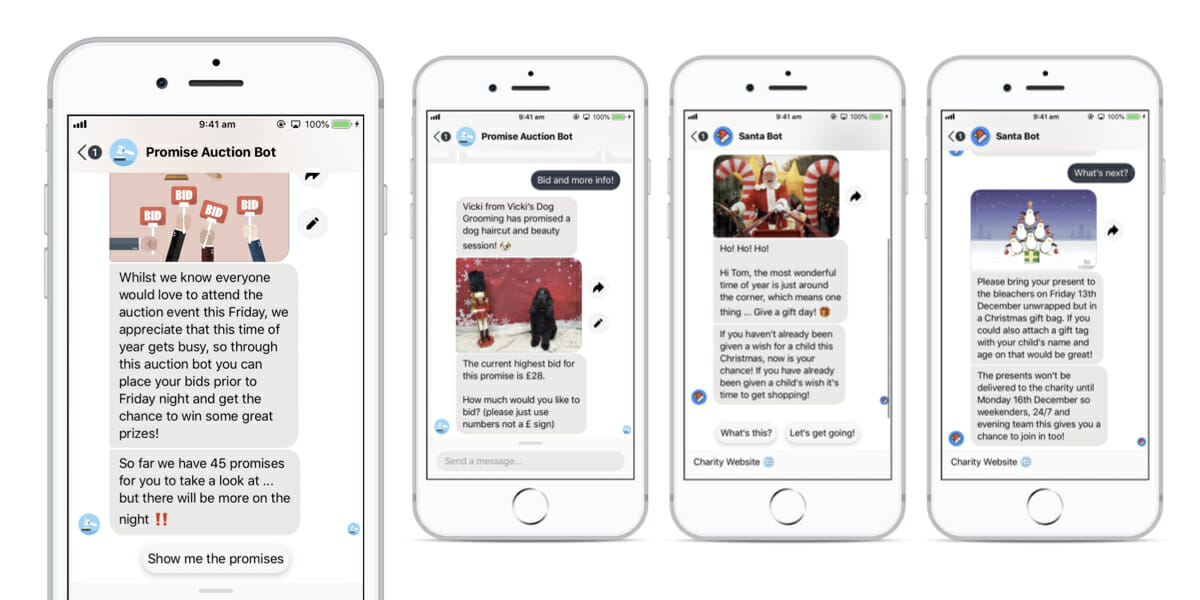 Moneypenny isn't just about improving the lives of their customers and employees. They care deeply about their local community too and run a number of initiatives throughout the year to raise money for local charities.
Charitable activities that have been powered by bots have included Promise Auctions and Charity Toy Drives.
The Auction bot was built to minimise the amount of time it would take to organise and run while maximising the engagement and donations it could generate from staff. The bot sent broadcasts to staff making them aware of the program. Staff were then able to browse through different items on offer, see the current bids and place their own bids – with the highest bids automatically updated in the bot and cross posted to a group on Workplace to drive visibility and inter-company banter.
At the end of the auction, the final bid results could easily be downloaded from the bot. Within minutes of the first broadcast going out, every single item had already had at least one bid, and 64% of all staff participated in the auction program.
Bots are also used for Moneypenny's annual charity Toy Drive where they buy toys for local underprivileged children at Christmas. In previous years, a huge amount of admin and manual work had been involved in running Toy Drives – from sending emails about the initiative, creating and distributing gift buying guidelines, answering questions from staff and keeping track of who was donating what.
Bots allowed Moneypenny to automate all these processes, saving their team huge amounts of time while increasing staff participation in the activation. The bot handled announcement broadcasts, follow up reminders, gift budget, wrapping instructions, collection dates and drop off locations.
The bot was a huge success with 98.5% of staff who received the initial broadcast participating in the program and buying a gift, resulting in over 600 gifts being donated to local children and families in need.
Using The Bot Platform, Moneypenny have built over 70 bots that help with a wide range of tasks and improves the employee experience for all staff – whether it be related to working operations, crisis response and management, company culture or charitable initiatives.
The ease of use of The Bot Platform has allowed Moneypenny's HR team to quickly and easily build and launch their own technology solutions and integrate them with Workplace from Meta.
Each bot has had positive impacts on staff engagement, program participation and awareness and process completions – while also saving their central teams time and money in development costs.
Just 1 hour after sending out surveys using a bot they see a 58% response rate, and this increases to 75% of all staff within 24 hours. Automated nudges then help this response rate jump even further, with no manual follow ups required from their HR teams.
Their charitable initiatives see a 98.5% participation rate from staff and over 600 Christmas gifts bought for local underprivileged children. Meanwhile, 64% of staff used the charity auction bot to place a bid and help raise thousands of pounds for charity – all while taking up 80% less time to organise than previous methods.
Here's what Emma had to say
Emma Davies
The Bot Platform fits really well with how we work at Moneypenny and the level of support you guys offer. We're always looking to partner with those types of companies.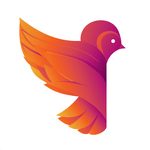 Emma Davies
With TBP, I could build these bots myself, and I had the freedom to experiment on my own. I can create a solution for the problems I see every day in a matter of minutes. You were so appealing because anyone can do it. It wouldn't take up our IT or our Development team's time – I can do it myself.