15.6x positive ROI achieved within the first year
100% completion rate on compliance training
73% engagement rate from staff on Honest Ops
Honest Burgers started as a small restaurant in London and has since grown into a national group of more than 40 restaurants across the UK. Honest Burgers use Workplace from Meta to keep their 1000+ staff connected, whether they be working from an office or a restaurant. What they wanted was an easy way to integrate as many services and applications as possible into Workplace to ensure their staff had easy and seamless access to the tools they needed to perform their jobs to their best abilities.
Using The Bot Platform they have also been able to make the most of Workplace's automation capabilities by building a suite of automated tools that help their staff work in smarter, faster and more efficient ways. From personalized learning programs through to crisis response tools, staff surveys, important news and broadcasts, or company events applications, Honest Burgers have been able to build whatever tools they need using The Bot Platform without relying on internal developers or external agencies.
Using The Bot Platform Honest Burgers have been able to create a suite of tools to help their restaurant staff and HQ Team connect, operate and work more effectively.
Click below to explore some of the solutions Honest Burgers have built using The Bot Platform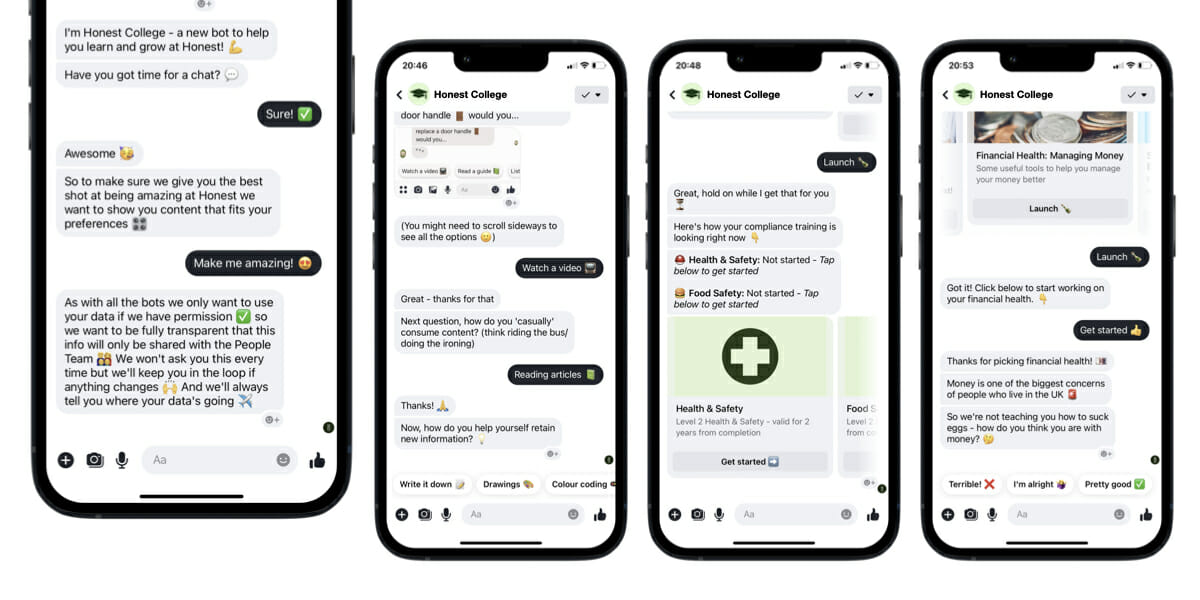 Honest College is a personalized learning program that's integrated directly into Workplace and can be easily accessed by all Honest Burgers' staff, whether they be on desktop or mobile. The bot includes bite-sized training modules related to a range of topics, from those directly related to the various roles and responsibilities at Honest, through to training relevant to life outside of work, such as time and money management or mental or physical wellness.
Training can be automatically assigned to staff based on certain attributes such as their location, experience or current position and has led to 150 waiters upskilling to become Chefs.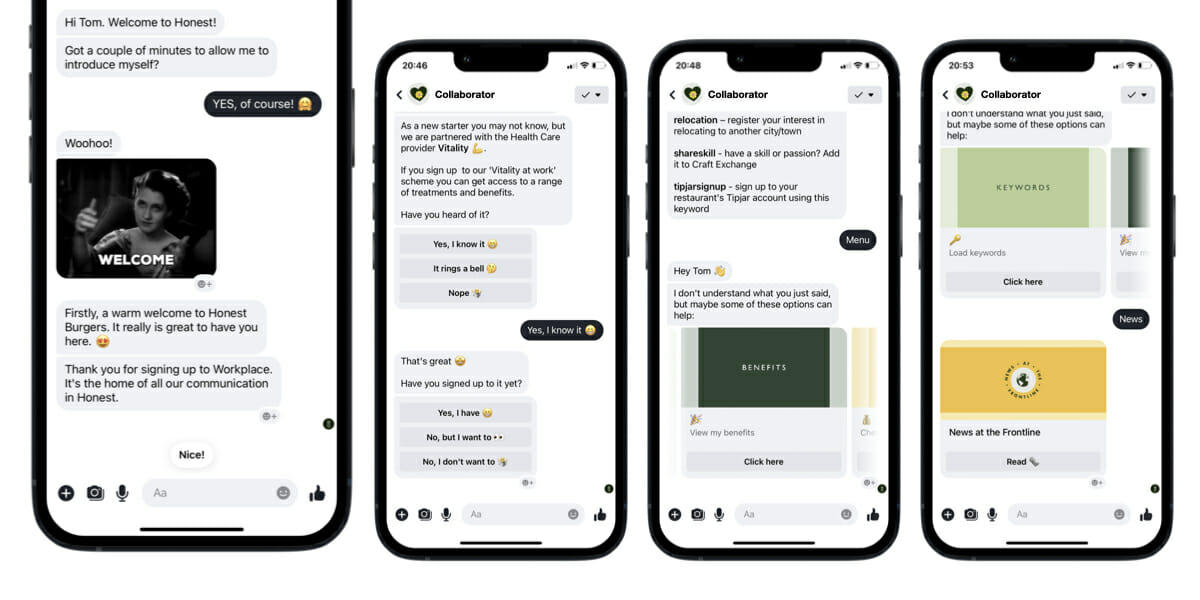 Honest Burgers created Collaborator as one of their main digital assistants with the bot housing a wide range of content including HR Guidebooks, employee benefit information, company news, help and support. Collaborator is also used to send regular pulse surveys to all staff over the course of the year.
Collaborator also acts as Honest Burger's onboarding assistant, welcoming new employees to the company, introducing them to Workplace and directing them to relevant new starter information and helpful resources. During the onboarding process, Collaborator also sends out surveys to check in with new employees over time and to improve the onboarding experience for future hires. As well as onboarding new starters, Collaborator also asks new hires to provide some information on their interests and hobbies which is used to connect them with like minded employees across the company.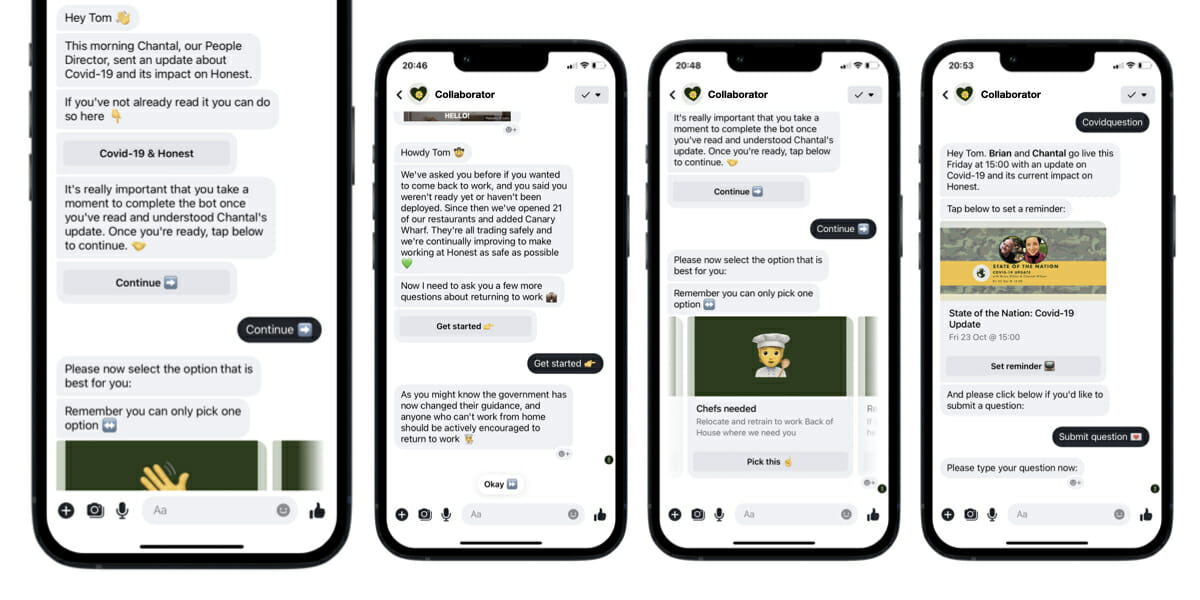 During the pandemic, Collaborator was also used to send out crisis communications to staff, updating them on how COVID-19 and new government rules and regulations would impact the restaurant industry and, specifically, Honest Burgers. Collaborator was able to answer questions relating to statutory sick pay, temporary shut down policies and provide staff with temporary alternative employment options at the start of the pandemic when restaurants first closed down. After a few weeks, Honest Burgers were able to re-open through a delivery only model and Collaborator was used to allow the operations team to decide which stores to open up first based on the location and willingness to come into work of their staff.
As the pandemic settled down and restaurants were allowed to re-open fully, Collaborator was used to manage the reopening process so staff were clear on the timings and new rules in place for the restaurant and hospitality industry.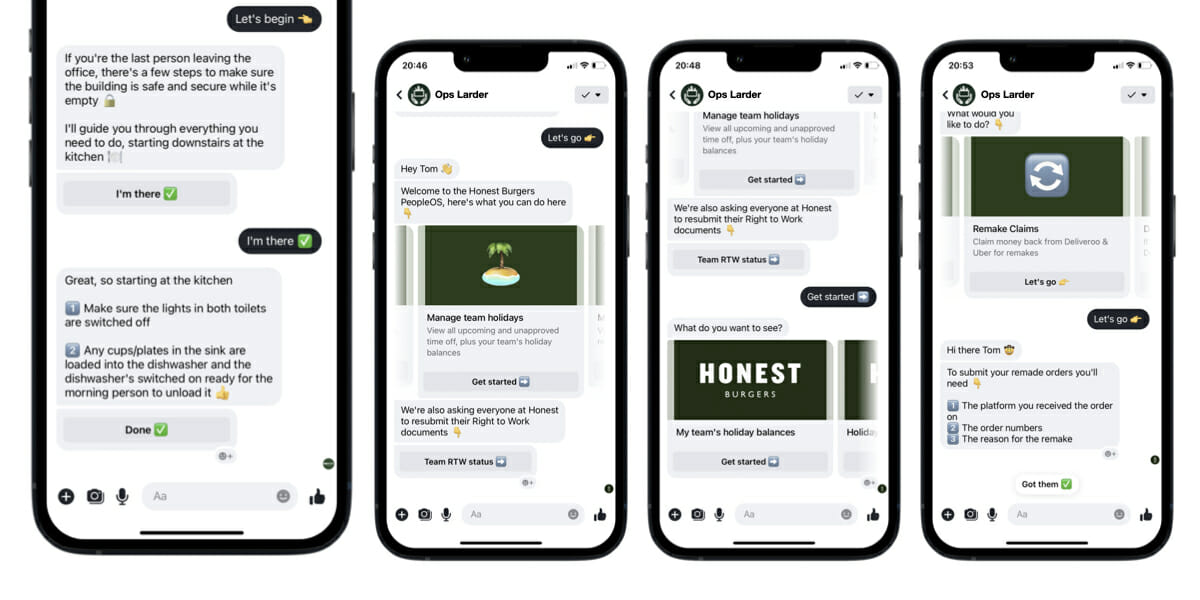 Ops Larder is an operational assistant that staff can use to perform a number of tasks including ordering restaurant menus and supplies, report delivery mistakes, perform compliance training, recording absences or overtime and log risk assessments.
Ops Larder has also been crucial for digitizing processes that were previously done in more traditional and offline methods, such as shut down checklists. Previously, at the end of each day, a restaurant manager would run through a paper shut down checklist but there was no electronic log of these activities taking place. Using Ops Larder, managers are able to digitally log each shut down task which not only saves paper and ensures consistency, but also guarantees an electronic log of every shut down that's taken place along with time stamps and staff IDs.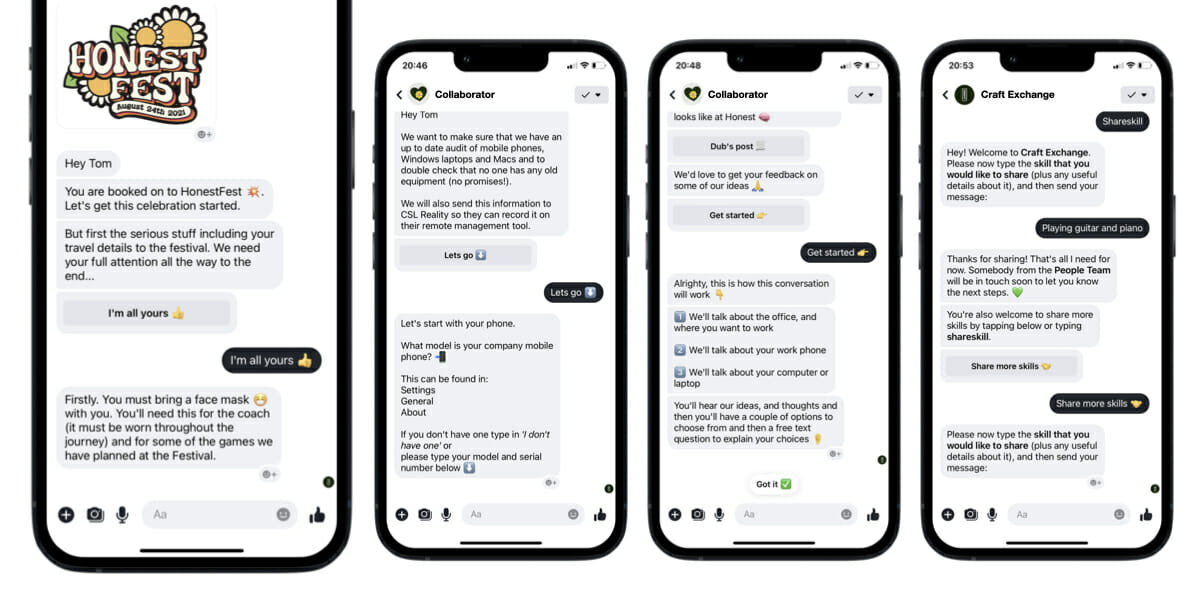 Honest Burgers also have a number of other bots that help with technical support, company events, payroll and employee profile gathering, merchandising and restaurant displays ordering, knowledge sharing and craft exchanges between staff.
To reward staff when Honest Burgers' restaurants reopened after the pandemic, their One Big Lunch bot arranged a company wide remote feast where staff were able to order a free burger, have it delivered to their address and join a giant online remote lunch with their colleagues before they all returned to work.
Arguably the biggest impact Honest Burgers saw from using bots on Workplace was the ability to stay agile and create the tools they needed to communicate and operate effectively during the pandemic. Alongside COVID-19 communication and operations, Honest Burgers has seen improved internal processes, enhanced collaboration between office staff and frontline workers, and improved their learning and development system.
Honest Collaborator has resulted in cost savings and efficiencies with event communication and ticket management, while Honest College resulted in a 100% compliance completion rate that allowed them to successfully reopen restaurants in just six days – a goal that had never been achieved through traditional e-learning. They have built over 50 bots spanning a range of use cases, see a 73% engagement rate from staff and generated a 15.6X positive ROI in their first year of using The Bot Platform.
Here's what Dub had to say
Dub Lee
We don't want any other tools for our frontline teams to use. We want to make sure that as a frontline person as a waiter or a chef at Honest, you do not need to log into any other systems, you can do everything you need to do to do your job amazingly on Workplace.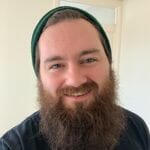 Dub Lee
This entire pandemic would be over before we would have been able to talk to every staff member if we didn't have bots. You guys were the thing to hold our communication together and this wouldn't have been possible without TBP. I can't think of how many valuable people we might have lost.