500,000 bot interactions by staff each month
93% of Ennismore staff use 2+ bots a month
Established in 2011, Ennismore is a global hospitality group with properties across the UK, Europe and the United States. Their portfolio includes restaurants, hotels and shared workspaces that include The Hoxton, Gleneagles and Working From_.
Ennismore are using Workplace to connect their office based and frontline staff around the world and were looking for a platform they could use to easily build and launch bots without the need for internal tech resources or external development agencies. Using The Bot Platform, they've been able to launch a breadth of bots helping to increase workforce engagement, collaboration and productivity.
Using The Bot Platform, Ennismore have built a suite of tools that improve all areas of the employee experience, from staff training or participation in company programs, to company culture and operational efficiencies.
Click below to explore some of the solutions Ennismore have built using The Bot Platform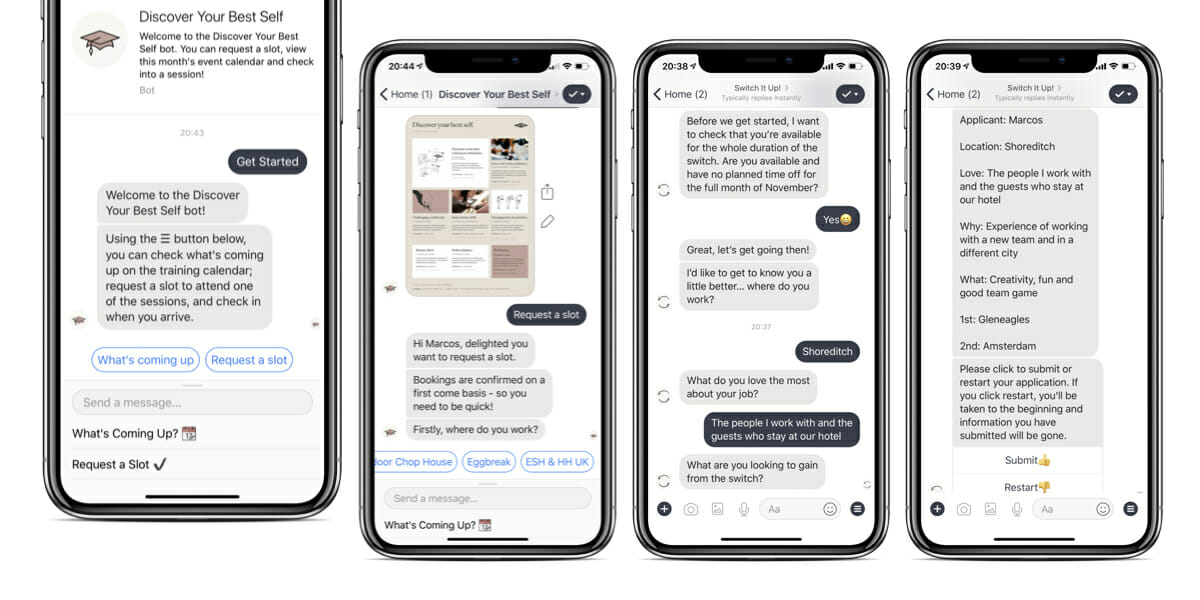 Ennismore created 'Discover your Best Self' as a way to automate training and development. Staff can check what learning opportunities are coming up on the training calendar, request a slot to attend, and check in when they arrive to confirm their attendance. Using the broadcast feature staff are also informed about new or relevant training and sent reminders before sessions start. All of this is integrated into Workplace meaning it's available to all staff, whether they be using Workplace on their desktop, laptop or mobile on the frontlines.
To further help their employees develop, Ennismore also created 'Switch it Up' which enables staff to apply for a temporary job swap with another employee doing a similar role at another location around the world. The bot eliminates all the paperwork and much of the admin that came before, as well as being a very convenient and intuitive channel for the application process. Since the bot was launched, Ennismore has seen a sharp increase in applications.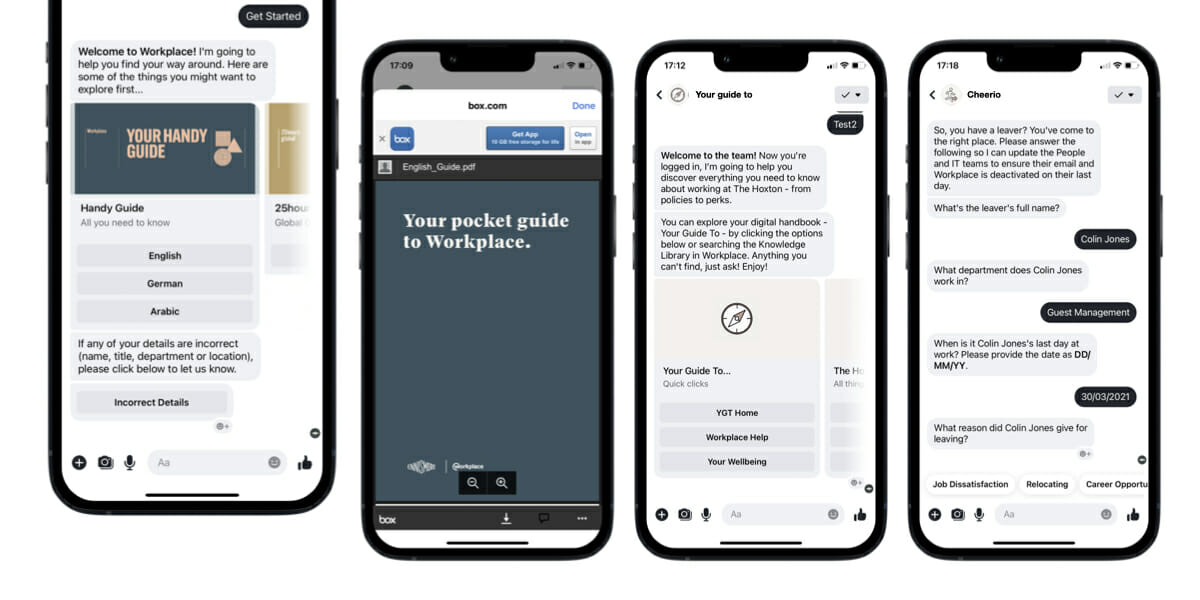 Ennismore has 2 onboarding tools that they use to welcome new staff. The first, 'Welcome to Workplace' provides all staff with an introduction to how to use their core communication channel, Workplace. This bot helps staff update their profile, directs them to key Workplace Groups they need to know about and links them to Knowledge Library on Workplace for more helpful guides and resources.
New Starters are then directed to "Your Guide to…" which acts as a digital handbook for the relevant business unit they have joined including HR information, employee benefits, company values and information, FAQs and key things to know. Similarly to 'Welcome to Workplace' the bot acts as a digital signposting tool that directs staff to more in-depth posts on Workplace, helping ensure quality control, removing their paper/carbon footprint, eliminating printing costs and ensuring new staff can access everything they need to know from whichever device suits them best.
All good things come to an end, and it's normal for staff to move on to pastures new. To handle this, Ennismore created 'Cheerio' which offboards leavers and ensures the relevant People and IT teams have all the information they need to deactivate them on their last day. The bot also collects feedback on the reasons why an employee is leaving, giving them an easy and risk free way of sharing candid feedback while arming their People team with actionable data that can be used to improve the employee experience in the future.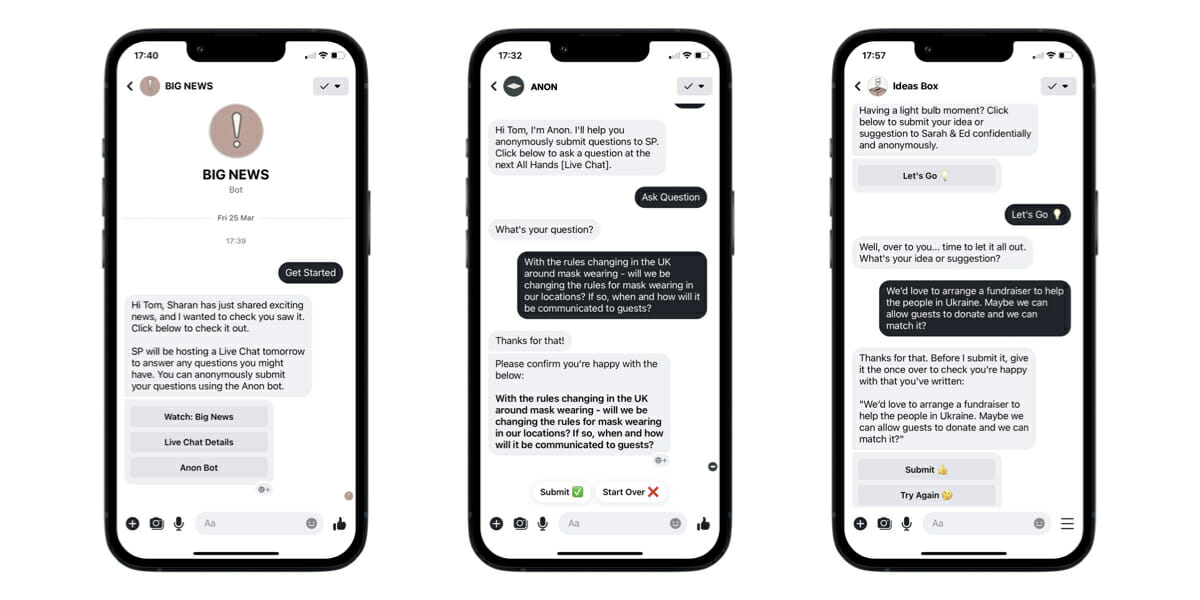 Ennismore also uses bots to share important company updates, crowdsource news from staff and allow staff to ask anonymous questions to their CEO. Their Big News bot handles important announcements while Press Box collects information on potential and confirmed press releases related to their different businesses.
The Anon bot lets employees anonymously submit questions to the CEO, providing a safe, transparent and accessible way for staff to reach leadership. There's also the COVID-19 bot, which shares updates that allow employees to quickly identify any potential issues related to the pandemic within the business. Their Ideas Box acts as an easy way for staff across the company, from those in HQ to frontline employees, to suggest ideas that can help and improve the business.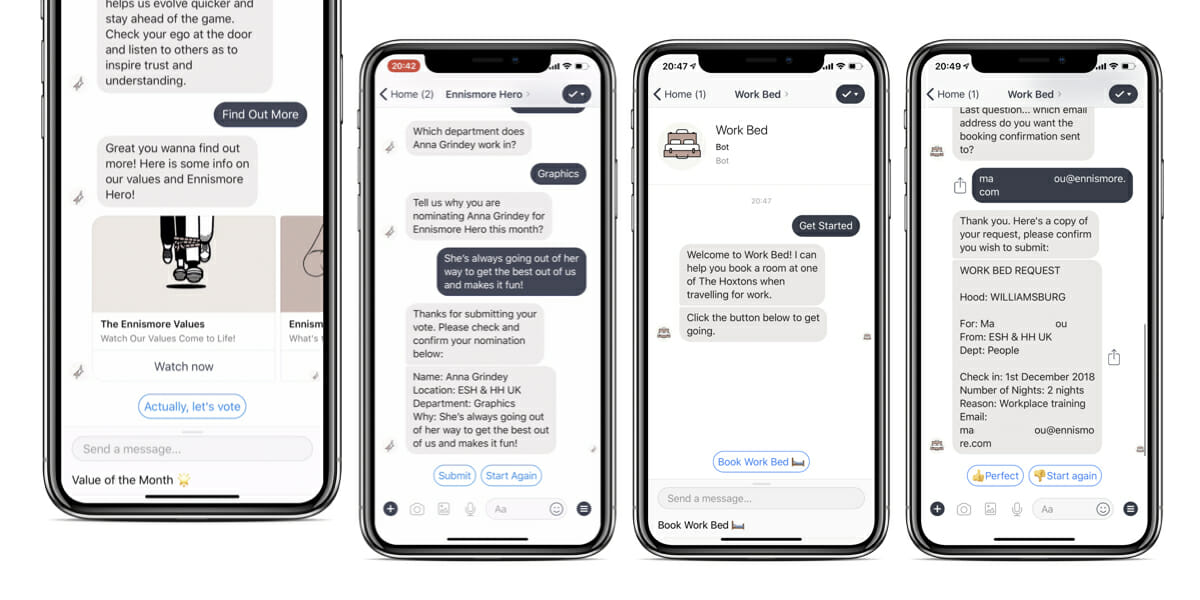 Ennismore digitized a previously offline employee recognition program with the launch of Ennismore Hero. The bot highlights core company values and allows staff to nominate their colleagues for employee of the month. Historically, people would write down the person they want to vote for and pop it in a postbox in the hotel management office. This took up more time than necessary for their staff and resulted in lots of admin manually going through the forms. Using Ennismore Hero, staff can now submit their vote whenever and from wherever they are.
To maintain consistency while allowing for business unit customization, Ennismore Hero was adapted for each of their brands, such as Hox Hero and Spirit of Glen.
They then have various other tools they've deployed to help with operations, such as Work Bed which allows staff to easily book work related travel. The bot collates the employee's travel and accommodation needs and posts this to a private group on Workplace which is managed by the Revenue and Reservations team to action the booking.
Using The Bot Platform Ennismore have been able to easily build and deploy over 30 bots for the 1800 staff around the world. They've digitized previously offline processes and automated previously manual and time consuming activities.
Bots receive over 500,000 monthly interactions with 93% of Ennismore staff using at least 2 bots each month. Bots have also contributed towards Ennismore's high Workplace activation rate of 98% by integrating more tools and systems into their central communication channel.
Here's what Marcos had to say
Marcos Eleftheriou
With bots, you can create your own tools and features and really personalize the experience your staff are having. Bots allow you to make Workplace yours.