Over 7000 employees inputted on company values
220,000 messages automatically sent to staff
One new set of corporate values created
Using The Bot Platform, Dixons Carphone colleagues were able to collectively contribute to a new set of values that bring them together as an organization.
Emma Clune, Program Manager at Dixons Carphone, was part of the team tasked with updating their core company values; with many different businesses operating under their own values, Dixons Carphone needed an updated and unified way to represent their business, team and overall purpose.
Instead of taking the approach of engaging a limited number of colleagues in the process, or leaving it up to a small team of internal board members and c-suite staff, Dixons Carphone needed a way to gather ideas and input from all colleagues and then increase awareness and understanding of these new values once they had been created and agreed.
And with over 24,000 colleagues active on Workplace across the UK & Ireland, Dixons Carphone had a large audience of office based and frontline staff that could easily be reached and given the chance to share their voice through technology.
Using The Bot Platform Dixons Carphone directly involved their staff in the creation of new corporate values.
Click below to explore some of the solutions Dixons Carphone have built using The Bot Platform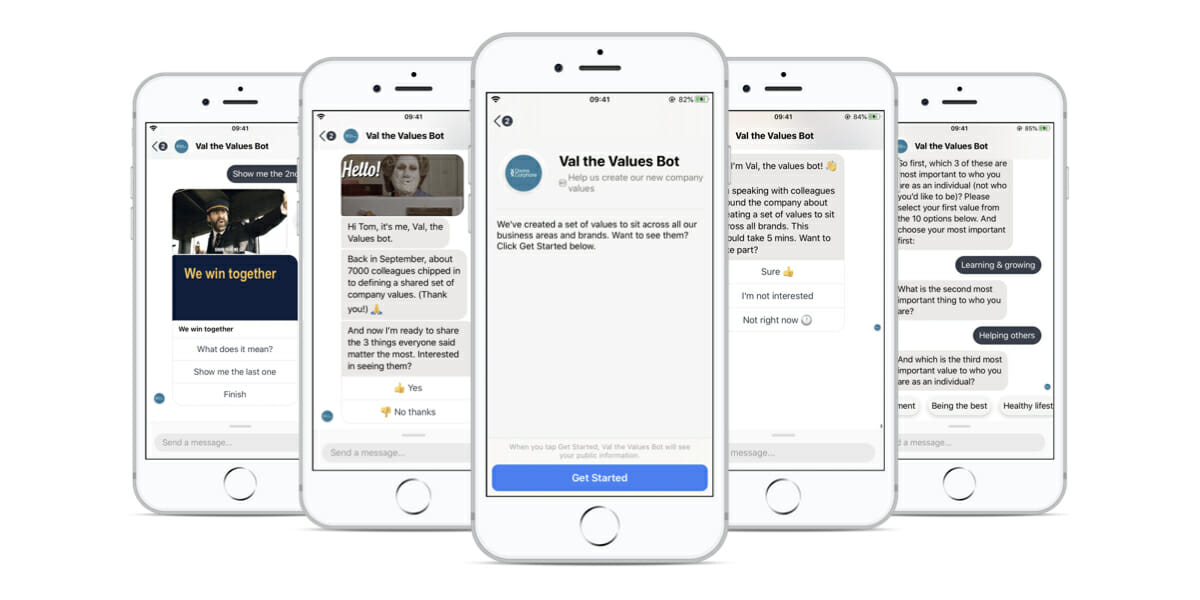 Dixons Carphone looked to The Bot Platform to provide them with the communication tools they needed. Emma and the Dixons Carphone team held in-person workshops and pooled 350 colleagues across multiple focus groups to start collecting insights.
Once they had a baseline of ideas, Val the Values bot was introduced.
The bot lived in two phases. The first phase involved explaining the background and importance of the initiative, sharing some of the insights that came out of the workshop and collecting thoughts and feedback from colleagues.
Val used a series of features to achieve this, from rich media and videos from their CEO through to text and button-based messages that asked colleagues questions about their personal values at work and what they thought was important for their business unit and the rest of the organisation.
Once all the responses were collected and reviewed, Dixons Carphone created their brand new set of company values. As a follow-up, Val the Values bot sent broadcasts to all colleagues who participated, letting them know about the new company values.
A year later, they then sent out another corporate value to staff to ensure they were still feeling good about the values, how they had been integrated into the company and what more could be done. 
When Val was launched, Emma and her team were able to add the input from staff to information gained through workshops, surveys and other channels to see the patterns and similarities within the colleagues who participated. Some of the common feedback included being empowered to do their jobs, a need to have common sense, and "owning" the work being done. Everyone seemed to identify three main pillars for their new values: one value based on their customers, one based on responsibility to themselves, and one based on working together.
The bot sent a total of 222K messages, allowing thousands of Dixons Carphone staff to share their input on the new values across all channels. As well as saving Emma and her team time by using automation to explain the initiative and run the survey, the bot was also able to automatically remind colleagues who hadn't responded using The Bot Platform's nudge feature.