90% positive feedback from staff
Better and more consistent onboarding
3 hours saved per person per month
International non-profit organisation, Citizens Advice, uses Workplace to connect 11,000 employees across 265 countries. They were looking for a way to build tools that would automate manual and repetitive tasks so their staff could spend more time on bigger things, like supporting their communities.
Before implementing bots on Workplace, internal communication and accessibility to information was fractured. Old-school communications tactics were creating roadblocks in day-to-day operations for their staff members and volunteers. Their Workplace Engagement Officer needed a solution to open up the communication pipeline and make content delivery easy, but in a way that still placed emphasis on keeping those conversations personal and helpful.
Since adopting The Bot Platform to their Workplace instance, Citizens Advice have created a number of bots that are helping their staff be more productive at work by automating internal processes and content delivery in a variety of ways.
Click below to explore some of the solutions Citizens Advice have built using The Bot Platform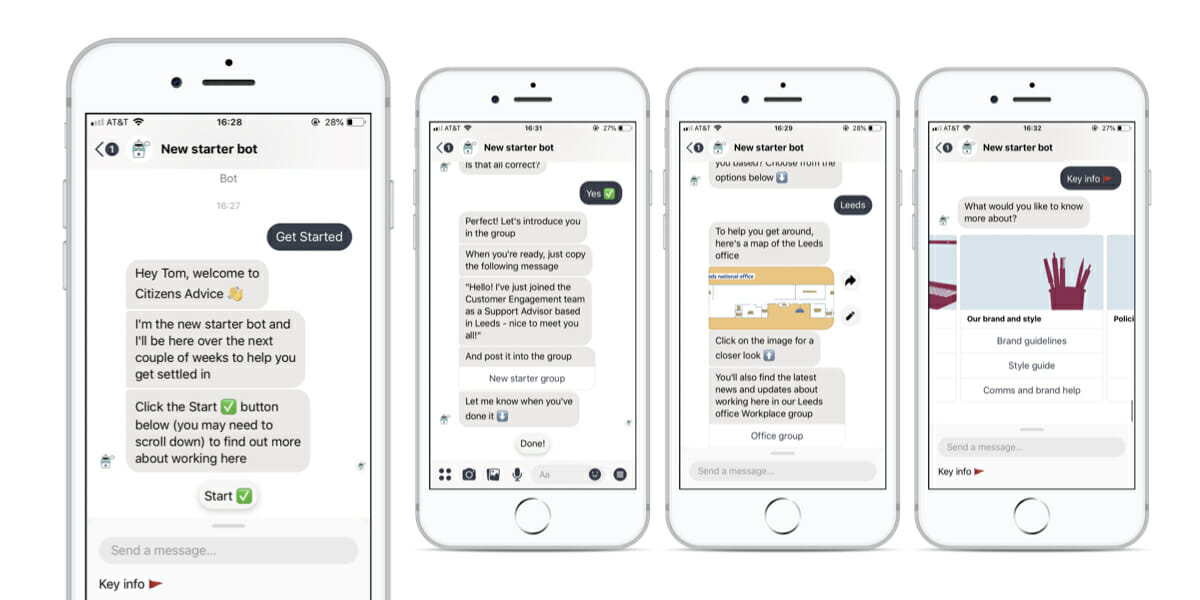 Citizens Advice's New Starter bot automates the onboarding process for new hires. The bot automatically greets new starters on their first day and helps introduce them to their team members through a guided experience that encourages them to start posting to Workplace and engaging with the platform.
The New Starter bot also provides information of use to new hires, such as floor plans for different Citizens Advice offices, company FAQs and links to brand guidelines and HR policies.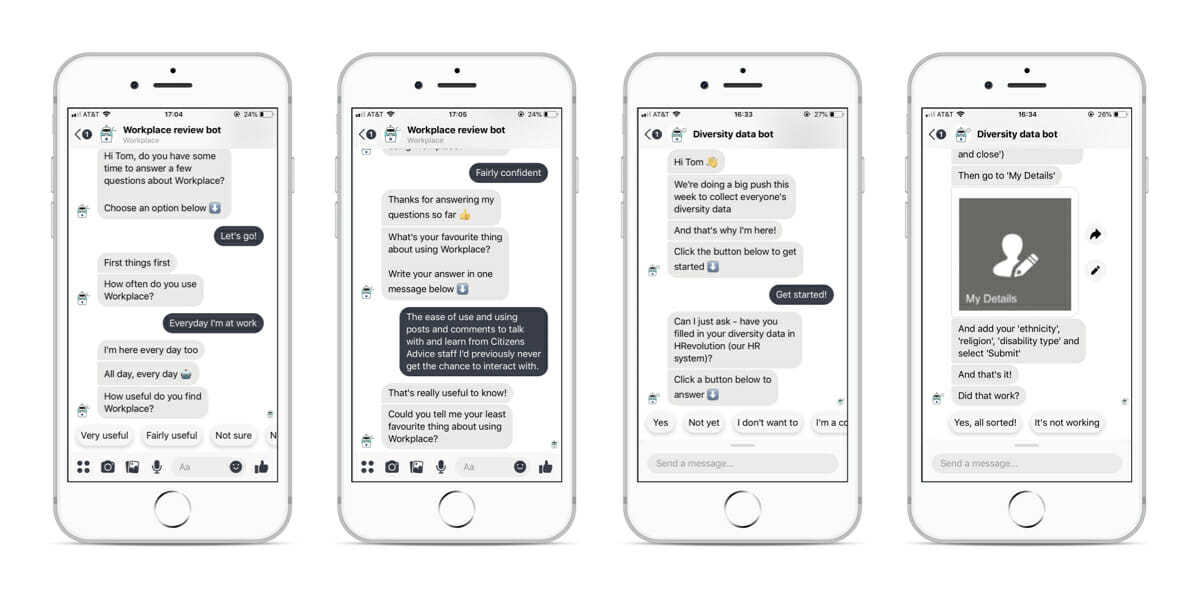 The Workplace Review bot was built by Citizens Advice to survey staff on how they are finding Workplace. Staff can enter information about the ease of use and their confidence in using Workplace, which features they like the most, and which areas of Workplace they would like to receive more information or training on. The bot can then direct staff members to educational Workplace groups and resources.
This initial bot served another purpose – helping Citizens Advice learn how to build bots by solving a simple problem first, then tackling bigger things down the road once they had key learnings from this experience.
Another bot built by Citizens Advice was their Diversity Data bot which encouraged staff to update their details within the HR system. This was a big internal push at Citizens Advice, and team members were sending out company-wide comms all week attempting to prompt members to complete the task. With an already busy team, the Diversity Data bot helped automate a HR process and nudged staff members to complete their profiles.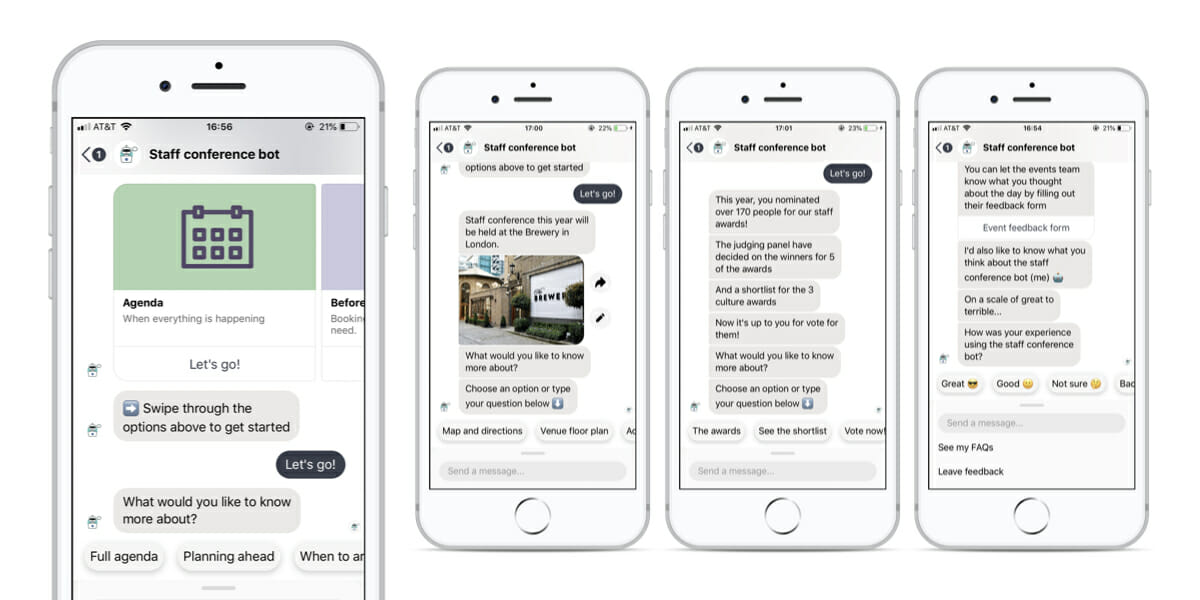 Citizens Advice built a Company Conference bot that sent out broadcasts to staff and provided them with information about the event including the agenda, logistical and travel details. Using the bot, staff could also access conference content, including information about their annual staff awards which included the ability to see the award shortlist and vote on who should win.
After the conference took place, the bot then acted as a post event survey to gather feedback on what attendees enjoyed and what could be improved for next year.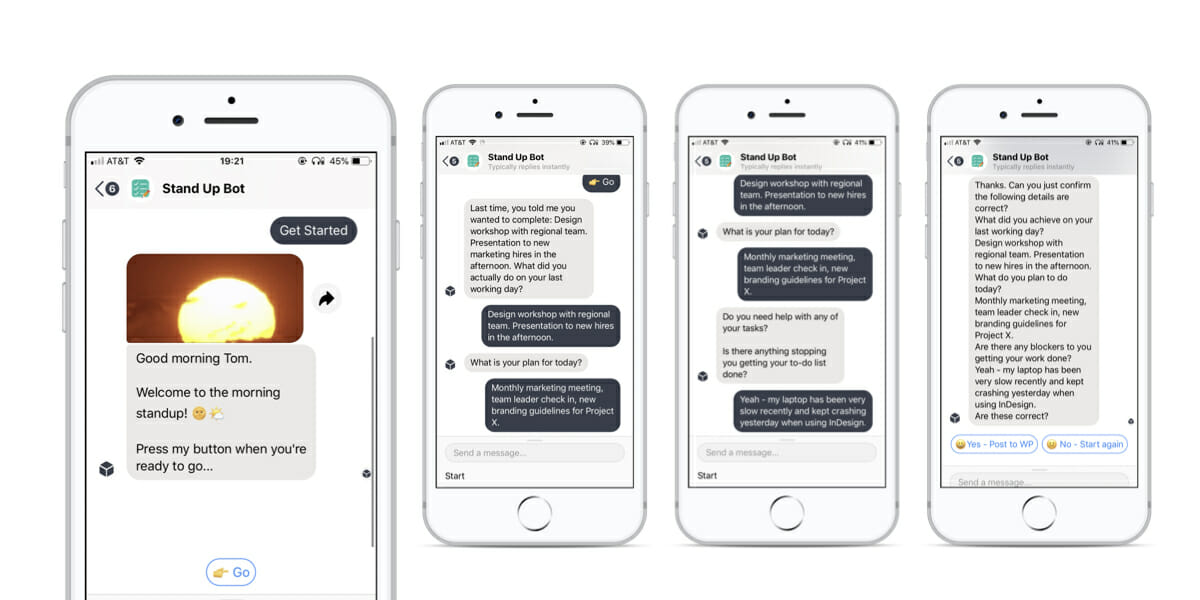 The Stand Up bot was built to save the Communications team at Citizens Advice time. Being such a large organization with remote workers, there can be a lot to communicate in each team. Within the Communications department there are smaller teams like social media and events, so everyone is working on something different at the same time.
The problem they identified was that people did not know where everyone was or what they were working on. Someone could be working on building a flyer for an upcoming event when there could have been multiple team members who had already built a template. As a team, they needed to be more linked together to make everyone more productive.
The Stand Up bot helped collect information from different teams and share it to one central destination, helping to reduce meeting load and tap into asynchronous communication methods.
Before using The Bot Platform, the Citizens Advice team members were spending lots of time on manual and repetitive tasks. New starters used to spend 30 minutes alone trying to figure out where they should begin on their first day, processes were confusing and there wasn't a singular place staff could go to access information.
With bots, Citizens Advice are able to automate internal processes and content delivery, which is saving staff huge amounts of time but also being received incredibly well by users, with their first two bots getting over 90% positive feedback. More so, bots are also helping to increase understanding of and engagement with Workplace as an internal communication and collaboration platform at Citizens Advice.
Pandora Longstreth
A massive part of it is changing how people work, what we can do to help them do that, and using bots to change our culture and break down barriers between teams.