58% of staff use the bot daily
89% of staff have used the bot at least once
Brunswick Group, the world's leading critical issues firm, were struggling to keep everyone across their 27 offices updated with the latest company news in a timely manner. 
Brunswick's clients rely on them for advice on critical issues and their clients were asking for an even broader, curated and integrated Brunswick. Brunswick Group's 1,400 employees across 27 offices need to know what the #bestofbrunswick is on a continuing basis, so they can share information about the full firm to existing and prospective clients.
Brunswick enlisted The Bot Platform to create their first bot, a daily internal news service operated via Workplace Chat with the aim of sharing news of their client work, almost as it happens. As well as making it easier to connect dots within the firm, it has been designed to keep colleagues up to date in a concise, relevant and timely manner.
Click below to explore some of the solutions Brunswick Group have built using The Bot Platform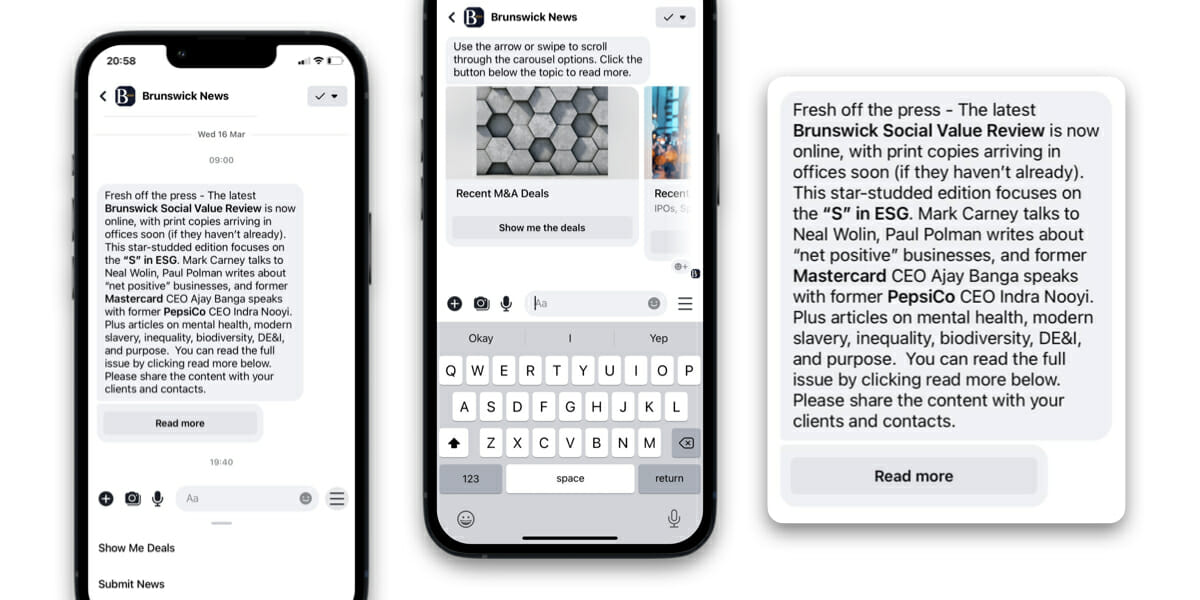 The first bot launched by Brunswick Group was Brunswick News. Created in just one week, this daily news service, operated via Workplace Chat, is designed to cut through the noise, share news on important client activity, new business wins and exciting intelligence that employees can drop into any external conversation, as well as making it easier to connect dots within the firm.
The bot has made it simple to access and answer various in-house questions; for example, when meeting a new client it is easy to access recent examples of the global high profile work Brunswick Group have completed or to find out what information is cleared for external use. It has also become a handy assistant during the onboarding process, when a new learner wants to learn more about the firm's work and clients.
The Brunswick News bot has created a proper process and team responsible for collecting and sharing the #bestofbrunswick examples. The group now has a daily supply and archive of approved company announcements and headlines to share externally. This information then feeds into other processes such as updating marketing and new business materials.
The average unique daily usage of the bot is at 58%, which is high in comparison to the company's average Workplace from Meta viewed rates of 50% and email newsletters. 
The Brunswick News bot has helped to streamline their news sharing processes in a way that can support various departments across the company whilst simultaneously keeping colleagues up to date in a concise, relevant and timely manner.
Here's what Ben had to say
Director, Knowledge Management
The team at The Bot Platform have been absolutely fantastic. Their product and service is easy to use, great value and they have fantastic knowledge of how to tailor your solution. We look forward to developing the relationship.