For the past nearly 2 years that we have been plunged into the COVID-19 pandemic, we have both as a society at large and individually, been exposed to increased uncertainty, stress, fear and anxiety.
 
According to the Office For National Statistics, rates of depression have doubled since the COVID-19 pandemic began. Although we are much more open in how we address mental health issues now, the sheer number of people who are touched by mental health issues means that it has reached crisis levels.
 
Jean Twenge, Professor of Psychology at San Diego State University says "In some ways this is the perfect storm for mental health issues. We're dealing with social isolation, anxiety around health, and economic problems. All of these situations are linked to mental health challenges, and these are hitting us all at once."

Despite the loosening of COVID restrictions in many countries and vaccine programs in advanced stages in Europe and the US, there still remains a lot of uncertainty regarding the future, which heightens psychological distress. Who knows if winter will bring new variants and lockdowns which will further challenge us emotionally and physically?

What is certain is that more and more companies have seen the benefits of hybrid working arrangements which allow employees the flexibility to work from home regularly. But for all their positives, these new ways of working have also presented challenges of their own.

According to the Buffer's 2021 State of Remote Work Report up to 27% of those surveyed said they struggled with 'not being able to switch off' and a further 17% said they struggled with loneliness whilst working from home.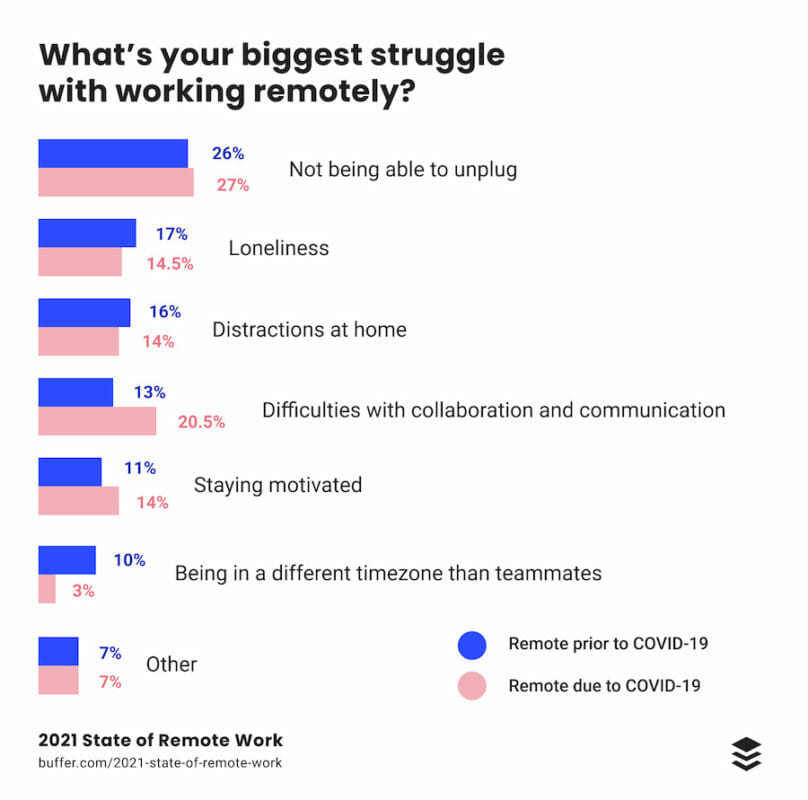 Considering these worrying statistics, there is a huge opportunity (and necessity) for companies to think about new processes and practices that can be established to help connect teams and cater to staff needs in the 'new normal' of working conditions.

Certainly when the pandemic began, many companies rushed to set up working from home arrangements which were largely alien to them prior to the pandemic. But now that the dust has settled and this way of working is established as the norm moving forwards, it is time employers look at supporting their biggest asset; their staff.

Maintaining connection, culture and motivation during the 'new normal' of working is going to be a key challenge for companies globally in the coming years and will be integral to success, prosperity and staff retention.

Fortunately, if you're using an internal communication and collaboration tool like Microsoft Teams or Workplace from Facebook then you've already solved half the challenge – providing your staff with a channel that allows them to easily work and socialize with colleagues – no matter where they are located, or what device they're using.
Using The Bot Platform, you can then take these communication channels to the next level by building bespoke work apps that can build a sense of community, promote mental wellness and connect remote teams. Here are 5 areas where bots can help. 
Making Staff Feel Heard
Making Staff Feel Valued
Cultivating Bonding
Promoting Healthy Habits
Encouraging Good Deeds
Making Staff Feel Heard
During such uncertain times staff are likely to have more questions than ever before. One way of helping your staff's mental wellness is to simply check in on how they're doing and ask for their input on how to change and improve things.
Using The Bot Platform it is easy to create workforce feedback loops which help you to stay on track about how staff are feeling and to give them an avenue to express their opinion and feel heard.
These surveys can easily be sent to all staff or specific segments of the company, and the results can be measured over time by creating automated recurring broadcasts that are sent on an ongoing basis. UK customer support company, Moneypenny, launched a 'How are you doing' survey bot during the pandemic to check in on everyone's well being and gauge their work-life balance. Within 24 hours over 75% of staff had answered the survey.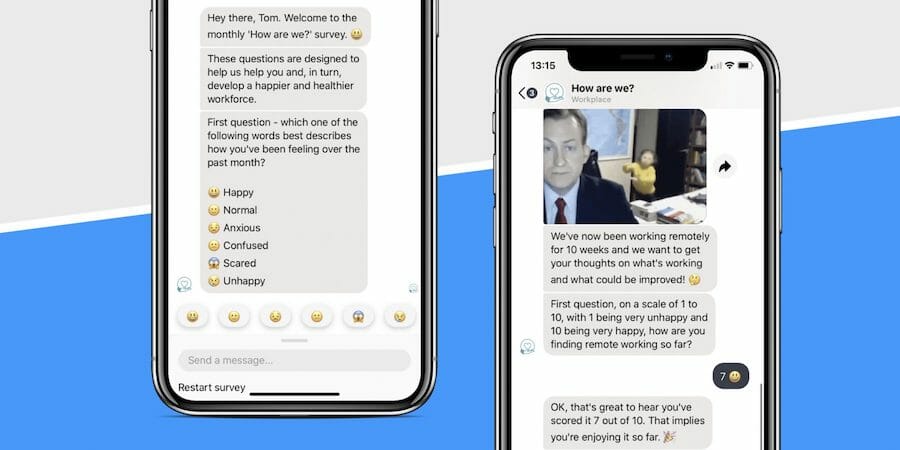 Making Staff Feel Valued
According to NBC News,  65% of Americans claim that they were not recognised by their company once in a one year period and 79% of employees who quit their job claim that a lack of appreciation was a major reason for leaving. 
With stats like these, it's clear that recognition plays an important role in staff retention and can help to boost company morale and create a culture of positivity.
There are a variety of ways bots can be used to make staff feel valued and create a culture of peer recognition. For example, companies like Citizens Advice have created a staff awards program where people can nominate their colleagues for specific awards. WW (Weight Watchers) has a long standing peer recognition program called the Impact Awards where staff can nominate colleagues who have gone above and beyond for quarterly awards and assign company values to the actions that have been demonstrated. And then APAC based telecommunications company, Globe Telecom relaunched their recognition program during the pandemic by using bots on Workplace which resulted in a 900% increase in nominations year on year and a happier and more engaged workforce.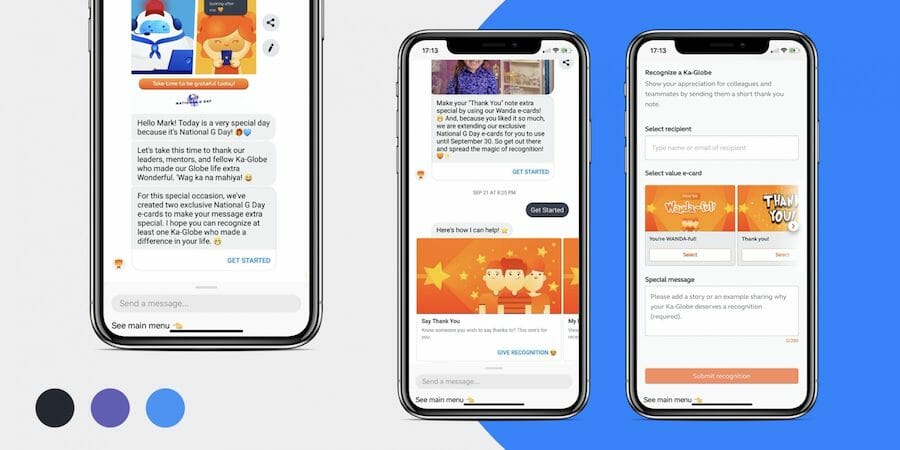 Cultivating Bonding
Helping staff network and socialize despite being in distributed remote teams can also boost morale and improve mental health. The 'water cooler' moments and side chats on the shop floor have largely been lost and replaced with more formal video meetings. Bots can help bring back some of the spontaneity and innovation that often come from these in-person catch ups. For example, you can create a Buddy Bot that improves internal networking and collaboration opportunities by matching up different staff members and encouraging them to jump on a video call for a coffee and a catch up. The bot can also include a few conversation topics and even some ice breaker questions.
In this scenario, bots can actually help to connect staff and create a sense of community regardless of location, by helping to promote bonding and culture in a spontaneous way.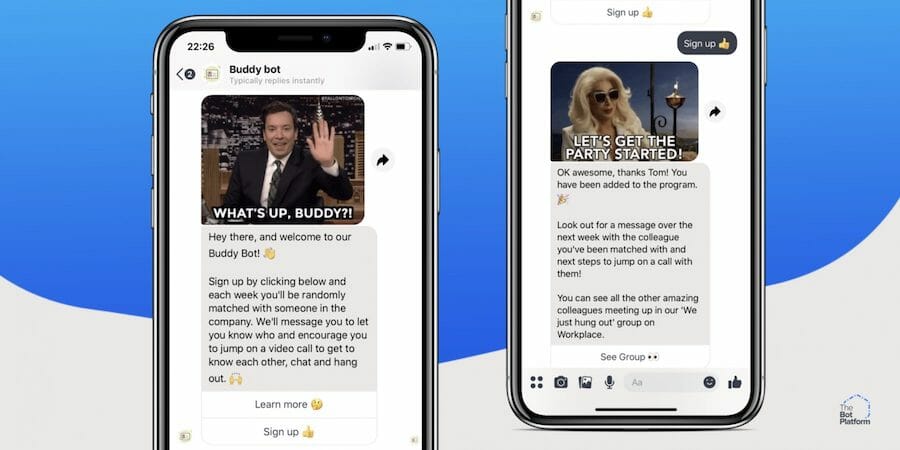 Promoting Healthy Habits
Promoting healthy habits is key during such uncertain times, particularly when we consider some of the aforementioned statistics regarding loneliness and people 'not being able to switch off' when working from home.
And while bots shouldn't be viewed as a replacement for broader internal initiatives that help promote health habits, they absolutely can be used to promote these programs and increase awareness and participation from staff.
For example, you could set up a Meditation Bot that gives employees a guided 10 minute meditation each day or work outs that can be done from home. You could share invitations for virtual yoga classes, tips for work/life balance or even just promoting positive thinking.
Consider creating rules about fixed lunch times where internal meetings can't be booked and staff must step away from their screens and take a break. Or you could remind people to shut down at a certain point in the evening.
We have seen our customers promote healthy habits using our bots in so many ways. A great example of using bots to promote work/life balance and to promote healthy habits is Clarins UK group. Clarins have built a number of brilliant bots, including one called Lunch Time Chime, which encourages staff to clock off at 1pm to have a proper lunch break and recharge physically, mentally and emotionally. The bot includes healthy recipe suggestions, nutrition, relaxation advice, life organisation hacks and energizing techniques.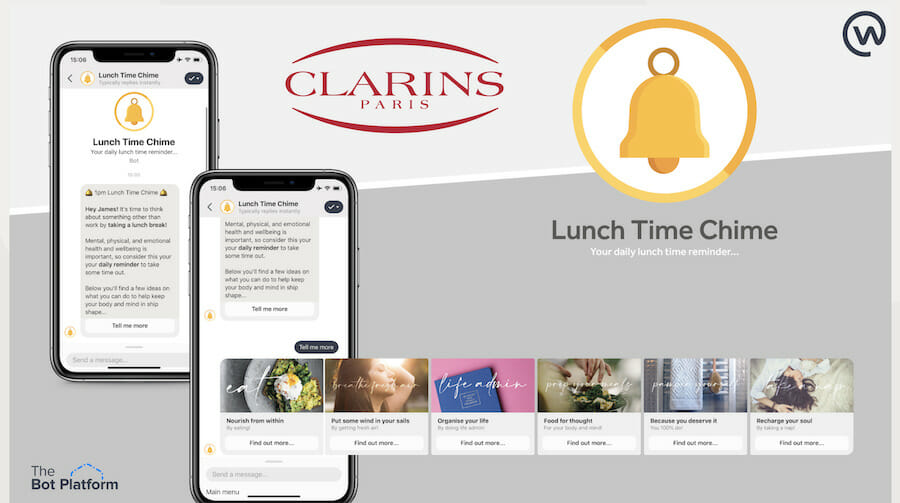 Encouraging Good Deeds
Evidence shows that helping others can benefit our own mental health and wellbeing. It can reduce stress as well as improve mood, self esteem and happiness. So why not launch a bot that encourages your own workforce to do good deeds and help their community? 
For example, you could create a bot which encourages staff to create weekly good deeds and promote acts of kindness. Staff could sign up for the program and receive weekly broadcasts with different challenges, it could be anything from supporting your local community, to reaching out to a loved one or a stranger. Staff can select different types of good deeds to pick from or they can also suggest different acts of kindness of their own that can be added to a central database and then shared out as part of the next challenge. 
These challenges can even be gamified on Workplace, where staff can earn points from how they perform in different challenges and add these points to a larger company total. This can help to boost morale and community, because so many people are working together to try to make a positive impact and pay it forward. 
Philanthropic activity is a great use case for bots in general. Again, one of our customers,  Moneypenny, created some amazing bots for this purpose too. They used a bot to generate gift donations for underprivileged children at Christmas and raised thousands of pounds for charity. 
Doing good deeds like this and promoting philanthropy from a company level is a great way to connect with staff and promote activities which help staff's mental wellness.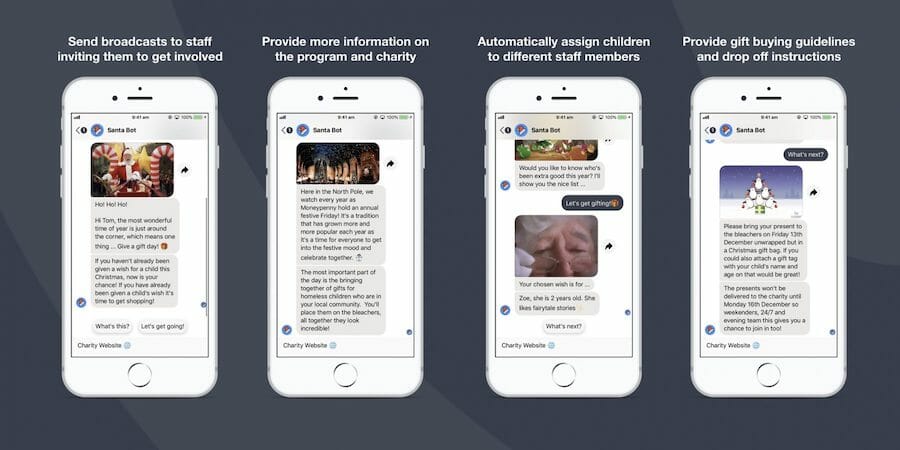 All of the bots we've mentioned in this article are super easy to set up on The Bot Platform and require absolutely no coding. If you're interested in learning more about how bots can be used to promote employee mental health wellness then make sure you check out our webinar – Connecting remote teams and supporting mental health during times of isolation.

Otherwise if you'd like a free trial of our platform to build something of your own, then contact us or reach out at hello@thebotplatform.com for more details.
Interested in learning more? Drop us a line below.