As the new way of working clashes with the old, and an end to the pandemic gets ever closer, companies are having to grapple with what their future work set up will look like. Think the hybrid model is your best bet? Think again.
Following on from two years of discourse in the working world, where employees who had never worked from home before suddenly found themselves perched at dining-room tables trying to work around the kids eating breakfast, or in cramped spare rooms, where they were in the constant battle of trying to press send on an email before the cat does it for them.
Two years down the line and many of these employees haven't just settled into the working-from-home life, they are thriving in it. They can live a life without a commute, possibly move out of the city and walk the dog every lunchtime…what bliss.
But now, as the dust settles and we are beginning to see life post-pandemic, many employers want their employees to come back to the office and after facing resistance, the hybrid model is what many business owners have settled on, but does it have its drawbacks?
What is the hybrid model?
According to BuiltIn, the hybrid work model incorporates a mixture of in-office and remote work in an employee's schedule. Employees occasionally have the ability to pick and choose when they work from home and when they come into the office. There is no one-size-fits-all hybrid model. Each company develops a hybrid model based on the needs of the company and the needs of the individual employee.
Why Hybrid?
WeWork found that 79% of the C-Suite will let their employees split their time between corporate offices and remote working, if their job allows for it.
WeWork continued: 'Perhaps most importantly, we learned that when employees gain the flexibility they yearn for, their companies benefit from higher productivity, engagement, and loyalty. Employees' desire for greater control, flexibility, and freedom in where and when they work is at the very core of hybrid. It may have taken a pandemic to reveal that giving workers what they want is actually beneficial for the bottom line — but now that companies have taken the leap, the future of work is bright. And the future is hybrid'.
What are the drawbacks of being a hybrid worker?
According to Workplace Intelligence, 'While the hybrid model offers many benefits, it also has its drawbacks. One issue that's already emerging is that remote workers may not be treated fairly compared to their office counterparts'. New research confirms a strong bias against remote workers, discovering that over 6 out of 10 HR leaders say that office employees are more likely to get promoted and receive regular raises, because they are seen as harder workers and more valuable.
This year, business leaders will need to focus on overcoming this bias if they want the hybrid model to succeed for their business. Managers will need to take steps to ensure that all workers are treated equally and feel included.
The Key to Creating a Great Hybrid Culture
The key to a successful hybrid culture is ensuring that everyone feels equally included and able to succeed, no matter where they are based.
The only way to do this is to guarantee that you have the technology to keep everyone connected. If you use tools like Microsoft Teams and Workplace from Meta you have already made great strides towards success, as everyone has an equal platform to communicate and collaborate with colleagues, whilst also keeping up with company culture and news.
How We Can Help
We know that staff want to feel heard, recognised and valued and this is definitely something that The Bot Platform can help you with, by building bespoke work apps that can build a sense of community, promote mental wellness and connect teams.
Making Staff Feel Heard
Using The Bot Platform, it is easy to create workforce feedback loops which help you to stay on track with how staff are feeling and to give them an avenue to express their opinion and feel heard.
Our customer Moneypenny launched a 'How are you doing' survey bot during the pandemic to check in on everyone's well being and gauge their work-life balance. Within 24 hours over 75% of staff had answered the survey.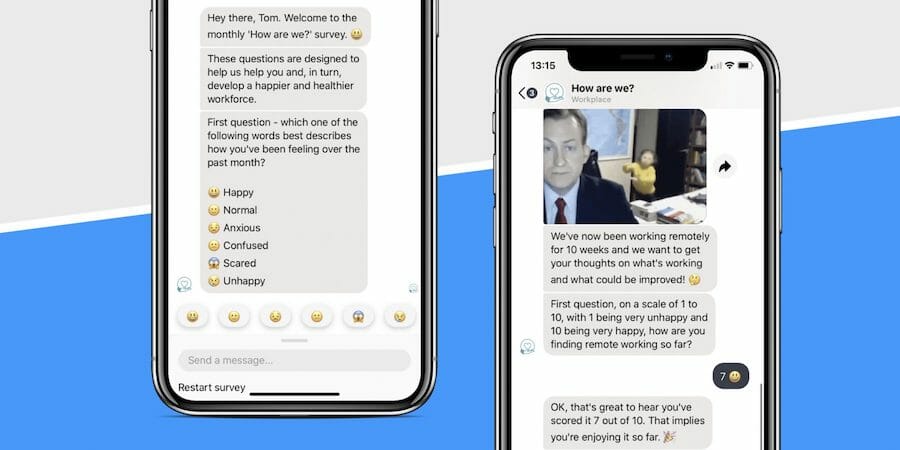 Making Staff Feel Valued
There are a variety of ways bots can be used to make staff feel valued and create a culture of peer recognition. For example, companies like Citizens Advice have created a staff awards program where people can nominate their colleagues for specific awards. WW (Weight Watchers) has a long-standing peer recognition program called the Impact Awards, where staff can nominate colleagues who have gone above and beyond for quarterly awards and assign company values to the actions that have been demonstrated. And then APAC based telecommunications company, Globe Telecom relaunched their recognition program during the pandemic by using bots on Workplace which resulted in a 900% increase in nominations year on year and a happier and more engaged workforce.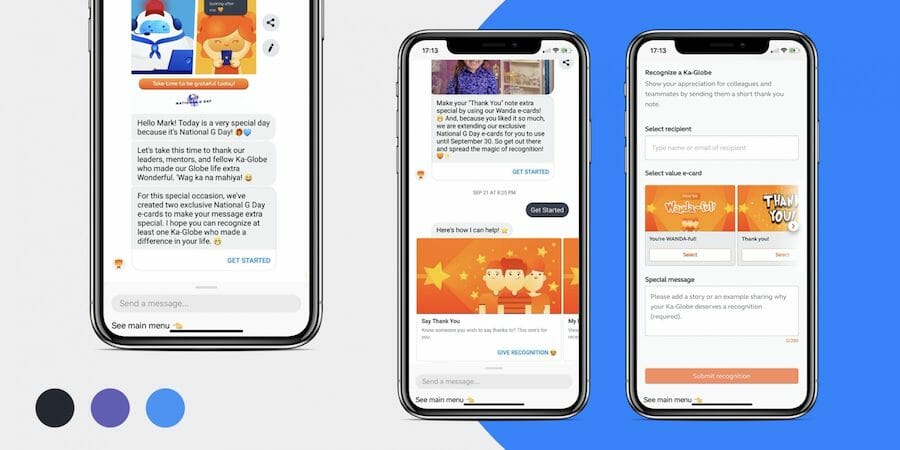 Cultivating Bonding
Helping staff network and socialise, despite being in distributed remote or hybrid teams can also boost morale and improve mental health. Bots can help bring back some of the spontaneity and innovation that often come from these in-person catch ups.
For example, you can create a Buddy Bot that improves internal networking and collaboration opportunities by matching up different staff members and encouraging them to jump on a video call for a coffee and a catch up. The bot can also include a few conversation topics and even some ice breaker questions.
In this scenario, bots can actually help to connect staff and create a sense of community regardless of location, by helping to promote bonding and culture in a spontaneous way.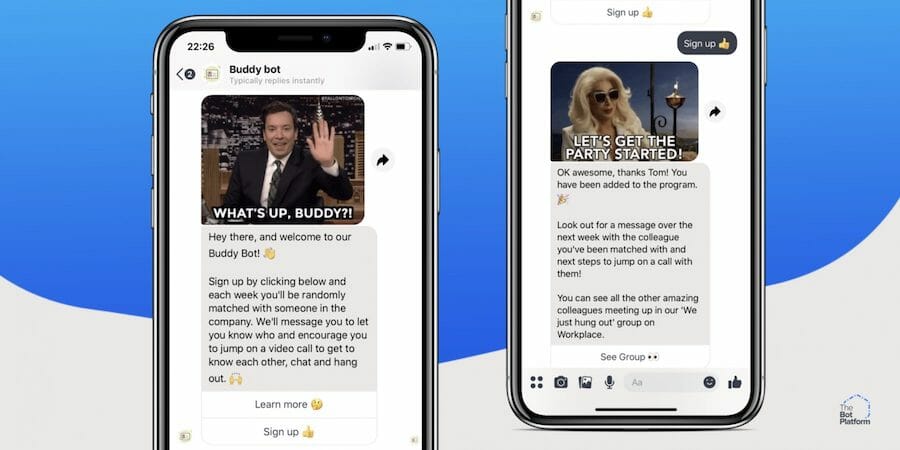 No matter which working model your company ends up adopting – be it remote first, hybrid or a traditional office first approach – The Bot Platform can help you build a better employee experience and help cultivate a happier, more engaged and productive workforce – no matter where they're working from.
Let's set you up for success in the new working world, fill out the form below to get in touch.
Interested in learning more? Drop us a line below.