Management teams are often the cogs in the organisational machine who keep everything turning and performing smoothly, so a great manager is essential for the successful operation of any company.
Great managers excel in discovering, developing, and celebrating what's different about each person who works for them and figures out how to use their employees' strengths to meet the larger organisational goals.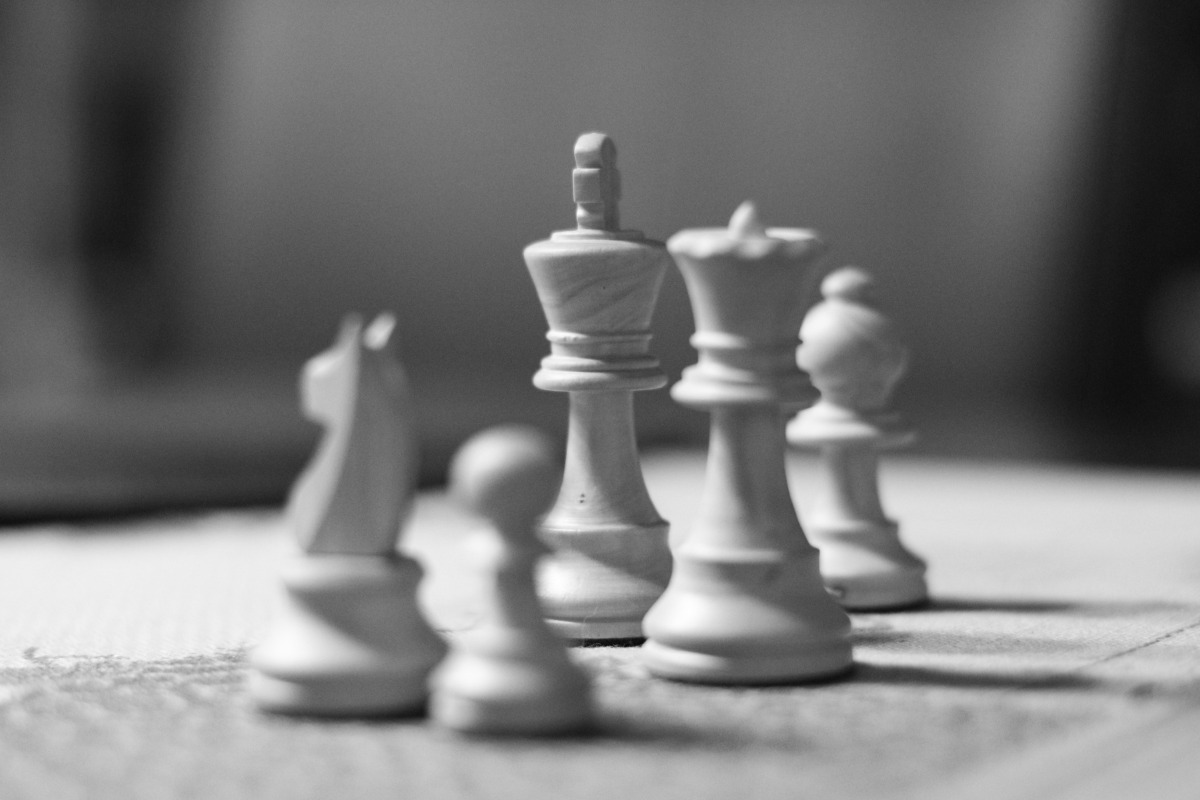 "Great managers play chess. Each type of piece moves in a different way, and you can't play if you don't know how each piece moves. Great managers know and value the unique abilities and they learn how best to integrate them into a coordinated plan. Managers will succeed when they can identify and deploy these differences among people, challenging each employee to excel in his or her own way."
This best-practice management style pays off. Using emotional intelligence to work with our teams as individuals, nurtures trust, which is essential to employee engagement. According to DDI's 2023 Global Leadership Forecast, 46% of workers report that they definitely trust their direct manager, but only 32% say they trust senior leaders at their organisation. This current lack of trust with senior leadership demonstrates why it's more important than ever before to empower our management teams with the right skills and behaviours to keep them connected with their teams and keep employees engaged with their managers. 
However, many managers are lacking the core leadership skills to truly succeed in their roles and this can have significant financial implications for businesses. DDI's Global Leadership Forecast found that companies that failed to offer an effective leadership development program at any level were linked to the poorest financial performance, with only one in five companies saying that their financial performance was in the top 10% for their industry. However, organisations that provided effective leadership development at all levels were far more likely to rank for top financial performance, with 54% reporting that they are in the top 10% of their industries.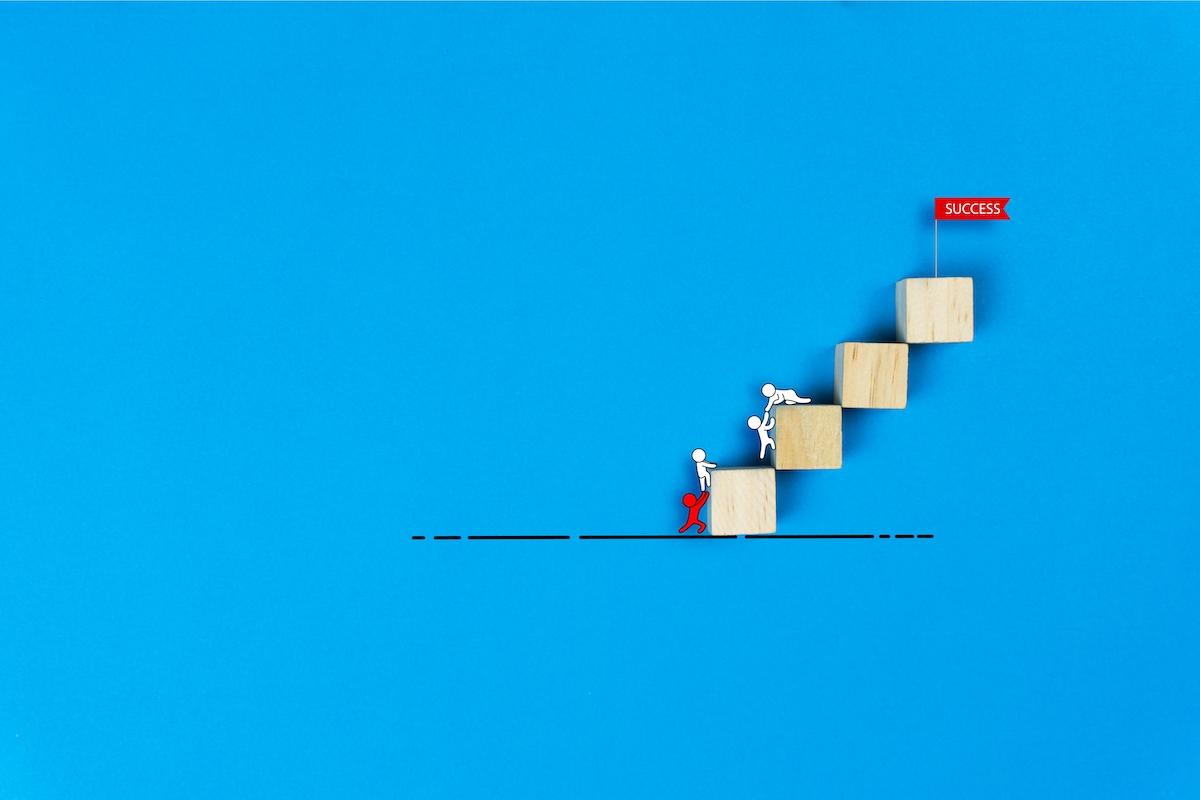 Training Creates Cohesive Leadership Cultures
Without appropriate training, how can we expect managers to succeed? Team leaders play a huge role in employee satisfaction and wellbeing, which are critical factors for employee retention. 
The data shows that companies see increasingly better returns if they create cohesive leadership training that spans the entire organisation. And, crucially, managers are crying out for coaching and development. 85% of managers want coaching to help them develop, 71% want instructor-led training to strengthen leadership skills and 56% want to use assessment to diagnose strengths and areas for improvement.
Unfortunately poor management skills are more common than you might think; 75% of employees report that their direct manager is the most stressful part of their job, which has seen a huge 57% of employees leaving their jobs in the last 12 months because of immediate superiors. 
Nurturing employee engagement is a critical skill for managers to help maintain employee wellbeing and a positive workplace culture. Managers need the emotional intelligence and soft skills to connect with their teams. Research shows that employees value communication and recognition from their leadership teams the most; three in four employees consider transparent and effective communication to be the most important leadership attribute and 43% of workers feel more confident and motivated when managerial teams show appreciation for their work and efforts. 
When a bad leader loses a business up to $1 million a year, whereas an excellent leader either doubles or increases the profits by 20%, the C-suite needs to be prioritising the training and development for their management teams. 
Discover how The Bot Platform's automated solutions are supporting managers to give a better employee experience: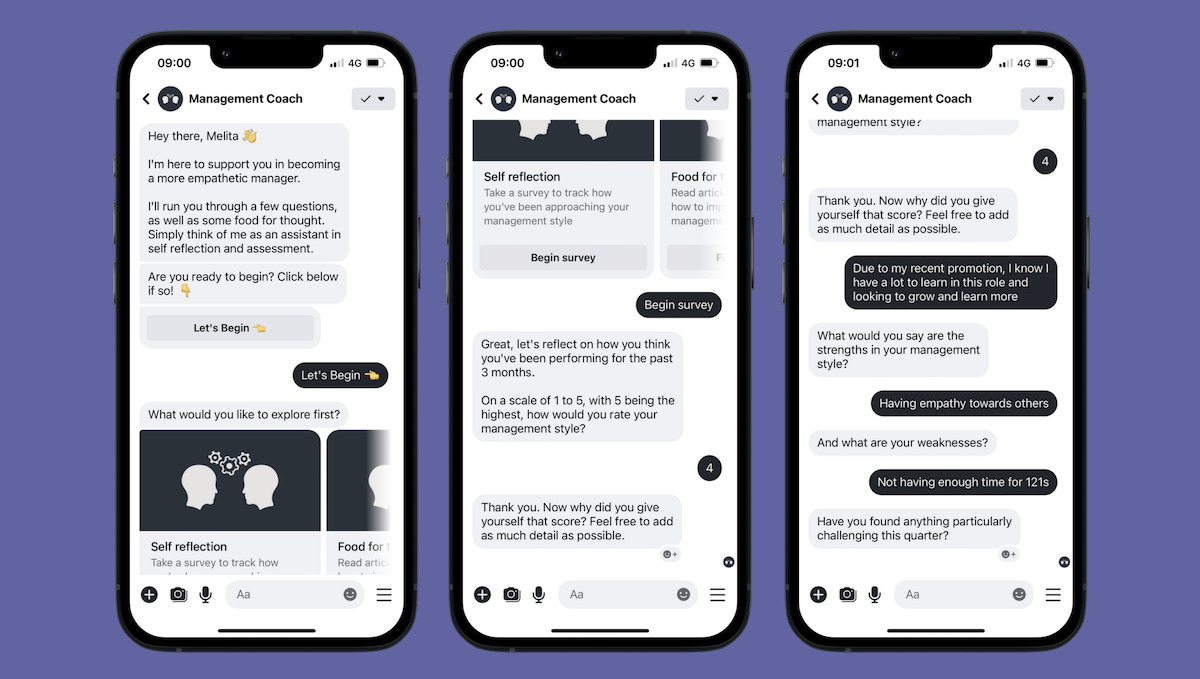 Automated Management Coaching & Development
At The Bot Platform, we've designed a digital training programme, specifically for your management teams. The Management Coach has been developed to help managers set aside self-development time; helping them to reflect on their management style and become more empathetic and effective leaders. 
Integrating seamlessly with internal software systems like Microsoft Teams, Slack and Workplace from Meta, the Management Coach runs automatically in the background; checking in with your managers and team leaders on a regular basis (dictated by your business needs), signposting them to relevant internal or external training resources and materials. To develop their skills further, the Management Coach also asks a series of self-reflecting questions, designed to implement a time of reflection, to encourage managers to think about the people they manage and how they are performing as a leader.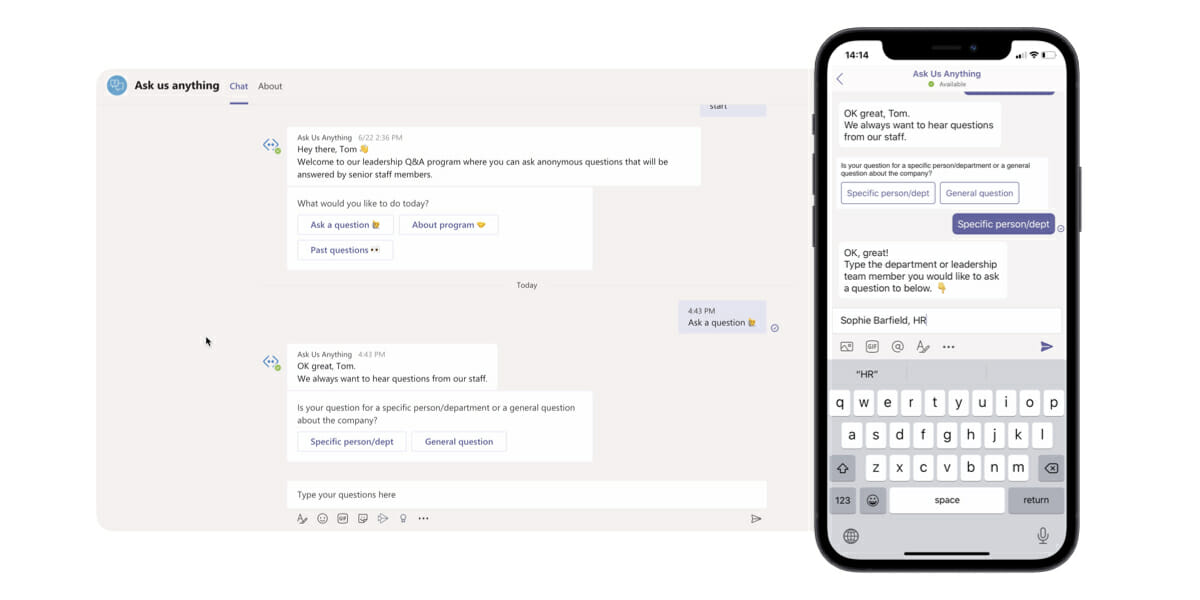 Creating Better Connection to Management
A quarter of employees believe that managers see employee feedback surveys as a pure 'tick-box' exercise. Combine this with 27% of managers never actually viewing survey results, it's no wonder that employee surveys typically only achieve a 30% response rate. It's essential that businesses are engaged with their employees and crystal clear on the objectives of their surveys.
A Workhuman survey found that the top 25% of organisations on the employee experience report get nearly three times the return on assets compared to organisations in the bottom 25%. Using the Bot Platform's Leadership Q&A system, companies can better connect staff to leadership teams, automatically direct questions to relevant departments or personnel and even make responses anonymous; giving all employees a voice and connection to management teams.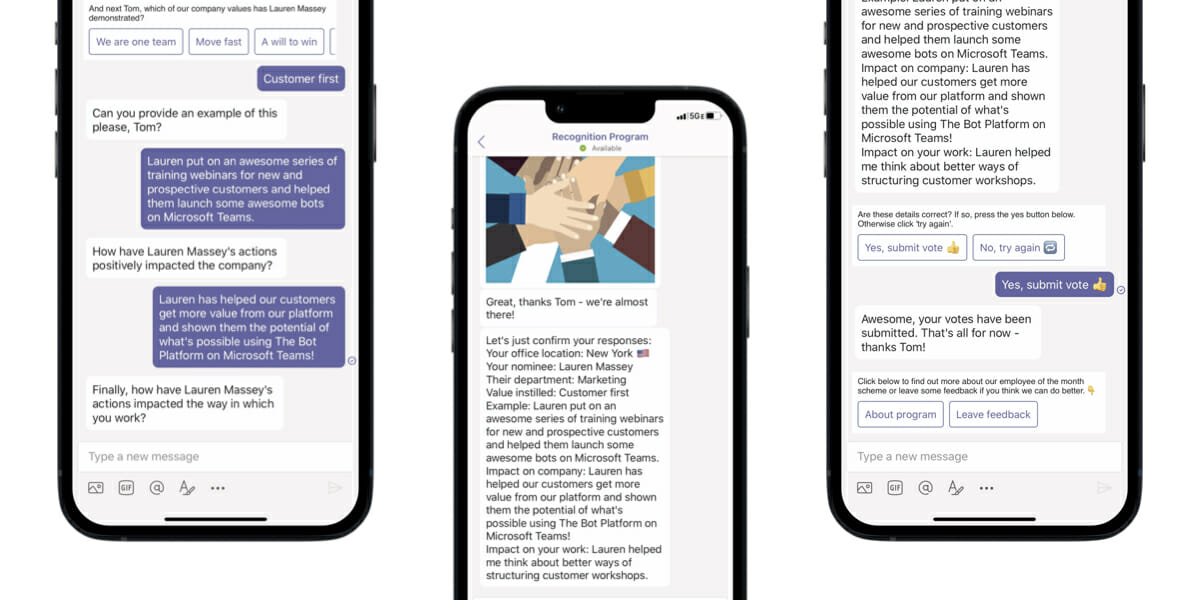 Prioritising Employee Recognition
The research shows the impact of showing employee appreciation can be significant. There are automated systems that can streamline and simplify this process. An Employee Recognition Bot helps companies create a culture of recognition, where staff can nominate their colleagues for employee of the month or managers can identify and publicly praise employee contributions. These tools gives managers valuable information and systems to show appreciation for their team and celebrate individual contributions.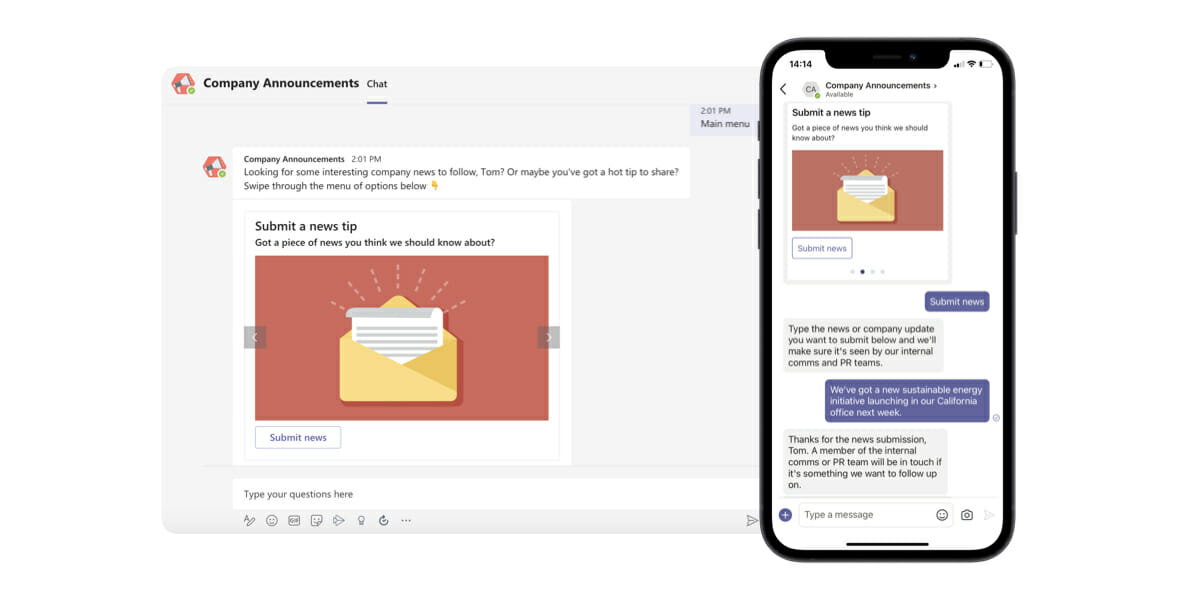 Ensure Important News is Seen & Read
A company announcement bot allows managers to easily and quickly send business critical updates and news to their workforce, using Workplace from Meta, Slack or Microsoft Teams. It provides automated follow ups to ensure action points are completed, as well as allowing staff to subscribe to other company news updates they are interested in hearing more about.
Supporting managers to develop their skills helps managers to reflect on their positive attributes, helping leaders become more confident in their ability to get the best out of themselves and their team. Our wide range of digital assistants can support managers to deliver a better employee experience.
Contact us today to find out more about our Management Coach and other employee engagement solutions.