These days, we have so many instant communication tools at our fingertips. Yet many people report feeling more disconnected than ever, particularly at work.
There have been so many changes in recent years and staff have had a lot to deal with. Many companies became remote overnight due to the pandemic and have had to overcome the hurdles of rolling out completely new communication systems to support their distributed teams.
A pandemic disrupted the way we communicate and work
More than 2 years after the pandemic first began, communication tools such as Workplace from Meta and Microsoft Teams have achieved mass adoption and become an essential part of the communication fabric of so many companies. Despite this, many are barely even scratching the surface of what's possible with the tools at their disposal and are still making mistakes, which the staff exodus during the Great Resignation illustrates.
A large part of the issue is the mentality of what communication should be from the leadership's perspective; making the assumption that communication is a 'one way street' where managers simply broadcast news to staff is out-dated and short-sighted.
The three types of communication
An evolved internal communication strategy should include 3 types of communication:
Employee to employee
Company to employee
Employee to company
If either one of these areas is ignored, it can have a significant impact on the business. Where employee to employee communication is concerned, dropping the ball is going to impact the day to day running of the business and overall productivity. Research by HowNow revealed that over two-thirds of workers (67%) felt 'disconnected' from their colleagues. People may also feel siloed in isolated departments that are not connected to the wider company mission and culture, this can create disengagement that could eventually lead to resignations.
When it comes to company to employee comms, relevance of messaging is key for engagement. All these types of communication feed into one another. For example, to have effective company to employee comms you need to understand what is going on on the ground amongst staff and not lead from an ivory tower. The way to do that is to offer staff communication channels to share their ideas and to be able to have a "bottom-up" communication stream rather than just "top-down". Then, of course, implementing what you hear from staff is crucial.
Effective communications needs to be 2 way, not 1 way
Only when there is 2 way communication flow connecting management and staff and a proper system for employee to company communication can employers ensure that their comms are in touch and relevant.
According to a recent McKinsey report: "The most powerful applications of social technologies in the global economy are largely untapped. By using social technologies, companies can raise the productivity of workers by 20 to 25 percent."
Technology tools such as Bots and Digital Assistants can have a transformative impact on internal communication, help make comms far more targeted, have a positive ROI and broader business impact on knowledge sharing, awareness and transfer.
"The most powerful applications of social technologies in the global economy are largely untapped. By using social technologies, companies can raise the productivity of workers by 20 to 25 percent."
How Bots and Digital Assistants Can Help
News surveys: When was the last time you did a survey to find out what kind of news and company announcements your staff want to hear about? Or, even better, gave staff the ability to subscribe to certain themes of messaging that they are particularly interested in or passionate about?
Using bots and digital assistants you can easily gather feedback from staff on the news they are receiving and what they want to receive more of, as well as allowing them to subscribe to certain types of news of their choosing – leading to more engagement with that particular news. Simply use the attributes feature to save news profiles against each staff member so you know what company information they NEED to know and WANT to know about.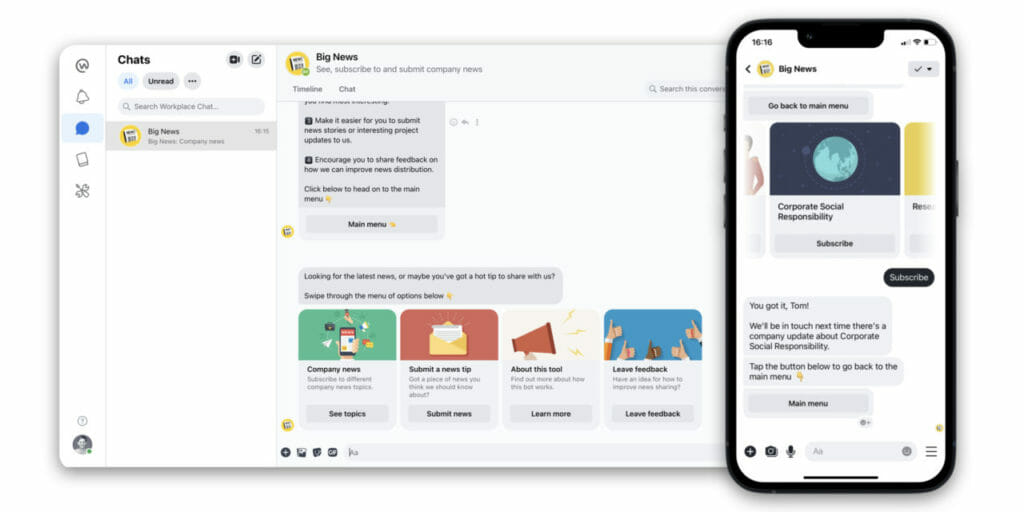 News blasts can be sent out to everyone or specific people with the ability to send automated follow-up nudges that can confirm whether people have read the news in question. Messages can contain short summaries of the news in question, along with links to the longer announcements that are hosted on Workplace, Microsoft Teams, Sharepoint, an internal intranet or external-facing blog. By sending news out via a bot it also puts these important announcements directly in front of your staff – whether they be in the office on a desktop or laptop, working from home, out on the field or on the frontline using their mobile device.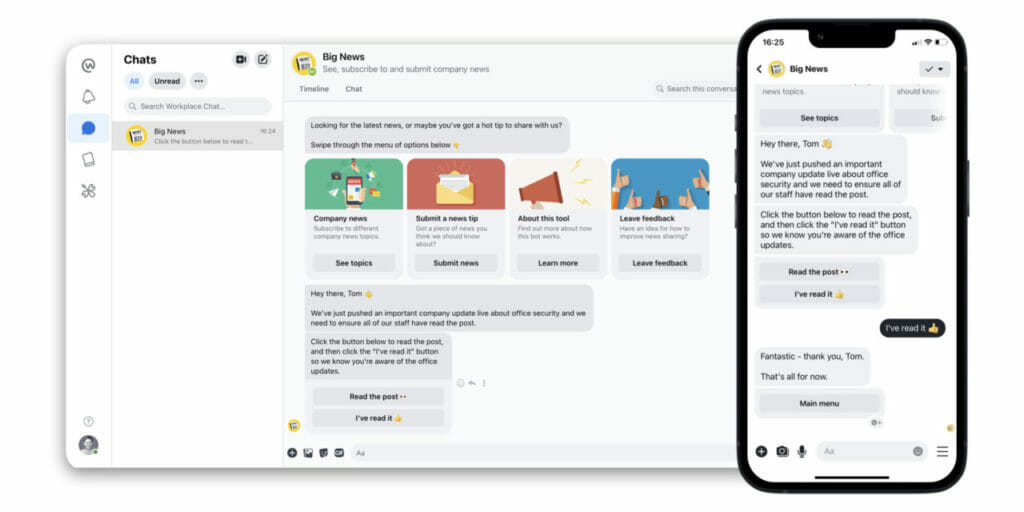 News/project submissions from staff: The best internal communications is a healthy mix of top-down and bottom-up information and knowledge sharing. As such, companies should enable and encourage staff to share news that they think should be communicated to other teams or the broader company. An approach like this not only democratizes news sharing, but also makes staff prouder of the work they're doing and more appreciated as their work is shared with the company or key stakeholders.
Brunswick Group created a News Bot operated via Workplace Chat, designed to cut through the noise, share news on important client activity, new business wins and intelligence that employees can drop into any external conversation. Similarly, global hospitality company, Ennismore, used a similar approach to create an 'Ideas Box' as an easy way for staff across the company to suggest ideas that can help and improve the business; from those in HQ to frontline employees. This promotes innovation and makes staff feel connected to the company mission.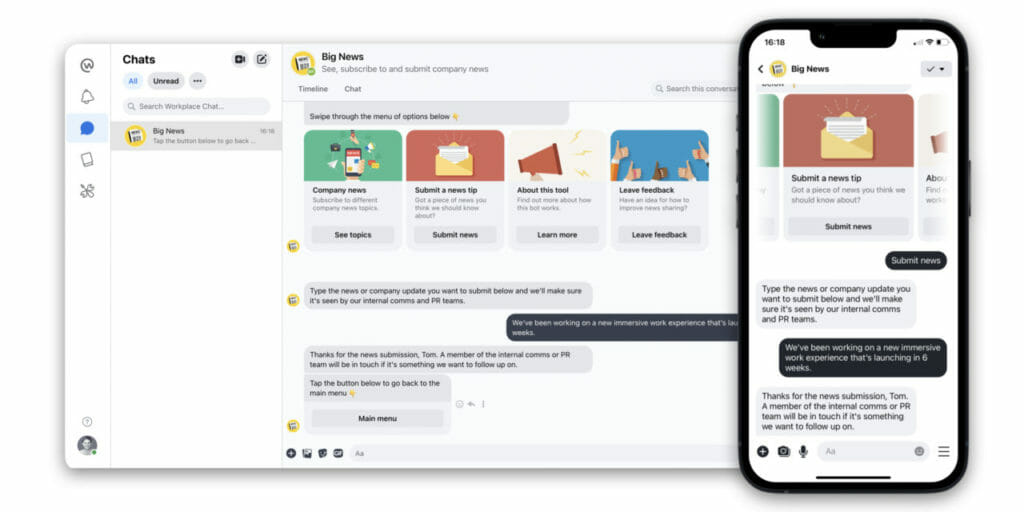 Sharing feedback: By collating company news and associated information in one central announcement bot, you can also encourage staff to share feedback on the general approach to news and information sharing across the company.
Allow staff to proactively send feedback, or send a broadcast once a year asking employees how knowledge sharing and announcements can be improved. Take these insights and suggestions and use it to create a constantly improving engine for Targeted Comms.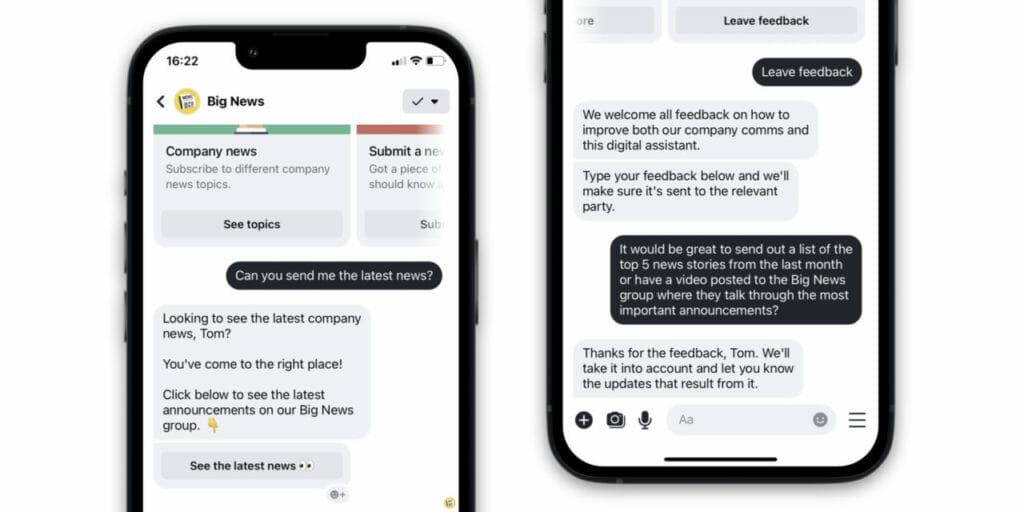 The Business Impact Of Using Bots To Improve News and Information Delivery
For Brunswick Group and Ennismore, there were tangible business benefits for investing in bots to improve company communication.
In the case of Ennismore, they've digitized previously offline processes and automated previously manual and time consuming activities. Their Bots receive over 500,000 monthly interactions with 93% of Ennismore staff using at least 2 bots each month. Bots have also contributed towards Ennismore's high Workplace activation rate of 98% by integrating more tools and systems into their central communication channel.
Brunswick Group's bot was created in just one week and made it simple to access and answer various in-house questions; for example, when meeting a new client it is easy to access recent examples of the global high profile work Brunswick Group have completed or to find out what information is cleared for external use.
The Brunswick News Bot has helped to streamline their news sharing processes in a way that can support various departments across the company whilst simultaneously keeping colleagues up to date in a concise, relevant and timely manner. 89% of staff have used the bot at least once and the average unique daily usage of the bot is at 58%, which is high in comparison to the company's average Workplace from Meta viewed rates of 50% and email newsletters.