Technology has enabled us to be more connected than ever on a social level, but communication gaps and disconnections in the workplace still exist.
Employees are pushing for more engagement, and leadership teams need to spearhead the shift.

Cnnected founder Gus Van Dender knows that silos and barriers don't come down on their own in the work environment. Learn how members of leadership teams like Gus are using messaging, bots and Workplace by Facebook to improve collaboration and solve communication problems.
Connecting the Bots: accelerate communication in the workplace by driving purposeful conversations
In case you missed the memo (or IM, slack, tweet, ping, email, you name it), the workforce is in the midst of a makeover. By 2020, working millennials are projected to own 50% of the American workforce – and 75% of the global workforce by 2025 – meaning a new wave of expectations for employers.
Organizations not up to speed need to take a hard look at company culture and the expectations they are setting around conversations and collaboration at work.
Gus Van Dender, the founder of Cnnected, is on a mission to eradicate the disengagement trend and create more engaged and productive employees.
We're here to show you how building communities and "tribes" inside organizations can fuel a movement to accelerate the growth of any company. These spaces for engagement lead to other benefits related to internal culture, like staff motivation, performance, and retention levels.
By emphasizing a need to collaborate, large organizations can change cultural dynamics in the workplace to match the needs of their employees and improve job performance.
Easier said than done, right? To help you board the bus to better communication, here are five ways bots and Workplace solves communication problems and super-charges staff engagement.
How do I enable two-way company conversations at a massive scale?
Workplace trends are showing that disengaged employees can be the death of an organization. A recent Gallup poll concluded that "53% of workers are in the 'not engaged' category" at work.
While these employees are "generally satisfied," they lack cognitive and emotional connections to their work and workplace, and we all know the negative knock-on effects this can have. They show up to work, do the minimum amount required, and are always looking over their shoulder for a better offer.
On top of lacking emotional connection, another poll done by Gallup concluded that employee relationships shows that "only 2 out of 10 U.S. employees strongly agree to having a best friend at work," but if that ratio were to increase to 6 in 10, businesses could realize "36% fewer safety incidents, 7% more engaged customers and 12% higher profit."
Solution: Implement relationship-building bots to drive purposeful conversations with employees
At the end of the day, employees want to feel like they are more than just "employee number 101." These new workers are pushing for a better connection in the workplace and want to feel like they have a voice in the company.
The most significant barrier to achieving this level of employee engagement is the one thing we always want more of… time.
For Gus, building meaningful conversations and connecting 6,000 employees was essential for his business, and bots on Workplace became the automated solution:
"I see this big area and environment where there are tons of people. They are scattered across the Workplace environment. What The Bot Platform allows me to do is bring these people together in chat groups and create bots that start automating very specific and well thought out conversations."
– Gus Van Dender, the founder of Cnnected
By using messaging, The Bot Platform, and Workplace by Facebook, Gus was able to open the communication pipeline and allow purposeful two-way dialogue to take place at a massive scale.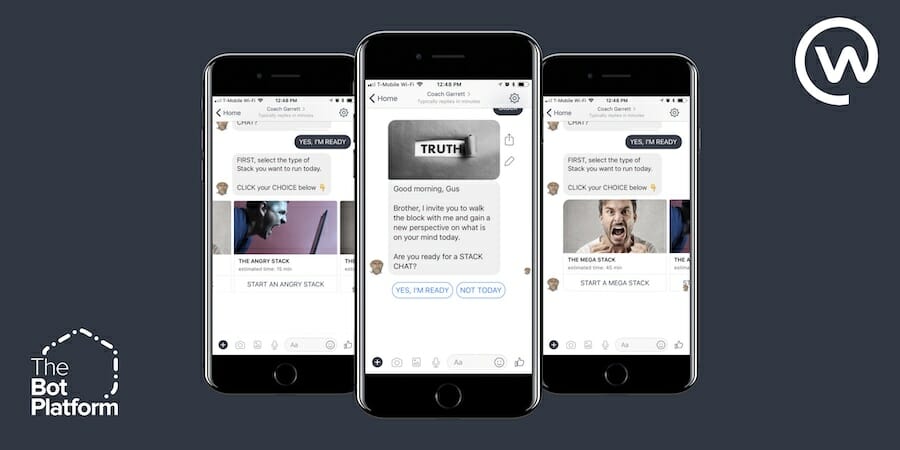 Creating bots like the Wake Up Warrior Stack bot saves organizations hundreds of labor hours, creates immediate bonds within the workplace, and ultimately improves employee engagement and performance.
You can create an on-going database of employee feedback using our Q&A feature where bots can ask users a question and store their answers. Keyword responses help our bots identify which specific message a user should receive. If a user types in "feedback" or "recommendation," our bots will respond with the predetermined message tied into those keywords.
As an employer, you now have the ability to craft what those conversations within your workplace look like.
Opening up a two-way pipeline for your employees at a massive scale is a fast-track to improving employee engagement and ultimately, performance.
How can I simplify and automate everyday tasks?
Look, we only get eight working hours a day (unless you happen to work for Jack Ma). In the workplace time literally equates to money, and like the world of consumerism, overspending of resources can cause serious damage.
In a U.S. based study of managers, 36% spend 3-4 hours per day on admin tasks and 23% said they spend 5+ hours a day on tasks like time tracking. With the median salary for HR managers at $59,180 a year (or $28.45 per hour), automating tasks that generally take four hours from their day means 960 hours a year given back to that employee, or $27,312 in manual labor saved.
Alongside the monetary savings, automating tasks gives employees precious hours back to work on culture-driven projects. "44% of managers believe a more appropriately sized workload would allow them to spend more time managing people," and ultimately improve the employee to employer relationship.
If you can't take our word for it, McKinsey & Company has seen that "85% of a typical firm's 900+ processes can be automated" with bots on Workplace.
Stop reinventing the wheel and automate internal processes to save you time, and ultimately money.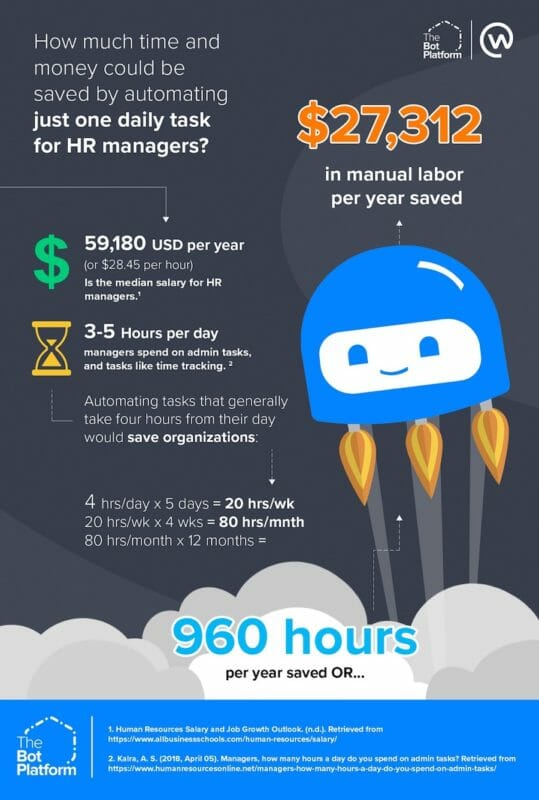 Solution: Automate tasks like timesheet tracking, on-boarding, customer service and answering FAQs with bots.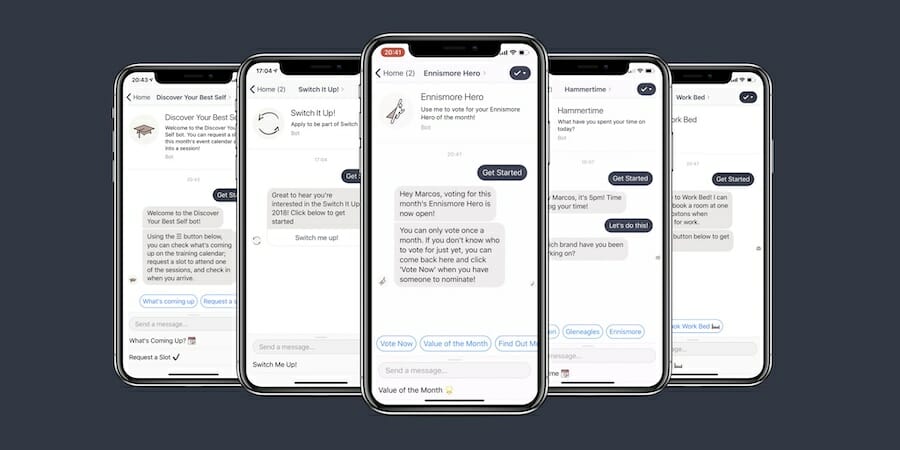 One of our clients, Ennismore, used bots on Workplace to automate tasks like voting for employee of the month, logging and billing time, internal collaboration, and personal development. 
For Gus, automating simple tasks saved hundreds of hours in manual labor and ultimately replaced the need to complete tasks all together: 
"If it was a task or workflow that I was already doing manually, but I could instead automate via a bot, then I'm going to use a bot."
– Gus Van Dender, the founder of Cnnected
Instead of having to chase down timesheets on a Friday afternoon, use our broadcast function to remind employees to complete a task or send a broadcast to members of a specific Workplace group.
With a rapidly growing company, Gus and organizations like Wake Up Warrior use bots and Workplace to better connect with their audience and drive efficiencies within their internal workforce. 
How can I optimize my work environment for both company-wide and department specific collaboration?
Three out of four employees rate teamwork collaboration as "very important," yet only 27% are confident in their communication role at work. We've identified a need to talk more at work, but the majority of employees are often left feeling unconfident in their ability to communicate.
Without transparency and effective strategies for communication, employees become disjointed and feel autonomous of one another.
Modern tools can solve this problem, and almost 50% of millennials feel that social networks and tools boost productivity in the workplace, and 40% would pay out of pocket for access to those tools.
With limitless options available, the push for new software can be a pain point for internal communication. Change comes with adopting new tech, but to bot users like Gus, a simple shift in perspective can make this transition smoother:
"I want to give everybody a different perspective of a software platform. Often times when we implement a SaaS platform, we [kind of] try to adjust to that platform. Versus having the platform serve us. I always want to dissect 'what does this thing really do,' and how can it serve me rather than, I serve the software. You wouldn't use a hammer to drive a screw into the wall. Yet when it comes to software, we often try to do that."
– Gus Van Dender, the founder of Cnnected
Look for challenges within your current communication process and identify the opportunities that can be automated or improved upon using bots and automation on Workplace.
The ultimate vision of teamwork is a machine – every piece has a unique task, yet one piece alone can't make the whole machine work. The Bot Platform and Workplace are the dots that help connect those pieces so they can work together seamlessly.
When communication pipelines are opened, and employees have a common place for connecting, project alignment becomes real across every level of the organization.
Solution: Use bots like our Idea bot to create safe spaces for employees to share their ideas and feel like their voices are heard.
After adding bots to his Workplace instance, Gus increased user engagement and usage by 80%.
This was an internal process already in place, but with the implementation of bots, company-wide usage spiked. The barriers and silos come down on their own when companies provide a safe space for employees to share their opinions without the fear of backlash or uncertainty.
Take our Ideas bot for example:
A bot like this allows you to easily and quickly gather knowledge from your staff and employees.
Their ideas can be a general input submitted at their time of choosing, or in response to a broadcast you've sent to your Workplace community about a specific issue.
This easily customizable template means you can get set up in minutes, and the ideas shared can be auto-posted to Workplace Groups. We like to call this #workplacewinning.
How do I continually encourage and boost employee personal development on a large scale?
Imagine you started taking a new class.
You show up to the first day, beyond excited to learn new skills and see where this class will take you. After a short introduction and a few nuggets of information thrown at you, the instructor leaves. The only time they come back is to collect your assignments.
This is what it feels like for new employees who are never given the opportunity to learn new skills and become experts at what they do.
A study done by Middlesex University found that 74% of those surveyed felt that they weren't achieving their full potential at work due to lack of development opportunities."
This lack of opportunity is having a devastating effect on productivity and business performance. The Association for Talent Development found that the organizations who offer comprehensive training opportunities "have 218% higher income per employee than companies without formalized training."
What would a 24% increase in profit. mean for your business? Organizations who spend more on training versus those who don't will see improvements all around the board.
Solution: Use drip sequence training and on-boarding bots to provide consistent opportunities for personal development and growth.
Simply put, employee advancement opportunities + consistent engagement = an increase in emotional commitment to their job.
Allowing individuals to do what they do best by providing opportunities to develop their job skills and having their opinions count, for example, is a simple way to boost employee development.
Using The Bot Platform, Ennismore. created the Discover Your Best Self bot to help improve learning and development initiatives with their employees.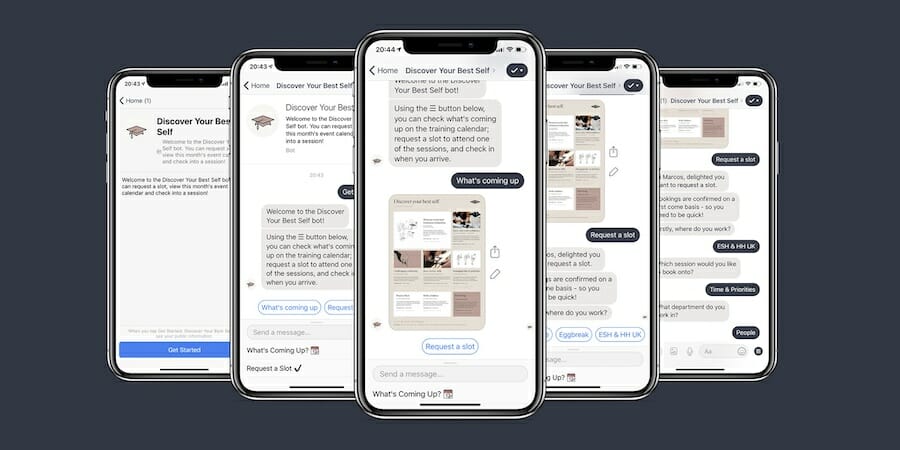 With this bot, staff can now check what's coming up on the training calendar, request a slot to attend, and check in when they arrive to confirm their attendance. Using functions like the broadcast feature keep staff informed about new or relevant training, and send reminders before sessions start.
To further improve the conversation, attributes store user responses so they can be recalled upon later or used to personalize the user journey based on their choices.
Read the full Ennismore case study to learn more about how bots on Workplace revolutionized their workflow, and how bots can do the same for you
How can I refine and improve my communication workflow over time?
As we say at The Bot Platform: learn, adapt, and grow. Just like a staff member, bots should constantly be changing and tweaking to meet your needs.
The best way to improve communication is, you guessed it, to communicate and ask for recommendations.
According to the folks over at Gallup, managers who received feedback on their strengths at work "showed 8.9% greater profitability," yet only 8% of companies believe their performance management process is highly effective in driving business value, and 58% say it's not "an effective use of time."
Continuously improve your organization over time with internal feedback from your employees. Unveil the cubicle curtain and learn more about your workforce, how they feel about your organization, and where improvements need to be made.
Solution: Add a survey bot to your Workplace instance to provide employees with a place to share their feedback.
Organizations need to start asking the question, what am I trying to accomplish inside my workplace environment? The top-performing companies are not only good at acting on feedback, but they are continually asking for it.
Instead of wasting time on "when they are convenient" company surveys, use a feedback bot to build a conversation around how to improve as an organization – not just employees.
Companies like Gus's can spark specific actions like feedback through one seamless, automated process:
"There are three different types of broadcasts I can send. Information, questions, or statements. This is where it becomes interesting because it is not just a system to send text messages.
I can start playing around with the type of messages I create. So when I deliver information, I can spark ideas. When I ask a question, I get a yes or no answer. When I deliver a statement, I can get feedback."
– Gus Van Dender, the founder of Cnnected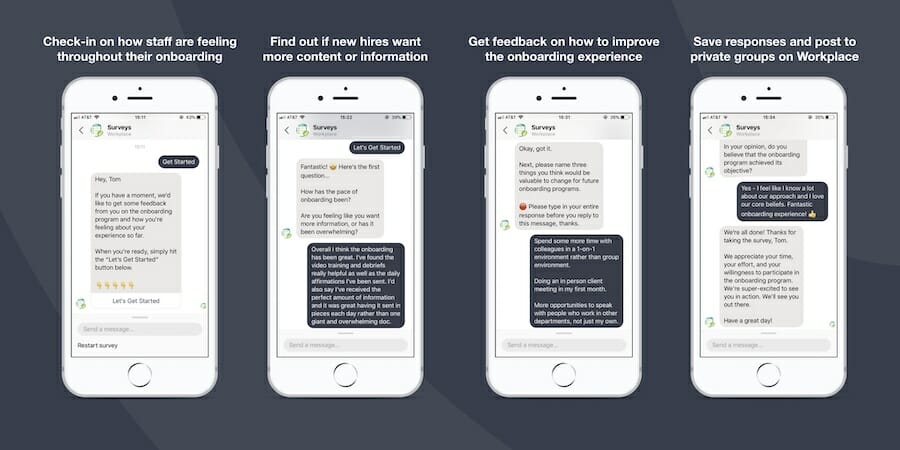 With a 99% read rate, bots are outperforming traditional communication methods, making it easier for organizations to learn, grow, and adapt over time.
Workplace communication is currently a work in progress, but employees have started pushing the revolution in the right direction.
Get an inside look into the world of bots on Workplace and how they can improve communication by dropping your email in the form below to view our webinar with Gus on-demand.
Gus Van Dender, the founder of Cnnected, is obsessed with building communities that will accelerate the growth of any company. Gus helps organizations figure out ways to bring your people closer together for optimized productivity and collaboration.
Some of Gus's experience includes:
1. Founder of Cnnected, a Workplace by Facebook Partner providing insights on Workplace strategy, implementation, integration, and automation
2. 10 years working at the corporate business level managing a $600M project and 3,000 employees as VP of Product Development
3. 15 years experience in SMB as a consultant, partner, and owner in organizations across a variety of industries
As a business architect, serial entrepreneur, and bot champion, Gus and the Cnnected team are on a mission to eradicate workplace disengagement with bots, messaging, and Workplace by Facebook.