Employee wellness campaigns are a priority for many HR teams in 2022. Here's how we can help you and your staff.
It's something we think about this time every year – 'How can I improve myself?' It's hard to scroll past anything online throughout January without seeing inspirational quotes tantamount to the phrase 'New Year, New Me', but just in increasingly long-winded and creative ways.
Maybe you don't need to go onto a diet that involves eating no solid foods whatsoever, drinking lemon tea and howling at the moon every Tuesday if you want it to work extra well. Or what about an extreme exercise regime where you spend big chunks of your time hanging upside down from your bedroom ceiling, because 2022 is all about this one glute just simply having to pop and the 'Dracula' workout is the only way to do it.
Ok, so these examples are a little extreme, but you get what we mean! There's always so much pressure to do what everyone else is doing, even when it makes you miserable.
Instead of going for really lofty or big goals, sometimes a smaller but easier to achieve steps are all we need. For example, maybe it's not about running a marathon in 2022, but running a few kilometres each week – it's more attainable and therefore has a higher possibility of success. It's equally likely to actually have a positive impact on us, rather than being a goal that doesn't get completed and makes us feel like we've failed.
So here at The Bot Platform we wanted to change things up a little bit – why not take on a New Year's Resolution, yes – but one that is just for you? A secret wellbeing resolution that you can quietly keep, something completely indulgent, just to make you happy.
Not sure what we mean? Here are a few examples:
Spend more time outdoors – with an increasing number of us working from home, it can be days before we leave the house and when we do, it's to run errands whilst trying to avoid catching a virus – not quite the relaxing afternoon you require! There's a lot to be said for an aimless walk, a ramble if you will. Why not make more time for outdoor pursuits in the new year? Get that fresh air in your lungs, you'll feel so much better.
Catch up with old friends – we have all become comfortable with a more anti-social way of living in the last few years and as a result, what used to be frequent catch-ups with friends have become quarterly meet-ups that require a strategic amount of planning and multiple lateral flow tests. Why not get back into the habit of seeing friends more casually? Even if that sometimes means the return of the zoom quiz.
Think more positively – make a resolution to think more positively, even if that requires reducing your exposure to the news! A positive mindset is difficult to maintain, but like anything, once it becomes a habit it'll be second nature and you'll be the positive ray of sunshine that everyone orbits around.
Take up a new hobby – have you ever secretly thought that you may actually be the new Picasso, if only you had the chance to pick up a paintbrush? Could 2022 become the year that happens? Even if it's not painting, what about picking up an instrument or learning a language? As we get older it feels natural to stop adding to our skill-sets but there really isn't a reason to! Why not pick a talent you'd really like to have and make it your new hobby? The only person stopping you is yourself!
Why Bring this Initiative to Workplace or Microsoft Teams?
According to the Office For National Statistics, rates of depression have doubled since the COVID-19 pandemic began.
Many companies have now switched to a hybrid working arrangement, which sees most people working from home for the majority of the week. Whilst there are a lot of great benefits to working from home, it has led to reports of higher rates of loneliness and isolation. According to Buffer's 2021 State of Remote Work, up to 27% of those surveyed said they struggled with 'not being able to switch off' and a further 17% said they struggled with loneliness whilst working from home.
Considering these worrying statistics, there is a huge opportunity (and necessity) for companies to think about new processes and practices that can be established to help improve wellbeing amongst employees.
Maintaining connection, culture and motivation during the 'new normal' of working is going to be a key challenge for companies globally in the coming years and will be integral to success, prosperity and staff retention.
How Can We Help?
A great example of using bots to promote wellbeing initiatives are our clients, Clarins UK group. Clarins have built a number of brilliant bots, including one called Lunch Time Chime, which encourages staff to clock off at 1pm to have a proper lunch break and recharge physically, mentally and emotionally. The bot includes healthy recipe suggestions, nutrition, relaxation advice, life organisation hacks and energizing techniques.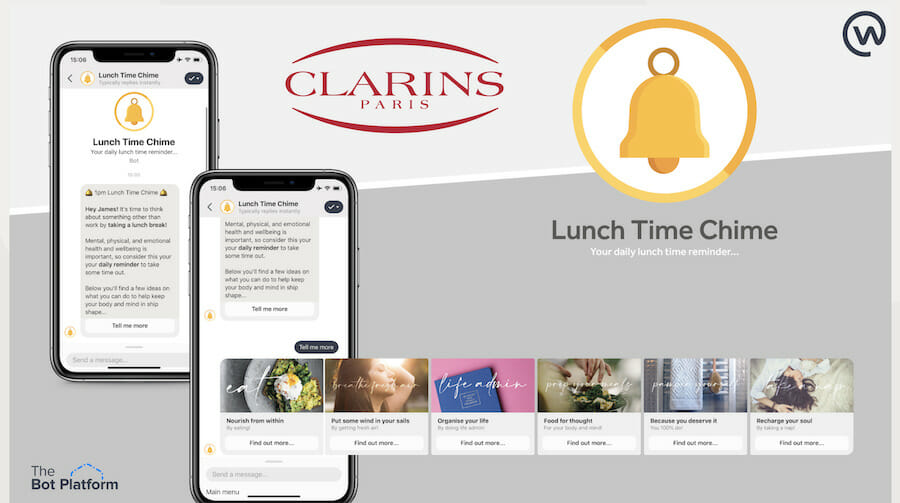 We've created a 'Wellness Resolutions Assistant', that can message your staff on Workplace from Meta or Microsoft Teams and ask what their physical / mental health and wellness resolutions are for 2022; the bot will then message them once a month to see how they are doing.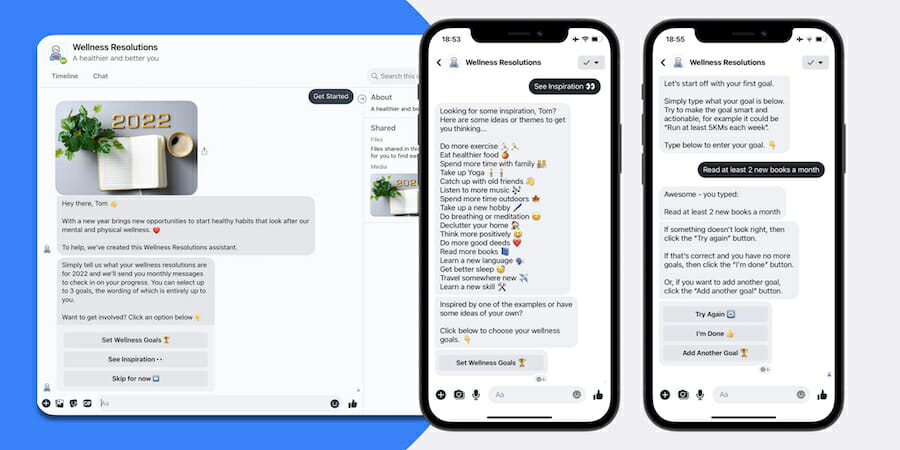 How It Works
Our Wellbeing Bot sends a broadcast to staff asking if they want to get involved, if they agree the bot can then provide inspiration to get staff thinking of goals.
Once team members have entered up to three goals, the bot will send monthly check-ins to see how they are progressing, congratulating staff who are progressing well and encouraging team-members to think about the reasons why they may not be getting closer to their goal, whilst re-igniting a spark of determination.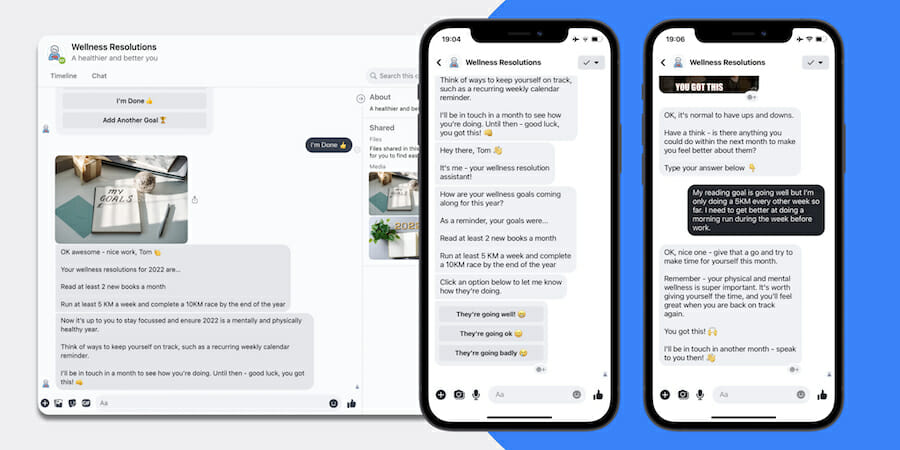 Resolutions will feel more solidified when typed up, but also by having monthly check-ins, it stops team members from forgetting their promises to themselves.
Try It For Free
We are offering our Wellbeing Bot for free as a way to start off 2022 as happy, healthy and determined as can be. Want to find out more? Click here and enter your details into the contact form to get access to this bot for free. It literally takes a matter of minutes to get set up and running!
Interested in learning more? Drop us a line below.