At this moment in time it is impossible to be present in the world of business without hearing about The Great Resignation.
As thousands of people used the downtime during the pandemic to reflect on what they want from their lives and careers, employees are becoming more vocal about what matters most to them, and if their needs aren't being met, they are finding a role that is more suited to them.
People are rejecting the idea that work is just something you do to pay the bills; employees want to work somewhere that aligns with their values, matches their work ethic and places merit on work-life balance. They want a place of work that happily co-exists alongside their personal lives, not something that is separate.
The businesses who aren't listening to their employees' need for change are going to lose out dramatically, but some companies could use this to their advantage.
It's time to say goodbye to The Great Resignation and hello to The Great Adaptation.
The Great Adaptation Is Here
In a recent OpEd for UNLEASH, YuLife's Sammy Rubin argued that the 'Great Resignation' is actually a blessing in disguise for businesses.
"Like many challenges of COVID-19, the 'Great Resignation' also brings with it a vast and untapped opportunity for business leaders to recalibrate how they approach employer-employee relations," writes Rubin.
After two years of home-working, demanding someone return to the office is a sure-fire way to ensure that person won't return at all. There are enough companies offering home-working positions, so if someone has adapted to walking the dog every lunchtime and not having a two-hour commute to the office, there's nothing you can do to compete, if you are demanding a return to the 'pre-covid' way of living. This is a great time to reassess company leadership styles, gone are the days of an employer-employee dictatorship; an open dialogue with a conclusion that both parties agree on is now the way to manage.
A Whole New World
It could be down to all the time employees have spent working on their own, in their own environments, but now more than ever, they want to be viewed as an individual with individual needs. There isn't a 'one size fits all' way to work anymore.
Consultancy expert Bill Schaninger comments "we have a generation of leaders in the last gasp of that form of control. They're largely folks who were raised by boomers, mostly men, with someone to take care of their children. Their identity is tied up with work."
They see employees asking for more flexibility or more career development opportunities as them "not playing ball". But managers need to stop seeing employees as servants. "They're not there to do your whim. They're there because they have a purpose…an identity".
For once, we have an impassioned workforce who are all loudly saying what they need from their employer to allow them to stay in their current position. There's no ifs, buts, or maybes… you've been given the map to complete employee satisfaction – the question is, are you following?
How Can We Help?
We know that staff want to feel heard, recognised and valued and this is definitely something that The Bot Platform can help you with, by building bespoke work apps that can build a sense of community, promote mental wellness and connect remote teams.
Making Staff Feel Heard
During such an ever-changing time, staff are likely to have more questions than ever before. One way of helping your staff's mental wellness is to simply check in on how they're doing and ask for their input on how to change and improve things.
Using The Bot Platform, it is easy to create workforce feedback loops which help you to stay on track with how staff are feeling and to give them an avenue to express their opinion and feel heard.
Our customer Moneypenny launched a 'How are you doing' survey bot during the pandemic  to check in on everyone's well being and gauge their work-life balance. Within 24 hours over 75% of staff had answered the survey.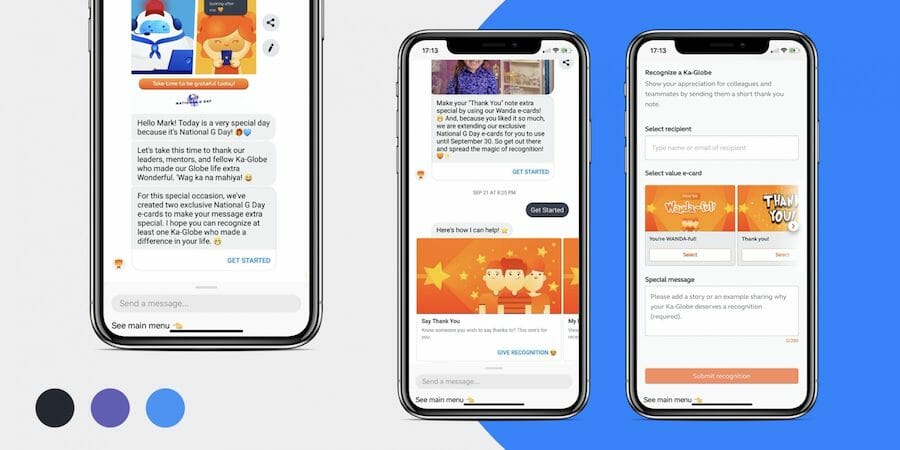 Cultivating Bonding
Helping staff network and socialise, despite being in distributed remote teams can also boost morale and improve mental health. The 'water cooler' moments and side chats on the shop floor have largely been lost and replaced with more formal video meetings. Bots can help bring back some of the spontaneity and innovation that often come from these in-person catch ups.
For example, you can create a Buddy Bot that improves internal networking and collaboration opportunities by matching up different staff members and encouraging them to jump on a video call for a coffee and a catch up. The bot can also include a few conversation topics and even some ice breaker questions.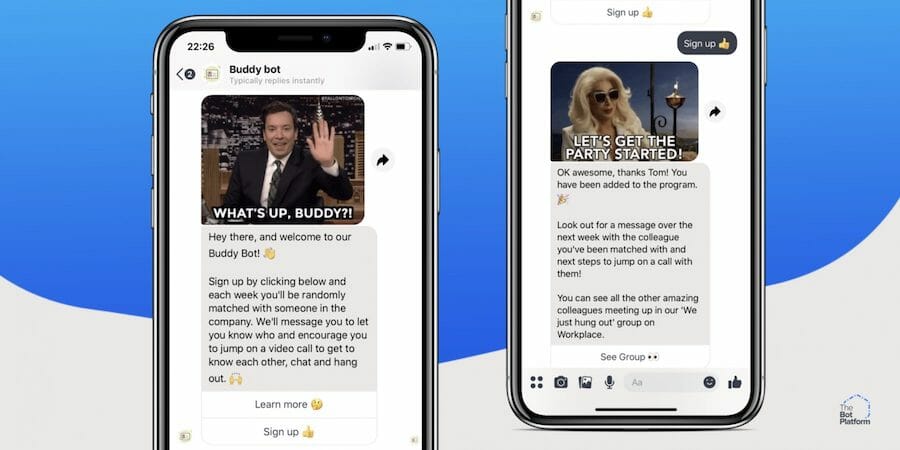 In this scenario, bots can actually help to connect staff and create a sense of community regardless of location, by helping to promote bonding and culture in a spontaneous way.
All of the bots we've mentioned are super easy to set up on The Bot Platform and require absolutely no coding. It's time to listen to your employees, let us help you to turn 'The Great Resignation' into 'The Great Adaptation'.
Interested in learning more? Drop us a line below.