The interview covered all sorts, from the founding story behind The Bot Platform through to specific ways our product was helping companies connect their staff, improve their workflows and build a better employee experience.
You can check out the full interview here, or read on for their discussion around Digital Transformation and the 5 areas where companies can benefit from these sorts of activities and investments.
Authority Magazine: On a practical level what does it look like to engage in a Digital Transformation?
TG – Digital Transformation has become a bit of a buzzword in recent years, and because of that its definition often becomes far more complicated than it needs to be. At its most basic Digital Transformation is simply the adoption of existing and new technologies that help a company improve the way it works, both internally for staff as well as externally for customers and partners.
Digital Transformation isn't just about technology though, it's also about cultural transformation too. It is a fundamental rethinking of how the business operates and then finding new ways to deliver more value, generate more revenue and improve operational efficiency. Every level of a company, from leadership to front line staff, has to be open to experimentation and change.
It's also worth noting that while Digital Transformation sounds like something new, there's actually nothing new about it, really. Technology has been disrupting our working and personal lives for as long as humanity has been around. The printing press disrupted publishing. The steam engine disrupted travel. The assembly line disrupted production.
In the same way Chinese monks used block printing in 618 CE to save time, improve quality control and increase distribution, today companies can use new technology tools to improve any and every aspect of their own business operations.
Authority Magazine: We'd love to hear about your experiences helping others with Digital Transformation. In your experience, how has Digital Transformation helped improve operations, processes and customer experiences? We'd love to hear some stories if possible.
TG – Digital Transformation is a huge area that encompasses a breadth of technological opportunities. For The Bot Platform, we focus on using bots, conversational interfaces and work applications to improve the employee experience. This means building bespoke tools that help them work faster, smarter and more efficiently.
Taking a look at a few customer examples, Honest Burgers is a UK based restaurant chain who previously used a variety of different tools and services alongside a number of paper based processes. Using The Bot Platform they've been able to digitize a lot of these ways of working which has helped central and frontline staff. For example, they've improved their learning and development program by building their own digital training tool called Honest College that helps teach staff work and life skills, as well as ensuring compliance training is completed in a timely manner. While they would previously have to manually follow up with staff to have them complete training, their Honest College bot automates those reminders resulting in a 100% completion rate in just 6 days. By using The Bot Platform to build their own work tools, they've also been able to unify their systems and remove certain tools they were using which has resulted in a 15.6X ROI in the first year alone.
Another example would be Globe Telecom who are one of the biggest telecommunications companies in Asia Pacific. When the pandemic hit they needed a way of effectively communicating with their 8000+ frontline staff so that they could help to stay safe and be informed. Within days they had built a digital assistant, aptly named DUDE (Digital Usher for Disasters and Emergencies) ​​that handled contact tracing, important alerts, emergency resources and staff pulse surveys. After seeing the success of this, they then turned their attention to other areas of the business where bots could help — including employee recognition, help desk automation and much more. Their employee recognition program, WANDA, is on track to deliver a 900% increase in nominations from staff year on year.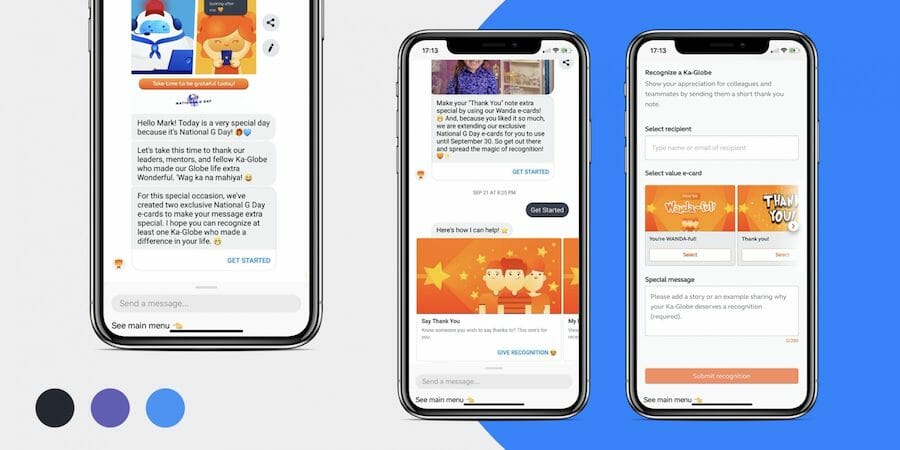 Authority Magazine: Ok. Thank you. Here is the primary question of our discussion. Based on your experience and success, what are "Five Ways a Company Can Use Digital Transformation To Take It To The Next Level"? Please share a story or an example for each.
TG – There are so many ways a company can use Digital Transformation to take it to the next level, but if I were to boil it down to 5 overarching themes I would have to say…
Connect your people and build a community — the first step I believe every company of any size should be looking at is how to connect your people and build a community at work. After all, what's the point in Digital Transformation initiatives if your staff still feel disconnected from each other. There are a number of products that can help with this, but my overwhelming preference is Workplace from Facebook. It's an incredible product that connects all staff, whether they be frontline employees or HQ/office based workers. It gives them a voice and makes them feel part of something bigger. And it's so easy to use that new starters can get going from day 1. Whether your staff are connecting over work based conversations or social activities, creating a connected community at work should be the starting point.
Improve knowledge sharing, training and learning opportunities — according to a 2020 study 92% of frontline managers blamed their communication challenges on a lack of adequate information-sharing tools. Information sharing doesn't just mean sending out announcements and updates. It includes training and development too. Think back to the last time you had some work based training — how engaging was it? How personalized was it? My guess is not much. With The Bot Platform you can easily build your own training tools that provide relevant and personalized learning modules, and automatically follow up with staff to encourage them to complete training and make them aware of new learning opportunities when they become available. A better trained workforce is not only a more productive workforce, but a happier workforce. Digital Transformation can massively help with this.
Increase productivity — this is an obvious one, but if we never upgraded the tools we use at work then we'd still be using a quill instead of a keyboard. By continually looking at the tools your staff are using and seeking out better alternatives, it allows your staff to work more effectively, which ultimately allows them to complete tasks in less time or perform those tasks to a higher standard. A great example here would be employee onboarding. Obviously there is no replacement for human to human interaction when it comes to onboarding and training new starters, but at the same time there are so many administrative and box ticking exercises that really don't need a human to ensure they're done. Instead, using The Bot Platform, we have customers building their own onboarding assistants that do all this admin for them while allowing the humans to spend time on what matters most — getting to know the team, chatting about ways of working and building relationships.
Ensure employees are happy — there are two ways that Digital Transformation will help with staff morale and, in doing so, reduce churn — which is a huge monetary, time and productivity cost for companies. We've all been there — you're trying to get your job done but the tools you have simply aren't cutting it. It's frustrating. It's annoying. It gets you in a bad mood. Ultimately it makes you want to look for a new role where you are given the right tools to do the job. If leadership and management are continuously showing that they care about you and want you to have the best tools to do the job, you'll probably be a much happier employee. This then leads on to the second way that Digital Transformation can help ensure staff are happy — by simply asking them for feedback on the tools they use currently and any ideas or suggestions they have for new tools they might need.
Reduce costs and carbon footprint — the final area where Digital Transformation can help is around digitizing processes and removing the need for paper based and physical assets. Printing, storage, distribution and version control all costs money and results in trees being slaughtered. That's not cool, especially when climate change is increasingly becoming a doomsday inevitability. Imagine if every company around the world replaced all their physical assets, such as company handbooks and corporate paperwork, into digital versions. Not only would they all save huge amounts of money, but it would also massively reduce the carbon footprint involved in creating these materials and sending them to their staff and customers. One great example of this would be restaurant menus. The pandemic forced companies to remove physical menus for more hygenic QR codes that pointed to digital versions. But there was another benefit — these digital menus can't be covered in beer or ketchup and need replacing. And if your menu changes, you don't need to reprint all your assets.
If you would like to learn more about how The Bot Platform can help with your digital transformation efforts and empower you to build a better employee experience on Microsoft Teams and Workplace from Facebook, then get in touch! 
Interested in learning more? Drop us a line below.