As budgeting season is upon us, we outline why investment in employee experience technology tools, such as bots and digital assistants, need to be a priority for 2022 and beyond.
Across meeting rooms and zoom calls around the world discussions are being had about budgets for 2022. There's only so much pie, and once all those pieces are gone it's hard to get much more than a few crumbs once the year begins.
The last few years have shown how the technology tools you provide your staff and the employee experience you create for them has a direct positive impact on all things from company productivity through to staff engagement, motivation, morale and building a sense of community.
So, as we enter budget season, send this blog post to your budget holders and make sure you've got some funds, time and resources to focus on your digital employee experience in 2022.
1. Investing in employee engagement increases company profitability
Let's start with the headline – budget put towards employee experience isn't a cost – it's an investment that is proven to generate profit. Research conducted by Talent Culture shows increasing investment into employee engagement by as little as 10% can result in company profits increasing by up to $2,400 per employee per year. Harvard Business Review also discovered that engaged organizations have double the rate of success compared to less engaged organizations.
A recent Gallup study found that "Engaged employees are more present and productive; they are more attuned to the needs of customers; and they are more observant of processes, standards and systems."
The same study found that engaged employees were 41% less likely to be long-term absentees.
2. Improve onboarding, training and staff retention
In recent weeks the media have been using the term 'The Great Resignation' to describe the unprecedented number of employees leaving businesses. This has also been reflected in the amount of job vacancies posted which has reached record highs. As such, HR and recruitment teams will have their hands full trying to fill these vacancies as soon as they can.
With large numbers of new starters, both full time and temporary seasonal workers, comes an even larger need for effective onboarding programs – but 35% of companies have no formal onboarding program, and 37% of companies don't extend their onboarding programs beyond the first month.
Meanwhile, employees who go through a structured onboarding program have 70% higher productivity and engagement rates, and are 58% more likely to be with the organization after three years.
A number of our clients have built onboarding assistants to help with getting their new starters introduced to the company and set up for success. For example, LeadingAgile built an onboarding assistant that welcomes new starters with video messages from the leadership team and training videos to watch. Over their first 20 days new starters are sent messages from their Chief Cultural Officer that talk about aspects of working life and company culture. This adds a personal touch and makes employees feel appreciated and cared for. It then checks in with staff over time to check how they're doing and gather feedback on their onboarding experience.
Practices like this are more likely to help generate happier and more engaged staff in the short term, and a more loyal and retained workforce in the long run. Bots and digital assistants can be a game changer in both the recruitment and onboarding experience for new starters in 2022 and beyond.
3. Build company culture in the new hybrid working environment
An office football table and a handful of beers on a Friday is no longer enough (if it ever was) to build company culture and make staff feel valued at work.
According to NBC News, 65% of Americans claim that they were not recognised by their company once in a one year period and 79% of employees who quit their job claim that a lack of appreciation was a major reason for leaving.
With stats like these, it's clear that recognition plays an important role in staff retention and can help to boost company morale and create a positive work culture.
There are a variety of ways bots can be used to make staff feel valued and promote a company culture which staff can get behind. APAC based telecommunications company, Globe Telecom relaunched their recognition program during the pandemic by using bots on Workplace which resulted in a 900% increase in nominations year on year and a happier and more engaged workforce.
A happier, engaged and more recognised workforce leads to a more productive and loyal workforce.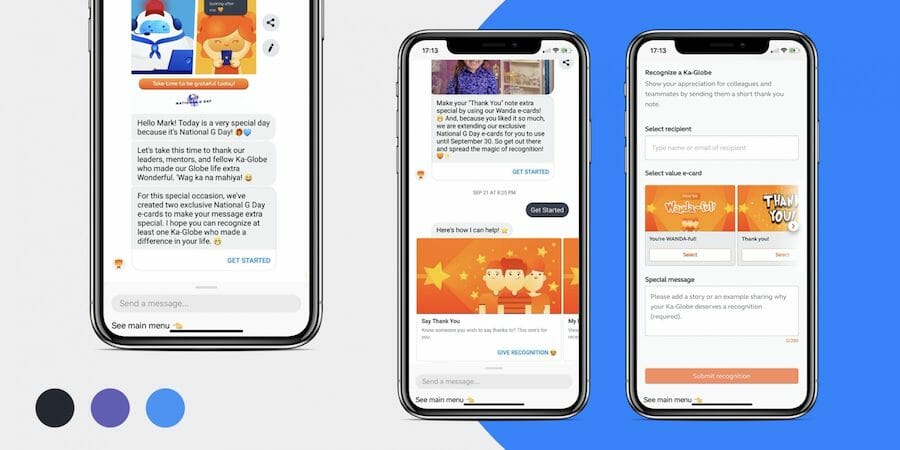 4. Encourage mental health and employee wellness programs
According to the Office For National Statistics, rates of depression have doubled since the COVID-19 pandemic began.
The majority of companies have now switched to a hybrid working arrangement which sees most people working from home for the majority of the week. Whilst there are a lot of great benefits to working from home, it has led to reports of higher rates of loneliness and isolation. According to Buffer's 2021 State of Remote Work Report up to 27% of those surveyed said they struggled with 'not being able to switch off' and a further 17% said they struggled with loneliness whilst working from home.
Considering these worrying statistics, there is a huge opportunity (and necessity) for companies to think about new processes and practices that can be established to help connect teams and cater to staff needs in the 'new normal' of working conditions. This is where digital assistants and new technology tools can come in and can make a huge difference.
Bots and digital assistants can be used to promote healthy habits, home cooking and food preparation, link to home yoga content, physical wellness related resources, or meditation and breathing exercises to help with relaxing or unwinding at the end of the day.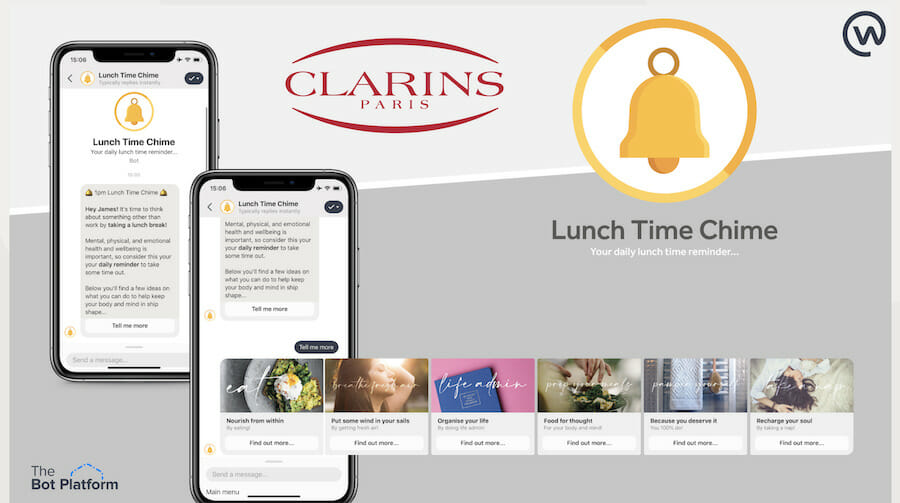 5. Being prepared for a crisis has never been more important
As we move into 2022, COVID-19 continues to bring novel challenges for businesses across the globe. Businesses face a myriad of obstacles, including supply chain issues, product shortages and the effects of extreme weather such as flooding and fires. This is without considering the impact that COVID-19 continues to have and the ever changing rules and regulations businesses need to adhere to.
With all of this in mind, it has never been more important for businesses to have crisis and emergency communication processes in place.
Globe Telecom, one of the biggest telecommunication providers in South East Asia, is championing the use of bots and digital assistants in their emergency communications strategy. During the pandemic, they had an urgent need to build bespoke tools that would help keep their 8,300 employees and frontline staff safe and informed. Using The Bot Platform they were able to build DUDE (Digital Usher for Disasters and Emergencies) in just 8 days to help manage a complex national tracing system and send important updates to frontline staff.
One of the biggest impacts of using The Bot Platform for Globe Telecom has been the speed and agility in which it's enabled them to respond and react to an unprecedented crisis that's impacted every employee across the organization.
If you click on the arrow next to webhooks, it will then take you to the following screen, where you can copy the webhook URL out.
There has never been a better time to integrate bots and digital assistants into your employee experience technology budget and broader business strategy.
Not only will it save your team time and money, it will also help to forge better connections with your workforce, increase staff engagement and morale, resulting in business growth and greater productivity and profitability.
With all these reasons, what are you waiting for?
In 2022, make sure you're able to build a better employee experience using The Bot Platform. Speak to one of our team today who would love to set you up with a free trial and take a deeper dive into how we can help you to achieve your greatest business goals next year.
Interested in learning more? Drop us a line below.