In this article we look at how the last year has led to a more rapid rate of change for HR and Internal Comms teams than we'd usually expect in almost a decade, and 5 opportunities for EX professionals to look at as the 'great reopening' begins
The start of the year came with the usual plethora of articles and research featuring predictions and provocations about the upcoming year for HR, Internal Comms and Employee Experience professionals. And with good reason. 2020 was by far the most unpredictable, stressful and yet also transformational year in modern history.
For all the pain of the last year though, one thing was certain – it sped up change in ways not possible when everything was "normal". In the past, it has taken 10+ years for game changing technologies to evolve from new trends to trusted and used productivity drivers. The pandemic sped up that transition in areas such as business process digitization, AI and digital retooling by several years, even faster in Asia. Indeed, a McKinsey survey published in October 2020 "found that companies are three times likelier than they were before the crisis to conduct at least 80 percent of their customer interactions digitally."
With the great reopening on the horizon it's critical that we don't just revert back to the ways things used to be and, rather, take the good things about the last year and apply those learnings to how we live and work going forward. And when it comes to HR, Internal Comms and Employee Experience there are plenty of positives that should be carried on and new opportunities to be considered. 
To help, we've made a list of 5 opportunities that Employee Experience professionals should be looking at this year – because these are all areas that we, at least, believe are here to stay.
1. Digital retooling and analysis is an ongoing process
The rate of change for digital retooling initiatives was like nothing ever seen before during the pandemic. Platforms like Zoom went from being a niche business software to the way people did just about everything – from business calls with colleagues to happy hours with friends or quizzes and catch ups with family. In fact, in December 2019 Zoom had 10 million daily meeting participants on average. It now has 350 million and was the most downloaded iPhone and iPad app of the year. The same can be said for communication and collaboration platforms Microsoft Teams and Workplace from Facebook. Teams saw a huge uptick in users during the COVID-19 pandemic, rising from 20 million users in November 2019 to 75 million by April. This figure now sits at 115M users with over 2.7 billion minutes per day spent in meetings on Teams – an increase of 380% year on year.  
Part of the success of these channels have been that they've enabled anyone anywhere to connect and work with colleagues and contribute to company culture. Whether they be previously office based workers who are working from home, front line staff on shop floors or essential workers – anyone with a laptop or a mobile phone can now access anything and everything they need to get their job done – no matter where they are. And that's a game changer.
However, just because the tools have been rolled out doesn't mean that there isn't a huge opportunity to improve them over time – either through better training for staff to ensure they're making the most of the available features and functionality, or by continually analysing how these tools are used and whether the processes they are part of could be improved. 
Microsoft's 2021 Future of Work report
alluded to some of these continual improvements by showing how as people used Teams more and more, they changed their behaviours around instant messaging usage, meeting length and spontaneity. For example, data showed that over time people were holding more short meetings, those lasting 30 minutes or less, such as quick check-ins and 1:1s with team members and managers. Analysis of telemetry data from the Modern Workplace Transformation team found that 1:1s increased by 18%, and check-ins and team social meetings grew by 10%.
It's vital to remember that digital retooling is an ongoing process and not something that, once rolled out, can just be left as a set and forget. Instead, make sure you make the most of training resources such as our Microsoft Teams Training Assistant. Send out quarterly pulse surveys to staff to get their thoughts on the tools you use already, how they can be improved and other tools that may be required. And speak to both new starters and leavers about their experiences with these technologies and how they like to work with them. 
Only by speaking to staff and continually analysing how these tools are used can we be sure that they're being put to the most impactful and effective use.
"Tech allows you to do the simple stuff, so you can spend human time doing the important stuff. It's vital to cherish the human connection and using tech in an effective way allows you to do that." Chantal Wilson. People Director. Honest Burgers
2. EX is the new CX 
The importance of quality Employee Experience was vital before the pandemic, but during and after the pandemic there's no denying that more of a focus needs to be put on helping and enabling Employee Experience teams to do the best they can for staff. That's because companies are beginning to work for employees, not just the other way around. HR professionals are going all in on employee experience to improve retention and employer reputation. In fact 94% of talent professionals believe that EX is the most important trend to the future of HR.
Companies are putting themselves in the shoes of their staff and businesses are looking at everything they do through the lens of EX – this being everything an employee observes, feels and interacts with throughout the employment journey. The 4 Ps of EX include People (the who) in terms of their relationships with other colleagues, managers and customers. Place (the where) covers the physical working environment, whether it be at home, on the shop floor or in the office, and the work-life balance of employees. Product (the what) talks about the work itself in terms of the day-to-day activities and duties staff are responsible for. And then the final P stands for Process – the rules and norms for how work gets done and rewarded, and the tools and technologies being used to get work done.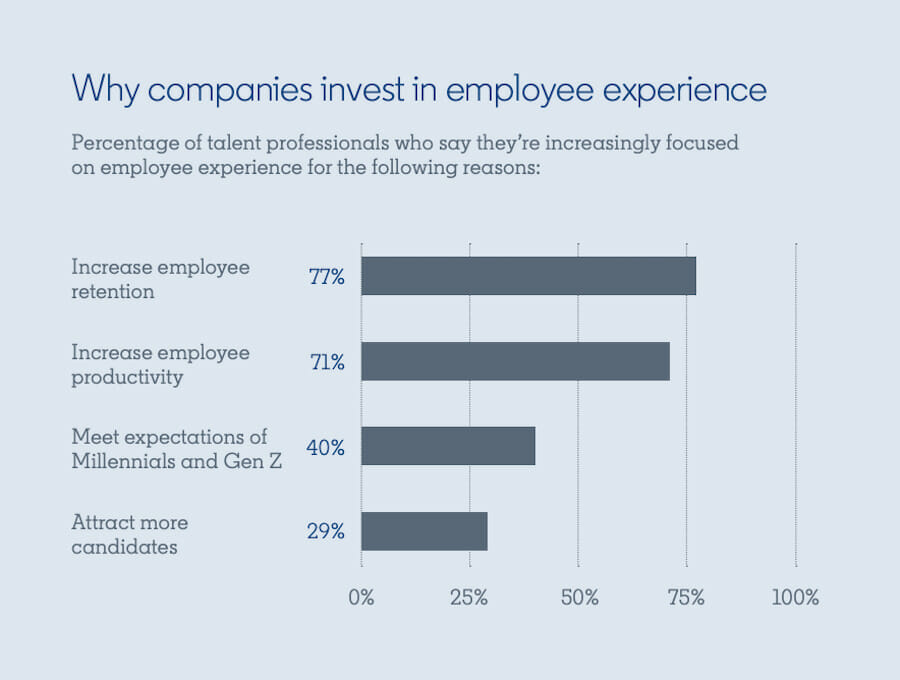 Each of these P's represents an opportunity for improvement for EX teams, and great experiences in these areas will yield even greater results – not only for staff retention, happiness, productivity and morale – but also for your bottom line. For example, companies rated highly on compensation and benefits saw 56% lower attrition while companies rated highly on flexible work arrangements saw 137% higher headcount growth.  
3. The importance of a connected leadership team 
The uncertainty caused by the pandemic put even more of a spotlight on the words and actions of leadership teams, both outwardly to customers and shareholders, but also inwardly to staff and stakeholders. And while some CEOs and C-Suites have thrived, many others haven't. 
Obviously there are both rewards and risks to having connected leadership teams. Take someone like Elon Musk who recently passed 50 million followers on twitter. This gives Elon direct access to customers, advocates, critics and defectors alike. It gives him and Tesla access to unlimited zero-cost marketing that's amplified across blogs, social media, YouTube and countless media outlets. But it can also create issues as some Tesla shareholders may attest to who are suing Elon Musk for "erratic tweets" that led to a decrease in Tesla's share price. 
Having a connected leadership team isn't a guaranteed home run, but the benefits definitely outweigh the negatives so long as there is an approved and thought through process behind it. And the same can be said for how leadership teams are connected to staff within their organization as well as how they're connected to consumers on social media. Indeed, a recent survey from Brunswick found that employees prefer to work for connected leaders by a ratio of 5:1, so the days of broadcasts, message boards and speeches are out, whilst interactive Q&As, town halls and open communication tools like Workplace from Facebook and Microsoft Teams are in.
And, just like with companies that invest in quality Employee Experience strategies and approaches, businesses who invest in connected leadership teams also see benefits to their bottom line. In fact, companies rated highly on open and effective management saw 143% higher headcount growth. 
4. There's never been a more important time to show staff you care 
The pandemic put huge amounts of stress on our personal and professional lives. While millions of people lost their jobs, many of those who continued to be employed faced new pressures including high levels of uncertainty, fear, overload of news and information, large and frequent changes to workplace processes and working demands, changes in household dynamics, potential worsening of health, inability to socialize, see family and friends.   
And while each of us have dealt with the events of the last year differently, and had different experiences ourselves with the pandemic, there's no denying certain people have been hit harder. People with certain health conditions have been under more stress. Frontline and essential workers have had a far higher exposure to the virus. Low income workers have been less able to work remotely and women have been disproportionately affected which has exacerbated existing gender disparities in career opportunities and financial stability.
While the pandemic has caused a lot of pain, there can be good that comes from it in the sense of a greater spotlight being put on these issues, and Dr. Jay Wohlgemuth, chief medical officer at Quest Diagnostics, thinks we've reached a turning point of sorts. "Absolutely the pandemic created an environment where we accelerated the destigmatization of mental health in the workplace, and now everyone's talking about it, and it's okay to talk about it".  
With a greater emphasis being put on staff health and mental wellness, there's a huge opportunity for HR and EX teams to look at the programs they have in place to measure the wellbeing of their workforce. Regular sentiment checks, improving access to mental health care, committing to diversity and inclusion policies, providing access to meditation, breathwork or home exercise resources and generally encouraging people to maintain a healthy work life balance can all be relatively simple to implement whilst also having a huge impact on staff. 
These activities can come in a variety of forms – from wellness programs and initiatives such as those created by Clarins UK Group to help their staff, both office/remote based and front line. Or even rallying the company around a charitable cause to make people still feel like they can make a difference, as Moneypenny does each Christmas as part of their Season of Giving activations.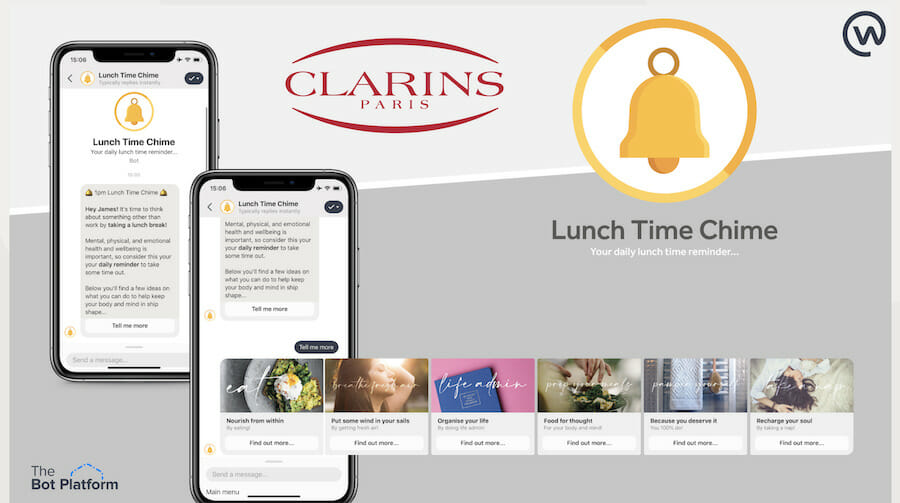 5. Remote and digital learning is here to stay
The final opportunity for HR and EX teams to look at in 2021 is learning – specifically, tools and content that help facilitate and improve remote and digital learning. Education was already transforming before the pandemic threw the sector into complete turmoil. Online classes were common at higher education levels and many colleges and universities were adopting flexible learning models that utilised content and internet connectivity over classrooms and whiteboards. The difference was that the pandemic forced remote learning to become part of the educational structure. And the same can be said for learning and development teams at companies too. 
According to Mckinsey, Workplace learning was one of the earliest and hardest-hit business activities and roughly one half of in-person programs between March and June 30, 2020, were postponed or canceled in North America. In parts of Asia and Europe, the figure was closer to 100 percent. But businesses can't afford to just put learning and development on hold. And, as such, they were forced to look at alternatives for reskilling and training staff by utilising techniques like virtual classrooms, webcasts, video/audio conferencing, virtual coaching, file sharing and content co-creation.  
Paul Grist, head of education sales at Amazon Web Services Inc thinks "Digital learning is here to stay. We've seen the rapid adoption of technology and the growth of flexible online learning — learning that can take place anytime, anywhere." And companies that put a real focus on learning at work and staff development see big impacts on their bottom line, with some reporting up to 53% less attrition and turnover. 
The way we train our employees has been evolving for some time, but a big capital R is starting to be placed in front of this (r)evolution. WHAT we learn is transforming from a linear path of predetermined education into a hive of potential learning opportunities that don't merely cover what is needed for the here and now, but look several steps in the future. HOW we learn is moving away from old fashioned courses and training days into online classes and trackable bitesize modules. WHEN we learn isn't just when we are told to, but 'continuous development' is changing from being a theory and a nice to have into a fundamental part of all good L&D strategies.
So there you have it – each of these 5 areas represents a huge opportunity for HR, Internal Comms and Employee Experience teams in 2021. I'm looking forward to reading back over these in 2022. Hopefully the world will have returned to a sense of normality while the positives of the past 12 months have been molded and applied to a better way of working for the future. 
Is there an area that's caught your attention or is inline with conversations you've been having already? Or maybe there's an area you think we've missed off? Get in touch and let us know if so, we'd love to hear your thoughts!
Interested in learning more? Drop us a line below.