As we move closer to the end of 2021, COVID-19 continues to bring novel challenges for businesses across the globe. The issues caused by the pandemic have been compounded by recent extreme weather which has impacted many businesses across the United States, UK and Europe. 
UK businesses, in particular, are facing a myriad of challenges, recent supply chain issues largely considered to be the impact of both Brexit and the pandemic, have meant that some of the countries biggest hospitality providers and restaurants have faced crippling delivery issues which have had a huge impact on business and hit the headlines nationally. 
Experts believe that these kinds of high-profile supply chain issues we are seeing will continue to persist. Nandos, one of the most popular restaurants in the country, ran out of chicken and had to shut over 50 of its UK restaurants and cancel all delivery options, McDonald's ran out of milkshakes, and most recently one of the UK's most popular pub chains, Wetherspoons, ran out of beer. Many retailers are already bracing themselves for delays and shortages which will impact Christmas sales. 
Arguably, businesses have never had to face so many varied challenges and it doesn't appear that many of these issues will be resolved any time soon. 
In the past few months alone we have seen fires engulf many parts of Europe, in London and New York storms have caused floods which have damaged homes and forced businesses to shut down, and in the case of the recent floods in New York, tragically taken people's lives. 
In London during the recent floods many restaurants were forced to close, this had a knock-on effect on food delivery apps like Uber Eats and Deliveroo who lost business, and had to cancel orders. Fewer drivers were willing to deliver food in such extreme weather, which meant that there were huge delays, for this reason, people were even unable to order food from restaurants that were still open and not affected by the floods. 
According to the World Meteorological Organization, the number of weather-related disasters to hit the world has increased five-fold over the past 50 years. This worrying trend shows no signs of abating. Until we can begin to seriously tackle climate change collectively, we will have to learn to live with these increasingly dangerous weather systems and their impact. 
With all of this in mind, it has never been more important for businesses to have crisis and emergency communication processes in place. The number of crises and emergencies that businesses now have to face has multiplied, meaning more communication with employees and the public at large is integral, as well as having procedures in place to manage these events. Having an emergency comms strategy in place could not only save your business but also save lives. 
One of our clients, Globe Telecom, one of the biggest telecommunication providers in South East Asia, is championing the use of bots in their emergency communications strategy. 
During the pandemic, they had an urgent need to build bespoke tools that would help keep their 8,300 employees and frontline staff safe and informed. 
With a 98% adoption rate on Workplace from Facebook, Globe Telecom already had a channel where their staff could be reached – whether they be in the office, at home, or on the shop floor. The problem was the sheer amount of work involved in delivering such vital information to thousands of distributed staff was too much for Globe Telecom's team to handle manually. And with things changing on a daily, and sometimes hourly, basis they needed to use technology to help them adapt and respond in time.
With the help of The Bot Platform, they created a custom bot on Workplace with the catchy acronym DUDE (Digital Usher for Disasters and Emergencies) to help manage a complex national contact tracing system. 
Using DUDE, staff were automatically sent daily reminders asking them how they were feeling, if they had come into contact with anyone with COVID, developed any symptoms or tested positive themselves. Based on staff responses, DUDE could then provide emergency support, contact information, instructions for isolation and alert anyone who may have come into contact with them. 
One of the biggest impacts of using The Bot Platform for Globe Telecom has been the speed and agility in which it's enabled them to respond and react to an unprecedented crisis that's impacted every employee across the organization. By empowering members of their Employee Experience team to easily build their own work tools, they've been able to solve communication and operational challenges with bespoke software solutions that they've created themselves. 
DUDE was built in just 8 days and serves as a welcomed digital colleague being used by 76% of staff at Globe Telecom every day.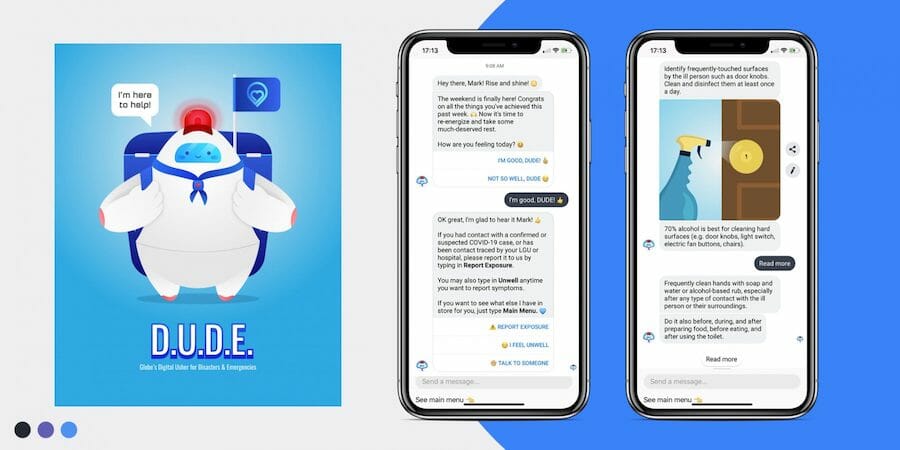 Using bots to underpin your communication strategy can save a lot of time and money and have a huge business impact. When it comes to complex or sensitive communications which go to a variety of different recipients, bots can be a gamechanger. By building segments you can essentially build different communication streams for different audiences. For example, you could have one communication that outlines a crisis checklist that a manager has to fill out, then another informing and checking in with employees about what they need to do next in the situation.
Having a 'Crisis Checklist' set up by a bot that needs to be filled out and checked off in the event of an emergency can also be an integral tool in your emergency response arsenal. Additionally, it can also provide proof that processes have been followed in line with any insurance policies in place and assist with any disputes over liability in the case of an emergency. 
Another one of our clients, Honest Burgers, set up a bot to help with their opening and closing procedures. This allowed them to trace who had locked up when and check that all relevant procedures had been followed, which is extremely important for safety and of course for liability purposes. Having a closing checklist on paper in the restaurant, for example, would not be much good in an emergency like a flood. Utilising bots can provide greater transparency around these processes across the company, without managers physically having to be in the restaurant. It allows teams to be able to share vital information quickly and easily and it's completely remote.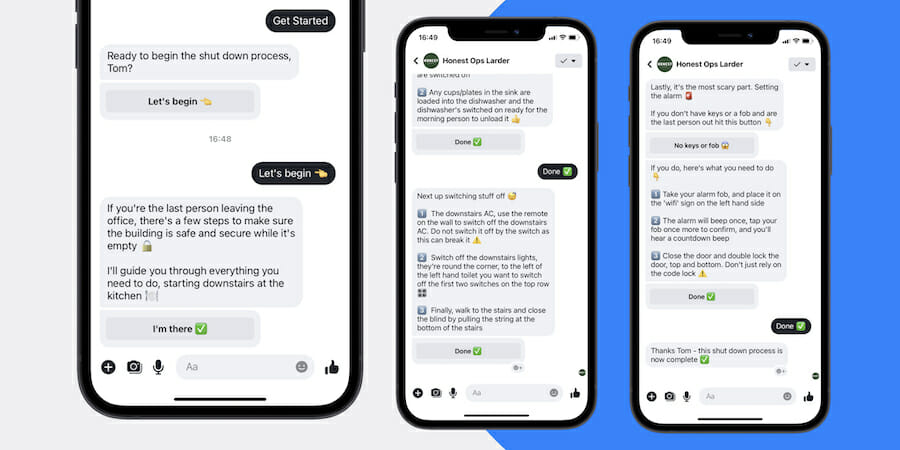 It may feel like business owners have so much more to worry about than they ever did before. But communication and crisis comms planning doesn't need to be stressful, nor should it be something that is put off or considered a 'nice to have'. Recent circumstances and events have shown that a crisis communication strategy is essential for businesses, no matter how big or small. 

If you are interested to learn about how we can help you set up your crisis comms strategy on Workplace from Facebook or Microsoft Teams using bots in a fast and effective way, please contact us at hello@thebotplatform.com. We would love to show you how we can make a vast, lasting impact on your business for years to come.
Interested in learning more? Drop us a line below.