Businesses have once again faced a challenging 12 months, just when it seemed like the worst of COVID was behind us the Deputy Chief Medical Officer Jonathan Van Tam has warned of hard months of the pandemic still ahead for the UK. While cases have appeared to stabilise, they are still very high in comparison to the rest of Europe which is causing some concern.
Despite key figures in the government such as the Health Secretary Sajid Javid and Chancellor Rishi Sunak stating that there are no immediate plans to move to pandemic "Plan B", we know from the past 18 months that things can change rapidly.
Even before the pandemic, the winter months are traditionally a very difficult time for the NHS, with a much higher demand for beds and medical services.
As such, it is important that businesses prepare and have a strategy in place should Plan B be moved into effect before Christmas.
What is Plan B?
'Plan B' is what the government has called the restrictions that would come into place should COVID cases escalate to a point where they would perceive the NHS to be under sustained and untenable pressure.
In recent months we have seen the relaxation of COVID laws; people have been encouraged to gradually return to work at the office and face masks are no longer required by law but are 'encouraged' in busy public places. Plan B would see the reintroduction of mandatory face masks in many more public settings, people encouraged to work from home and also the introduction of mandatory COVID passports in some public settings.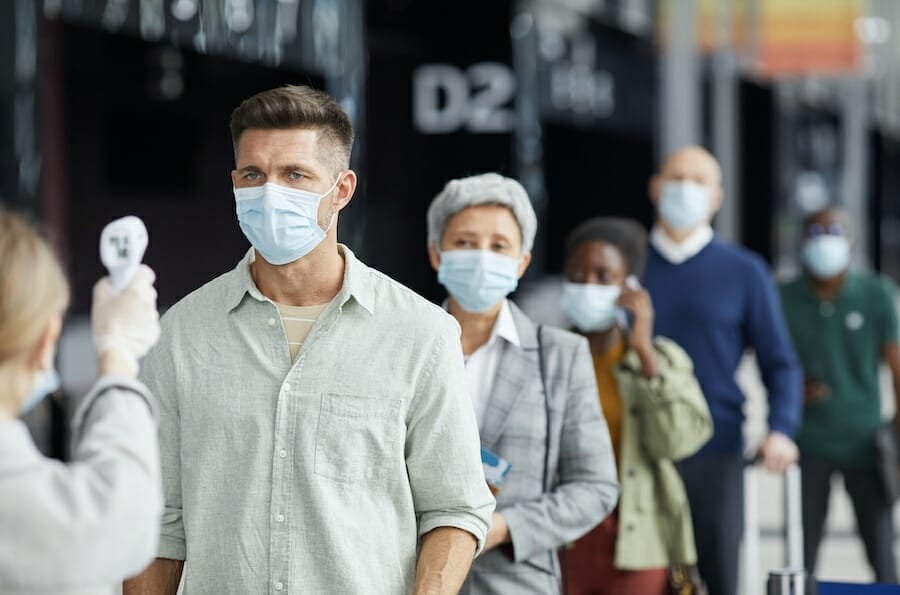 What Does Plan B Mean For Businesses?
Plan B would see more restrictions come into place, meaning more administration and communication for companies, if they are to implement the new changes successfully. Both front facing and backroom staff will need to be briefed on any new processes or tasks they will need to work on as a result of this update.
There may also need to be more communication with staff, customers and the public in regards to the new restrictions, such as if people now need to wear face masks or check in on entering the business for contact tracing purposes, for example.
Furthermore, there may be a lot of work required for processing COVID passports for the businesses who would be required to do this under Plan B. This may represent a new departure and not something that companies will necessarily be prepared for, unlike with mandatory face masks. Up until now, many businesses in the hospitality and events sector have only asked attendees to provide proof of a negative lateral flow test within the last 48 hours via a photograph or the logging of the test on the NHS app and a confirmation text. COVID passport management will require its own unique intake processes and potential new training for staff who will be managing this on the frontline.
There will also need to be more communication across different areas of the business to let people who don't necessarily need to be on site at business premises know that they should work from home now.
If more people are working from home, there will need to be greater communication with them online e.g communication through Microsoft Teams, announcements on Workplace from Meta, Zoom calls and so on. If their job role changes at all when they have to work from home, this will also need to be made clear to employees and allowance for any FAQs or support they may need as a result of these sudden changes.
How Can Businesses Best Prepare For Plan B?
Preparation is key. 'Fail to prepare and prepare to fail' as the saying goes. Businesses can not afford to bury their heads in the sand or have a 'this probably won't happen' attitude as this could lead to huge stress and even financial losses or temporary closures.
The good news is that businesses have had a little practice by now of having to adapt and change areas of their business as a result of COVID restrictions. But many are still not working as fast and smart as they can by automating key processes within the company.
Central to the success of adapting to these fast moving changes is a solid communication strategy (both internal and external facing) and processes in place to manage changes that will affect both employees and customers.
How Bots Can Help
Bots can easily connect to already established communication platforms used by companies such as Microsoft Teams and Workplace from Meta. They can remove a lot of the heavy lifting needed for multiple company updates and complex communications between different areas of the business, such as those that will be needed if new COVID restrictions come into place.
Whether it be sending out important alerts to the whole company or certain segments of staff, answering questions, sending out new process checklists that need to be adhered to, or ensuring staff read and agree to new working guidelines and practices – there's a myriad of ways that bots and digital assistants can help businesses if Plan B comes into effect.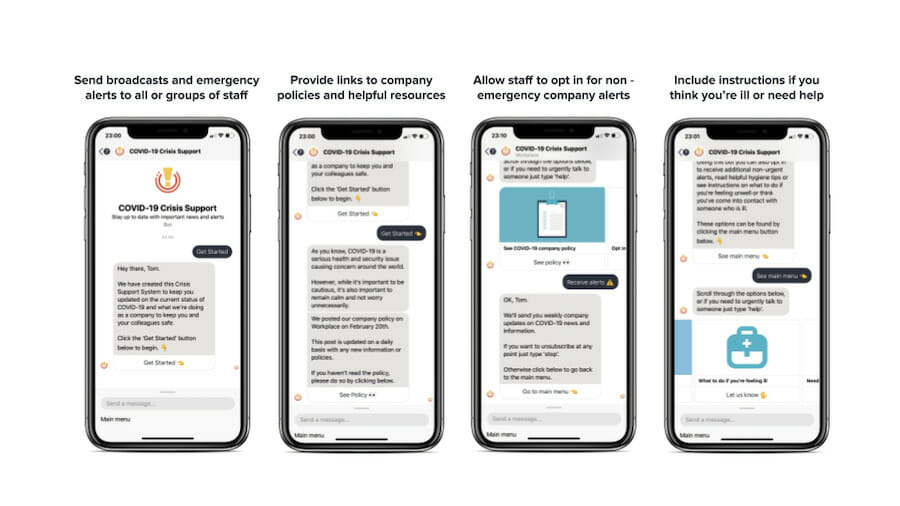 A great example of a company that has mastered the use of bots for this purpose is Globe Telecom, one of South East Asia's biggest telecommunication providers.
During the pandemic, they had an urgent need to build bespoke tools that would help keep their 8,300 employees and frontline staff informed and safe.
With a 98% adoption rate on Workplace from Meta, Globe Telecom already had a channel where their staff could be reached – whether they be in the office, at home, or on the shop floor. The problem was the sheer amount of work involved in delivering such vital information to thousands of distributed staff was too much for Globe Telecom's team to handle manually. And with things changing on a daily, and sometimes hourly, basis they needed to use technology to help them adapt and respond in time.
With the help of The Bot Platform, they created a custom bot on Workplace with the catchy acronym DUDE (Digital Usher for Disasters and Emergencies) to help manage a complex national contact tracing system.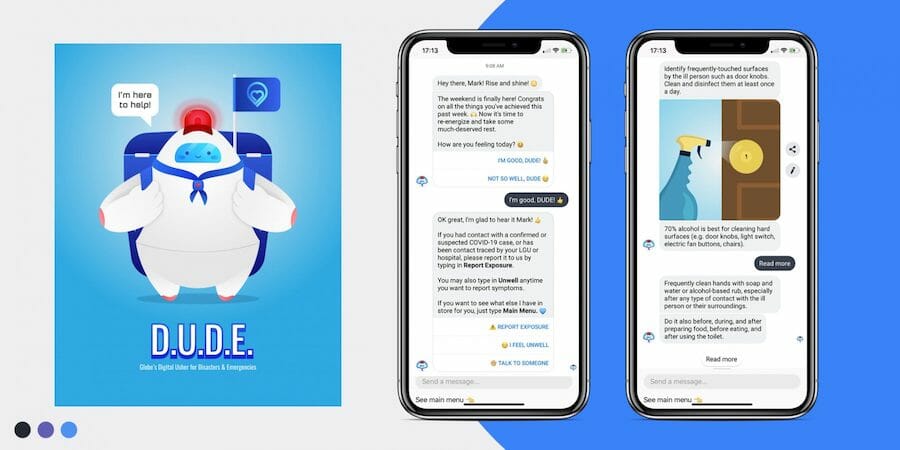 One of the biggest impacts of using The Bot Platform for Globe Telecom has been the speed and agility in which it's enabled them to respond and react to an unprecedented crisis that's impacted every employee across the organization. By empowering members of their Employee Experience team to easily build their own work tools, they've been able to solve communication and operational challenges with bespoke software solutions that they've created themselves.
DUDE was built in just 8 days and serves as an automated digital colleague being used by 76% of staff at Globe Telecom every day.
New restrictions will likely mean a lot of FAQs from your team about how this impacts them and perhaps more questions from customers too.
Answering all those questions is a time consuming task for HR and Internal Comms teams. Not having the answers, or an easily understood way of getting answers, can cause major uncertainty from staff. And all the while middle managers are put in difficult positions where their direct reports are bringing these questions to them.
There are so many ways that bots and digital assistants can help with crisis communications and processes, and having a pre-planned destination where staff can go will provide a far more consistent approach for staff, HR, Internal Comms and management teams alike.

These are just a few of the ways that bots can help you plan for Pandemic Plan B should it be implemented by the government in the coming months.
Setting up your own bespoke bot on our platform is as quick and easy as sending a message. We are trusted partners of Microsoft Teams and Workplace from Meta and are trusted by global organisations in the technology, retail, hospitality, finance, pharmaceutical, entertainment and manufacturing industries.
Get in touch with us today and find out how we can level up your business process and empower you to build a better employee experience, whether it's time for Plan A, B or Z.
Interested in learning more? Drop us a line below.