On Friday 3rd March, businesses from all over the World celebrate 'National Employee Appreciation Day', and whilst some may see this as another 'national day' in a long line of gimmicks, in this blog we explain how employee recognition is intrinsically linked to a positive company culture and should be an ongoing priority for business owners, neglected at their peril!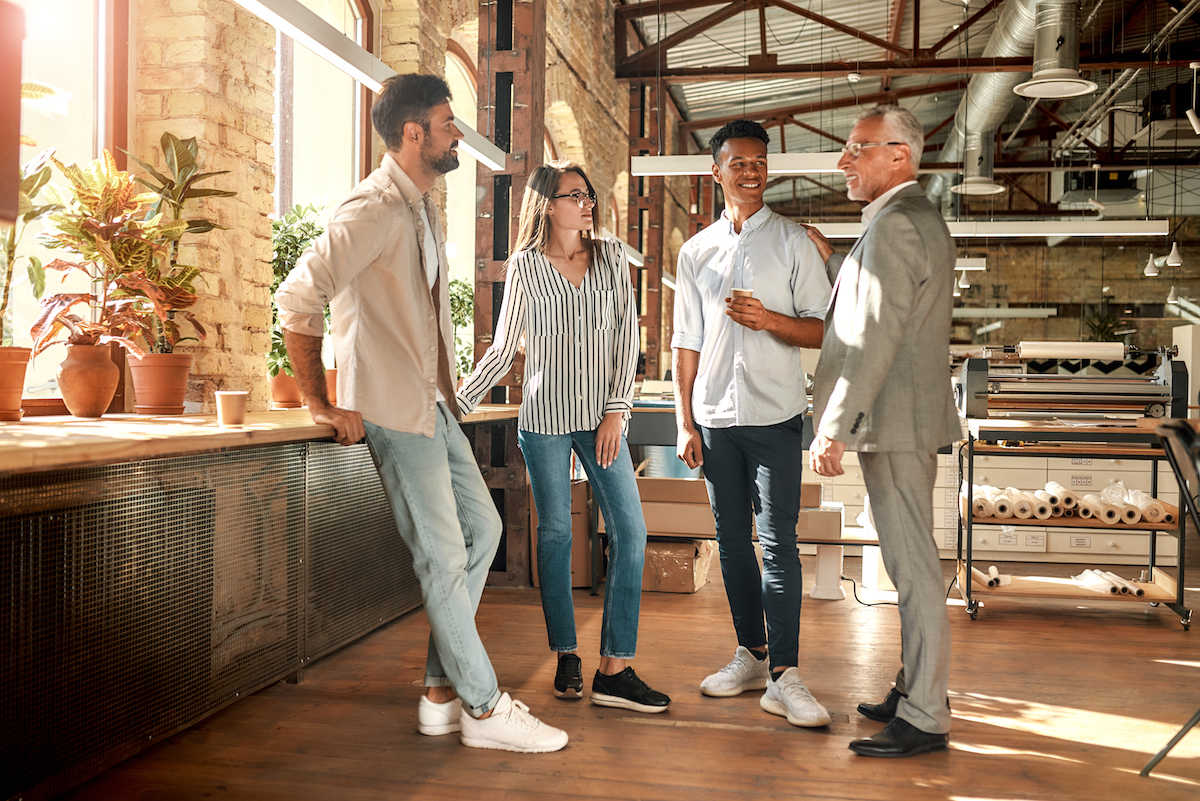 Why is National Employee Appreciation Day Important?
Established in 1995 by Bob Nelson to designate an entire day to recognise employee achievements, the day takes on even more significance this year. After the events of the past few years, employee satisfaction has been launched to the forefront of the minds of business leaders across the globe. In 2022, 50.5 million people quit their jobs, according to the federal JOLTS report. According to a survey by OnePoll on behalf of Bonusly, almost half of U.S. workers (46%) left a job because they felt unappreciated. Another 65% of respondents said they would work harder if they felt like their contributions were noticed by management. However, it's not just gratitude from managers that makes a difference, a further 65% felt they would remain in a position with an unappreciative boss if their co-workers appreciated their work.
Employee Appreciation Day presents the perfect opportunity to do just that. Recognition and gratitude can, and should, be implemented at all levels of the business and at The Bot Platform we have some fantastic technology solutions to support your employee reward and recognition initiatives. 
Ultimately, appreciation and recognition are top drivers of employee satisfaction, with the power to attract talent, decrease turnover, and strengthen culture, so their importance isn't to be dismissed.
Benefits of Effective Employee Recognition Initiatives
A recent study by Gallup shows that an organisation of 10,000 people with an already engaged workforce can save up to $16.1M in turnover annually when they make recognition an important part of their culture. Unfortunately, eight in 10 senior leaders (81%) said recognition is not a major strategic priority for their organisation and only about one-third of employees said their employer has a formal recognition program, with a worrying 53% saying the recognition they did receive felt inauthentic.
Gallup's findings show how recognition isn't just a cursory HR exercise, it can drive real impact for a workforce. Those who receive the level of recognition that matches their needs and expectations are:
56% less likely to be looking or watching for job opportunities

4x as likely to be engaged

3x as likely to feel loyal to their organisation

4x as likely to strongly agree they would recommend their organisation as a great place to work

4x as likely to feel that they belong at their organisation

5x as likely to see a path to grow at their organisation
It's important to remember that recognition works both ways. When organisations make a point of celebrating employees' successes and contributions, those employees pay it forward and become brand ambassadors who help spread the word about their workplace. Peer to peer recognition is also equally important for employees to feel connected to their workplace and in today's competitive talent marketplace, the power of employee referrals and a positive company culture cannot be understated.
Not only is recognizing and showing appreciation for employees important for morale, but it can be beneficial to companies as well. The value of kindness in the workplace is immeasurable. Generally, when people work in a happier and more cooperative workplace, they are more engaged. Much like a domino effect, better engagement can make a considerable difference in productivity and, therefore, a company's bottom line.
An all-round culture of gratitude, reward and recognition amounts to the most connected and prosperous workplaces.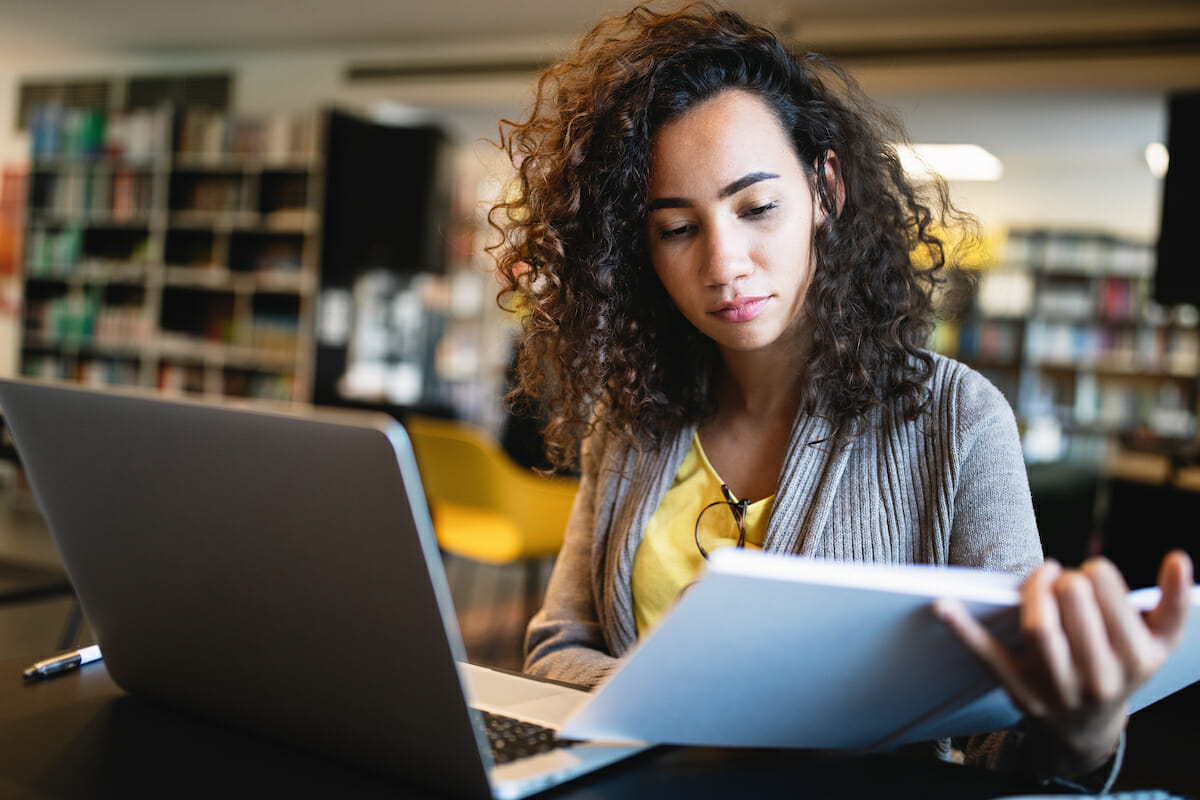 How Can Technology Support Employee Recognition?
In 2022, 8 in 10 people were working remotely, which has resulted in a culture shift for many companies, with less in-person reward events and conferences and more widely dispersed teams. With many workplace environments changing, the need to prioritise employee connection and recognition is more important than ever before.
So how do you create a connected and collaborative culture if your teams are increasingly working remotely? Technological systems are key, yet many businesses are failing to implement workable systems. The Airspeed Great Resignation Insight Report found that 58% of employees say they're not satisfied with the technologies their company offers to help them connect, yet 89% of the C-Suite think that their technologies are meeting people's needs.
Employees are eager to embrace new technological systems, with 81% saying they like using technology to connect and socialise with their co-workers and a third stated that current technology systems don't provide a way to celebrate people's work milestones or achievements.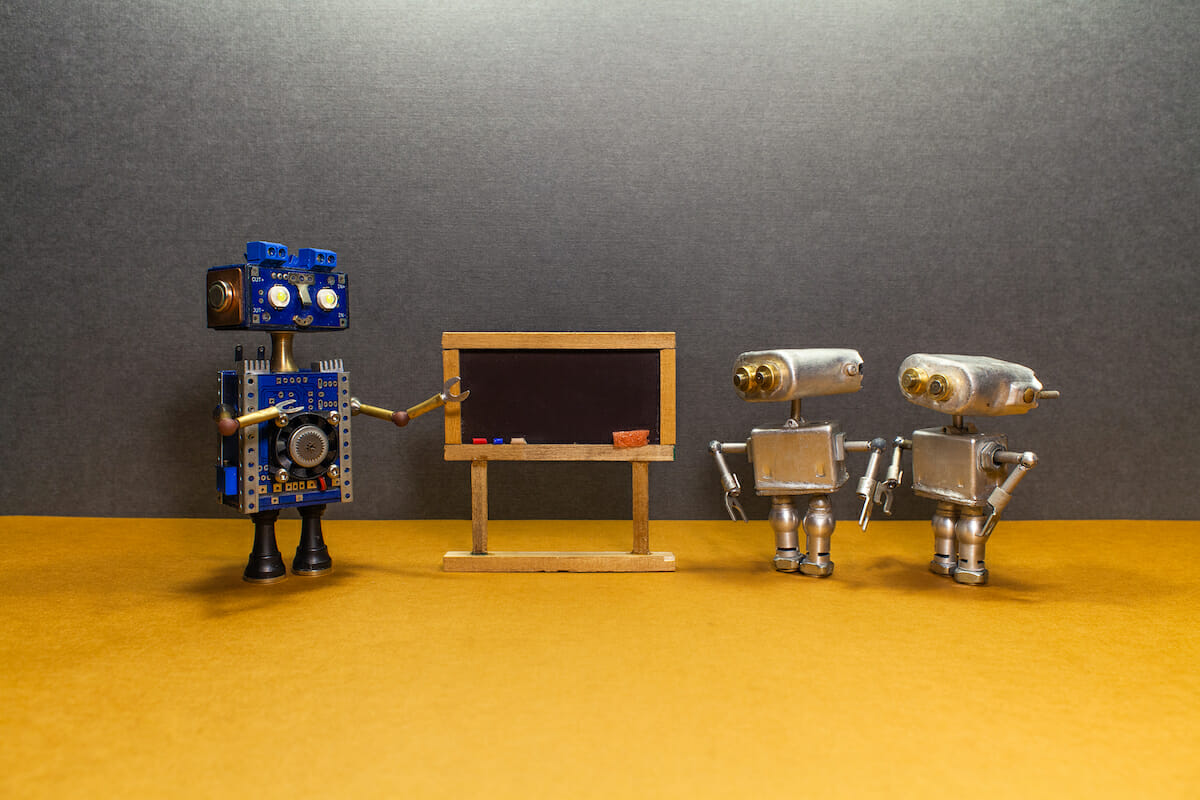 Why The Bot Platform's Digital Assistants Are Perfectly Designed to Promote Workplace Recognition
Available and accessible to everyone (24/7, 365 days a year, on mobile or desktop) 

Opportunity to reward all staff – office and frontline 

Increase workplace usage and engagement 

Drive participation in recognition programs via automated prompts and broadcasts 

Directly integrated with the channels your staff are already using – no need to use/direct them to a separate app or tool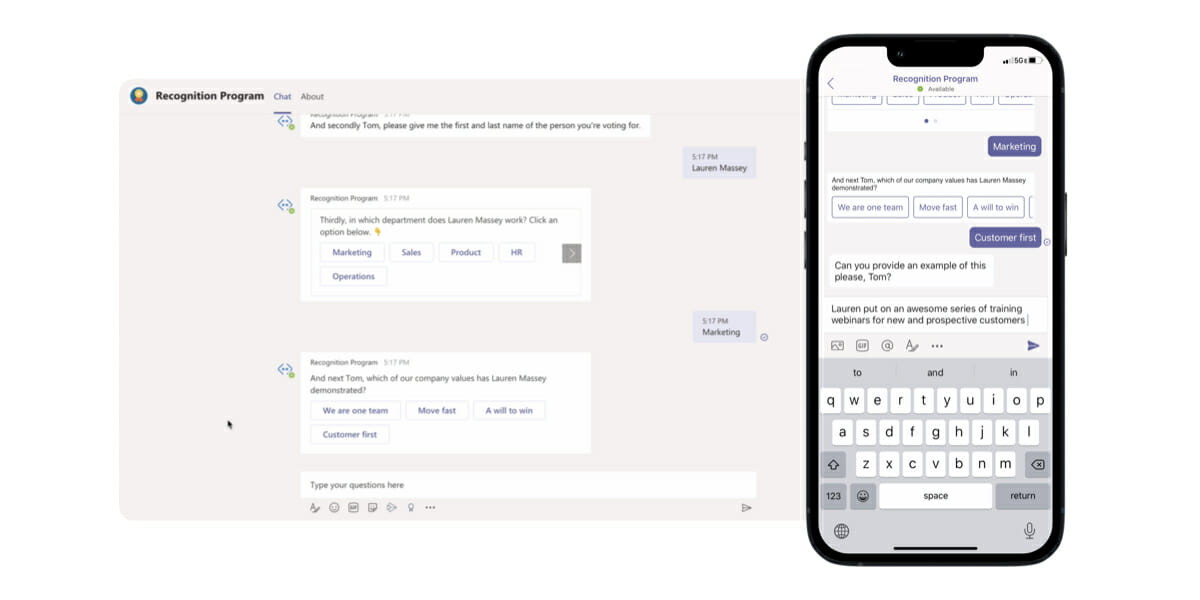 Three Ways Bots Can Be Used To Promote Recognition
Create an ongoing recognition program that staff can use to thank their colleagues and peers whenever they want. 

Recognition

can be tied to core company values and/or specific examples of the actions done or impact made by the employee. 

Votes can be saved in the platform backend, sent to third party systems or cross-posted to Workplace Groups to boost visibility and engagement.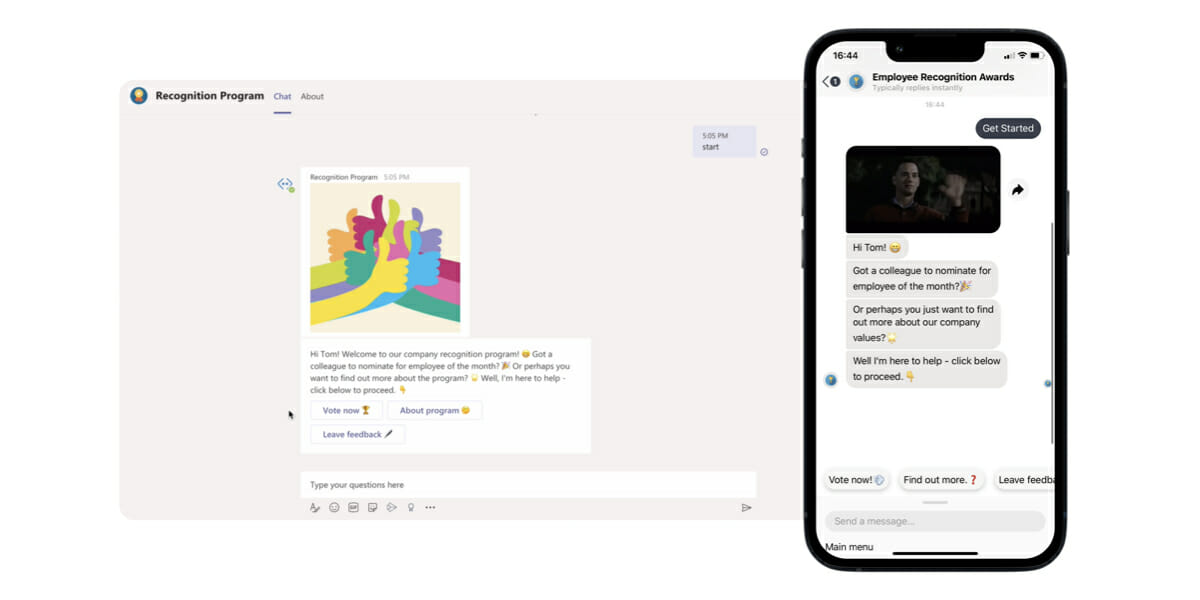 Send monthly or quarterly broadcasts via a

Recognition

bot that thanks staff and/or encourages them to appreciate their colleagues and peers.

Send broadcasts to all staff or specific segments of your workforce – whether it be department, role type, seniority, location etc.

Tie broadcasts to company moments, campaigns or milestones.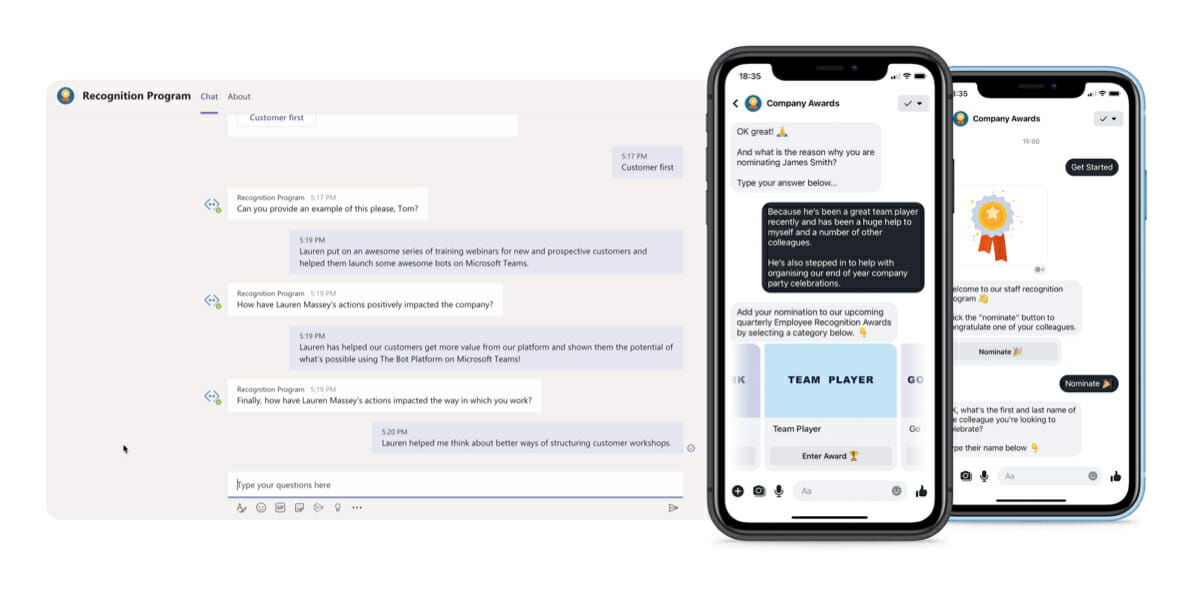 Focus

recognition

around specific awards or themes such as: Unsung Hero, Team of the Year, Outstanding Contribution, Most Supportive Colleague or Inspiring Leader. 

Focus awards around specific times such as end of the year, review season or annual company events. 

Easily set up recurring broadcasts that are sent to staff each time these moments arise.
Employees are looking for company cultures that are genuinely connected and collaborative, which celebrate and value their employees, and if they don't feel that is being offered in their workplace they are searching for somewhere that does value their employees above all else.
Appreciating employees and recognising their work can no longer be a once a year practice, it needs to be an ongoing process that is embedded into your company culture, and that is something we can help you to easily achieve.
To find out more about how you can create Employee Recognition systems using The Bot Platform, download our whitepaper The Recognition Playbook and take a look at how our partners are using Recognition Bots to great success!