We look at how countries around the world are in the midst of reopening, the impact that will have on the workforce and how bots can help manage this critical, hopefully final, phase of the pandemic.
More than 18 months after the Covid-19 pandemic began and it finally looks like a return to a semblance of 'normal' society is imminently on the cards. The US has largely reopened to pre-pandemic levels, with no social distancing and masks required in public places. Now the UK is set to follow suit, as Boris Johnson announced a return to normality to commence on the 19th July.
As exciting as it is for us to regain so many of the freedoms we took for granted 18 months ago, businesses will be faced with a whole new set of challenges which will impact HR, communication and leadership processes. 
At The Bot Platform, we specialize in empowering people to create technology solutions that take the pain out of these processes and improve your employee experience. During the pandemic, we have worked with businesses who've used our platform to build bots, digital assistants and automated work tools on Workplace from Facebook and Microsoft Teams that solve a breadth of challenges caused by Covid-19.
To help with this, hopefully, final stage of the pandemic we have created a Reopening Playbook that provides an essential breakdown for how you can use bots and automation tools to hit the ground running through a seamless reopening for your business. 
Let's take a look at 3 of the 10 areas covered in our Reopening Playbook, or click here to access the full report. 
Answering FAQs and sending updates
There will undoubtedly be a plethora of questions from both staff and leadership teams about processes surrounding reopening. What processes will change and what will remain? What considerations are there around health & safety without social distancing? How will staff be working and will different working models be accessible to different teams or business units?
Answering all those questions is a time consuming task for HR and Internal Comms teams. Not having the answers, or an easily understood way of getting answers, can cause major uncertainty from staff. And all the while middle managers are put in difficult positions where their direct reports are bringing these questions to them.
If you're using Microsoft Teams or Workplace from Facebook, you can easily build a Reopening Assistant that can automatically disseminate all the answers to the many questions that staff will have without the need for constant repetition. Group questions into specific categories or allow staff to search by typing and using keyword responses. You can even allow staff to ask specific questions that they have that aren't covered, and doing this via a bot rather than through multiple different channels will provide a far more consistent approach for staff, HR, Internal Comms and management teams alike.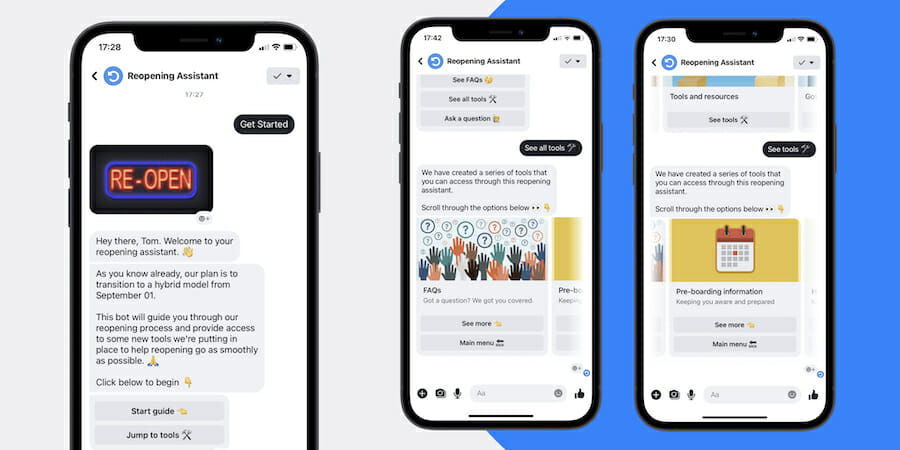 Providing training and entry checklists
Even though restrictions will be relaxed, there will still be new health & safety policies for businesses and staff to adhere to in this next phase of reopening. Plus, it's absolutely understandable that staff will feel nervous about coming back to the workplace when social distancing and mask wearing measures have been removed for both them and any customers they come into contact with.
Furthermore, as the pandemic has evolved there has been a relaxing of restrictions but then a further imposition of restrictions dependent upon coronavirus infection rates, with new strains making the changes in restrictions be even more uncertain and ever changing. As such, businesses need to be adaptable and have processes in place to update Health & Safety training as and when needed, or to ensure entry checklists are correctly completed by anyone entering the workplace. 
These features could easily be incorporated into a Reopening Assistant that requires staff to complete entry checklists each time they enter the workplace and ensures they complete any relevant Health & Safety training. 
Globe Telecom, one of the biggest telecommunications companies in the Asia-Pacific region, have been implementing a breadth of bots throughout the pandemic for health & safety training and communication, as well as to facilitate vaccine orders for employees and communicating feedback. You can see the full case study of how using The Bot Platform helped Globe Telecom transform their business here.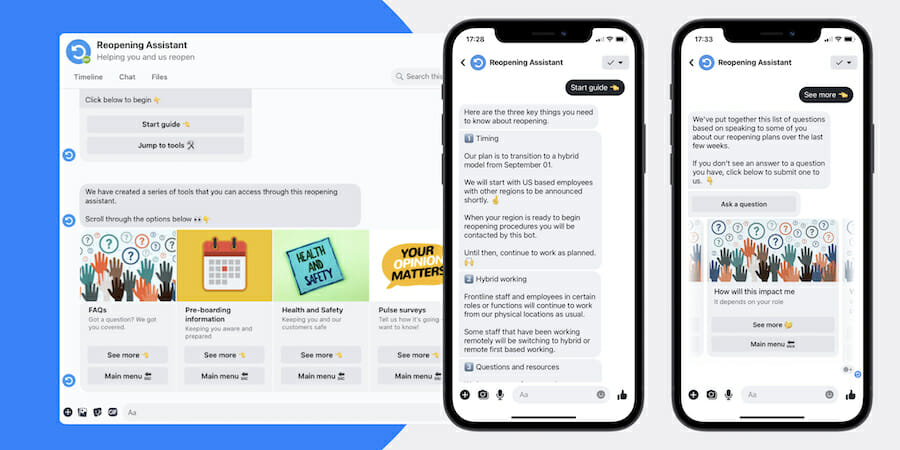 Company culture and employee wellness
Reopening is an exciting moment for businesses and staff alike, but it may also come with a feeling of apprehension and nervousness after such long closures and time away from 'in person' interactions. 
Staff have shown great resilience and adaptability during this time, it is up to businesses to make staff feel supported and build on the good vibes and positive momentum that surrounds reopening. 
A Reopening Assistant bot can help this by creating engagement with employees and promoting fun events that build culture and positivity, as well as re-establishing rapport between team members. This could be anything from mental health & wellbeing programs, to company socials and activities. 
Staff being happy and motivated is going to be integral to the success of any company's reopening and it is important that this area is not neglected in any relaunch planning. After all, reopening isn't just an opportunity to improve the employee experience for the short term, but an opportunity to make long term improvements to how you and your staff work and the tools and technology they have access to.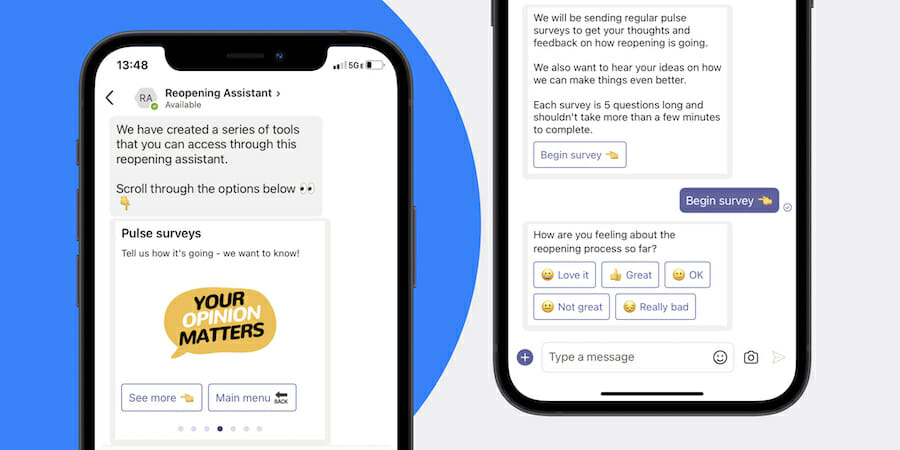 Interested in learning more? Drop us a line below.