The 2023 Bot Awards are HERE!
The 2023 Bot Awards aim to celebrate the best solutions being built using The Bot Platform – from better ways to onboard new staff, recognize colleagues, promote DEI initiatives, give staff a voice or even power contactless Christmas dinner ordering systems. 
Maybe you've transformed the way your business communicates with staff, completely automated a process that used to take up hours of time, or integrated with a third party tool or service. 
No matter what you've built, we want to hear about it – with prizes available for the best submissions. 🏆
When is the submission deadline?
So, when do you need to have entered by? Submissions will be open until Friday May 5th, with winners announced on June 7th. Entering is easy, simply click this link and submit your details using the form provided. 
There are various prizes up for grabs, from physical certificates and digital badges through to some of the coolest TBP merchandise going. But the grand winner will be proudly walking away with this EPIC Golden Botter trophy – an award that can be displayed with pride and is sure to stand out in any corporate or home office.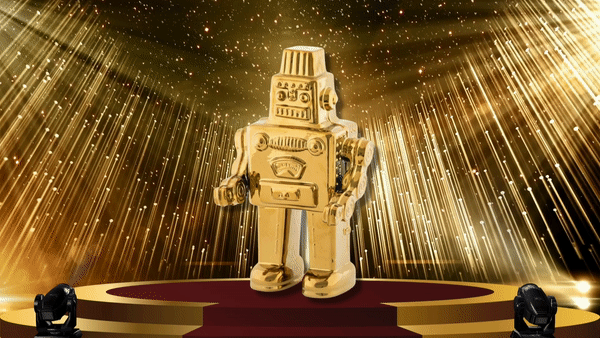 Which bots are eligible to submit?
Eligible bots need to have been launched or used in 2022. Any bots launched before 2022 can be submitted so long as they were active in 2022. 
Bots need to have been connected to either Workplace from Meta or Microsoft Teams. 
And all entries will remain private and confidential unless permission is granted otherwise. We (TBP) may ask permission to turn some of the entries into content such as blog posts, case studies or one pagers. 
So, what are you waiting for? 
Talk to your team and get your submission entered for The 2023 Bot Awards! 
Now we just need to convince Ricky Gervais to host the ceremony…