The workplace in 2020 was a year like no other.
Never have so many changes been made to our ways of working in such a short space of time. There is a popular stream of thinking that in reality the pandemic merely accelerated us to a place we were already heading.
We were already seeing an increase in workplace trends such as a greater emphasis on better work-life balance, and a focus on results and output rather than hours worked and an obsession with presenteeism. Combine this with the necessary improvements in technology, and it was becoming increasingly inevitable that we would move to a more remote way of working.
Exactly how this future of work will look is being discussed and debated at length by every man and his dog at the moment, but what is almost universally agreed upon, is that some form of remote working is here to stay.
Whilst it is incredible that we as a society have managed to cram in several years of technological changes into just a few short months, it has meant that the natural evolution of workplace culture and employee wellbeing hasn't been able to keep up.
This doesn't mean it is necessarily through a lack of trying by employers. They've been thrust into a world of unknowns, where the primary challenge was initially ensuring they could continue to merely function on a fundamental level.
There have been a number of great ideas and initiatives I've come across, but without any precedent to look back on, it has been difficult to know which are really adding value and which are just misguided vanity projects.
In many ways, this level of disruption and consequent enforced evaluation of employee engagement practices can be seen as a positive thing. A 2017 study from Gallup found that as many as 85% of employees do not feel engaged at work. For years many organisations have rested on their laurels with old practices and assumptions around employee engagement, and as the old saying goes, if you're not moving forwards, you're going backwards.
So what can organisations do to keep their employees engaged and informed? The good news is that many of the tools that are being used to conduct the fundamentals of business communication, can also be used to amplify the employee experience to the next level.
From speaking to some of our current customers and partners we identified three common challenges being encountered across almost every business.
1. Gathering staff feedback and opinions
Opinions, as they say, are like that particular part of the human anatomy that I shall not name. We all have one. We especially all have one when it comes to work. Maybe the morning meeting should be at a different time, maybe we should focus on X instead of Y, maybe the chairs aren't very comfy. A study from Salesforce found that employees who feel their voices are being heard are 4.6x more likely to feel empowered to do their best work, yet according to Gallup only 30% of employees feel like their opinions seem to count.
It can be very easy to find reasons to not conduct employee feedback surveys. You can get bogged down with analysis paralysis of which questions to ask and how you should ask them.
As with most things in life, the best way to proceed, can often be to just keep it simple. Start with simple questions like "How are you?", "Is there anything you would like to change about your working day?". The same simple approach should be used for the delivery method of the survey.
If your primary method of internal communication is MS Teams, then use MS Teams, if it's Workplace use Workplace, and if it's email then use email. Whilst you can use certain simian based traditional survey tools, there are significant advantages to using a more modern method like (chat)bots.
Using bots will ensure your surveys have a more human-like feel, which in turn is proven to improve engagement and response rates. Globe Telecom reported a 150% increase in survey response rates when they moved from using traditional survey tools to bots.
Using our Employee Survey Bot, you can track staff morale, take a pulse on company culture, or get input on any range of subjects you'd like to focus on.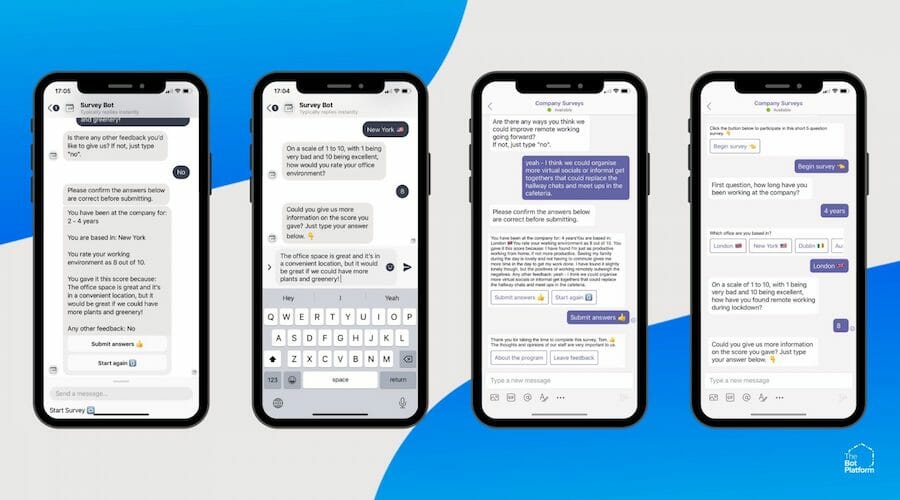 "For someone who is innovative and has ideas on how to improve the employee experience, it's really frustrating not being able to code and build tools that will help. The Bot Platform solves that. What took us a year with a previous partner only took us 2 months with TBP, and we built a contact tracing tool in just 8 days. That's incredible."
2. Driving employee innovation
Studies have shown that up to 80% of an organization's opportunity for improvement can come from frontline employees. Most of us will have started life on the frontline, and whilst for some of us it may feel like a distant memory, we should all remember the invaluable insight you can only gain from being on that metaphorical shop floor.
Of course there is a chance that these insights could result in a game-changing idea that could save or make you millions, but it is more realistic to take the Dave Brailsford approach of marginal gains. If someone has an idea that saves everyone 5 minutes a day, that's a great start. A few small improvements can then really start to add up.
If you combine these potential improvements with the fact that just being listened to and feeling like you have a voice improves employee wellbeing, then you can't lose right?
Our Ideas Lab Bot provides a channel through which employees can submit their ideas to the relevant decision makers and departments. This can be done either at a time of the employee's choosing, or in response to a broadcast related to a specific issue.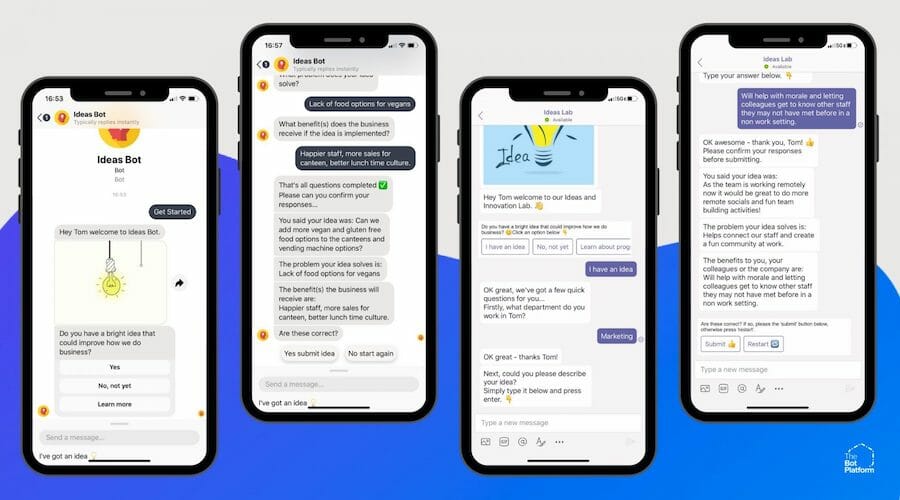 3. Connecting staff to leadership teams
The final problem identified is one that is as old as time. Corporate hierarchies by their very nature create a disconnect between employees and senior management. 67% of UK employees recently reported that the most contact they had had with their CEO was receiving a company wide email.
This doesn't mean we should ditch all levels of middle management, as having layers of line managers is enormously beneficial in a variety of ways. However it can mean that information is being lost or distorted as it travels through a series of Chinese whispers up the corporate ladder, purple monkey dishwasher.
Our Leadership Q&A Bot can connect your employees to the senior management team, either anonymously or openly. The questions can be responded to through your chosen communication channel, or they could be used as part of a management webinar or podcast to be delivered to the wider team.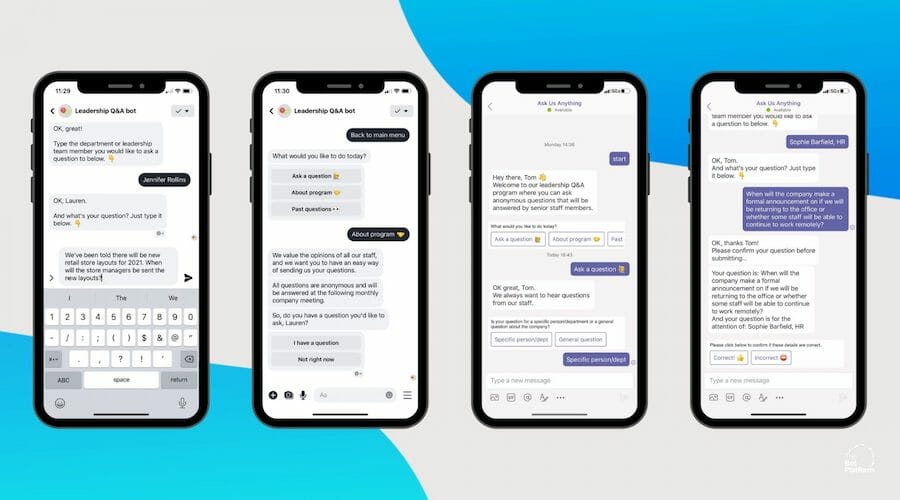 These three use cases – Ideas Lab, Leadership Q&As, and Employee Surveys – can all help you reimagine 2021 and amplify the working experience for your staff.
If you use Microsoft Teams or Workplace from Facebook and would like to see how bots and automation can supercharge the employee experience, please click on one of the below links for a no obligation two month free trial period. One of our expert team will be in touch to help guide you through the process and get your employee amplification journey started!