A few months ago some of our Meta contacts (formerly known as Facebook) asked us to be one of the first external companies to test out their new virtual reality work collaboration platform, Horizon Workrooms. Here's how it went!
Here at The Bot Platform we've always had a great working relationship with Meta. Our first bots all operated on Messenger, and we were some of the first adopters to Workplace from Meta, both as an enterprise user/customer and a premier technology partner. We have found that our values align in many different places, particularly on the Workplace side, where we are both looking for ways to better connect people in their working lives, and help empower companies to build a better employee experience.

An unexpected, but very much welcome, benefit of this relationship is that we sometimes get early access to exciting new products and features – in this case being asked to participate in the early Alpha program of their VR / metaverse meeting software – Horizon Workrooms.

We of course jumped at the chance. And not only because everyone at The Bot Platform would get a free Oculus Quest 2 VR headset.

A few days later every member of the team received their very own brand new Meta Quest 2 in the post. For many of us, this was our first experience with VR, and I say without hyperbole or exaggeration that our minds were blown. I for one became an overnight Beat Saber addict, and spent many an evening plugging into the matrix (as my cynical family called it……..before they tried it!). Other members of the team who had experienced VR before (some even having their own MetaQuest 1 or Rift headsets) were understandably less blown away, but were seriously impressed by some of the improvements to the hardware and native operating system, most notably the improvements to the comfort and maneuverability of the headset, and the upgrades to the internal 'guardian' system which stops you walking into walls and TVs.

A few days (and several thousand games of Beat Saber) later, we were given our induction to Workrooms.

After a few minutes of getting every one correctly logged on, set up and using the Alpha, the entire TBP team were in our first virtual meeting! The initial impressions were excellent, and although everything is somewhat "cartoonified", you got a real sense that you were sitting around a table in a seriously cool looking meeting room with your colleagues.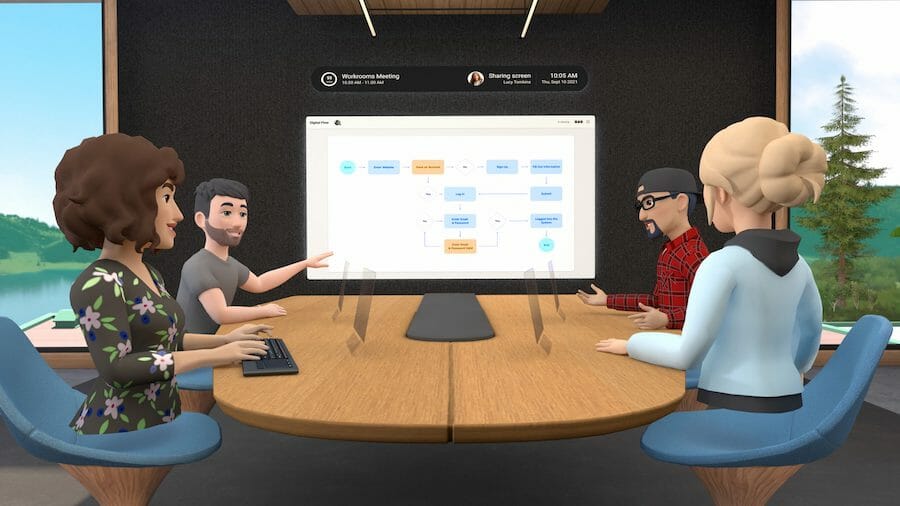 One of the first things you notice is everyone's different avatars. Despite the cartoony nature of everyone's faces, there are enough customisable options for you to fairly clearly recognise who everyone is. I resisted the strong urge to step back a few years and give myself a full head of hair, whereas our CMO definitely took the opportunity to upgrade his developing levels of facial hair into the full Tom Selleck moustache. You can also customise your attire, which may sound trivial, but it allows people to convey a sense of individualism and personality into the room, which if VR meetings are going to become a common part of future communications technology will be extremely important.
The rooms themselves have a number of features that help give you a comparable experience to a real world meeting room. Something we found very useful was the ability to customise the layout of the room. So for our Friday afternoon culture meeting, we would all sit around the round boardroom table, whereas for the all-hands training we could easily switch to presentation/theatre layout with just a couple of clicks of the hand sensors. All of these layouts are contained in what I can only describe as dream meeting rooms, with floor to ceiling windows, and a view of lakes and mountains that I would chew my arm off to see every day (not that my South London street view doesn't have its charms!).
In all of these modes, you are able to connect your laptop into the room and view it in VR, along with a virtual representation of your keyboard so you could, in theory at least, operate your computer without needing to peek back into the real world. I say "in theory" because the virtual keyboard wasn't quite perfect in our Alpha program, although it has since been improved upon for the latest version and now works pretty seamlessly.
Once your laptop is connected, you are able to share your screen with everyone in the room, either in the place of their virtual laptop, or on the big screen in the room. This was a great plus for collaboration, which is the ultimate name of the game for the platform.
Everything I have mentioned so far I found interesting, and could potentially see the advantages over a standard Teams or Zoom meeting. However there was one function in particular that I saw as an absolute game changer, and that was the spatial audio. Like everyone, I am constantly frustrated by the lack of ability to have a natural conversation over video call, and instead having to pass around the imaginary talking stick and go through the never-ending awkwardness of "no you go first, no you go first" and so on.
Through a combination of the wonders of modern software, and the sorcery of the multiple speakers on the Quest 2, if the person sitting next to me in the VR meeting room speaks, it sounds like they are sitting next to me. And if the person sitting at the other end of the table speaks, it sounds like they are further away, and the sound is both directionally different and at a lower volume as you would expect in real life. But here's the kicker, THEY CAN BOTH SPEAK AT THE SAME TIME AND YOU CAN HEAR THEM BOTH. Obviously if you have everyone in the room shouting at once you will struggle to make sense of the noise, just like in the real world, but you can very easily have multiple conversations going on at once, or even more than one person contributing to a single conversation without everything being immediately blurred. Everytime we used Workrooms, I was both astonished by the technology that made this possible, and amazed by the usefulness and potential application for improved collaboration. Combine this with the immersive nature of VR, and Workrooms genuinely felt like a real work environment conducive to good team work, whilst providing a sense of togetherness that you don't always get from standard video calls.
There are of course a few niggles to speak of. We experienced a couple of bugs with signing in and screen sharing, but they weren't anything you wouldn't expect from an Alpha test, and they have no doubt already have been worked out.
The rest were mainly due to the limitations of VR itself. Right now the battery life is limited to a couple of hours. You can plug it in whilst using it, but that would reduce your mobility, and I could easily envisage some sort of head turning-cable knocking over a glass sequence of events. However, this shouldn't really be an issue, as even the biggest diehard VR fans wouldn't want to spend more than 2 hours plugged into the matrix without a break. There is however a workaround built in to tackle this. As well as the various avatars sat around the table, you can also have people dial in via old-fashioned (!) video calls, and have them appear on a screen in the room and be able to contribute to the meeting. This also solves the potential problems of people who are not comfortable using VR, non-functioning headsets, or just people that don't possess headsets. This does mean you lose some of the advantages we have discussed, but it is a good back up option for when you can't have a 100% VR meeting.
That said, Workrooms, and the Oculus Quest 2 in general, were a big hit with everyone. At the end of our weekly team meetings, we each give it a rating out of 10. The first culture and values meeting we held in VR got the highest score we've ever had, with a near perfect 89 out of 90!
Meta are (and have been for a while) investing big time in VR. They acquired Oculus way back in 2014, and Workrooms is part of a bigger umbrella project Meta is building for Oculus called Horizon. Their aim is for Workrooms to form a key part of the Meta universe, or as it's being known – the Metaverse.
Is this the finished product that will change the way we work today? Possibly, depending on the type of company you work in and structure of your team. Is this a glimpse into the future of work, as well as something that can add value to certain situations right now? Definitely.
Interested in learning more? Drop us a line below.