When we look at the last two years through the lens of a HR Employee, we can't begin to imagine the pressure.
How tough it must have been to constantly be writing and distributing new policies in reaction to frequent government changes in those early days of the pandemic, to mitigating the ever-ongoing evolution of home-working, hybrid-working or getting teams back into the office full-time. This alone would be enough to justify Human Resources' need for more support, but when you take into consideration the biggest aftershock of the pandemic, 'The Great Resignation', it is almost too much to comprehend. HR teams are now in the position of trying to retain staff who want to change their working patterns as a result of the pandemic, leading to further contract and policy changes.
What if these new policies and actions aren't enough for the employee? HR are then tasked with finding new talent from a depleted recruitment pool. We're exhausted just thinking about it!
'Overwhelming number of projects and responsibilities'
According to an article in UNLEASH, people management platform Lattice conducted its annual State of People Strategy Report into the subsequent burdens presented for HR teams and found that 42% of those who responded to the survey said their team faced an overwhelming number of projects and responsibilities.
42% of respondents are facing burnout and exhaustion as they tackle future workplace challenges and 41% of teams said that they were understaffed. Unfortunately, it would dramatically add to HR's workload to fill these much-needed HR positions, so they are completely stuck for what to do next.
The issues keep piling up, but what is the solution?
Shawn Herring, VP of Marketing at PandaDoc, told UNLEASH: "Automation is becoming more important to streamline the workflow and allow for fast responses, especially in remote environments".
By automating certain tasks, the burden of knowledge distribution will be eased greatly, allowing HR teams to refocus and reduce workloads.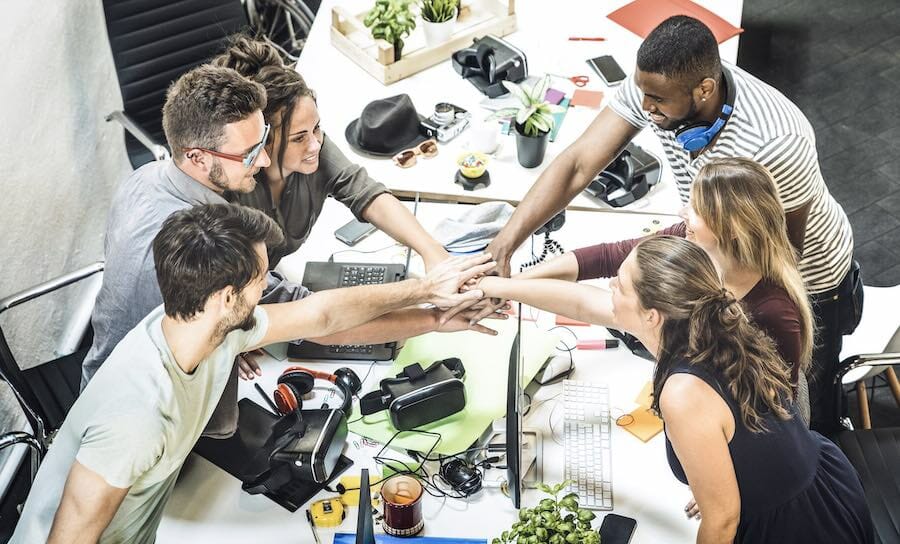 How Can Bots and Digital Assistants Help Support HR Teams?
The Bot Platform can help to transform your working environment, and here are just a few of the ways we can ease the burden on your HR teams.
Connect your people and build a community — the first step every company of any size should be looking at, is how to connect your people and build a community at work.
Using Workplace from Meta or Microsoft Teams, bots can help you to broadcast messages to all staff members simultaneously, or specific segments of staff, whilst also collecting any information HR teams may need in data gathering exercises etc. This could be sending urgent announcements, information on new HR policies or prompts to sign up for new company benefits. Or collecting staff responses to company culture surveys.
Improve knowledge sharing, training and learning opportunities — according to a 2020 study, 92% of frontline managers blamed their communication challenges on a lack of adequate information-sharing tools. Information sharing doesn't just mean sending out announcements and updates, it includes training and development too. The Bot Platform allows you to easily build your own training tools that provide relevant and personalised learning modules, and automatically follow up with staff to encourage them to complete training and make them aware of new learning opportunities when they become available.
Answer commonly asked questions and direct staff to HR policies or documentation  —  Have you ever had a question about sick leave, vacation policies, training budget, maternity/paternity leave? We bet you have. And what do you do in these situations? You probably ask your line manager (who directs you to HR) or email someone from HR yourself. You then have to wait for a response, all of which is taking up multiple people's time and energy, while distracting them from their other responsibilities.
Using bots on Workplace or Microsoft Teams, HR departments can easily create a digital HR assistant that will automatically, and instantly, answer the majority of these questions and point staff to relevant policies or documents. And for any questions that are submitted from staff that the bot doesn't know the answer to, it can then send these on to the relevant person or team.
A better solution for employees, managers and HR teams alike.
Increase productivity — Obviously there is no replacement for human to human interaction when it comes to onboarding and training new starters, but at the same time there are so many administrative and box ticking exercises that really don't need a human to ensure they're done. Instead, using The Bot Platform, we have customers building their own onboarding assistants that do all this admin for them, while allowing the humans to spend time on what matters most — getting to know the team, chatting about ways of working and building relationships. A better onboarding means a happier, more confident and productive employee – who doesn't want that?!
Ensure employees are happy  —  Using bots to provide regular well-being checks on employees will help staff to feel valued, whilst also identifying any members of the team who are beginning to feel unhappy in their role. HR teams can then identify problems early on and dramatically reduce staff turnover, saving countless hours on recruitment.
We love to help companies improve their employee experience and we really think that we can help to ease the burden on HR teams by taking the majority of repetitive administrative tasks away from them, so that they can concentrate on what is most important – being there for your people.
Could a bot or digital assistant help to support your Human Resources team? We'd love to hear from you!
Interested in learning more? Drop us a line below.