Why focus on employee recognition?
The Great Resignation continues to be one of the main talking points in the world of business, and here at The Bot Platform, we are in the lucky position of being placed in the middle of numerous different working environments, giving us an insight into the ways HR and Internal Comms experts across different sectors are using The Great Resignation as a way of refreshing and re-launching their policies and programmes to ensure they retain their talent.  
One of the many initiatives companies are taking a strong interest in is employee recognition, to ensure that workers feel valued and heard, whilst also giving them the ability to single out their peers for praise, no longer having to only rely on upper management to give commendation when it is due. 
Employee Appreciation Day, on Friday March 4th, is just around the corner – what better time to really dig into the importance of employee recognition?
Employee recognition makes employees feel valued and respected, they feel the impact they have on the company and are far less likely to leave their position and look elsewhere.
According to NBC News, 65% of Americans claim that they were not recognised by their company at all in a one year period and 79% of employees who quit their job claim that a lack of appreciation was a major reason for leaving.
Harvard Business Review reports that 72% of businesses agree that recognition impacts engagement positively, while Deloitte found that employee productivity and performance are 14% higher in organizations with recognition programs than in those without them.
With stats like these, it's clear that recognition plays an important role in staff retention and can help to boost company morale and create a positive work culture.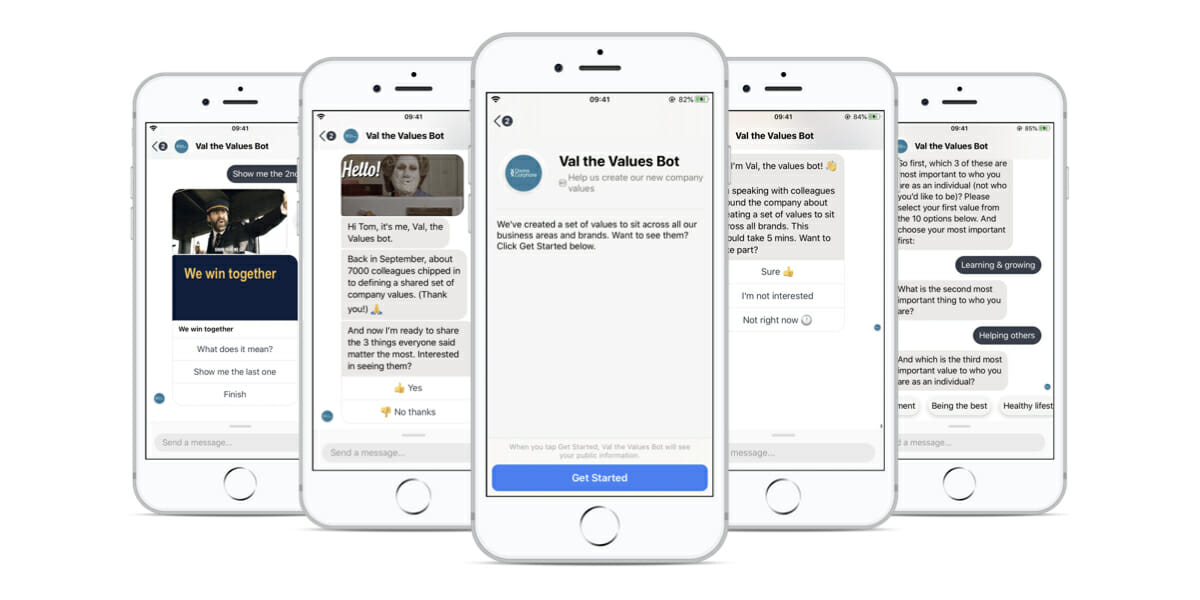 Using our platform to build your own Employee Recognition program helps companies reiterate their core company values while also providing a platform for staff to nominate their colleagues for employee of the month or other similar work recognition programs.
Recognition bots are a great tool because they are available and accessible to everyone 24/7 and 365 days of a year, they reward all staff – office and frontline, increase Workplace or Team usage and engagement, drive participation in recognition programs via automated prompts and broadcasts and are directly integrated with the channels staff are already using – no need to direct them to a separate app or tool!
Here is some inspiration for the type of bot you could build!
Peer-to-peer recognition encourages employees to make deeper, personal connections with their team members and to thank them for their contributions, either privately or publicly.
Build a bot that allows staff to share personalized thank you notes with their colleagues or pick from a series of pre-approved company recognition templates. Easily keep track of staff who have received and given the most recognition.
In a recent survey, 89% of HR leaders agreed that ongoing recognition tied to core company values is the most effective. Having staff think about company values when recognising their colleagues not only makes those values seem more real and tangible, but also better integrates them into everyday working life.
Create a more pointed moment of time when employees are rewarded and recognised with a bot that allows staff to nominate colleagues for specific awards.
Staff can nominate colleagues and include additional details as to why they deserve the reward, or vote on a shortlist of candidates. Award categories could include stand out team, best project, inspiring leader, unsung hero, outstanding contribution, or any others you could think of!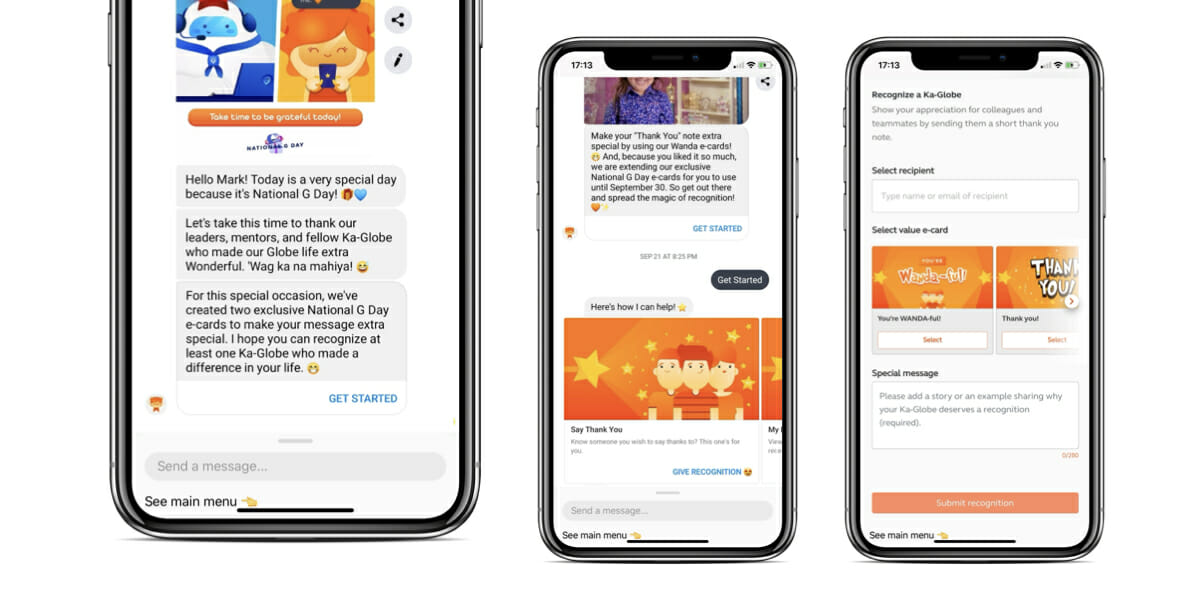 Recognition in Action - Globe Telecom
With over 8000 frontline staff and desk based workers connected through Workplace, Globe Telecom have used the challenges of the last 2 years to build bespoke technology tools that help staff stay safe, informed, engaged and happy at work. One of the first digital assistants they built using The Bot Platform was a recognition program called Wanda.
Wanda allows staff to easily nominate their colleagues who've gone above and beyond and is available to use directly within Workplace Chat meaning staff don't need to download or use a 3rd party application to recognize their peers. As a result of these improvements, staff nominations increased by 900% year on year.
As well as helping with ongoing recognition, WANDA was also used to celebrate Globe
Telecom's anniversary on the 17th September. For their 917 day, special eCards were
created for staff to send to each other and broadcasts were sent out recognising teams that
had gone above and beyond. These anniversary Thank You's were sent by over 1,000 people in just 2 days.
WW (formerly known as Weight Watchers) started looking into bots on Workplace as a way to communicate with their staff effectively, facilitate peer-to-peer recognition and highlight examples of behaviors that brought their new company values to life.
Ripple was built by WW as an employee recognition program aimed to encourage peer-to-peer nominations, promote corporate values/behaviors, and automate their current process.
In addition to posting submissions to a group on Workplace, the bot also adds the votes to a Google Spreadsheet in real time. At the end of each quarter, an "Impact Awards" panel, comprised of staff from each global region and representing every seniority level within the organization, reviews all the votes and selects those they deem worthy of an Impact Award.
Ripple allowed WW to create a unified employee recognition program that used the same methodology for awarding staff members across the whole organization. Instead of 16 teams building, operating and managing different recognition programs, WW now has one cohesive program across the board, which resulted in over 1,700 nominations from staff in every office around the world.
Click here to read more about how bots can supercharge your employee recognition efforts.