At The Bot Platform we're always looking to continuously improve the platform around the needs and wants of our customers. It's one of the reasons we love hearing feedback from people on what they love about our platform as well as new features they would like to see added.
Broadcasts are an area where we have made a lot of improvements over the years, and this latest update is no different. Read on to learn about the new functionality available when it comes to editing and duplicating broadcasts.
Edit recurring broadcasts
Previously, once you had set up a recurring broadcast it wasn't possible to edit the settings without deleting it and then setting it up again. We heard feedback from a few customers that they would love the ability to simply edit the existing broadcast, rather than having to spend time setting it all up again. That makes a lot of sense to us, so we got to work on making it possible.
Now, if you want to either see the settings of a broadcast or change how it's set up going forward, you can simply click the blue 'edit' button in the broadcast menu. This will open up the broadcast settings page and allow you to see how it's set up and change anything you want, before saving it and pushing the changes live.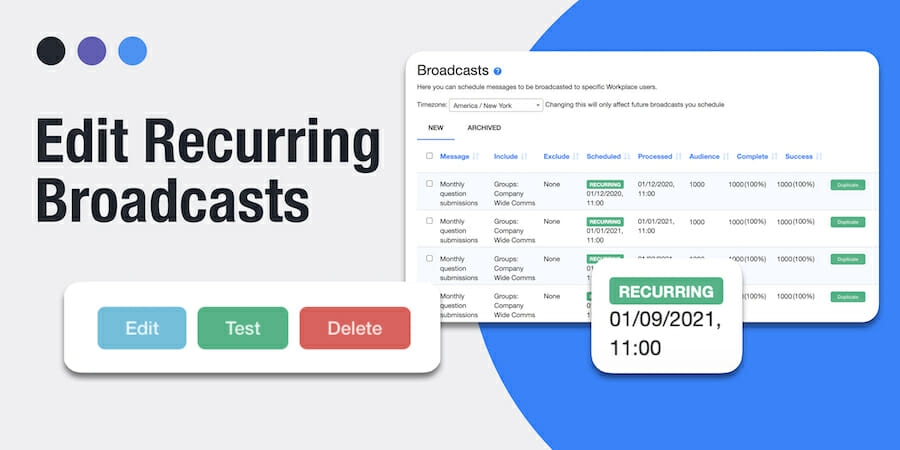 Copy previous broadcasts
We have also added in the ability to duplicate previous broadcasts. We know from when we added this functionality in for copying messages that it's a small feature that can save bot admins a huge amount of time, as one simple click of the 'duplicate' button can pull in all the content, attributes or media of a previously created message.
With our latest product update, you can now do the same with broadcasts.
If you have a previously created broadcast that you want to send again, rather than setting it all up from scratch you can simply click the green 'duplicate' button in the broadcast menu. Doing this will automatically pull in the same message, audience attributes, audience settings, send dates and times etc.
For example, maybe you have an upcoming annual event or promotion where you had previously used a bot on Workplace or Microsoft Teams to inform your staff about the activity. Rather than set all these broadcasts up from scratch, you can simply duplicate your previously sent broadcasts from before and then use the 'edit' feature to amend anything related to the message content or broadcast attributes.
Again – it's a small update that could save bot admins a lot of time.
Make sure you give these new features a play, check out our broadcast help docs and let us know how you find it. And, as always, if you have a feature request that would make your life easier when using The Bot Platform then please let us know!
Interested in learning more? Drop us a line below.