By using The Bot Platform, companies have been able to quickly build Star Wars themed quizzes that allow staff to compete with each other on internal communications platforms like Workplace from Facebook and Microsoft Teams.
Every year on May 4th, the world celebrates Star Wars Day. The unofficial holiday has been going strong since 2011 and was chosen due to the pun "May The Fourth be with You". The day is hugely popular, and usually trends across social media platforms and sees lots of conversation and activity from brands, news organizations, publishers and celebrities.
Star Wars Day represents a great moment to drive engagement from your staff with something fun and amusing that connects them to their colleagues and makes them feel part of a bigger working community. And there's never been a better time to think about how fun cultural moments like Star Wars Day could be used to activate your workforce in a fun way.
Life is hard right now and, for many companies, staff communication has been focussed on crisis management and company announcements related to Coronavirus. The stress of what's going on has definitely been felt by workers. Morneau Shepell's new Mental Health Index shows that a significant majority (75 percent) of respondents have reported the pandemic has negatively impacted their mental health. As such, small things like a fun quiz about Star Wars Day can add a welcome distraction to working life that allows staff to chat with each other about personal interests outside of work.
With this in mind, we created an easy to install 10 question quiz that our customers could add to their Workplace instance in a matter of minutes. And it's been great seeing how many companies have wanted to launch this bot for Star Wars Day.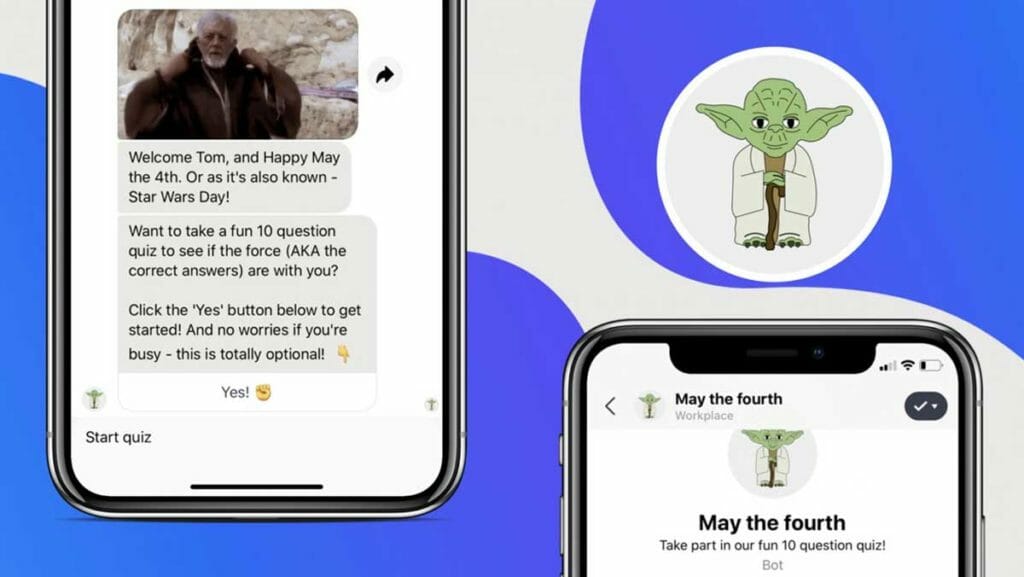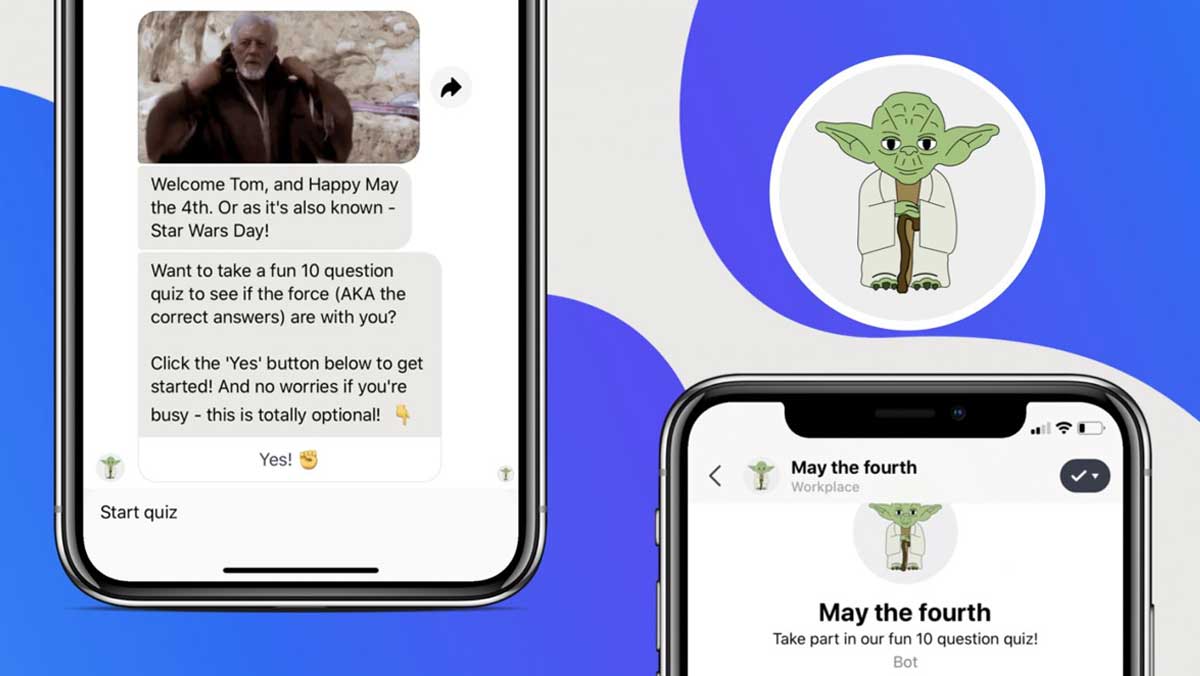 A quiz like this could either be launched as a separate bot or, using the quiz creator on The Bot Platform, added to an existing bot that's driving engagement from staff around fun moments and culture building activities.
The quiz starts off with a fun welcome message that greets staff and asks them if they want to participate. This message can be sent as a broadcast message to all your staff or specific groups, for example if you have a 'Movie Club' group on your Workplace instance.
Any staff that want to test their Star Wars expertise are then taken on a fun 10 question quiz filled with fun facts, GIFs and questions. At the end of the quiz those who have displayed that they have the knowledge of a true Jedi are rewarded, while those whose Star Wars knowledge could fit into Baby Yoda's pinkie are given the chance to try again.
After receiving their score at the end of the quiz, staff can then choose to share their results with colleagues by posting to a group on Workplace. This could be a new group set up for the quiz, or simply an existing group that's designed for culture building activities such as our "Fun and games" group on Workplace. From there, colleagues are free to congratulate and joke with each other based on their score results and chat about Star Wars and movie related topics.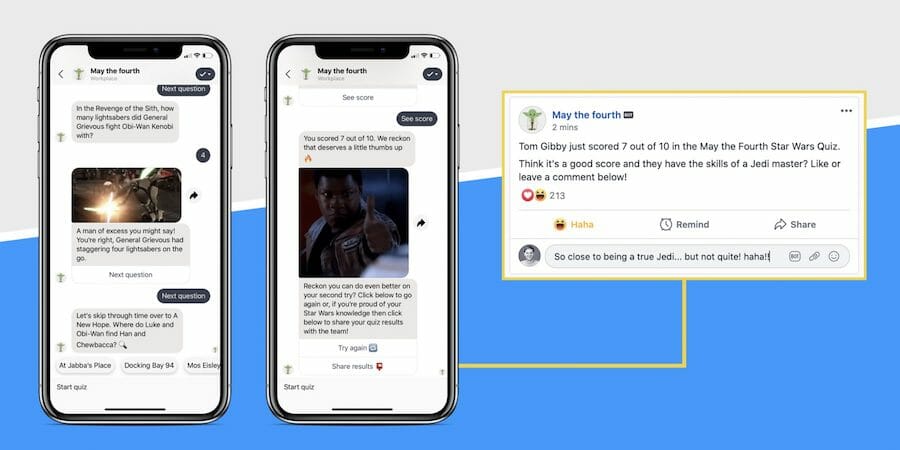 By using internal communication platforms like Workplace from Facebook or Microsoft Teams, it's easier than ever to create a true community that's connected regardless of physical location. Moments like Star Wars Day represent just one example of cultural moments that can be applied to staff activation planning.
Sporting moments like the Super Bowl, World Cup or Olympics, Thanksgiving potluck events, and Holiday parties represent great opportunities to better engage with staff, build culture and create a sense of community. And bots provide an easy to use and effective method of rolling these activations out to your staff in a timely manner and intuitive manner.