Here at The Bot Platform, one of our most valued company ethics is to learn and evolve. We love helping our customers as they take on new challenges that result in them continually improving their company; we're so thrilled to play a part in that journey.
In the same ethos, we are always looking for ways to enhance the platform, whether we're inspired by goals we've set for ourselves, or by listening to our customers' fantastic suggestions and feedback. We always want to have new aims for where we can take you, as you work to improve your employee experience. 
These last few months we have been working away on some new platform improvements that we think you'll really like; have a read below to find out more about our new and improved platform.
Do you want to set-up a completely anonymous whistleblowing bot? How about facilitating Leadership Q&A's where an employee is free to ask questions completely anonymously? Or how about a virtual suggestions box, so employees feel comfortable reporting any issues within the company without the fear of repercussion? Well now you can!
To create your bot, simply go to the platform and create a new bot. When you create a bot from scratch or from a template, you will be asked to name your bot. You will then see a tick box below the title, asking if you would like to make your bot anonymous. If yes, then tick the box and click the "Create bot" button: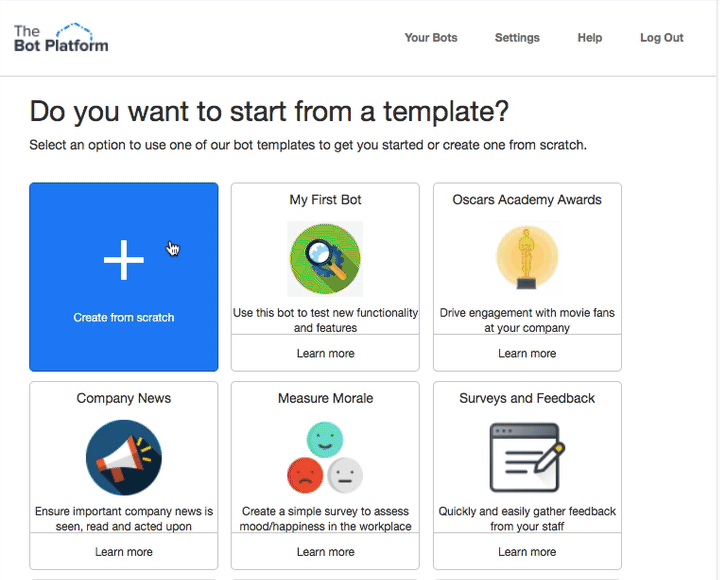 Please note, you cannot change an anonymous bot back to a normal bot, so please make sure you are sure you want to make your bot anonymous when creating it.
We hope this helps to keep a pulse on the happenings within your company that previously people may not have felt comfortable sharing – it's so important that employees at every level have a voice, even if they choose for that voice to be anonymous.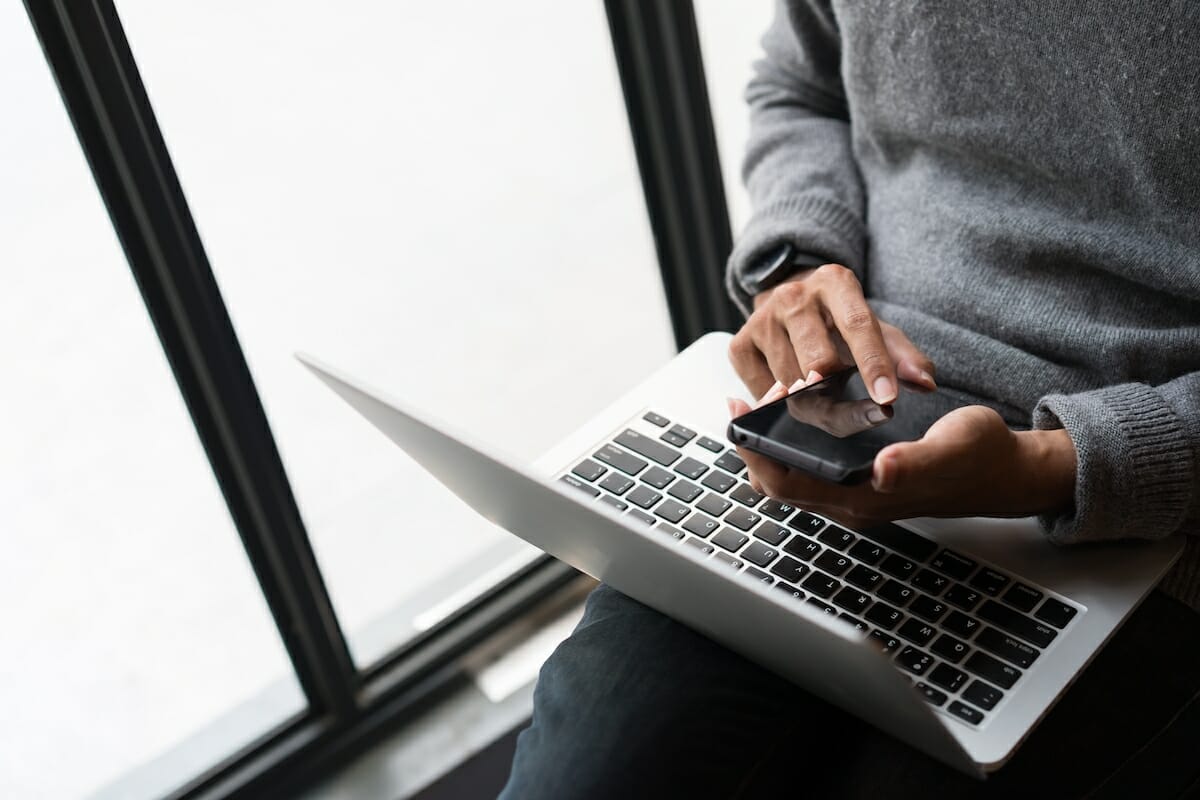 Do you sometimes find it difficult to work collaboratively with other people when devising workflows for your bots? Would you prefer to plan your messages off the platform and then upload them directly once your questions are devised? You're in luck! We've added a message uploader that allows you to upload a CSV file that adds new messages and a text part for each message to the bot. This allows you to pre-plan the messages in the platform, work collaboratively off the platform and quickly create messages.
First create a CSV of your messages. The CSV file must contain the title of the message in a column named 'title' and then the text part in another column named 'text part'. For example:
2) Go to Upload Messages and upload
Go to your bot in the platform and click on "Upload Message" under "Messages: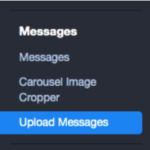 Then click on "Choose file" and select the CSV from your device's drive:

Click the blue "Upload messages" button.
If your upload is successful, you will see a green banner at the top of the page and a summary of your upload at the bottom: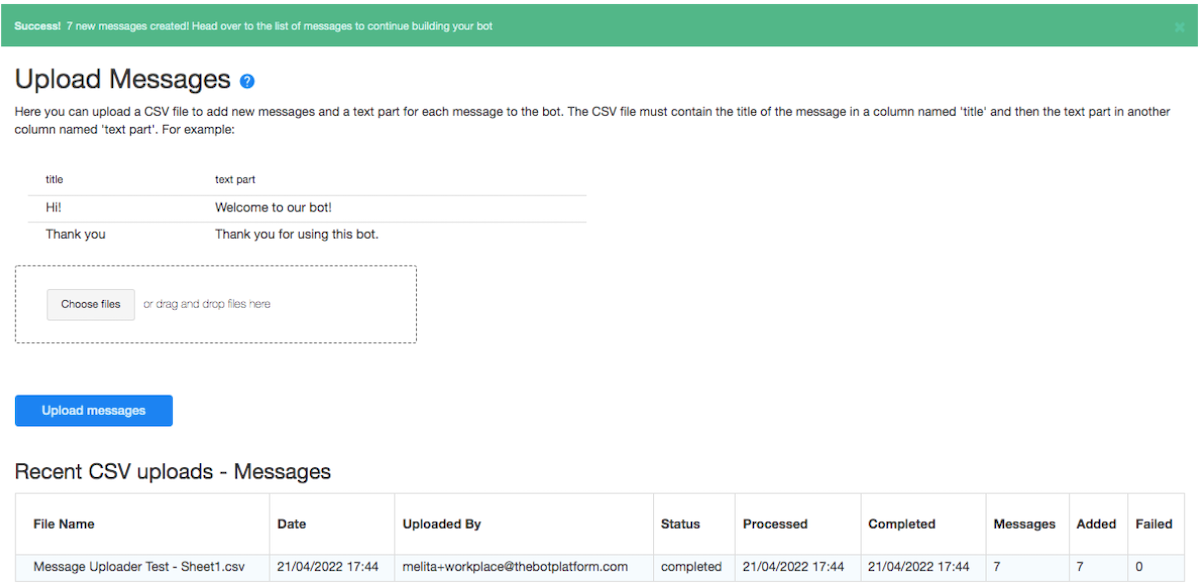 Other message parts (buttons, media, set attributes, etc.), as well as the linking between messages (i.e. which message leads to which response) won't be included in your upload. You will need to add these in as you edit your bot. 
We know your time is valuable and working collaboratively with your team is when the magic truly happens. We hope this update saves you precious time and helps you to get inspired as a team to use your bots to the best of your ability.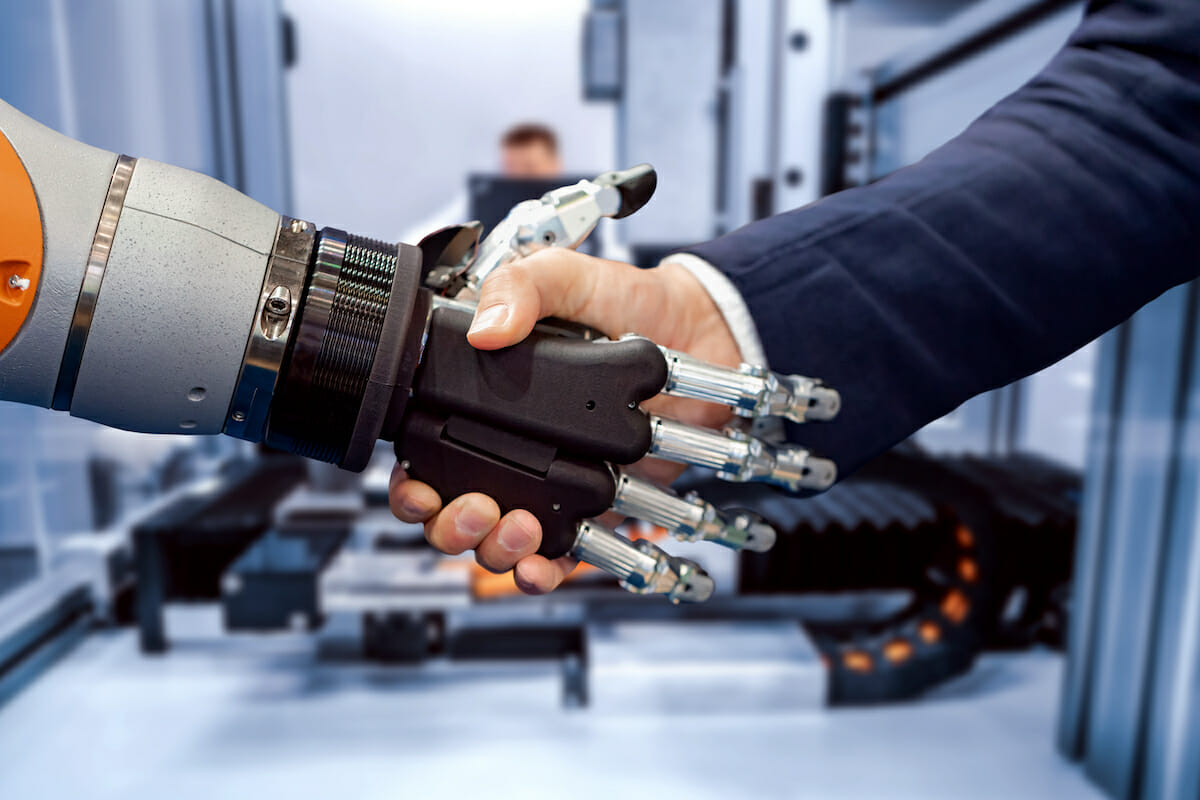 We're The Bot Platform, so we obviously love a good bot, and we find that the majority of the time the well thought-out workflows our customers create answer numerous employee enquiries successfully. But sometimes you do just need to speak to a person, and we've found the perfect solution for those bot to human transfers of communication.

Our "New Group Chat" message part allows users to be connected to people when bots aren't enough – for example, if an employee is having a major issue and urgently needs to be connected with someone in HR, IT or Travel etc.
You will need to create two messages. First create a message that will trigger the new group chat message. You can add in a question or add a button so the user can click it to launch the message.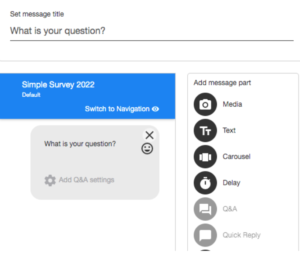 Now create your second message. Click on "New Group Chat" in the message part menu.

Then add your message text.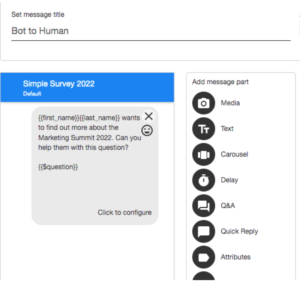 2) Set up your group text settings
Next set up your group text settings. You need to choose who will be included in the group chat by adding their email addresses in the top section. You then need to choose a name for your chat. Make sure the name is clear so people understand what the chat is about:
You may also need a text bot, which contains a message that will be sent to the user. You can add that in above here: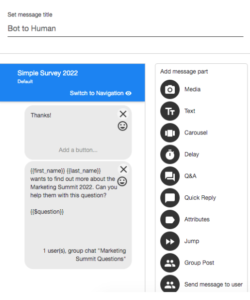 Now it's time to test your message! Set up a keyword like "help" which launches the first message:

This will then launch the message in the bot:

A new group chat will show up in your inbox as soon as the first message has been replied to:
The group chat can then commence from there.
We hope this new functionality helps employees feel more connected to their workplace and emboldened to ask questions that they previously would have avoided, because they weren't sure who to speak to.
Which new feature will you try out first? We love hearing your feedback so please let us know how you get on and pass on any ideas or guesses for what our next big update could be!