Meet Rebecca Gordon, Sales Development Representative at The Bot Platform and the newest member of our team!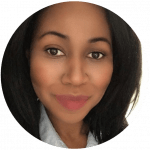 Rebecca talks to us about her experience of onboarding with a fully remote company for the first time and how bots on Workplace helped provide her with the information she needed to get up and running quickly.
Day one at The Bot Platform
There were two meetings on my agenda for that all-important first day; one was a welcome meeting with my new boss, the other was with Orville who I was yet to meet.
Knowing that I'd just signed up to work for a company that specializes in empowering people to build their own bots and automation tools, I really should have expected that I'd be getting acquainted with bots very early in my experience.
With this in mind, you won't be surprised when I tell you that after my initial meeting concluded, I was told that Orville would contact me at 10am via Workplace to take me through the onboarding process.
"Oh great" I replied, "Is Orville in the sales department too?"
It was then that I was informed that Orville wasn't actually a person.
Orville was a bot! To this day, it still makes me smile.
An automated assistant ensured I was feline fine about my first day
Prior to joining The Bot Platform I had worked for a few other tech companies but none within the automation space and none who used Workplace from Facebook as the primary communication tool, so this was a new adventure for me in more ways than one.
As 10am approached, there I sat at my PC, waiting to hear from Orville. Right on time, as predicted, I received a "ping" on my Workplace Chat from a green-faced, friendly-looking cat named Orville – no, he wasn't quite as I'd imagined him but nonetheless, Orville really helped me to get settled in at The Bot Platform. Let me tell you more about my experience…
The processes that Orville walked me through were:
– Company overview
– Introduction to Workplace
– Team introductions
– Company handbooks
– Popular acronyms
– Onboarding feedback
Personally, I found the entire onboarding experience very positive for a number of reasons.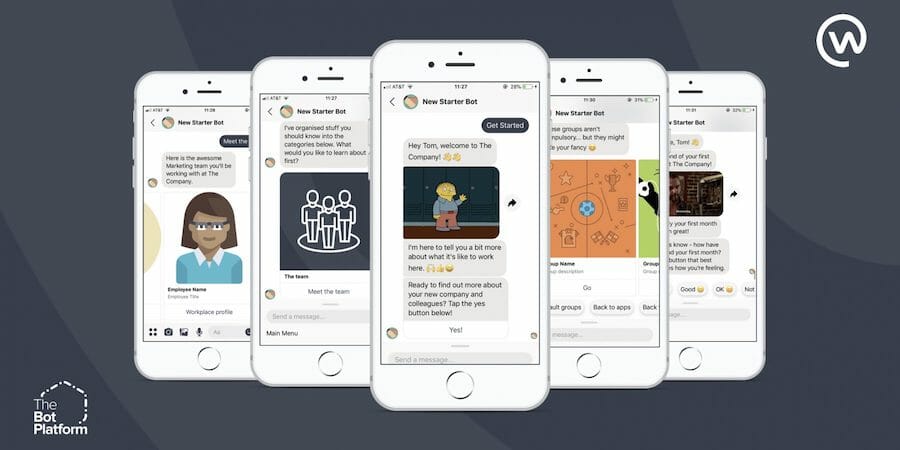 I found it really easy to navigate Orville. Although it was my first time using a bot for any task, I only required assistance on how to use Orville once or twice throughout the two weeks of my onboarding process.
Also, Orville was set up in such a way that it prevented me from missing any valuable information – I had to go through each section as it was laid out before me which meant that all of my new knowledge was acquired in an order that made sense. I also didn't have to worry about what I needed to learn next or wonder if I had missed anything.
If something didn't make sense, I could revisit what came before, just to double-check – I did this by scrolling up the chat window or by using the Persistent Menu on the bottom right of the chat window.
Being onboarded by a bot rather than another person allowed me to go through the information at my own pace. I had already been provided with guidelines that outlined the entire onboarding process so I was able to understand what I needed to have done by the end of each day. Nonetheless, being onboarded in this way allowed me the independence that most new starters would appreciate when joining an organisation as it can be a busy time with lots to do and lots to learn.
With so much information being shared it was important that not only did I read it, but that I understood what I was reading. Most of what I was sent I was easily able to understand, but what did I do if I had any questions? I found it made sense to note any questions down as I went along and send them over to my line manager at the end of the day, picking up any responses the next morning allowing me to revisit the information with a fresh pair of eyes or jumping on a quick call to talk through it.
As mentioned, onboarding with a bot actually relieved a lot of the pressure that comes with starting a new job. Whilst the social connection gained within the staff orientation phase in a "normal" onboarding process is very important, I didn't find that I missed being onboarded by another team member. In fact, I found that using a bot for this process allowed me to stay focused on the task at hand; learning my new job. In any case, the contact with the team still occurred as I was directed to schedule meetings with each member of the team in order to settle in and learn about the various roles and departments within the company.
Whilst I was using the bot, I was well aware that I was communicating with another person within the organisation, albeit indirectly. I was aware that any feedback or comments that I made would filter through to my line manager in some way. For this reason I found it important to respond to questions like "how did you find this week" in an honest way, so that I could get any help if I needed it.
An onboarding experience like never before
As I mentioned earlier, this was my first ever onboarding that was done by a 'machine'. But rather than it being a humanless process that took away from the training experience and hindered learning, it actually did the opposite.
The bot provided me with all the key information I needed to know and I was able to onboard myself at a pace and time that suited best. Equally, due to it living on Workplace Chat, I was able to seamlessly jump between desktop and mobile as well as ensuring that this information was kept in an easily accessible place – my Workplace account. I didn't need to worry about losing a hard copy of a company handbook – I had it on me whenever I had a computer or phone in my hands.
And while the bot took care of information delivery, it also actively encouraged human interaction. I still had my face to face onboarding meetings with my line manager, but that time was spent talking and discussing the business, my role and ideas I'd had already based on what I'd learnt in my onboarding. Similarly, the bot also introduced me to my team members and colleagues and then encouraged me to book in video calls with each of them.
Orville didn't take time away from the people I'd be working with. It made the time we spent together more productive and valuable.
Was Orville an automated machine? Yes. But did he help make me feel more knowledgeable about my new role and more familiar with the team I'd be working with than any other job I'd been in. Absolutely.