At The Bot Platform we're always looking to continuously improve the platform around the needs and wants of our customers. It's one of the reasons we love hearing feedback from people on what they love about our platform as well as new features they would like to see added.
This month is no different, with new improvements made to how Segments work and the addition of Deep links for bots on Workplace from Meta. Read on for more information, and make sure you check out our Help Docs for the latest on TBP features.
Improved Segment Uploads
Segments are a crucial part of driving awareness, usage and adoption of your bots on Workplace from Meta and Microsoft Teams. Bot admins can upload a CSV of email addresses or external IDs to create a segment of users.
We kept hearing feedback from customers on two key areas of improvement they would love us to look at. And, you'll be happy to know, we've done just that!
The first area is around Segment creation speed. Some companies with large workforces are uploading CSV files containing information on tens of thousands, or even hundred of thousands, of staff on Workplace or Microsoft Teams. As you can imagine, this can take time to process which can delay a bot admins ability to complete the task they're looking to do on The Bot Platform.
Well, using some technical wizardry, our product team has pushed live updates which drastically improves upload and segment creation speeds. Now, CSV files that would have previously taken hours to process are being processed in a matter of minutes. For example, a CSV upload that would previously take 17 minutes to process will not be completed in just 26 seconds!
As well as speeding up the Segment upload process, we've also added functionality that makes it easier to manage the users in your segments too. It is now possible to see who's in a segment by clicking "Download list of users" in the Manage Segment section. Doing this will tell you exactly who is in the segment, making it easier to see which staff do and don't need to be added. You can then add them either individually or using a bulk upload option.
You can see more information on how to use Segments on our Help Docs.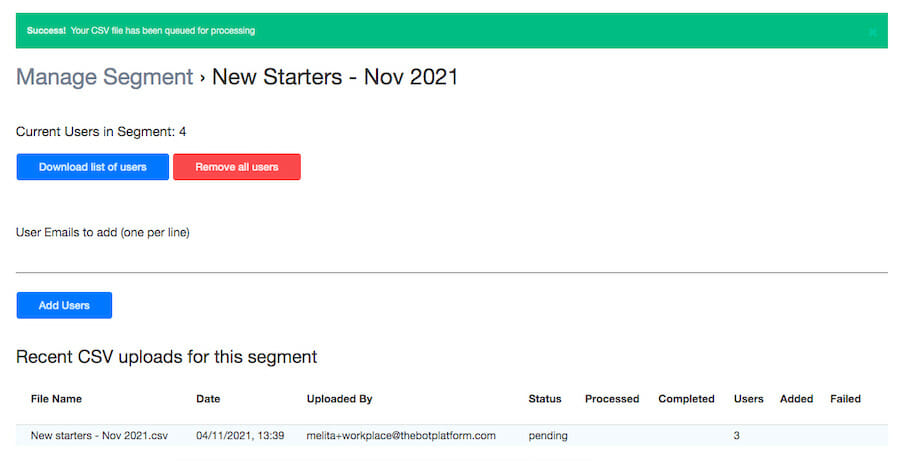 Enabled Deep links on Workplace from Meta
Another feature that we've added to bots on Workplace is the ability to deep link to specific content or sections. For example, maybe you've got a specific message in a Staff Feedback bot that you want to share that links to a certain Survey – you can now direct staff to this specific message through any digital or physical asset that can display a URL or QR code.
To get a deep link for a specific message, simply click on the "options" button in the message menu. Clicking here will show the message options screen including the deep link URL and a scannable QR code.
You could place the URL in an email, meeting invite or post on Workplace or any other digital channels that staff can click on from their phone, tablet or desktop device. Or you could add the QR code to any materials along with a prompt to scan using a smartphone's inbuilt camera.
Click here to view our Help Doc on how to use Deep links. 
Make sure you give these new features a play, check out our broadcast help docs and let us know how you find it. And, as always, if you have a feature request that would make your life easier when using The Bot Platform then please let us know!
Interested in learning more? Drop us a line below.