In this article we talk about the progress of the vaccine rollout across the world, and the steps companies can take in helping to keep their staff safe and informed.
After a year like no other, there is finally renewed hope on the horizon in the shape of the COVID-19 vaccine. In the UK, the current projections are that every adult should have had their first jab by the end of July, with a return to 'normal life' anticipated after 21st June 2021. In the US, President Biden has announced that he will make every adult in the US eligible for the jab from May. And things are going well with over 50% of American adults having had at least 1 vaccine as of April 19th. As things stand, the signs look good for a summer reopening of sorts across the US and UK. 
For many European countries, who are currently in the middle of a third wave, things look a little more uncertain. As is also the case in parts of Asia Pacific and India where the recent surge in cases and emergence of new variants is particularly concerning. 
What is clear is that the availability of vaccines can provide a way out from this global crisis and offer a much-needed boost for businesses, particularly those that are consumer-facing or rely on front line staff or in-person operations. 
Although the vaccine brings hope and excitement, it also introduces a new set of urgent HR, communication and logistical considerations for employers. If so-called 'Vaccine Passports' are made mandatory for entering hospitality premises, how will businesses manage this? What about the data and communications needed around who has had the vaccine and who hasn't? And even if the business doesn't have physical contact with customers, how do they manage staff questions and concerns around whether they and their colleagues have been vaccinated? 
For many businesses, being 'COVID-secure' has completely changed their modus operandi, with many having to stop certain activities altogether that were previously central to their business. Having a fully vaccinated workforce could change this and facilitate a relaxation in social distancing measures which would give businesses the potential to return to the activities that were so integral prior to COVID. Vaccinated staff could also potentially do jobs that were deemed as 'high risk' during COVID but are still important to the growth of their business long term, such as international travel, in person meetings, conferences and events.  
As such, the vaccination rollout is going to cause yet more operational headaches and complex communication needs from HR, Internal Comms and EX teams. 
If you're using Microsoft Teams or Workplace from Facebook, there are a few ways bots and automation tools can help lighten the load while providing your staff with a better experience.  
Keeping staff informed  
The 2021 Edelman Trust Barometer showed that "my employer" was the most trusted institution by 18 points over business and NGOs, and by 27 points over government and media. In eight of 10 countries surveyed, "my employer" was seen as better prepared for the virus than "my country". 
Employees want to be informed beyond the effect on the company, including advice on travel and what can be done to stop the spread of the virus. And 48% of staff said they wanted to get this information from their employer via email or newsletter. 
Those statistics speak for themselves – employers can help with the vaccine rollout simply by being a reliable and trusted source of information for their staff. Providing clear communication to employees will build confidence, promote wellness and allow for a smoother transition back to work. 
While companies can't mandate staff get the vaccine, many are actively encouraging it. And with 70% of the population needed to be immunized to allow true herd immunity to take place, the more employers can do to encourage their staff the better. In fact, in some parts of the world employers may also be planning on having onsite vaccination programs to make it even easier for their staff. 
Employers should ensure they have a clear company communication plan in place built around major vaccination announcements or milestones, while also directing staff to official sources of news, health information or vaccine booking resources.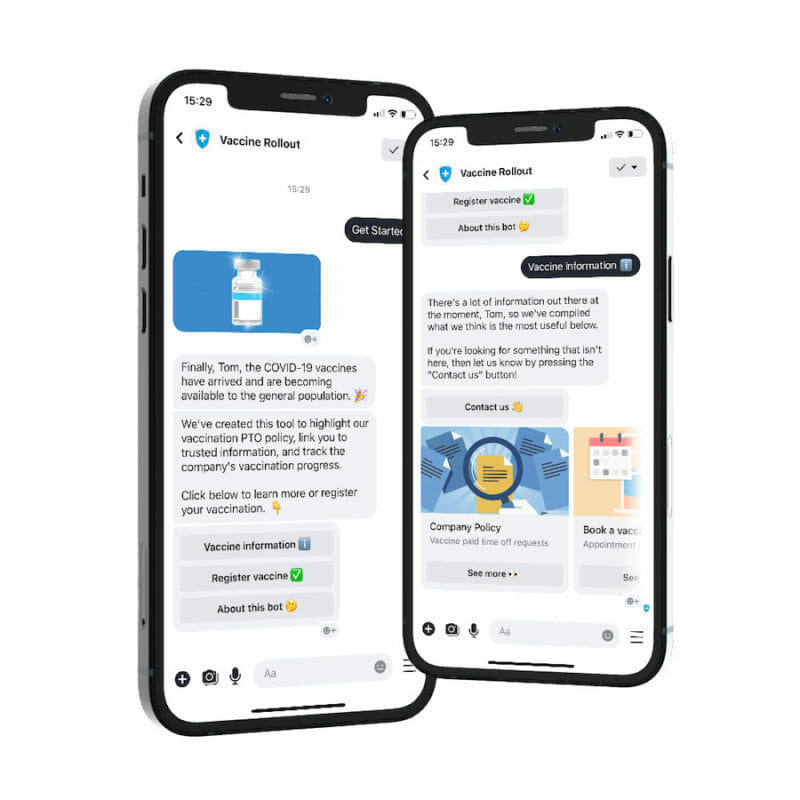 Responding to questions 
The next area where employers can help is around responding to questions that will inevitably come from staff and, ideally, getting ahead of those questions by creating the necessary policies and documentation and integrating them into easy to access employee touchpoints. 
For example, some staff may have questions around how they book PTO or change their shifts in order to make their vaccination appointments.
Or maybe the employer is offering incentives to staff who are being vaccinated, and someone has a question about how that program works?  
All of this information and links to any relevant posts, documents or HR policies can be included in an FAQ section within a bot on Microsoft Teams or Workplace from Facebook – making it accessible to anyone at the company whenever they need it. 
Setting expectations 
Many companies stepped up their staff feedback game over the pandemic. Whether it was surveys on remote work, company culture or mental wellness – chances are you've already got input from staff and stakeholders and used that to form your return to work plans. 
If so, now is a great time to start directing staff to those plans and setting expectations on how the transition will take place. If previous office based staff have been working remotely, when will they be required to return to the office, if at all? For frontline staff in customer facing environments like shop floors, travel or hospitality – what rules will be in place around vaccine passports, masks or social distancing with customers? And how long will these last? 
By adding in a 'What happens next' section to a vaccination rollout bot, employers can set expectations ahead of time, get ahead of any potential issues and allow for an easier transition into the new normal of working for their staff, colleagues and customers. 
The last year has proved the importance of businesses having access to tools that allow them to be agile and adapt to the changes coming at them thick and fast. Just ask UK restaurant chain, Honest Burgers: 
"This entire pandemic would be over before we would have been able to talk to every staff member if we didn't have bots." 
Dub Lee, Learning Architect at Honest Burgers. 
Interested in learning more? Drop us a line below.