This article covers the challenges facing companies running virtual or physical events and how bots on Workplace and Microsoft Teams can help.
As we approach the end of the first quarter of 2021, for many businesses the landscape has not really changed much since 2020. There are still widespread restrictions across most of the globe which prevents crowds gathering in person and means that Virtual Events are still very much necessary to conduct large-scale remote gatherings and corporate events. 
Australia and New Zealand have led the way in reintroducing larger crowds at in-person events, with the Australian Open welcoming reduced crowd numbers back to Melbourne this January. But already, this has hit a bump in the road with a COVID outbreak meaning that the state of Victoria has now gone into lockdown and crowds have been banned from the Australian Open until further notice. 
A timely reminder that the way back to in-person events is in no way clear cut, at least until there is a mass vaccination rollout. Whether they be external or internal conferences, businesses will need to continue to hone their virtual event offerings as part of their communication strategy as well as to keep audiences engaged and reach their business goals. 
Hosting a large scale virtual event may appear daunting, especially when there are already so many things that businesses need to communicate with staff and customers in what can feel like a constantly changing environment.
If you're using communication channels like Microsoft Teams or Workplace from Facebook, a bot can take the hard work out of a virtual event and become an asset for your businesses' marketing and comms strategy, no matter the size of your audience.
In an era of 'zoom fatigue' and with employees sitting at their desks for longer than ever before, it is crucial to keep people interested to achieve success and engagement. In fact, 39% of event professionals agree that 'engaging attendees' is the single most crucial element of an event (source).
A bot can take the stress out of virtual event planning by giving businesses the ability to pre-program bespoke communications which keep attendees informed and engaged, but also free up time to focus on the main event itself and creating the best experience possible. 
You can use an event bot to: 
– Provide essential event information in advance such as schedules and agendas
– Send out etiquette & best practice information to minimise confusion & disruption
– Send surveys and questions in advance so that data and insights can be provided to the audience
– Engagement during the actual event, making it interactive for the audience
– Post-event follow-ups, reinforcing of event messages and sharing next steps
Take Citizen's Advice as an example, who we worked with to create an event bot on Workplace from Facebook that was used to communicate with attendees for their annual staff conference. 
Broadcasts were sent out to staff sharing information about the event, including agendas, schedules and logistical information. Using this bot, staff had the ability to access a range of content around the event and interact directly. For example, they were able to access a shortlist for the annual staff awards and then vote on their chosen candidate, with the winner being announced live on the event. 
After the event, the bot was then used to send out post-event surveys and get feedback and what could be improved for next year.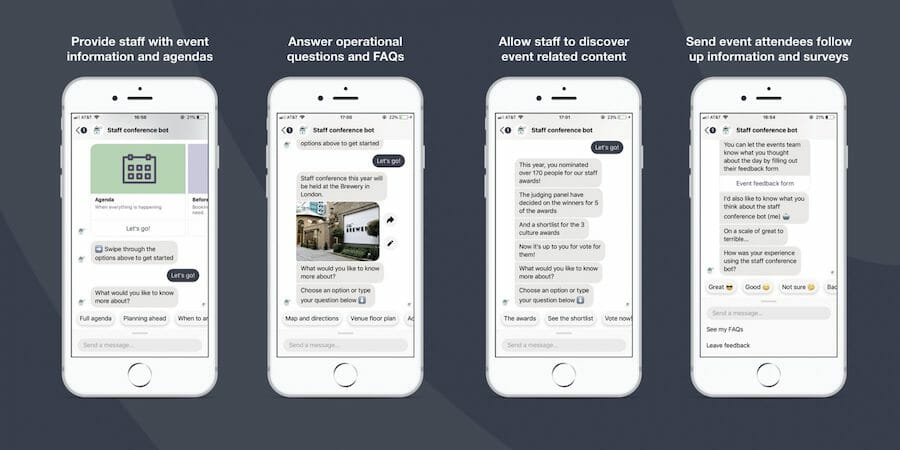 For Citizen's Advice, utilizing the event bot and automating communication freed up a huge amount of time for staff which would have been spent on admin and was instead used to drive the business forward. The bot received 90% positive feedback from staff, increased staff engagement and gave them a single source of truth for content delivery, which used to be disseminated over multiple platforms.
In an increasingly virtual and remote working business environment, evolving your communication strategy to meet current demands becomes even more important. In many cases, we can't have face to face conversations with colleagues to see how they feel on a subject or if a message was received as intended. But of course, these conversations still need to occur if a business is to have a healthy culture and for people to feel heard and part of a team. People need human connection more than ever and that means a 2 way, interactive conversation rather than just a lecture. Despite being pre-programmed, bots actually bring humanity back into virtual interactions and communications by prompting people to respond to questions and communications that they might not otherwise.
Not only did the Citizen's Advice bot free up time, but it helped management to get closer to their staff, understand their needs and level up their events game, creating a 'feel good factor' across the company.
Have you considered hosting a virtual event but were nervous or didn't know where to start? Or are you simply looking for ways to level up your event communication game? Well, if your company is using Workplace from Facebook or Microsoft Teams then a bot could be the answer you were looking for!
Speak to one of our team today about how we can help you set up an easy-to-use event bot that will get your next virtual event off to a flying start and make a huge difference to your business.
Interested in learning more? Drop us a line below.