Since 2020 we have not had a break; pandemics, wars, the cost of living crisis and now even the monkeys are after us. 
Towards the end of 2019 we were so excited about entering the 'roaring twenties' again; champagne parties, dapper outfits and calling everyone 'sport' was much anticipated. Instead, in a cruel twist of fate, we got a repeat viewing of pandemics and the great depression. Father Time clearly has a wicked sense of humour. 
Alas, with flapper dresses unused and blowing in the wind, it's important not to dwell on the indulgent twenties we were hoping for, instead when we look back on the last few years there has been one saving grace; we've all learnt what's important in life – our health and happiness. 
2020 onwards has made us realise on a global scale that if we don't have either of those things, we don't really have anything, and this realisation has rippled into every aspect of our lives, especially the world of work. 
So as we approach the summer of 2022 without a champagne fountain in sight, we instead want to focus on what we have come to appreciate, our very own health, both mentally and physically – so join us as we celebrate the summer of wellness!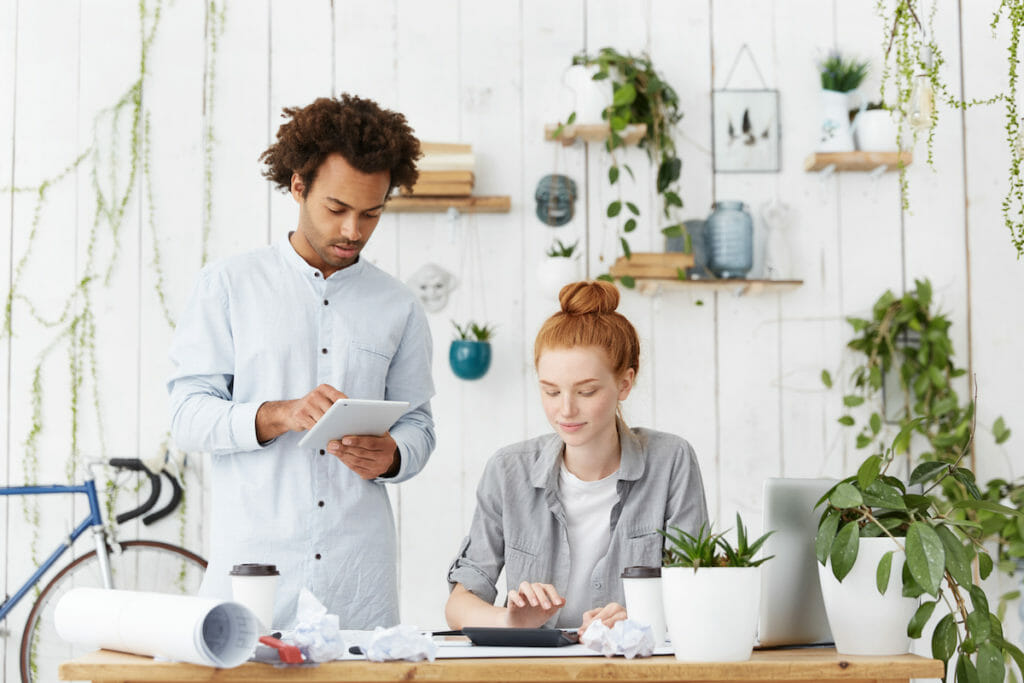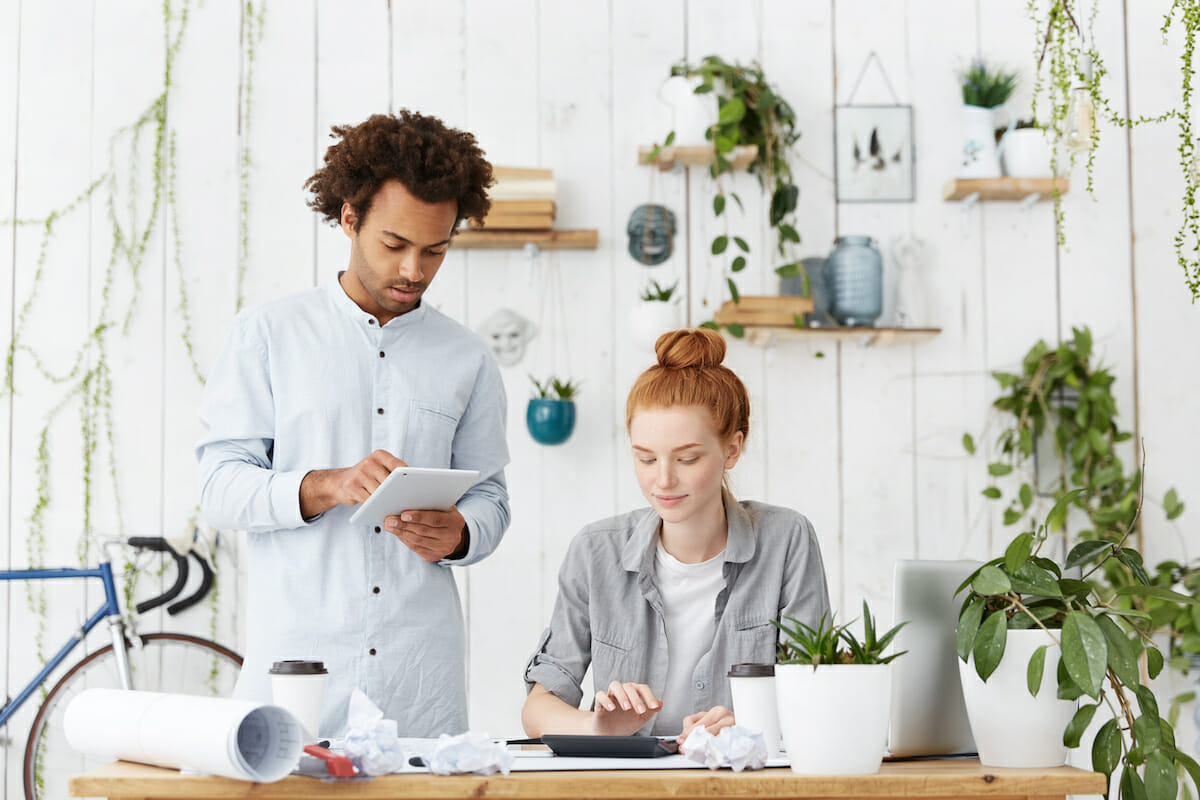 As thousands of people used the downtime during the pandemic to reflect on what they want from their lives and careers, employees are becoming more vocal about what matters most to them, and if their needs aren't being met, they are finding a role or an employer that is more suited to them. People are rejecting the idea that work is just something you do to pay the bills; employees want to work somewhere that aligns with their values, matches their work ethic and places merit on work-life balance. They want a place of work that happily co-exists alongside their personal lives, not something that is separate. Maintaining connection, culture and motivation during the 'new normal' of working is going to be a key challenge for companies globally in the coming years and will be integral to success, prosperity and staff retention. Keeping employees healthy in a holistic way is a priority for employers who value their people, and companies are aware that it can be costly in a variety of ways if they fail to do so.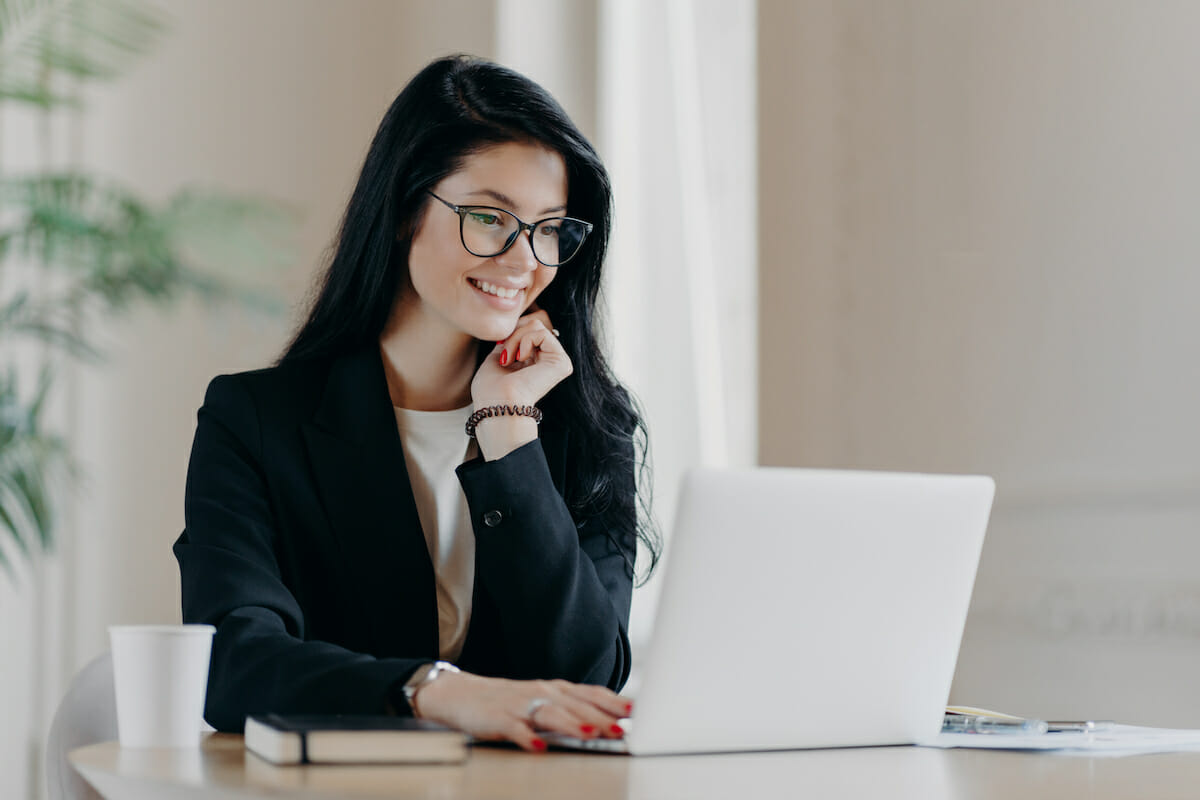 We know that staff want to feel heard, recognised and valued and this is definitely something that The Bot Platform can help you with, by building bespoke work apps that can build a sense of community, promote mental wellness and connect remote teams using Workplace from Meta or Microsoft Teams.
Multiple research pieces have shown that employees want and prefer these kinds of tools for initiating difficult conversations, receiving support or performing wellness related activities.
For example; 
68% say that they would prefer interacting with a bot on issues like stress and anxiety, as opposed to a human manager – Workplace Intelligence & Oracle, November 2020
82% say that bots are better than humans at providing support – Workplace Intelligence & Oracle, November 2020
A majority (64%) of workers say they trust chatbots more than they trust their managers – Fast Company, 2019
There are some broader benefits to how bots and digital assistants can help with wellness programs, or any type of activity too; they are available 24/7 365 days of the year, they are accessible to all staff across devices and they are easy to use with a very low barrier to entry. Bots and digital assistants are also a great way of distributing information, broadcasting content and communicating at scale whilst also allowing staff to easily fetch and access information whenever they need it.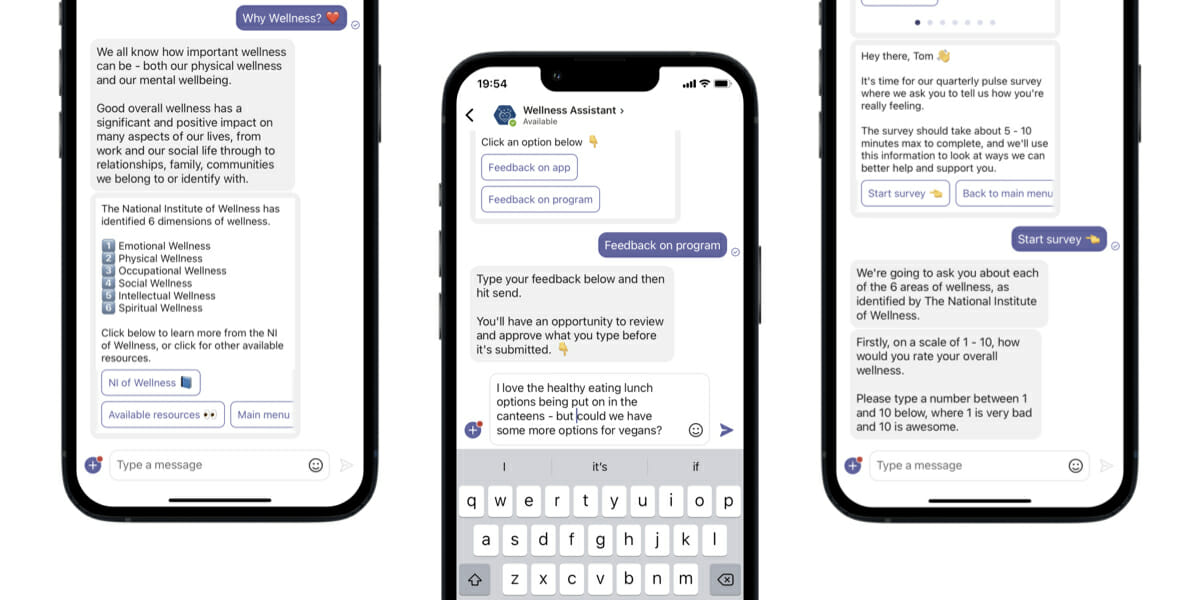 Here's how a Wellness Assistant can help you and your team
Here at The Bot Platform we've seen our customers build a range of wellness related digital assistants, so we decided to create a template that supports employees and staff around these wellness related issues and matters. The Wellness Bot performs a number of features, including:
Educating employees on the importance of wellbeing
Sharing company benefits that help with wellbeing
Promoting Wellbeing partners and available resources
Setting wellness goals
 Sharing wellness pulse surveys and staff check ins
Crowdsourcing wellness related feedback and requests from staff
Broadcasting Wellbeing quizzes
Answering wellness related questions
Connecting staff to help and support
Promoting wellness campaigns and initiatives
Obviously all of these features can provide a huge amount of value to your staff, but let's take a look at a couple of them in more detail:
Promoting company benefits, partners and resources
It's all well and good having an amazing benefits system at your company, but it goes to waste if your employees aren't aware of what you offer. Using a wellness digital assistant you can help employees quickly access information about company benefits and find out which partners you work with that provide discounts on certain services or products, like gym memberships, meditation services, yoga classes and store discounts.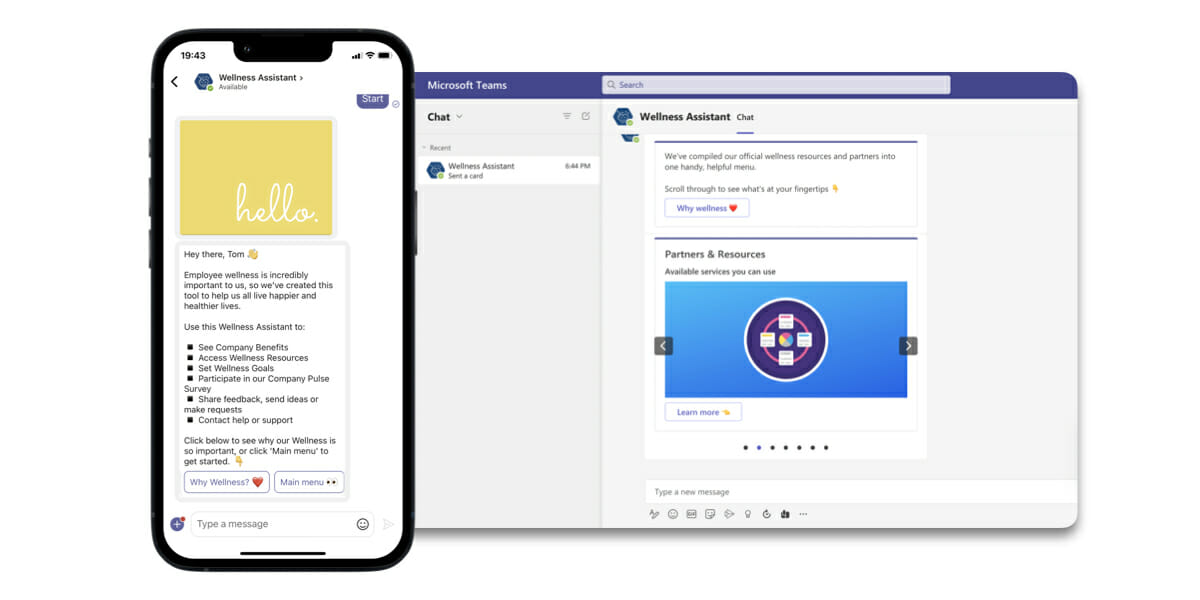 Getting a pulse on company culture and checking in with staff
In this period of 'the great resignation' it is important to check-in with your staff regularly so you are aware of any staff disturbances that could result in a flood of resignations. By messaging staff with pulse surveys you will be able to identify and solve issues quickly and efficiently, as well as making it clear to your employees that you care about them.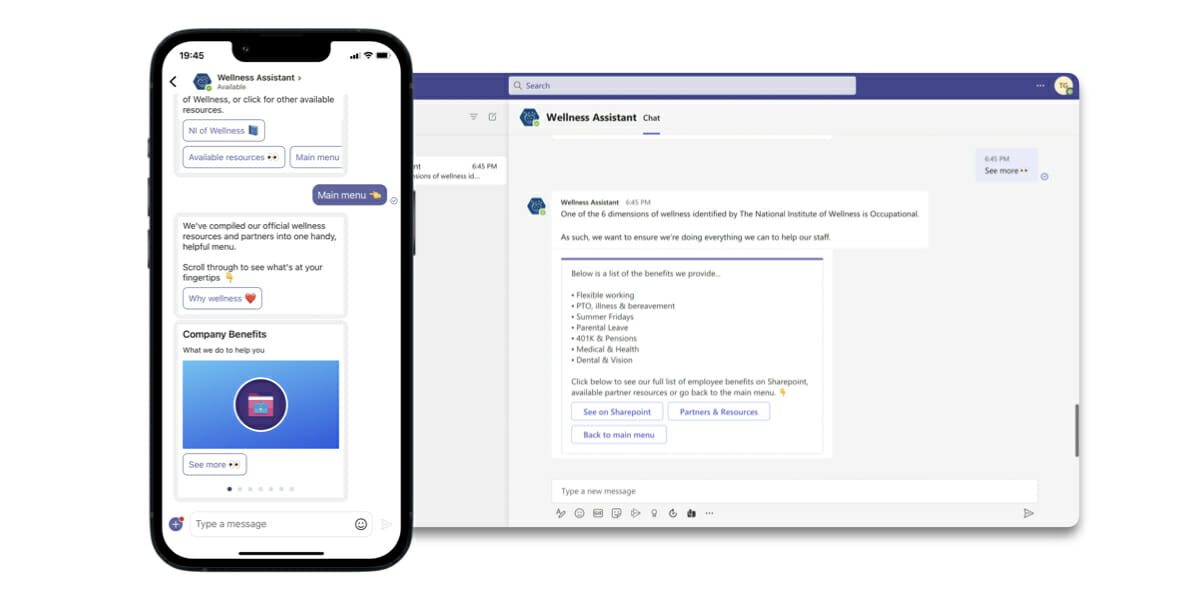 Facilitating feedback on wellness programs and allowing staff to make requests
It's becoming increasingly important that staff feel heard and valued and when you start to roll out your new wellness programs. Employees love the opportunity to give feedback and offer improvements and ideas. For example, let's say you roll out a healthy eating option in the canteen and someone sends feedback saying they would love some more vegan options, when that comes into fruition a few weeks later, the employee will feel like they are valued by the company. A small act like that can make such a big difference. Similarly, allowing staff to recommend other wellness programs or resources they would like to see the company offer can also go a long way to improving employee morale, satisfaction, retention and company culture in general.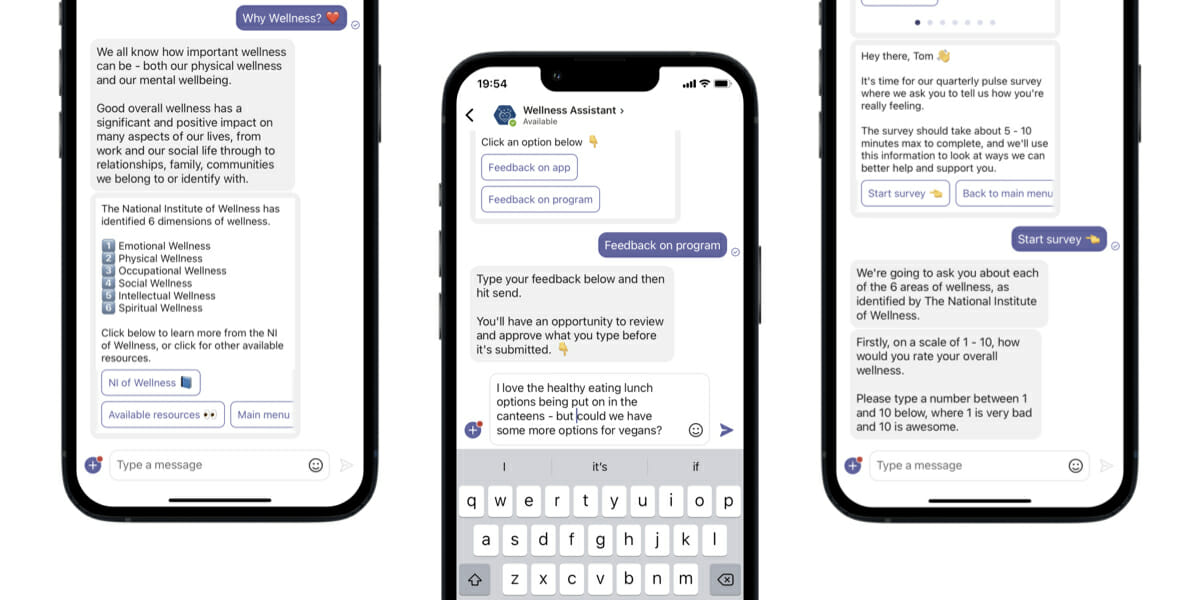 There are so many ways bots and digital assistants can help improve your employee experience, and as the stats show, 68% of employees say that they would prefer interacting with a bot. Your staff are ready to be heard, are you ready to provide the tools so you can listen and respond to their needs? 
If you are, we are here to help you build a better employee experience and to improve the working lives of your staff for the better. 
Get in touch today to see if you qualify for a free trial.