In this post we discuss the rise in the adoption and importance of digital workspaces and how bots and automated assistants can help guide your staff around key groups, channels and online communities.
It wasn't so long ago that the term Workspace unquestionably meant the place that you would physically do your work, whether that was a company office, a home office, a factory or shop floor. However, with the rapid acceleration of high-speed internet, decent hardware, and new and improved collaboration software, the digital workspace is arguably as important as the physical one. The stats are growing at such a rate it can be difficult to keep up, but some recently released research shows that over 1 million companies are using Microsoft's O365, resulting in over 200m Teams users, whilst Workplace from Meta have seen a 40% increase in paid daily users in the past year. Digital tools have of course been around for some time now, but the difference we've seen over the past few years, is that the digital tools most used are no longer there just to augment the workspace, but become the workspace itself. 
This rise in importance of the digital workspace has brought with it numerous advantages in terms of improved collaboration, increases in productivity, and better efficiencies. However, as with all new systems, processes and ways of working, it also brings with it certain challenges. Don't worry, this isn't going to be yet another debate of the potential pros and cons of remote vs in-person vs hybrid working. There is more than enough literature on that out there at the moment, and one of the main advantages to an effective digital workspace, is that it actually adds value in any of the respective working dynamics. The challenges I am referring to relate to how best to train and onboard your team to the workspace; how to encourage uptake and engagement amongst team members; and crucially how to maximise the efficacy and benefits of whichever digital workspace you are using.
Let's start with training and onboarding. There are of course many ways to skin this cat, be that training guides sent out via email, online video tutorials, or even good old fashioned in-person sessions. Whilst all of these have their merits, they also clearly have a number of limitations and negative points attached to them, such as low potential engagement, or high cost of production and roll out. But what if there was a solution that required relatively little investment, had a proven track record of high employee engagement, and could be easily tailored to suit the specifics of your organisation's digital workspace? 
An automated assistant can welcome new and existing staff on how to use your digital workspace of choice, as well as highlighting both social and work related groups or communities as they are added or join them. For example, your digital assistant could:
Welcome staff and direct them to workspace training materials
Highlight key features and functionality
Outline mandatory company groups, channels or communities they need to be part of
Promote social or optional groups, channels or communities they can join
Welcome them whenever they join new groups, channels or communities and ensure any terms of usage are seen and agreed to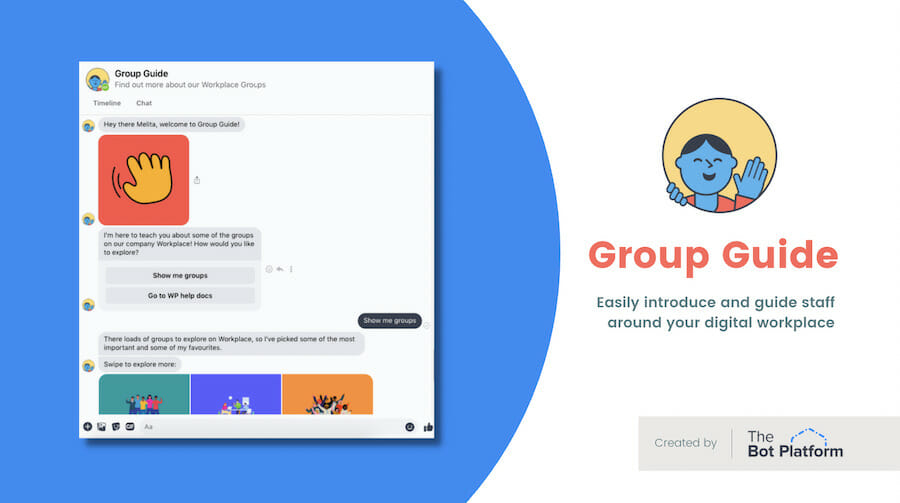 The beauty of running your workspace onboarding and training through a digital assistant is that it will be available, and responsive, to staff 24 hours a day, 7 days a week, 365 days a year.
This takes us nicely onto uptake and engagement. A study of 26 million employee interactions found that internal email click rates can be as low as 8%. It's going to take a long time to get the levels of engagement on your new fancy digital workspace if you're onboarding your team 8% at a time. Whereas by directing the training and content into the chat channel of your workspace you are making it very difficult for team members to ignore it, with engagement rates often in the +90%, and in some cases even just shy of 100%.
One recent digital assistant success story is from a large multinational company (70k+ employees) who have used group triggers on Workplace from Meta to message any new users whenever they join a group. This 'Group Guide' digital assistant explains the purpose of the group, as well as any rules, regulation and group etiquette that may be applicable. By introducing digital group guides, they have seen a significant increase in monthly group engagement, as well as a reduction in the number of people leaving groups.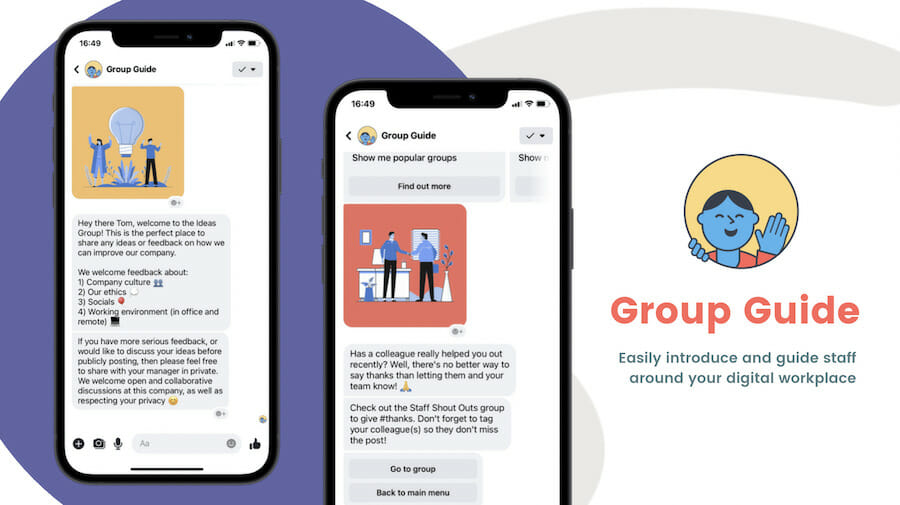 If you'd like to find out more about creating digital workspace guides for Microsoft Teams or Workplace from Meta, please click here, and one of the team will be in touch.
Interested in learning more? Drop us a line below.