Learn the four ways we found to measure the success of your communication tool.
In the past few years, let alone months, there has been a massive increase in organizations using digital tools. These tools help with a vast number of communication and process problems, with one of the most commonly tackled issues being how to improve general communication between colleagues.
While email has been dominant for years, organizations are finding themselves moving to be increasingly global or remote. Sending an email to ask a colleague, "how did the presentation go," does not work in the way it used to.
When looking to transition to a more modern communication approach, having a tool like Workplace from Facebook or Microsoft Teams (among a host of other options) is incredibly useful. The ability to ask a colleague, "can I help you with anything" through a simple chat interface revolutionizes collaboration and company-wide communication.
While tools like Workplace and Microsoft Teams are the future of working, these tools' usage rates can be lower than expected due to various reasons. One of the most common we see is an organization having multiple overlapping technologies doing the same thing. Picture this – your tech team uses Slack, the HR team uses Google Hangouts, and frontline staff uses something else entirely. How can you have effective communication when there isn't one primary vehicle to house conversations?
The most important thing to remember when picking and using a company communications tool is to determine the "so what" factor. How does an organization drive tangible value from this tool? Will this tool drive value to the end-user, making them more likely to use it consistently?
To determine if a tool is a right fit for you, we've come up with four ways to measure tangible value and success in areas like improving company culture, content delivery, process automation, and unifying systems.
Improving company culture has many intangible benefits to an organization. According to Forbes, a study done with over 1,400 CEOs and CFOs revealed that "more than 50% said corporate culture influences productivity, creativity, profitability, firm value, and growth rates." On top of that, 92% of respondents said they believed improving their firm's corporate culture would enhance its value.
Alongside growing the monetary aspects of a business, improving company culture can also lead to more success and boost the use of your chosen communications tool.
Take employee recognition, for example. Organizations that have been running employee of the month or employee nominations for years have the unique opportunity to bring these programs onto their chosen communication channel (like Workplace or Microsoft Teams).
When WW (formerly Weight Watchers) decided to revamp their corporate values, they were looking for the "next thing" to help them enhance their Workplace from Facebook experience and boost company-wide usage of the tool.
They launched a new program where employees could nominate fellow staff members for doing activities that aligned with their corporate values. To digitize this program, they added an employee recognition bot on their Workplace instance to automate and scale employee recognition.
Staff would go into the bot, answer a few questions about the person nominated, and the bot then publicly shared their answers to a specific Workplace group for the whole organization to see.
In the end, WW created a positive feedback loop and created a culture of peer-to-peer recognition that wasn't there before implementing bots on Workplace.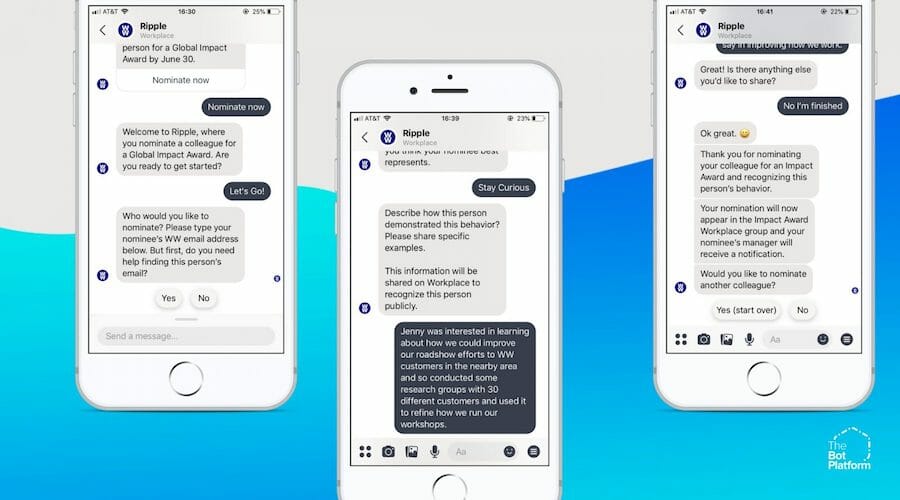 "Frankly, when we tell stories of what our people have done, it makes your heart swell."
On top of employee recognition, another popular method to boost company culture can be "Town-Hall" or "All-hands" meetings. In most cases, Town Hall meetings usually feature senior leaders discussing various essential topics or updates with the entire company for most organizations.
For Olympique de Marseille, their Town Hall meetings are a monthly occurrence. After a recent survey, staff had given feedback on ways that the leadership Q&A process could be improved and said that they wanted to ask questions in advance in an anonymous setting rather than having to do it in person during the company meeting. Taking this feedback to heart, Olympique de Marseille wanted to find ways to improve their process of getting staff to ask questions for the CEO to answer at the meeting.
Their previous method involved employees having to stand up and ask their questions in front of their colleagues. This open forum environment naturally led to people not being comfortable or confident enough to speak in public and ask their questions – meaning essential questions were not being asked, and two-way dialogue between staff and leadership became fragmented. This public method of asking questions also meant that the CEO could be blindsided by the staff's questions they could not prepare for before the meeting began.
When searching for a solution to improve this critical process, Olympique de Marseille set their sights on using bots on Workplace and created their very own "Ask the Boss" bot. This bot allows staff to ask the CEO and COO anonymous questions that they can then answer during their monthly meeting without the fear of speaking in public. These questions are then automatically posted to a private group for the CEO and COO to read and prepare accordingly before the call. The bot then also collects staff questions during the live broadcast meeting and filters them off to leadership, removing all participation barriers.
When thinking back to our original goal of measuring communication tools' success, in this specific example, Olympique de Marseille increased the overall adoption and usage of Workplace by using bots to facilitate conversations and open up communication gateways. The Ask the Boss bot resulted in 15x more questions being asked by staff compared to previous methods, and 40% of staff had to use Workplace if they wanted to ask the CEO a question.
For WW case, their recognition program was transitioned into a digital space, meaning their communication tool was a core part of their culture strategy and this new initiative to create a culture of peer-to-peer recognition.
In this modern, digitized business age, every organization needs to send its employees content for operational success. The definition of content can range from things like an announcement containing important information on new COVID-19 guidelines, new resources or blog posts for staff to share with customers, or even a monthly newsletter announcing a new piece of tech being rolled out.
When an organization adopts a new communication tool, content delivery helps reinforce users' need to continually return to the platform. Emails can be replaced by chat windows or IM's, and announcements containing resources are now posted into groups or boards.
Most organizations fail to realize that their employees need to be communicated with just like their customers. After all, human psychology is the same regardless of if you are an employee or not! An organization would never send content out to customers without a full communication and marketing strategy. The same should be true for content that is consumed by staff.
Mariner Wealth, a financial services company, provides people with the information they need to make informed decisions that lead to a healthier economic life. To best serve their customers and meet this vision, they need to provide their staff with the same level of information delivery that their customers receive.
As a way of improving their employee workflow, the Mariner Wealth IT department was overhauling their phone system with a new unified service for all 685 staff members over 35 locations. To get ahead of this massive undertaking, they needed an easy-to-use solution to help manage one of the largest department initiatives of the year.
Instead of just posting a comment on Workplace about the new phone system and hoping everything would work out fine, Mariner Wealth looked at their communication tool like an ecosystem built with multiple ways to communicate with staff.
The core pillar of their tech rollout communication plan was their RC Rollout bot which transformed communication for the IT department by sending out private push notifications to each department before the rollout took place. The bot also distributed the necessary training materials to ensure a smooth transition.
Staff were able to know when the new phone system was implemented in their location/department, and if they wanted to, ask the bot to answer some of their FAQs. Thanks to this element of the bot and more, the IT help desk saw a decrease in overall inquiries, and Mariner Wealth saw 100% adoption of their phone system.
On top of their new phone system, another important piece of content delivery done by Mariner Wealth involved communication during Open Enrollment.
The Open Enrollment season can be a headache for HR teams. The amount of manual work involved with distributing information and chasing employees ends up taking up vast amounts of time. And sometimes, all that work still results in many staff being confused about open enrollment and not taking part. 53% of respondents in the 2019 Benefits Trends survey said that one of their biggest challenges during open enrollment is "difficulties communicating benefit choices to employees."
In previous years, the HR team at Mariner Wealth found this process increasingly difficult due to its growing size and the manual nature of following up with staff to ensure they did sign up. To combat these issues and more, Mariner Wealth's HR team leveraged bots on Workplace to create a 2020 Benefits Open Enrollment bot that helped automate the process of communicating information on 2020 benefits to staff and reminding them to sign up.
As well as containing information on the different benefit plans available and the deadlines for when enrollment needed to be completed, the bot was able to automatically nudge staff members who hadn't enrolled to complete the sign-up process or schedule a meeting with HR for more information.
The result was a much more manageable workload for HR and a 25% faster enrollment over previous years.
Successfully creating a multi-pronged campaign (combined with automation) can increase content delivery success while drastically reducing the amount of manual effort involved and increase the adoption and usage of a communication tool.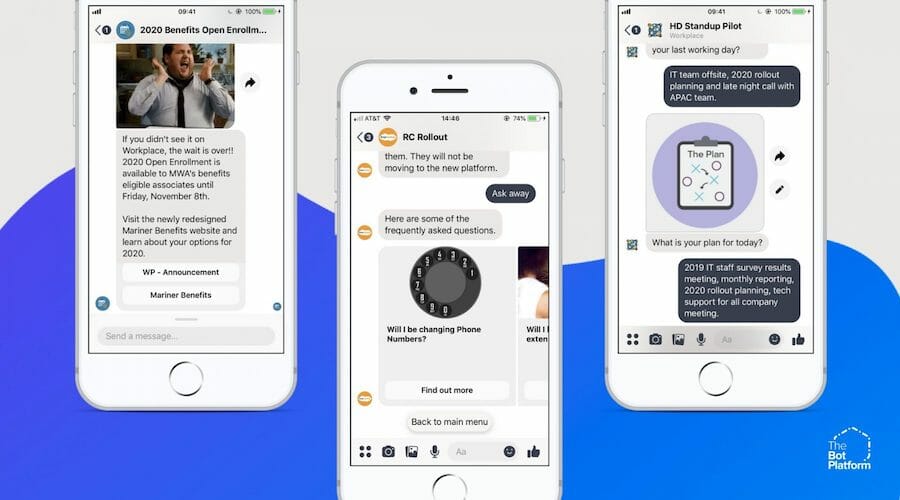 Improving repetitive tasks is one of the best ways to increase productivity and reduce the amount of time employees waste on mundane tasks throughout their day.
It almost feels like common sense; As employees do a task more frequently, they become more proficient at it – right? While this old school of thought may appear to be accurate, this mindset brings with it the risk of increased boredom and carelessness.
With the advent of automation tools, users are free to do the things that humans are way better at than computers, like being creative, problem-solving, and generally doing more high-level tasks.

So, how can process digitization help bring people into a communication tool? Value. If a user finds value in a tool (like making their job easier and faster), they will be more likely to use that medium time and time again.
One example that comes to mind for us when thinking of how an organization has successfully automated processes is one of our customers, Honest Burgers.
By leveraging tools like Workplace from Facebook and The Bot Platform, Honest Burgers have created a suite of automated tools available to everyone within their organization. Some of these automation tools include digitizing onboarding and training processes.
Imagine it is your first day at an organization, and you sign in to your communication tool for the first time. A chat window pops up, and a bot welcomes you to the organization with a personalized greeting and a video from the CEO. If you can picture this in your mind, you're looking at one of Honest Burgers most significant initiatives, Honest College.
Honest College, a bot designed to automate and facilitate training, sends out training material to staff and records each staff member's completed training. Through this bot, quizzes can be conducted, and scores are automatically recorded.
If a user is missing a particular piece of training, the bot can automatically reach out and nudge the user to complete it. All of this work is automated and performed without any hand-holding, freeing up managers and HR to do other things.
As a result of rolling out Honest College (among a host of other processes they have automated), Honest Burgers has seen a 100% completion rate for their training.
Facilitating training within your chosen tool allows staff to become familiar with it over time and enables the user to see your communication tool's utility.
Having multiple processes digitized is a fundamental step to increasing tool usage and adoption by prompting the user to go into the tool for necessary tasks and materials.
Bringing all of your various software and technology pieces together into one place is likely the least obvious but most effective way to push users into using a communication tool.
When an employee is required to use multiple software pieces to find the information they need to do their job every day, this can create confusion and frustration. We all want that "one-stop-shop" at our workplace where we can find and access everything in one, easy-to-use place.
Ennismore, a hotel, restaurant, and co-working company, has brought various other systems into their Workplace channel and has seen transformative results.
Before using bots and Workplace, Ennismore staff used to fill out paper timesheets at the end of every day. Their army of staff would often forget to fill out their timesheet or have to do it the next day. This delay in getting a task done can damage task accuracy, and for something as essential and timesheets, they must be completed in an accurate and timely manner.
By using bots and Workplace, they now have their timesheet and payroll software integrated directly into their instance. Users get a notification every day at 5:00 p.m. to complete their timesheet, without ever leaving the chat interface.
For a company where most of the employees do not have computers and do everything via mobile devices, this functionality has been a game-changer.
Why not bring in your customer support software so that staff can easily access FAQs for IT, HR, or anything else? Integrate your CRM so that your sales team can fill out their daily reports or look up how a prospect is looking without never leaving your communication tool.
Or, what about allowing staff to fill out surveys within a chat window instead of getting pushed out to a third party site/app like google forms or Survey Monkey?
Bringing these systems into your communication tool improves the overall user experience, increases its usage, and generally means staff will see the tool's value. The amount of systems you can unify is endless, and in doing so, drastically increases your communication tool's utility.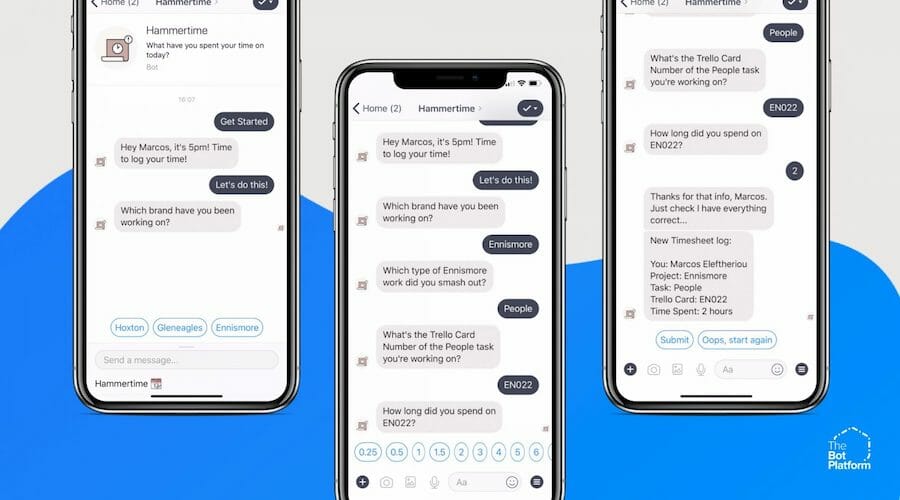 Measuring value is a necessity for tool success.
One of the benefits of the four ways we mentioned to measure your communication tool's success is that they are all interconnected.
Improving your content delivery can be done via process digitization. You can improve company culture by improving content delivery. And you can bring all of those into your communication tool to unify systems.
Measuring success one way will often lead to seeing success within the other three aspects we mentioned. And once you have started implementing some of the methods we have mentioned in this article, your staff will respond. Creating an entire ecosystem of knowledge by sharing information and improving communication will result in better performance, improved productivity, and a more efficient organization – the reason you got the tool in the first place.
Implementing these methods isn't necessarily easy or quick but with some simple planning, goal setting and, of course, a partner like The Bot Platform – getting more value from your internal communication tools isn't only attainable; It is inevitable.
Interested in learning more? Drop us a line below.