To celebrate the launch of season 12 on RuPaul's Drag Race, we worked with the Drag Race social media team to create the ultimate experience for the show's fans.
After working with the RuPauls' Drag Race team for a while, we launched their hugely successful Sissy that Bot, AKA the Drag-o-pedia on all you needed to know about the show. With this bot, we had built a whole range of exciting features like personality quizzes, horoscopes, and even a drag up your own pumpkin challenge. With the success of our first project, we were all ready to take on a bigger and better task.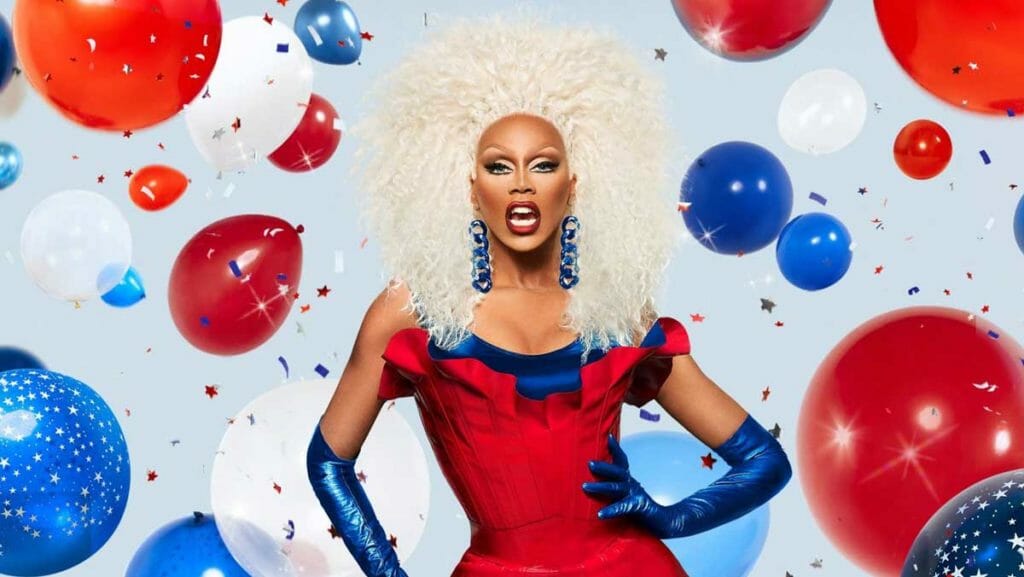 Whilst working on the amazing (original) RuPaul's Drag Race bot, one of the social team people wanted to try out a choose your own adventure mechanic whereby fans could play along to an entire episode of Ru Paul's Drag Race as if they had entered the Werk Room as a contestant themselves. They had been using bots on Messenger for a year or so now, and they were convinced that a bot would be the perfect vehicle for a choose your own adventure game.
To make their goal become a reality, The Bot Platform flew over to New York City to meet with the Drag Race team and got to work. None of us had ever worked on an experience like this before, so it seemed like a daunting task. We knew we had the technical capabilities to pull it off through the platform, but we needed to make sure the content was engaging and up to the fans' high standards.
We started off by dissecting the recurring themes that happen in each episode of RPDR. For those of you who haven't seen an episode of Drag Race, the basic agenda is an intro, a mini-challenge, a maxi challenge, a runway, critiques, lip-sync, and then finally an elimination.
We wondered if it was worth trying to fit a whole season into the journey, but ultimately realised that would be a bit too much content for a bot. We settled for mimicking a season premiere as it had the most opportunities to "bot-ify", such as entrance statements and looks, and it allowed us to explain everything from scratch.
Designing the flow and content for the bot is a dream for any Drag Race fan. We sat around a table and referenced iconic moments from the show in order to inspire the content of the bot. Any fan knows that there are a lot of iconic moments so we had to be selective. We then established the running order of the bot and started building a flowchart to map out the bot journey.
We found ourselves creating quite a big bot with a few twists and turns, which was very exciting when it was in the planning stages. We developed a very comprehensive mindmap, which was one of the largest we'd seen for any bot. Nevertheless, this didn't translate very well into the build. When the messages were added to the platform, there was no real consistency in the flow and it seemed quite disjointed.
We went back to the drawing board and simplified the user journey. We then went back into the bot and rewrote the script by going through the user journey. By doing this, it was easier to keep the flow smoother. Writing a script isn't the most straightforward thing in normal circumstances, so having to take a selection of flows and buttons into consideration can make it a lot harder. In this case, it was super important that the bot skeleton was laid down before the writing could take place.
Once we'd gotten into the swing of writing, updating the messages, tweaking and rewriting, we slowly saw our bot coming together. A bot on this level requires a lot of testing and tweaking – you don't know it's complete until you go through the flow and it's totally seamless. It was a lot of work, but still fun as the content is so exciting to work with. There was a lot of joy finding the perfect GIFs or phrases to connect disjointed or incomplete parts of the bot.
What features really make CYOA what it is?
Attributes! The bot wouldn't be what it was without attributes and variations. The bot probably could've been hundreds of messages long, but with the use of attributes and variations, we were able to cut that number down to a mere fraction. This makes life much easier for the bot builder when it comes to editing the bot and adding in any extra routes later down the line.
Also, the tone of voice played a super important part of this bot. The show has a very specific style and is full to the brim with cultural references, puns, and slang. The writer of the bot was able to bring all those aspects into the bot seamlessly, making for an experience that really reflected the show's vibrance and humor.
So what does it look like?
The bot takes Drag Race fans through an interactive version of the live show in a roughly 10 minute long experience that they click and type through. Behind the scenes, you are put into a winner, safe, and loser bucket based on your choices. These choices are very cunningly disguised though! Here's a little sneak peek of what to expect from the bot: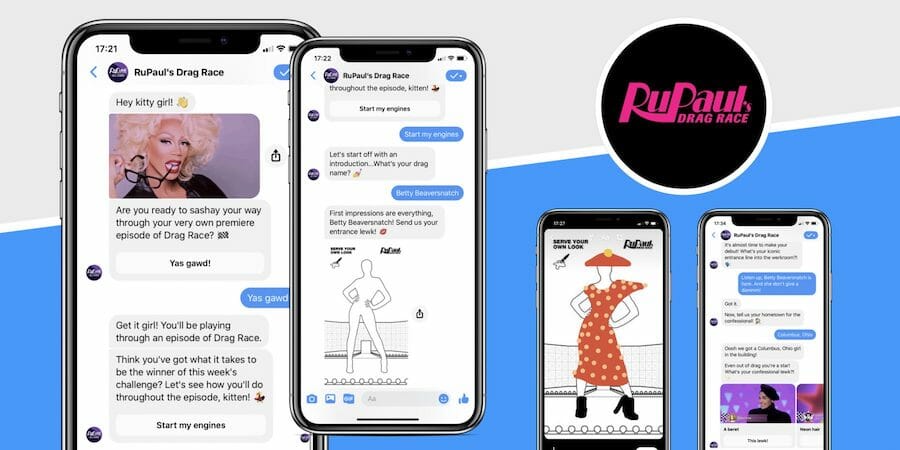 The messaging experience performed incredibly well. Over 40,000 fans played the interactive experience, and over 1.15 million messages were sent by the bot. The engagement rate was very high with an average of over 33.5 engagements per user.
A lot of users were targeted by utilizing the broadcast feature, but most discovered the bot through broader promotion on Ru Paul's social media channels. The team promoted the bot on Facebook (1.3k likes and 244 comments), Twitter (321 likes), and Instagram (over 25,000 likes). We were then also able to send one broadcast to our existing subscriber base of around 15,000 fans.
Choose your own adventures have been around for a long time now, so it was exciting to put our own spin on an already established and much-loved TV show while also tapping into such a huge and engaging channel in Facebook Messenger.