Learn how Olympique de Marseille are using bots on Workplace to open up communication between staff and c-suite.
Connecting your workforce to leadership teams in an effective and transparent way is a challenge facing most companies around the world. And it's a challenge that becomes increasingly difficult as a company grows and scales.
According to Workplace from Facebook's recent Deskless Not Voiceless report, only 14% of staff feel connected to their business HQ and this drops to just 3% when referring to the C-Suite and leadership teams.
Staff are wanting employers to do more when it comes to opening up communication lines between themselves and leadership teams. According to a WeSpire study, 57% of respondents wanted their employers "to do more around employee engagement" — and that number increases to 76% among employees under the age of 30.
French football club, Olympique de Marseille, understands the importance of staff engagement and enabling communication between employees and leadership. After implementing Workplace from Facebook to connect their entire workforce, Director of Human Resources, Frédérique Alverola, wanted to improve the process they had in place that allowed staff to ask questions to leadership teams.
Here are 5 tips to help you follow in OM's footsteps and see how bots can help eliminate communication barriers and create engaging leadership Q&A programs on Workplace.
1. Give staff a channel to connect with leadership
Any company leader can be reliable, trustworthy, and hard working. But there is one skill that separates the successful leaders from the pack – being a good listener.
Salesforce found in their recent study that employees who feel their voice is heard are 4.6 times more likely to feel empowered to perform their best work. Yep, you read that right – giving your employees a channel to communicate makes them four times as likely to feel motivated and inspired to do the best work they can for you.
OM wanted to improve the existing process they had in place where staff were able to ask questions to the leadership team during company meetings, either in-person or by leaving a comment on the Workplace Live broadcast.
Using The Bot Platform and Workplace, Frédérique and her team created an automated Q&A program called Ask the Boss which allowed staff to ask questions to different members of the c-suite team which would then be answered during the next company meeting.
By using a channel for two-way dialogue like the Ask the Boss bot, managers can empower employees to talk directly to leadership, helping to foster trust and transparency between c-suite and employees.
2. Allow for anonymous questions
When feedback is anonymous, employees can express themselves freely and provide valuable insights without fear of repercussions or judgment. For Frédérique, bots were an easy and reliable solution to ensure the questions being asked were anonymously submitted to leadership.
The Ask the Boss bot anonymously collects questions from staff before the company meeting, and then posts the submitted responses with no option to see who has asked into a private Workplace group for the CEO and COO to review the questions.
Before OM used bots, they would only get one or two questions asked. After using bots, they now have a 15x increase in the number of questions being submitted. Allowing for anonymous responses not only improves the number of questions from staff, but also allows for more direct questions to be asked.
3. Provide clear instructions on how the program works
Never underestimate the power of clear directions. The worst thing you can do is dedicate time and resources to a new company initiative only for it to fall flat due to a lack of instruction. And when it comes to asking questions of leadership, knowing exactly how a program works is vital for encouraging participation.
When Frédérique first launched the Ask the Boss bot, she understood the importance of effectively communicating the purpose and function of the bot. As well as other comms on Workplace from Facebook that told staff about the new Q&A program, Frédérique used the broadcast feature to introduce the new program to staff and provide clear instructions and information on how it worked.
The Ask the Boss bot reiterates that questions are anonymous, explains how questions will be answered and gives users the option to provide feedback on how to improve the program.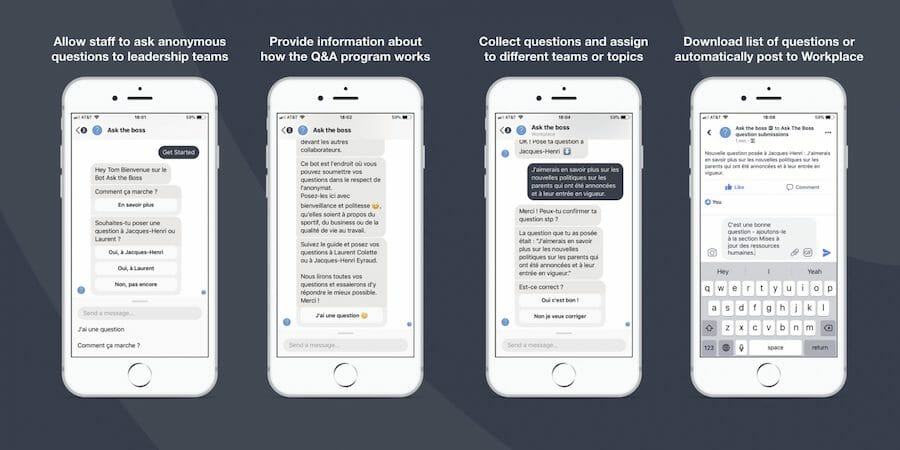 4. Make it easy for leadership
Opening up a line of communication between staff and leadership can be a daunting and time-consuming proposition for c-suites who, while definitely wanting to get input and hear from staff, are usually also incredibly busy. As such, creating a program that's super easy for them to use and doesn't expose them to unnecessary risk is of key importance to getting buy-in from leadership teams in the first place.
By using a bot, staff have a way of asking c-suites questions without directly messaging the c-suite themselves. Questions asked via the bot can be automatically routed to the relevant person and posted to a private Workplace group that either the leadership team themselves, or a member of their comms team, have access to.
Submissions can then be screened, moderated and reviewed with leadership in private. This pre-screening allows the leadership team time to prepare in advance and means meeting time can be used more efficiently to answer questions that have already been asked, as well as monitor trends around certain themes of questions coming from staff.
5. Provide engaging and meaningful follow-ups
For a leadership Q&A program to provide real value and insights, it needs to be sustainable long-term. Once a new channel for communication is introduced, it is now on management to keep this channel open and useful for everyone involved. With no follow-up to submissions from employees, you could be leaving your staff feeling unheard and frustrated.
After establishing which questions are going to be answered, provide leadership teams with a public forum to respond. This could be as simple as a Workplace post that's shared on a Leadership Questions Workplace Group, or it could be more engaging such as a pre-recorded video.
For OM, questions are answered during their monthly global meeting, both in-person and using a company-wide live broadcast on Workplace. This meeting provides staff with meaningful follow-ups to their questions, and allows management to have a finger on the pulse of employees and show they care about staff input.
The power of meaningful conversations
Connecting staff and leadership teams is an incredibly important and challenging issue for many companies, but by using bots on Workplace from Facebook it's possible to create engaging and easy to use leadership Q&A programs.
Using Workplace from Facebook and The Bot Platform, organizations like OM are able to tap into the pipeline of potential that comes from giving staff a voice. Opening up a two-way dialogue from top to bottom can lead to improved employee retention, higher productivity, and satisfaction at work, and increased transparency within every level of the organization.
Interested in learning more? Drop us a line below.