When COVID-19 was declared a pandemic by WHO on March 11, 2020, businesses were forced to completely change or pause how they operated overnight.
In this article we outline some of the ways that companies used Workplace from Facebook and The Bot Platform to build technology solutions that helped them adapt to these ever changing circumstances.
At the point of writing this article we've been in lockdown for nearly 80 days. That's over 11 weeks of businesses being entirely shut down, operating remotely or under extremely stressful and unprecedented conditions.
And while some businesses had crisis response practices in place before the COVID-19 pandemic hit, many organizations had to quickly create new policies and clearly communicate them to large, distributed workforces. Furthermore, a rapid switch to remote working suddenly created major operational challenges that needed to be addressed in order for the business to continue to operate effectively.
Here at The Bot Platform, we've been amazed by the breadth of incredible bots and automation tools that our customers have built to help them manage the COVID-19 storm and continue to connect, communicate and engage with their workforce from afar.
From rapidly deploying bots that help with crisis response and communication practices, to automated assistants that answer staff questions around statutory pay and furlough, through to bots that connect newly remote working teams or inform staff on the process for returning to work, our customers have been able to build game-changing tools in a matter of hours, sometimes minutes, to help inform and reassure staff during this difficult time.
Scaling and automating crisis communication.
For every single organization out there, it's not a matter of if a crisis happens – it's a question of when. Crises don't discriminate and they can come in all shapes and sizes, from cybersecurity breaches to natural disasters. According to PwC's Global Crisis Survey from 2019, 69% of participants had experienced a crisis within the last 5 years. And 95% of respondents stated they expected to face a crisis within a year. How right they were.
When COVID-19 started to gain headway, we knew we needed to act quickly to help our customers. With our Crisis Support template, companies were able to reach staff with important updates, answer FAQs, provide links to useful materials and recommend trusted sources of news.
Being able to rapidly build, edit and launch this bot was important not only for the business, but for workers too. According to the Edelman Special Report on COVID-19, "63% of people are looking for daily updates from their employer (of which 20% want several times a day updates)."
Our Crisis Support template gave companies the ability to quickly react to this need and send out information in a controlled and scalable way on Workplace.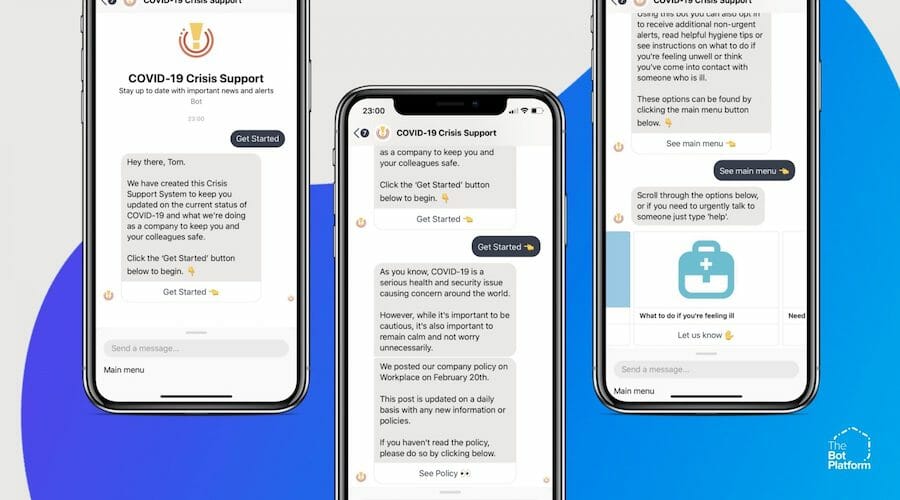 Preparing staff for new ways of working.
Getting staff set up for new ways of working was another popular use case. Customers such as UK customer service company, Moneypenny, created a rapid onboarding assistant to help transition their staff into remote working as smoothly as possible.
The bot acted as a survey or remote working checklist that asked staff questions about their hardware, internet speeds and home working environment so they could continue to work from home effectively. For any staff that didn't have the necessary hardware, Moneypenny then sent out packages with items like laptops, keyboards and headsets.
Following their remote working checklist, Moneypenny also launched a 'How are you doing' bot to check in on everyone's well being and gauge their work-life balance. Within 24 hours 75% of staff had answered the survey.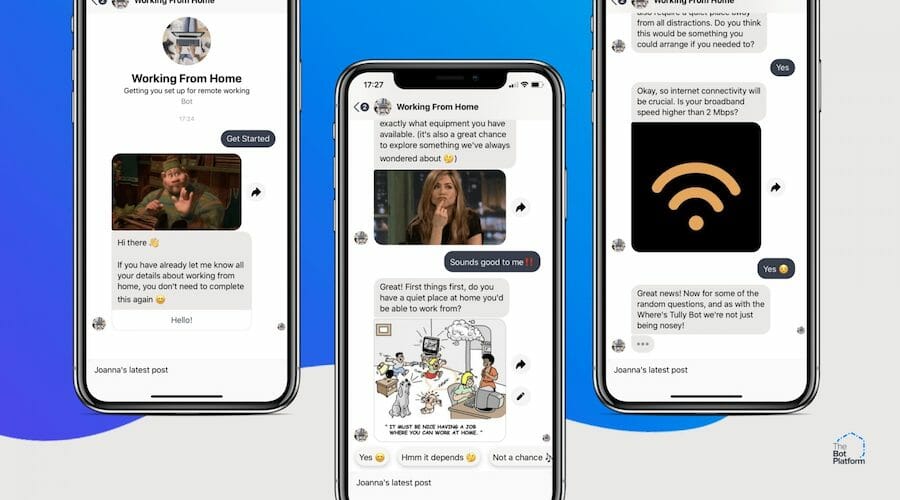 Sending operational updates and return to work planning.
UK restaurant chain, Honest Burgers, also had to quickly pivot operations in a rapidly changing working environment for the food industry. Using The Bot Platform, Honest Burgers' bot builders Daniel Davis (Engagement and Communication Manager) and Dub Lee (Learning Architect) were able to quickly modify their Honest Collaborator bot to perform multiple functions that would help with crisis management and response.
The bot was able to broadcast important announcements, check in with staff who were unwell or self isolating, answer FAQs and inform team members on their SSP (statutory sick pay). Using the bot staff could then check to see how much pay they would receive during furlough so they could plan financially for the situation ahead of payday. If needed, staff were also able to match themselves with alternative employment opportunities at nearby essential businesses or find out information about voluntary redundancy or extended unpaid leave.
If they decided they wanted to leave Honest or take extended leave then the bot took them through the legal steps required and sent out the relevant documentation to them.
On top of communicating with staff during furlough, Honest Burgers also used bots to prepare staff for how best to return to work when restaurants were allowed to reopen again. They started off with a simple survey to understand which staff were happy to return to work, their reasons, whether they or anyone they lived with had any symptoms recently and where they were currently living.
After gathering this information they were then able to create staff lists based on who wanted to return, calculate the distances they lived in relation to their restaurants and then display this on a map so managers could easily see which staff were available. These tools enabled Honest Burgers' operators to quickly prioritize which restaurants they could open, how quickly, and where the gaps were.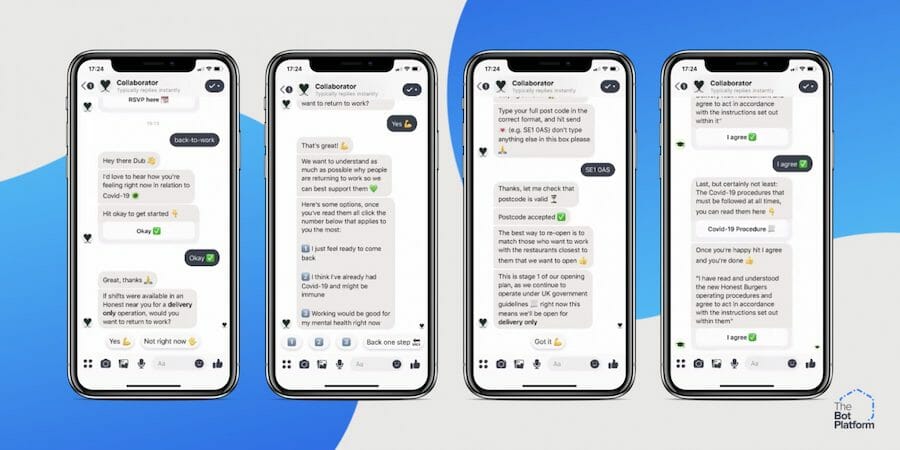 Promoting healthy habits and mental wellness.
At a time where isolation and lockdown was putting our mental and physical health under so much strain, some customers decided to build automation tools that would promote healthy habits and mental wellness.
There's been a big increase in usage of apps like Calm and Headspace in recent years, and a recent survey by Morneau Shepell found that 81% of respondents said Coronavirus was negatively impacting their mental health. As such, some companies created digital assistants that would message their staff each day, or week, to check in with how they were feeling and how they were finding remote work. Based on their responses the bot then directed them to relevant materials and resources that could help.
Bots were also used to encourage staff to maintain a work-life balance, attend daily meditation sessions, workouts or calming techniques they could do from home, or even attend virtual yoga sessions being organized by their colleagues.
Create a sense of togetherness and provide opportunities for fun.
Facebook Creative Shop usually holds an annual summit in San Francisco for 6000 people. Due to the Coronavirus outbreak, Facebook shifted to a completely virtual event but they still wanted to emulate a sense of unity and togetherness in how people could participate through their screens.
Using The Bot Platform, Creative Shop created an event bot that encouraged people to watch the sessions and then complete a series of fun games and quizzes related to the two day event.
As social distancing became critical to stopping the spread of COVID-19, some companies like Division Maintenance Group created bots that would gamify this responsible behaviour from staff in areas impacted by lockdowns.
The bot sent daily messages asking if staff had stayed at home and were self isolating. For each consecutive day a staff member self isolated they earned a point. On points 5, 10 and 15, staff received a special message and an automatic shout out on their 'Stay At Home' group on Workplace where other colleagues could like/comment on their achievement. This helped create a sense of unity and increased engagement on Workplace.
Life is hard right now and, for many companies, staff communication has been focussed on crisis management and serious company announcements related to Coronavirus. As such, it's important to try to dial up the more social side of work and create some fun employee activations that allow staff to bond and interact with each other about topics non-work related.
We saw many companies launch quizzes on May 4th to celebrate Star Wars Day and allow their staff to earn points and compete with each other on all things Star Wars related. To continue the fun, some customers have extended this to more regular quizzes and games that are sent out on a monthly basis to drive employee engagement on Workplace.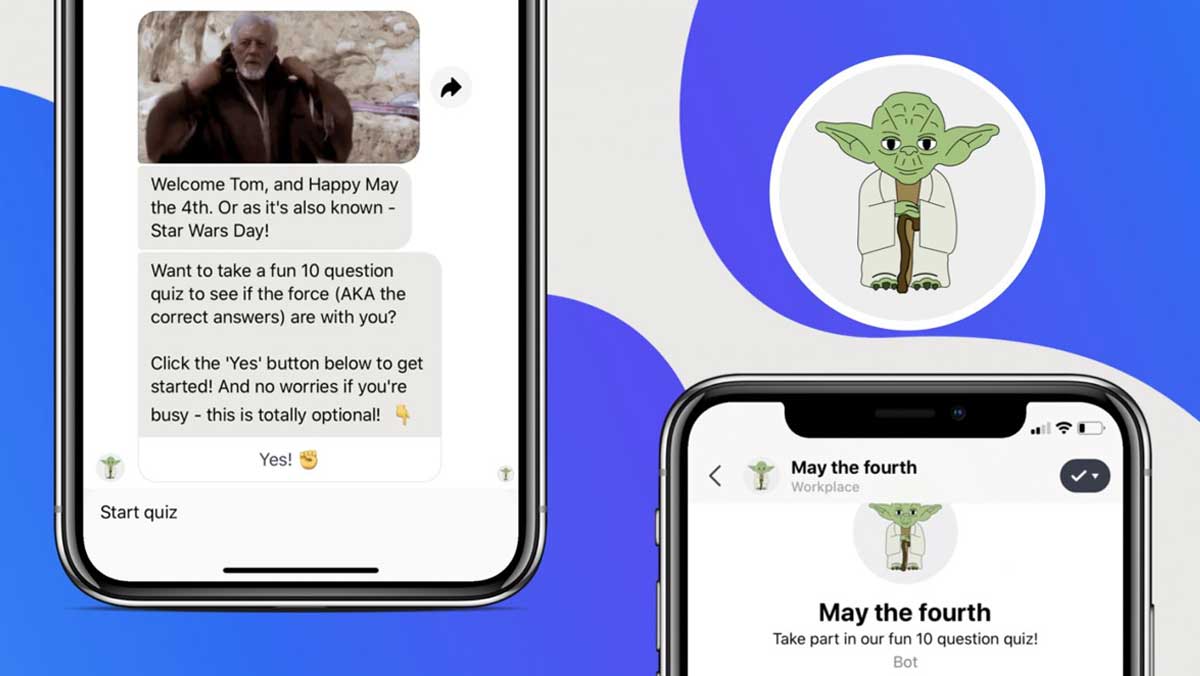 During times of isolation, it's important to continue to provide staff with opportunities for connection and socialization. The typical water cooler talk, greetings in the hallway, side chats in the elevators and pre-meeting catch ups one would normally experience throughout the day are lost and replaced with much more formalized video calls.
Using bots on Workplace, it's easy to recreate the spontaneity that comes with working together in-person in a way that actively encourages different people from your organization to get the chance to meet, talk and connect with each other.
We've seen some customers create buddy bots that automatically match different staff together and encourage them to jump on a quick video call for a coffee and a catch up. These can be scheduled to take place on a weekly or monthly basis and can be available to your entire organization or specific departments or segments of staff. As well as matching staff together, the bot can also include a few conversation topics and ice breaker questions.
In this regard, bots have helped connect staff and build culture in a spontaneous way, while also fostering a sense of community regardless of location or physical distance.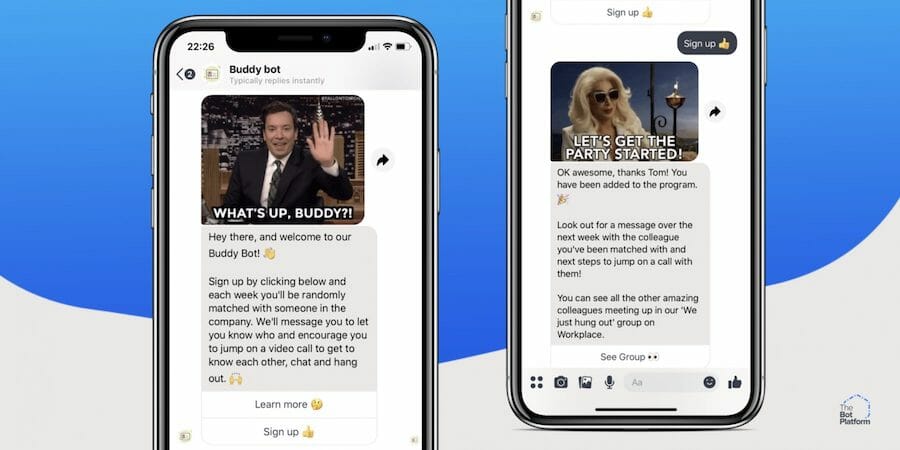 How could bots and automation be helping your business or organization?
Whether it be the ability to rapidly respond to a crisis and launch an automated assistant that keeps your staff informed and up to date, or tools that connect a remote and distributed workforce in a fun and spontaneous way, there are so many ways that you can use The Bot Platform to develop a suite of tools that help your company and workforce stay connected, engaged and productive from afar.
As many companies prepare for the 'new normal' of work to arrive, it's a great time to be thinking about how else bots could help your company and workforce going forward.