In the fast-paced and competitive business world we live in, companies are always striving for greatness. And a key ingredient in their success recipe is their employees. How well they perform and grow can make or break a company's journey towards excellence.
Recognising the importance of employee performance and development, organizations worldwide have embraced the practice of regular employee reviews. These evaluations not only give helpful feedback to individuals but also contribute to the overall success of the organization. In fact, Gallup even found that companies that give continuous strength-based feedback can reduce their turnover by almost 15%.
With automation revolutionising various aspects of business operations, it's no surprise that employee reviews have also undergone a transformation. Automating the review process offers countless benefits, allowing organizations to streamline and improve the efficiency of performance evaluations.
In this blog, we will explore the advantages of automating employee reviews and how it can revolutionize talent management practices.
Automating employee reviews will save you large amounts of time and money. By streamlining tasks like conducting reviews, managing paperwork, and coordinating schedules, organizations free up resources for more important strategic initiatives that drive business growth. Not to mention the huge time-saving in automating the tedious process of reminding staff, and their managers, to get reviews submitted and completed in time!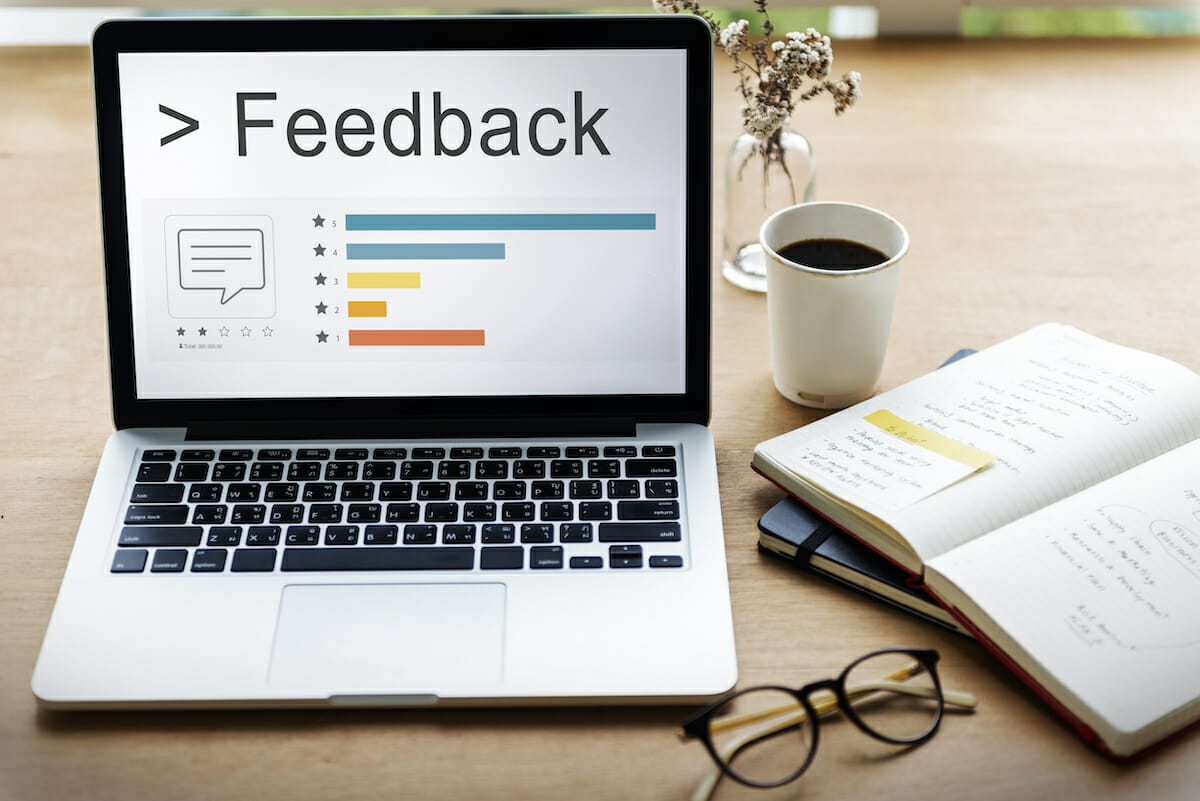 2) Real-time Feedback and Performance Monitoring
Employee Review systems allow for constant feedback and performance monitoring. Managers can regularly check in, track goals, and provide timely feedback. This promotes ongoing improvement, engagement, and accountability among employees. Furthermore, by ensuring post-review feedback is captured and incorporated into future review cycles, it ensures that there is a continuous improvement of your staff and the review cycle and process itself.
3) Data-driven Insights and Analytics
Automated employee reviews provide useful data and analytics. They give insights into performance trends, skill gaps, and training needs. This helps organizations make smart decisions about talent management, succession planning, and training programs. It leads to targeted and effective actions for improvement.
4) Enhanced Employee Engagement and Development
Adding automation to your review process will increase your review engagement rate. Implementing a review system that ensures faster and increased completion rates results in a workforce better equipped to grow, develop skills and progress in their careers.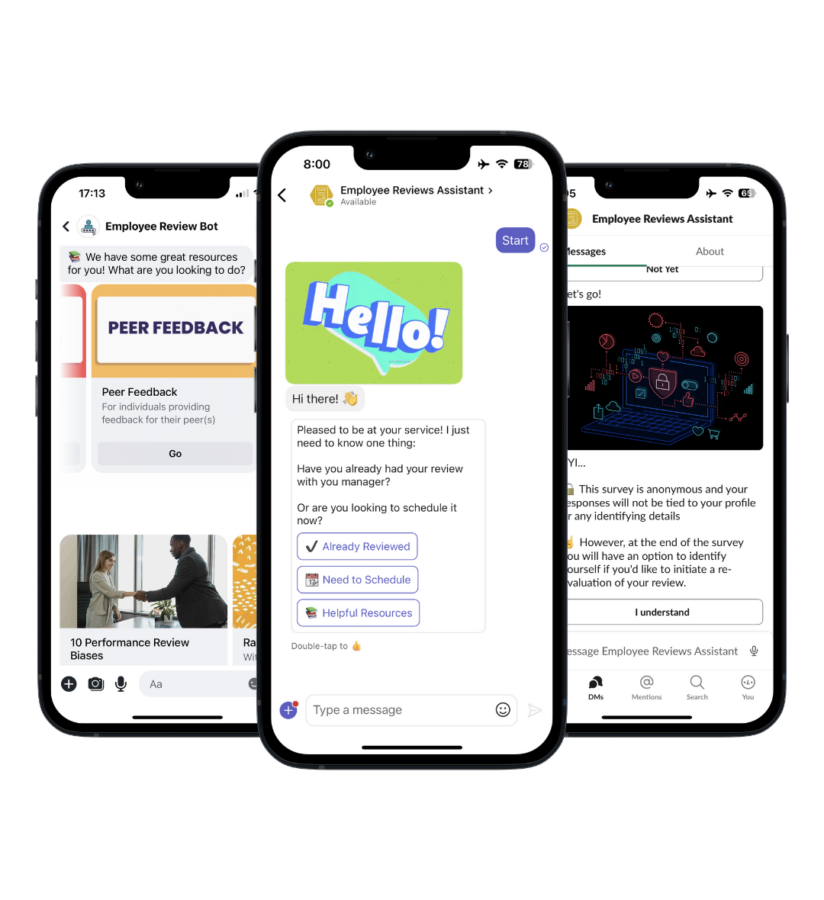 Managing employee reviews can be a daunting task, involving manual follow-ups and coordination between HR teams and managers. But what if there was a way to automate the process and ensure high-quality reviews?
Introducing our revolutionary Employee Review bot template that eliminates the hassle of administrative work while empowering managers to conduct timely and effective employee reviews. With our template, you can…
Prompt employees to schedule their reviews: Our bot takes care of reminders and notifications, ensuring that reviews are booked in a timely manner, without the need for constant follow-ups.
Help managers perform timely and quality reviews: The template provides managers with all the necessary resources and guidance, ensuring that reviews are conducted to a high standard and on schedule.
Highlight useful resources: Our template empowers you to provide a wealth of resources, including performance improvement plans, development opportunities, and training materials. You can even link out to videos and help docs for more in-depth and pre-made content. 
Collect post-review feedback: Gather valuable insights and feedback from both employees and managers after the review process, enabling continuous improvement of future review cycles.
Connect with third-party systems: Our platform can also integrate with third-party review systems as long as they have an API. Using middleware, we can pull a list of incomplete reviews from the review system and send messages to the manager/staff member to remind them to get their reviews completed.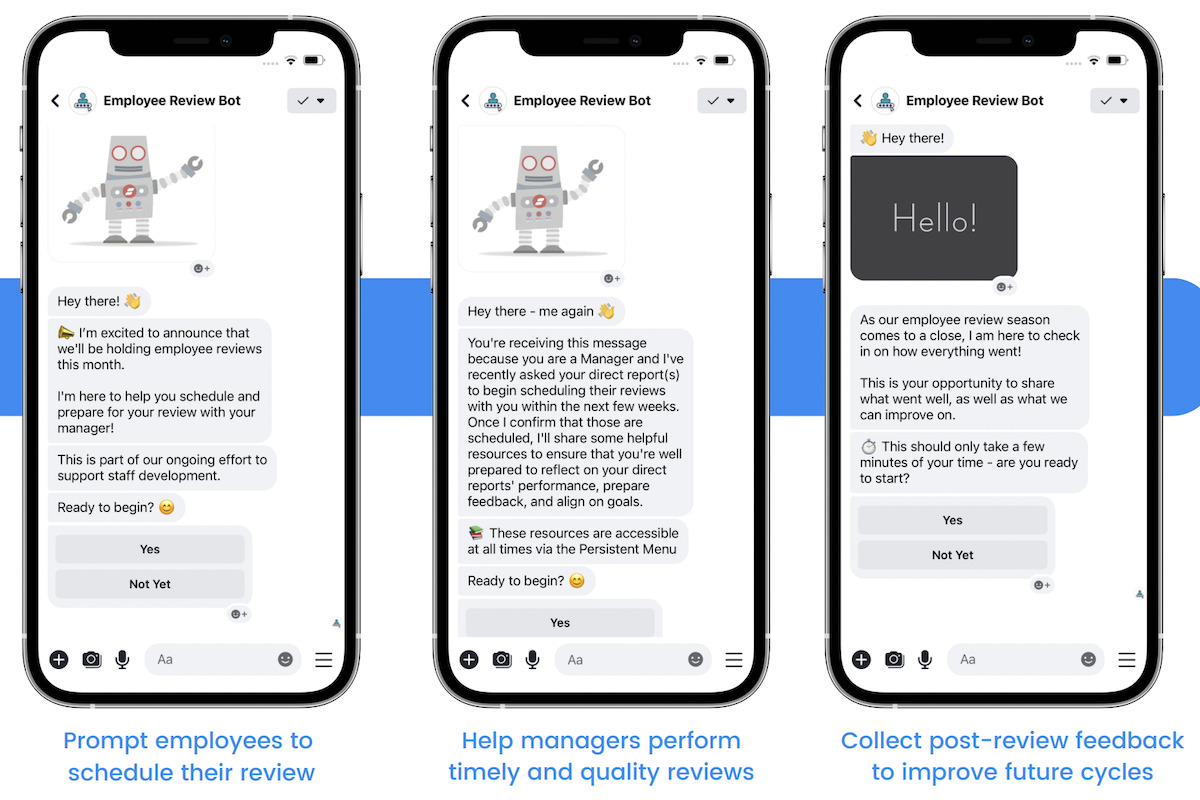 SEE HOW THE BOT PLATFORM CAN SUPERCHARGE YOUR EMPLOYEE REVIEW PROCESSES
Unlocking success starts with effective employee reviews. That's why we're offering you a limited-time opportunity to supercharge your performance evaluations with our FREE trial of the Employee Reviews template.
Streamline evaluations, save time, and enhance your talent management practices.
Ready to take your employee reviews to the next level? Click here to learn more about our powerful Employee Reviews template. 
Contact us today to find out if you qualify for an exclusive free trial. Don't miss out on this opportunity to streamline your reviews and unlock the full potential of your workforce.