10-20 hours of time saved every week
Engagement rates have doubled
A 100% send and receive rate with members
As One Percent Group's number of clients grew, it was getting harder to effectively communicate with each of their members and keep track of their progress. 
They were looking for a platform that would enable them to quickly and easily build their own bots on Workplace from Meta that would automate group broadcasts, schedule event reminders and deliver personalized content and tailored training programs at scale.
Using The Bot Platform, The One Percent Group have been able to deploy a number of digital assistants that are saving their staff time, increasing member engagement and providing personalized business development and training at scale.
Click below to explore some of the solutions The One Percent Group have built using The Bot Platform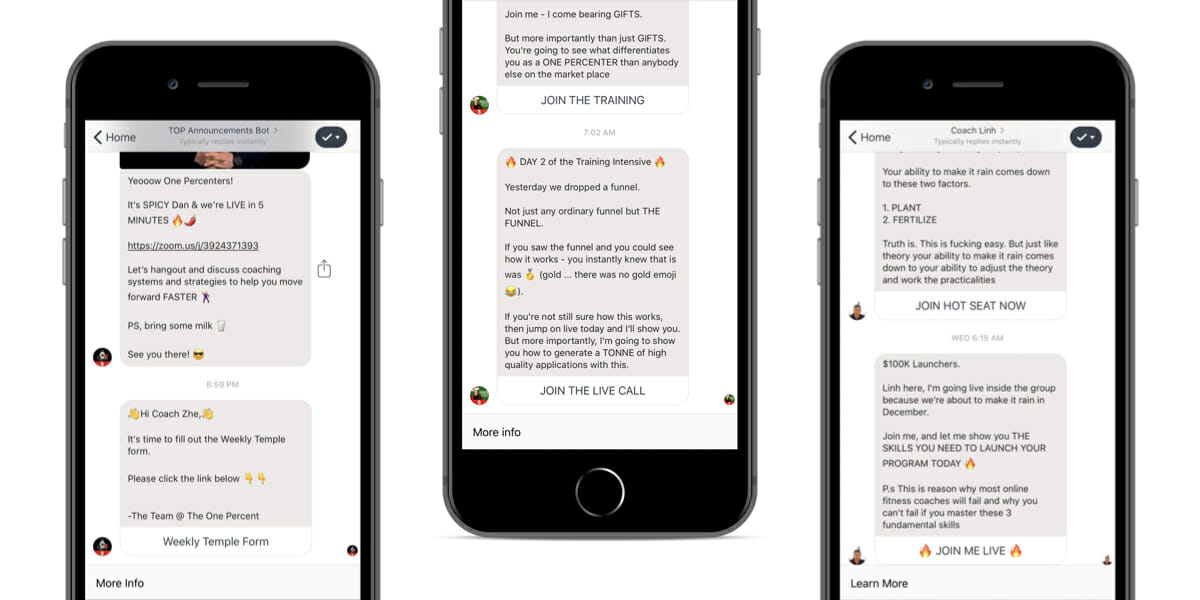 The One Percent Group are using automation to deliver personalized training at scale for their 12 month business training program. The bot provides a seamless experience that ensures personal trainers are being sent the relevant materials at the right time, encouraging interaction and facilitating member feedback. 
By utilizing digital assistants, certain tasks that used to take between 10-20 hours of time every week are now being completely automated. And, as well as saving their staff time, automation is also helping to generate better results.
Engagement rates double immediately after a bot is integrated into a certain group or training program, they are regularly seeing a 100% send and receive rate with members and more people are showing up at events and participating in general areas of their program because of bots.
Here's what Steve has to say
Because we were growing so quickly, we needed a way to effectively communicate with our 200+ clients over time. Bots immediately solved this problem.