250% increase in questions asked
A Sustainability bot built and launched in just 2 hours
100% delivery rate on broadcasts
Ports of Jersey Limited uses Microsoft Teams to communicate with their employees and, like many companies over the last couple of years, have had to adapt their working, operational and communication practices due to changes caused by the pandemic.
As many employees have shifted to a remote or hybrid working model, Ports of Jersey Limited wanted to build a suite of tools that allowed them to better engage with their workforce, from crowdsourcing more questions for leadership ahead of their monthly briefings on Teams, to sharing updates from their Sustainability team or sending our stories that have been posted to their SharePoint site.
As well as boosting employee engagement, Ports of Jersey also wanted to create new communication channels between their staff and leadership teams, while also ensuring that staff who didn't have regular access to their SharePoint site were still kept in the know about key company news and updates.
Ports of Jersey created a suite of digital assistants that are integrated directly into Microsoft Teams and help better communicate with their employees, crowdsource questions or ideas, and distribute company news.
Click below to explore some of the solutions Ports of Jersey have built using The Bot Platform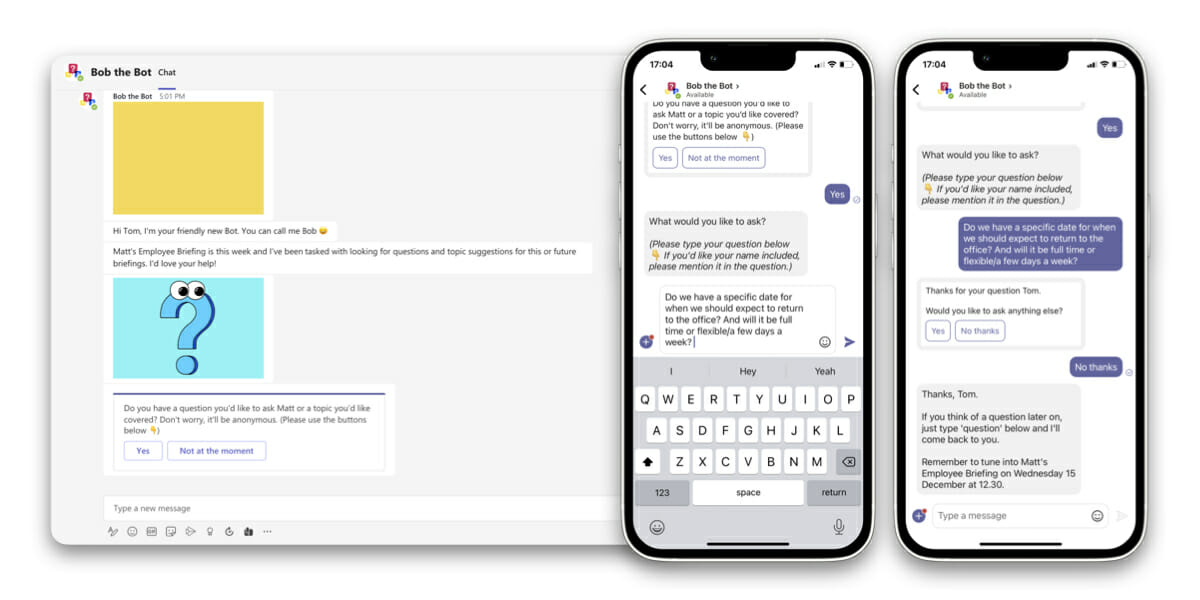 The first bot that was built and launched by the Ports of Jersey team was Bob – a digital assistant that allowed staff to ask questions that mattered to them ahead of each month's Chief Executive Employee Briefing.
During the pandemic, when most staff were having to work remotely, Ports of Jersey's Chief Executive introduced monthly briefings on Teams to keep colleagues updated on what was happening around the business. During the meeting he would ask people to submit questions, but sometimes there wouldn't be many submitted.
The Ports of Jersey Marketing and Communications team thought this might be due to two reasons.
During the live briefings employees weren't submitting questions because they were being put on the spot. If staff were able to think of questions ahead of time and submit them it could increase engagement and participation.
Because questions weren't anonymous, some staff might be reluctant to ask questions in an open forum. Allowing them to submit questions anonymously might make staff feel more comfortable about asking questions that were important to them.
To help with this, they created Bob – a digital assistant that lived on Microsoft Teams that could be accessed by any employee at Ports of Jersey. Staff can ask questions in advance of the briefings, giving them more time to think about what they want to ask. They can also decide if they want to ask the question anonymously or not.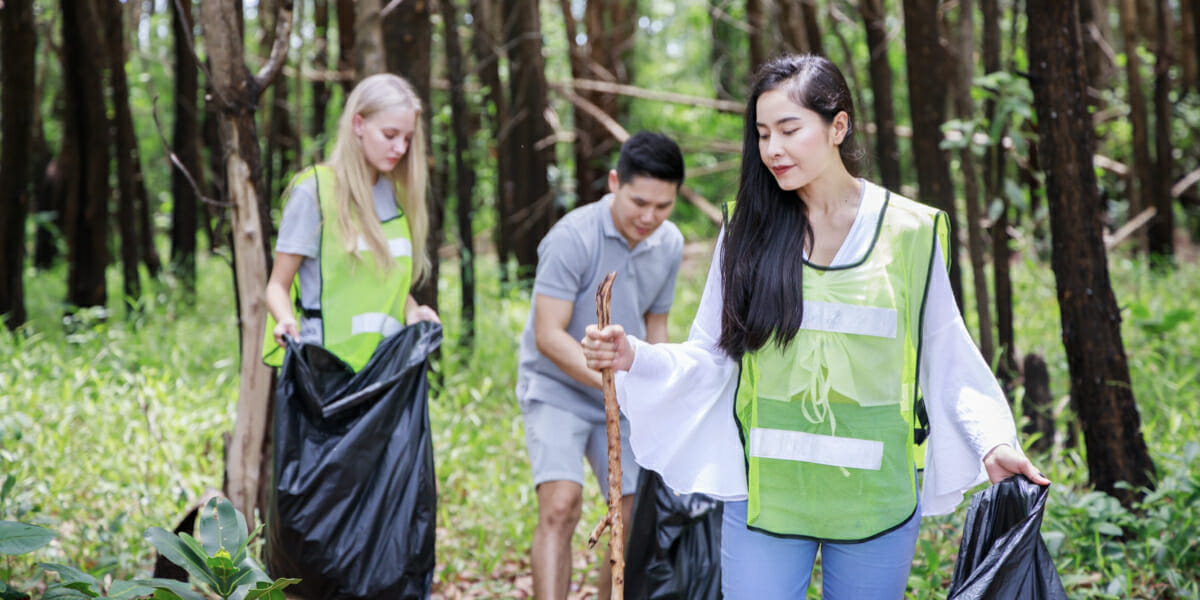 After the success of their leadership Q&A bot, Ports of Jersey's Marketing and Communications team launched Kermit – a digital assistant that formed part of their Sustainability programme they launched this year.
Kermit is used by their Sustainability team to share messages, both about upcoming volunteering opportunities and mental health courses. Using Kermit, staff can also share ideas on what they'd like to see Ports of Jersey doing in terms of other Sustainability practices and initiatives.
Even better, due to the ease of use of The Bot Platform, Kermit was built in just a couple of hours, including testing.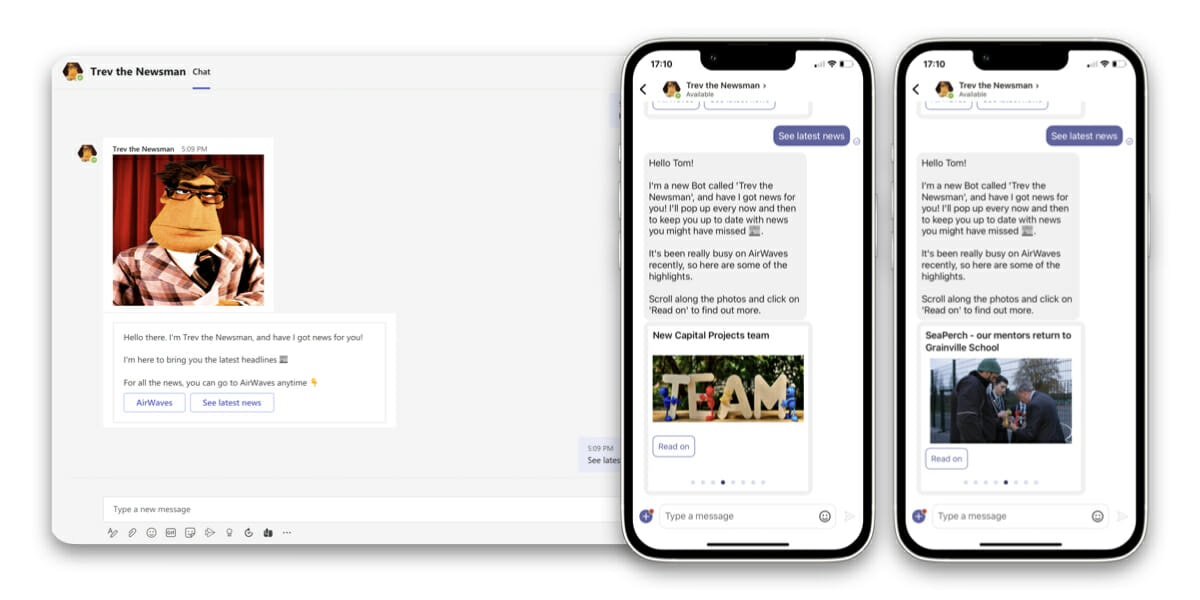 Their third bot was built in just half an hour and is used to share stories that have been posted to the Ports of Jersey SharePoint site.
Not all their staff have regular access to SharePoint, particularly if they are operational or customer facing. They do all have access to Teams though, and due to how well bots work on mobile they can easily stay in the know and up to date on key company news thanks to Trev.
Equally, sometimes there will have been lots of stories posted, so some of them may have been missed by staff. By creating a bot that sends out a summary of important company news, this helps Ports of Jersey ensure the most important announcements have been seen and read.
Bob, their monthly briefing Q&A bot, has helped better connect staff with the Chief Executive and made staff more comfortable in asking the questions that matter most to them. It has also generated the most questions they've ever received for an employee briefing.
Kermit is helping Ports of Jersey better communicate important Sustainability efforts to their workforce, while also allowing staff to suggest other areas they would like to see Ports of Jersey focus on – giving them a voice and say in the sustainable future of the company.
Trev the Newsman was built in just 30 minutes, including testing times, and helps ensure company stories are seen by all staff – from those working in offices, to those in frontline operation and customer facing roles.
Linzi Duckworth
The support I received while developing the first Bot was excellent. Jon was on hand to help with any questions and offered new ideas that worked well.