93% more effective stand-up process
25% faster benefit sign up time
100% successful phone system roll out to 35 offices
Using bots on Workplace, Mariner Wealth is connecting their staff, saving time and speeding up information transfer across their workforce.
Justin Stolberg, Senior Manager on their IT helpdesk, manages everything from user support to user experience across the organization, was looking for an easy-to-use solution to help manage one of the largest department initiatives of the year.
The IT department was tasked with overhauling their phone system with a new unified service for their 35 locations. As you can imagine, implementing 35 new phone systems across 685 people who were previously on four or five different phone providers was a massive undertaking.
Using The Bot Platform Mariner Wealth were able to create a series of automated tools and assistants that lived on Workplace – of which the first was the RC Rollout Bot.
Click below to explore some of the solutions Mariner Wealth have built using The Bot Platform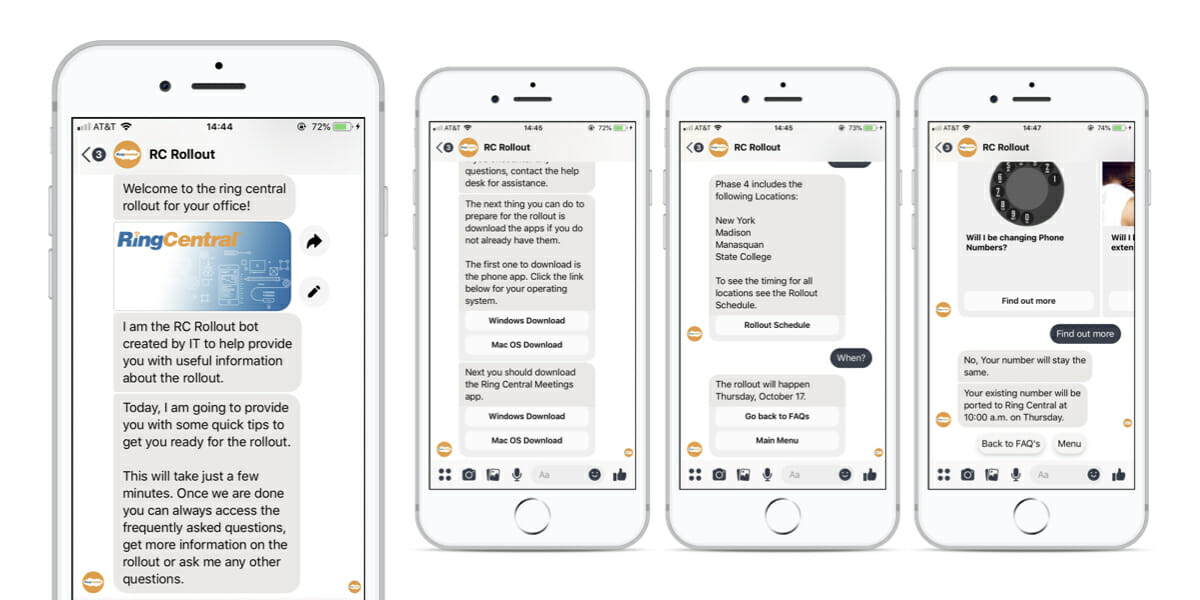 The RC Rollout Bot performed three main functions:
1. Provide information on when the new phone system would be implemented in each office
2. Send relevant training materials on how the new phone systems worked
3. Gather requests and provide answers to questions from staff
The RC Rollout bot helped the IT department improve communication around the project by using broadcasts to alert the company and then remind each department before the roll out took place. The bot also then distributed the necessary training materials to ensure a smooth transition.
By creating the RC Rollout bot, Mariner Wealth were able to easily communicate the roll out of a major technology change with as minimal disruption to staff as possible.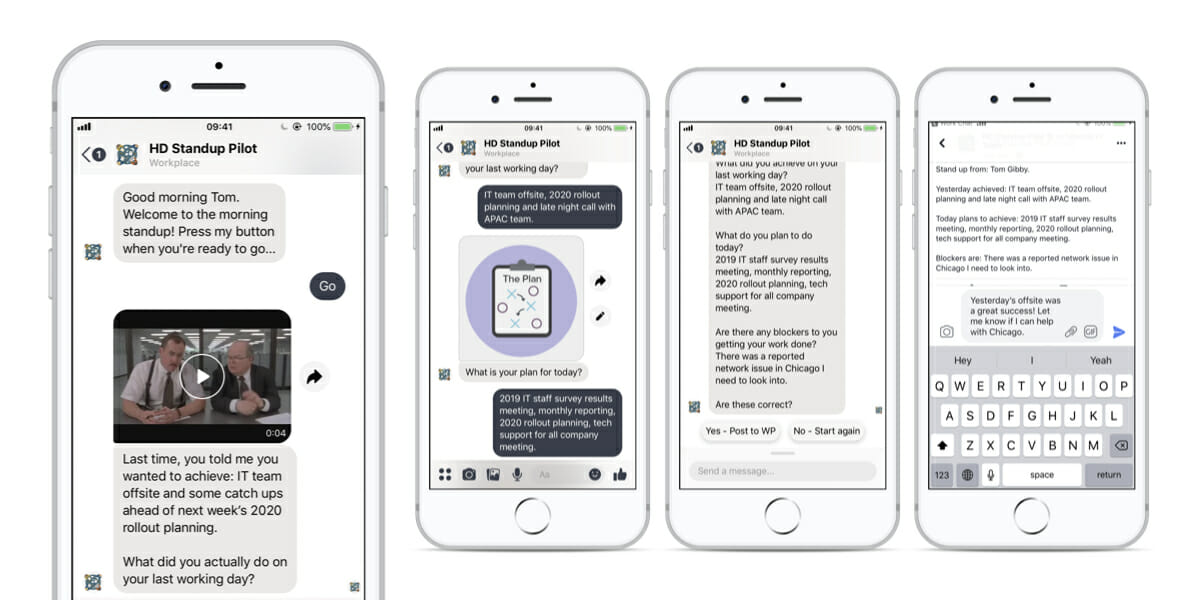 Mariner Wealth then moved on to using bots to automate other forms of knowledge sharing, in this case for their daily stand up meetings. The HD Standup bot sends a daily broadcast at 9:00 a.m. to everyone in the department. The bot then posts staff responses to their IT group on Workplace, giving Justin and his team insight into projects going on, any outstanding work to be completed, and any blockers that need to be addressed.
Using bots on Workplace, what used to take 30 minutes of time every week for seven people (3.5 hours total) now takes just 2 minutes each day (14 minutes total) making the standup process 93% more effective than it was before all while sharing the same information between the team.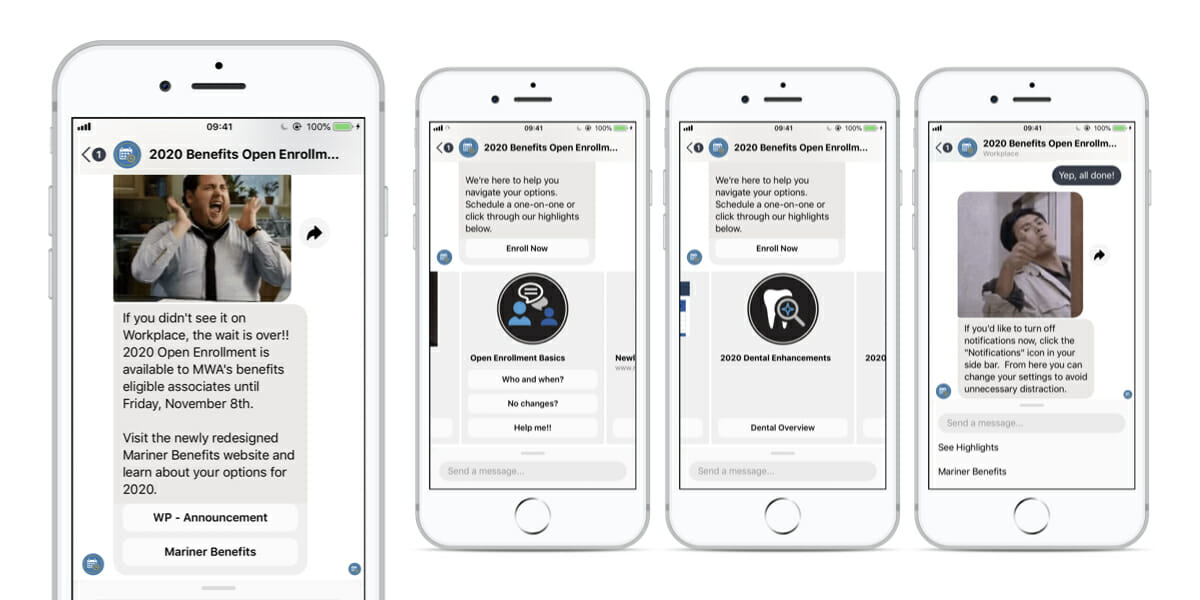 The Open Enrollment season can be a headache for HR teams. The amount of manual work involved with distributing information and chasing employees ends up taking up huge amounts of time.
Mariner Wealth's HR team leveraged bots on Workplace to create a Benefits Open Enrollment bot that helped automate the process of communicating information on 2020 benefits to staff and reminding them to sign up.
By using bots on Workplace, Mariner Wealth are creating automated tools that help with internal communication, knowledge and information transfer, team management, staff collaboration, new technology rollouts and HR comms – all while saving their staff time and helping them be more productive at work.
Bots have helped create more efficient stand up meetings, faster open enrollment sign ups and more successful technology rollouts.
Here's what Justin had to say
Justin Stolberg
Before bots we would have been blasting staff with emails, hoping they read information posted to our intranet, and spending huge amounts of time replying to and helping different employees along the roll out. Using a bot, we were able to simplify everything, automate the comms process and put all the relevant information in one place for our staff.