Encourage and enable internal job transfers
Promoting jobs internally is a strategy for hiring that tends to get overlooked by managers and HR teams. When looking at the dollars spent, it's significantly cheaper than hiring externally and can save your HR team time and resources. According to recruitment statistics in 2020, nearly two-thirds of hiring professionals claim that their company needs to improve internal recruiting, even though it plays a crucial role in improving employee morale and retention. 63% of hiring professionals believe that internal hiring can accelerate the hiring process, and 69% think it can accelerate new hires' productivity.
Using The Bot Platform and automation, users can create a Jobs Board Bot that allows you to easily and quickly highlight available job openings within your organization and allow your existing staff and employees to apply for the position directly via Workplace or Microsoft Teams. Staff can browse jobs based on their region or departmental specialism and submit responses which can be saved to third party HR and applicant tracking systems.
See an internal recruitment assistant in action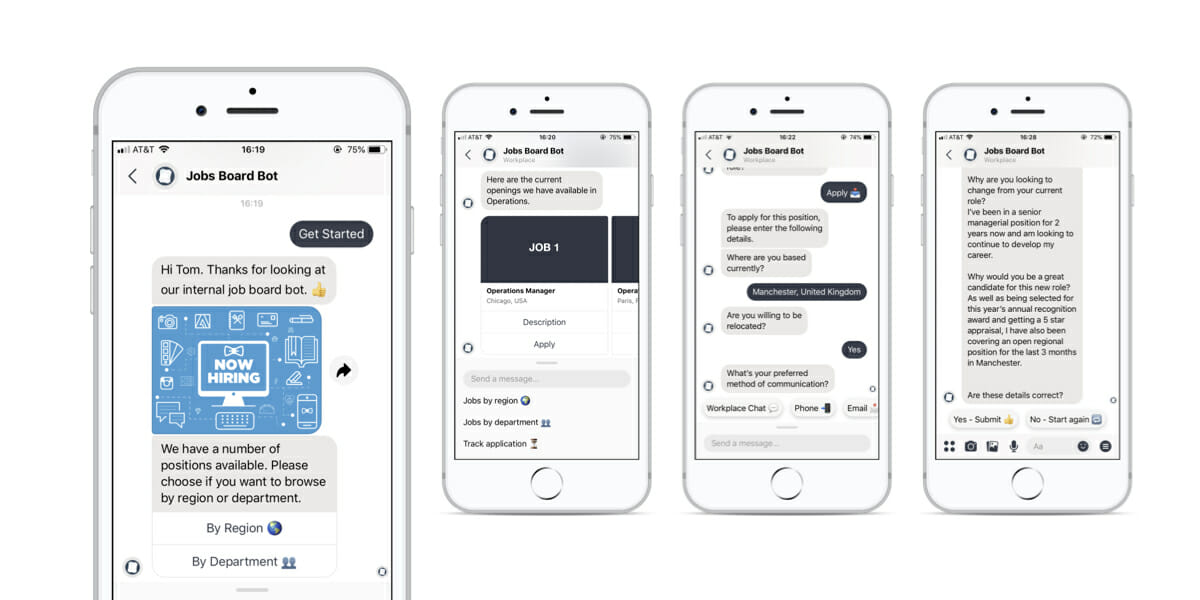 How can better internal hiring help you?
See how Honest Burgers rapidly re-skilled staff and promoted job openings in the business during the pandemic
Build your own recruitment assistant with The Bot Platform
Easily create your hiring and onboarding tools and integrate them with Workplace from Meta, Microsoft Teams or any digital communication platform of your choice.
Want to see just how quickly you could get up and running with our platform? Click below to book in a demo and we'll give you a free trial license to build an onboarding assistant of your own.