When you look into the primary causes of long-term absence such as maternity, sickness and bereavement, the studies around the responses of the workplace are troubling, to say the least.
According to CIPD, employees are more likely to return to work safely and productively following long-term absence if they are well supported during their absence and on their return, but the statistics show that we are failing to support our workforce after a break from working life.
Circle In, researched 1,000 parents in Australia and 75% of those working parents believe their employer could have done more to support them through parental leave and when returning to work.
A 2019 study commissioned by CPJ Field found that only 23% of staff felt supported by their HR department during a bereavement, with only 30% feeling supported by their management.
A Reboarding Assistant broadcasts messages directly to selected colleagues, welcoming them back to work and pointing them in the direction of any support groups they may need, any re-onboarding information that may be required, updates they may have missed and any training that may be needed to help them settle back in as smoothly as possible. The Reboarding Assistant can then check in with them over time to ensure they feel supported, as well as collecting feedback that improves the process for other employees returning from parental leave, bereavement, long term illness and so on. 
What would a Reboarding Assistant do for your staff?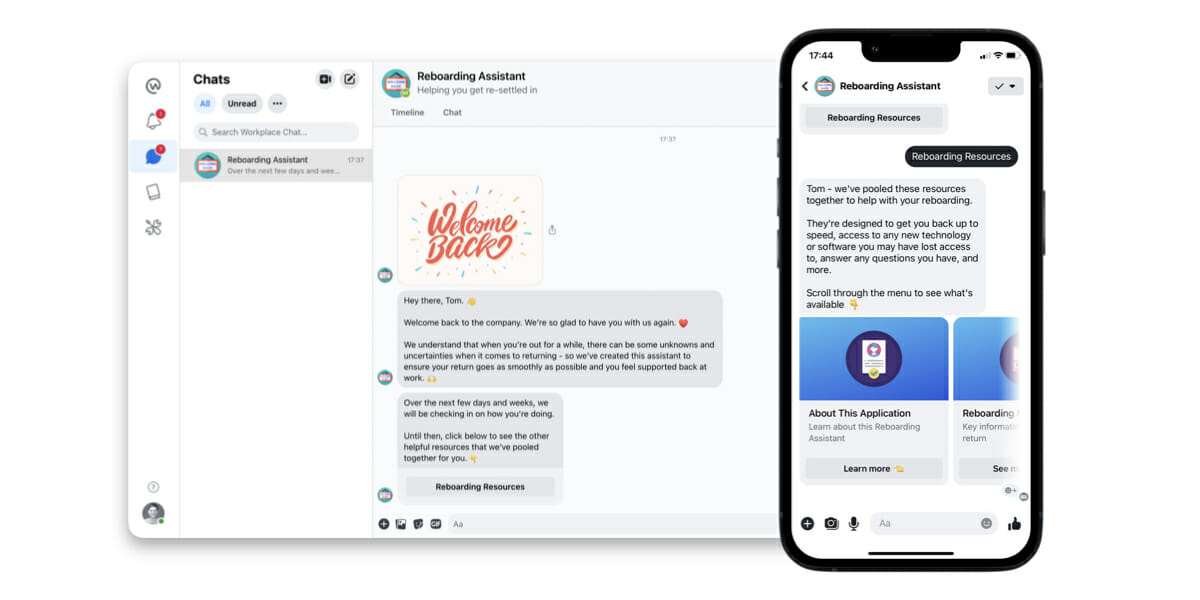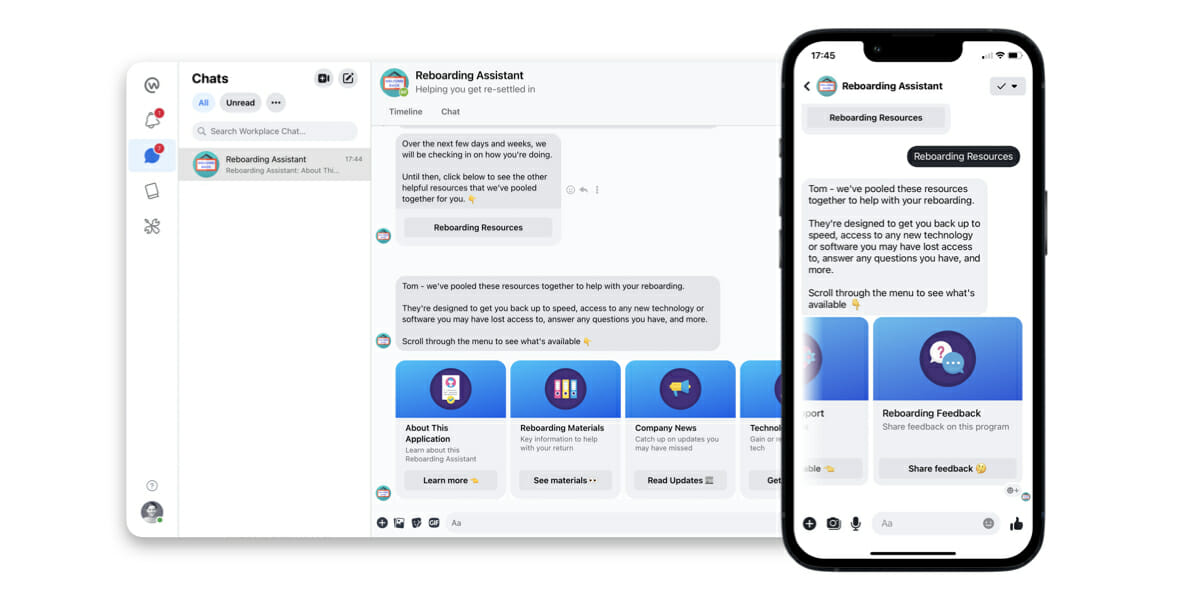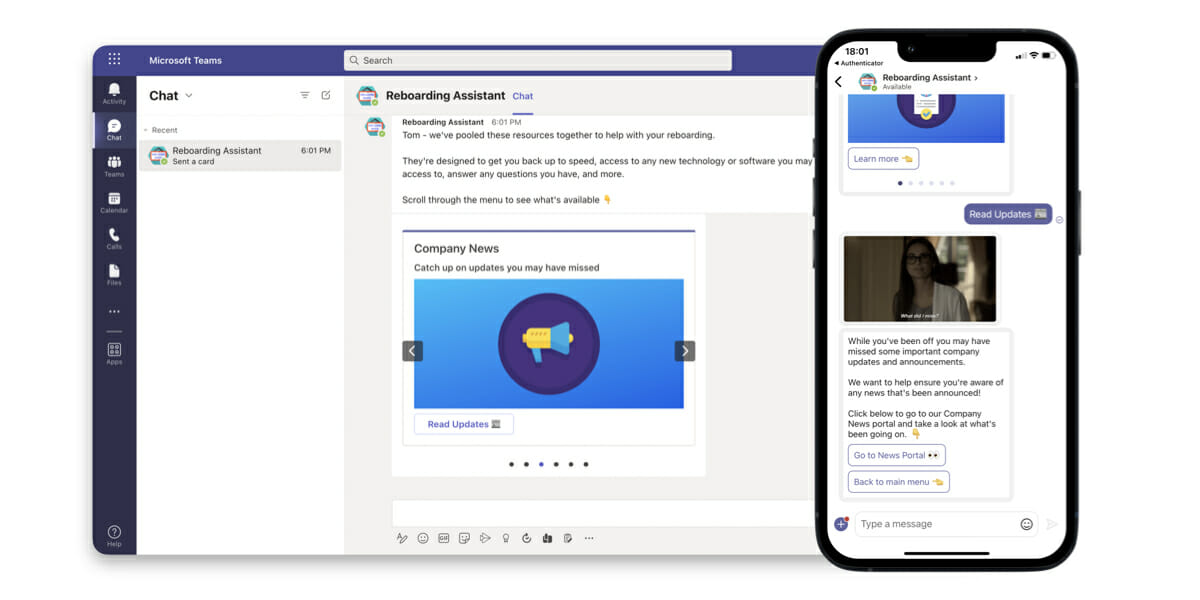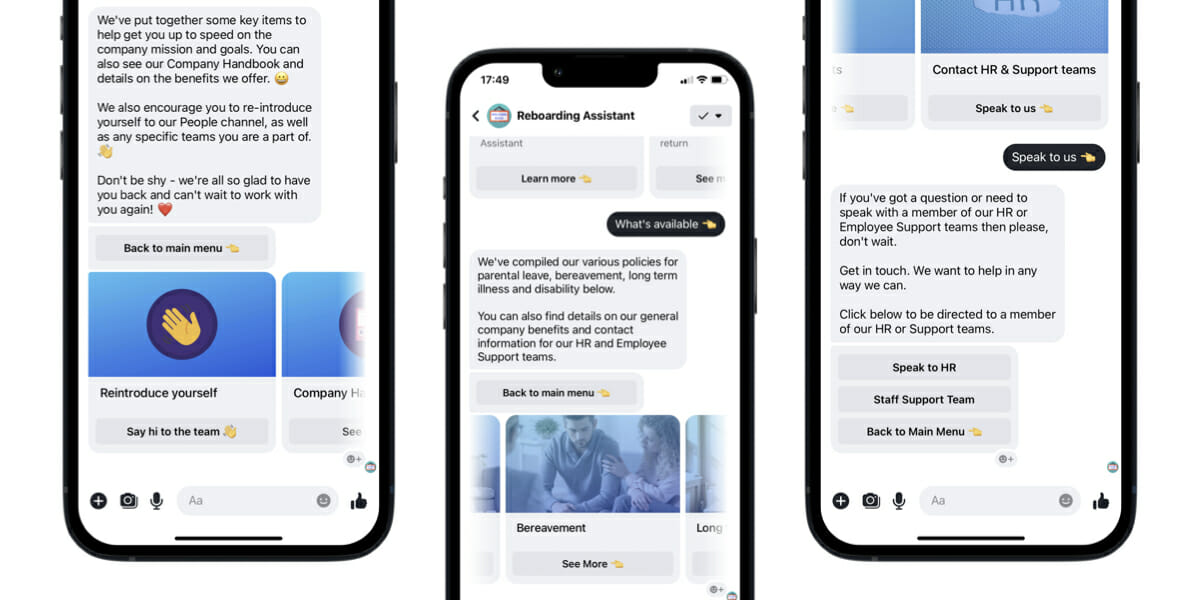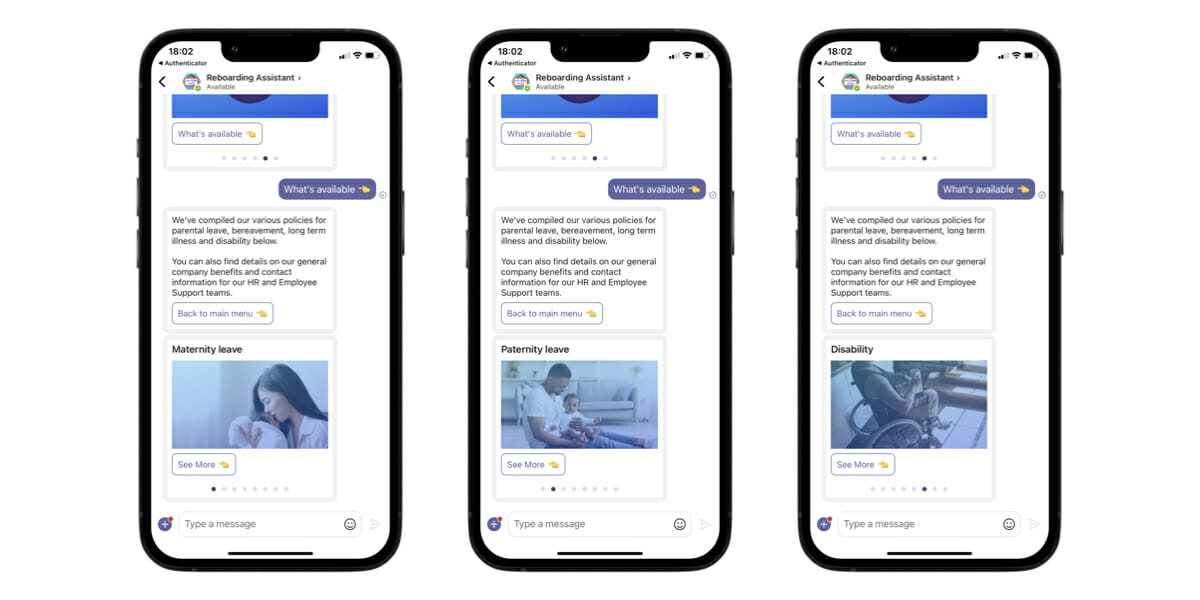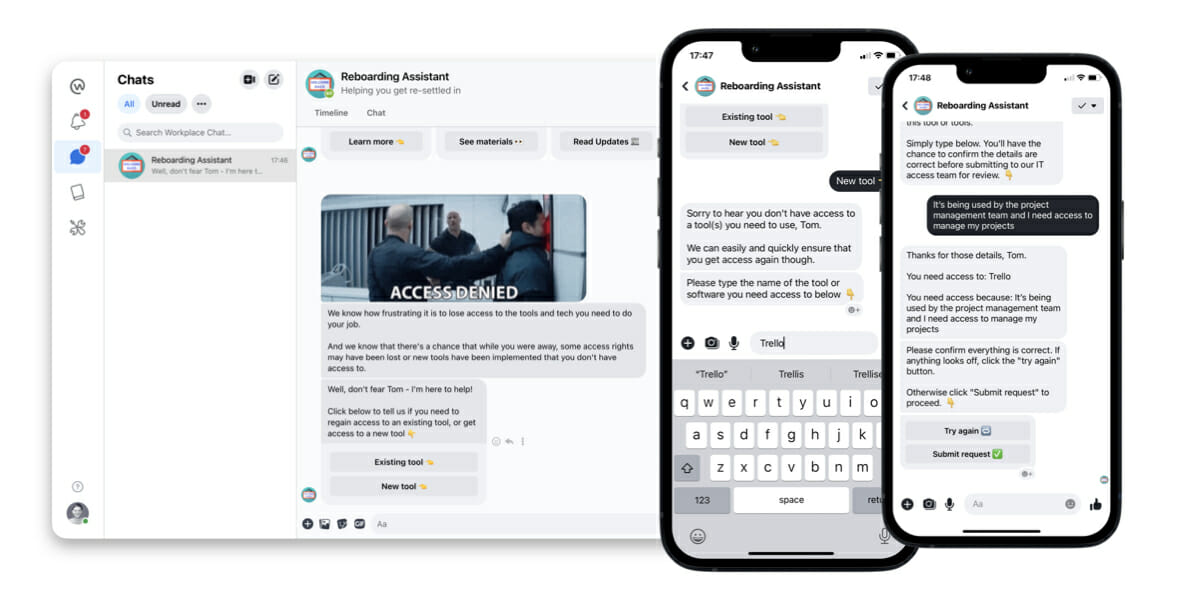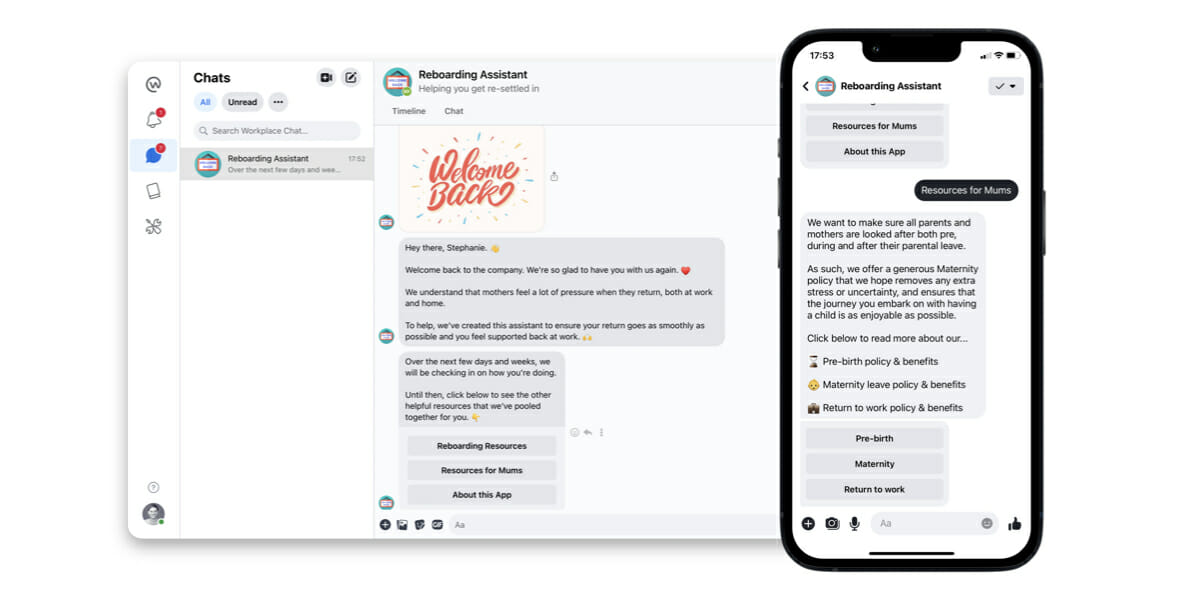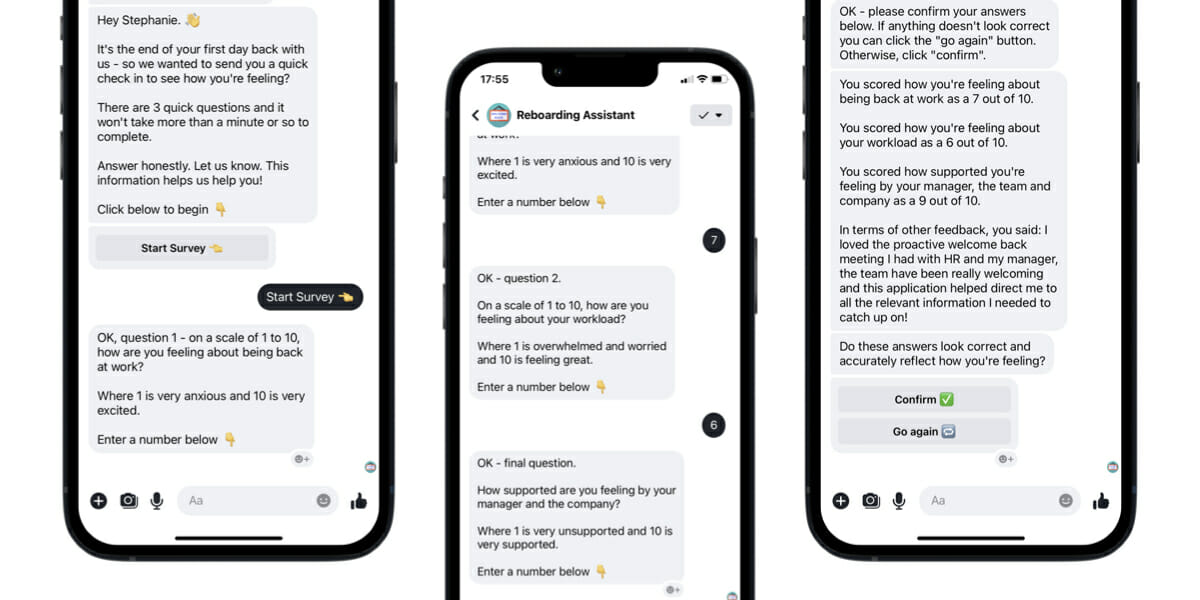 How can a Reboarding Assistant help you?
Returning to work after long term leave is stressful enough.
Whether you're using Microsoft Teams or Workplace from Meta, one thing is for certain – you will have mothers, fathers and parents returning to work. Bereavement, long term illness and disability is a sad but unfortunate reality. At these times, knowing your employer genuinely wants to support you means the world to your staff.
Create different reboarding flows with relevant information, resources and materials – for example, mothers returning from maternity leave will be informed of flexible time policies, childcare benefits and partners, local mothers / new parent groups etc, whereas people returning from bereavement leave will be pointed in the direction of bereavement support groups, councilors and various support resources.
The bot can then be scheduled to check in with team members frequently whilst they continue to settle back in, giving staff the opportunity to ask for help if they are struggling.